NBA Player Prop Odds & Pick: How to Bet Stephen Curry's 3-Pointers Made Prop (Again)
Credit:
Takashi Aoyama/Getty Images. Pictured: Stephen Curry #30 of the Golden State Warriors.
Stephen Curry is the greatest shooter of all time. He holds basically every major 3-point record and just overtook Ray Allen for first on the all-time career 3s made list last season on significantly fewer attempts.
He is a transcendent talent and I honestly cannot believe I get to reprise Brandon Anderson's article from last season.
Yet here we are again at the precipice of the NBA season, and I'm once again asking for you to bet on Curry to lead the league in made 3s per game.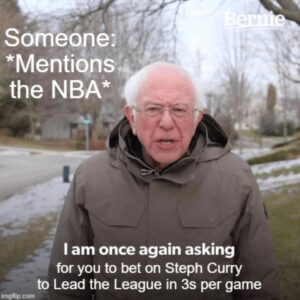 This bet is (-175) and when it hits it will return an ROI of 57.14%. I'm not saying this is financial advice, but I doubt your stonks are doing that well in this market.
I'm not someone to use the term "lock," but this is as close to one as you're going to get. These odds should be much closer to (-1000) than the current list price or the books should at least offer "to lead without Steph Curry" for a bit more fun because Curry is insanely good at making 3s.
How good?
He has limitless range, an effortless shot, and an incredibly quick release while maintaining elite efficiency on nearly countless attempts.
Last season was a down year for him in terms of efficiency and he still made 4.5 3s per game on 38% shooting from 3-point range. The closest player to him was Fred VanVleet and he averaged 3.7 3s per game.
That difference of 0.8 3s per game was the same as the difference between FVV and LaMelo Ball who was 14th in the rankings of 3s per game. This is what dominance looks like.
Additionally, he has the greatest opportunity to lead this category. Curry takes by far the most 3s per game of any player, the Warriors' offense is predicated on his ability to stretch the floor and bury opponents with those absolute daggers.
Someone would need to take a seismic jump in class to contend with him.
There is one player returning from an injury riddled season who could give him a run for his money: Damian Lillard. Buddy Hield's volume will keep him in the conversation as well.
However, Dame's best per-game mark (4.1), which he hit in 2020 and 2021, would be a middle-of-the-pack season for Curry as would Hield's is 4.0 mark in 2021. James Harden, when he was still on the Houston Rockets topped out at 4.8, but hasn't gotten above 2.8 since being traded to teams that have another No. 1 option.
Curry has only fallen below 4.0 made 3s once since the 2015-16 season. It happened, of course, in 2020 when he played just five games. Even counting those five games into his average over that span, Curry has made 4.7 3s per game on 11.2 attempts over these last seven seasons.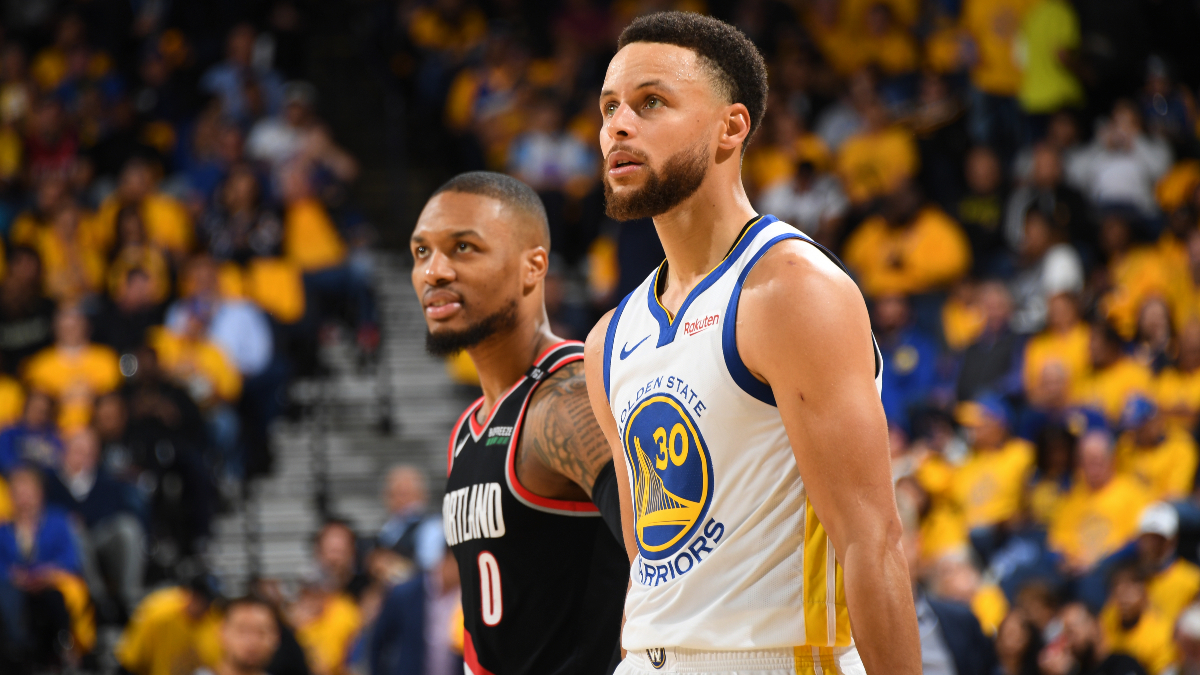 Curry led the league in 3s per game in 2013, 2014, 2015, 2016, 2017, 2018, 2019, 2021, and 2022. An astonishing level of consistency.
This is a must-bet for me at -175 odds on DraftKings.
And if you're thinking, "But Joe, why are we not taking the best line (-150) at Caesars?" I'll tell you exactly why.
*Puts on Lawyer Suit *
Because of the fine print. There are a variety of books that let you bet this in some way, shape or form. DraftKings' market is for 3s per game while Caesars is for overall leader.
When we look at total 3s, Curry's lead was not nearly as significant. Curry made 285 3s last season in 64 games, which is a much narrower margin over the second place finisher, Hield, who logged 262 3s in 81 games.
This is notable for this market. Curry has lead the league in both 3s made and 3s per game in 2013, 2014, 2015, 2016, 2017, 2021, and 2022.
But there was a shift in 2018. In 2018 and 2019 he lead in 3s per game at 4.2 and 5.1 respectively; however, he was passed on the total 3s made charts due to injuries.
This is a significant swing in terms of our edge as Curry is another year older. While he may continue to be relatively healthy, Curry has missed 18 (2022), 9 (2021), 77 (2020), 13 (2019) and 21 (2018) games over the last five seasons.
While the year he played 63 games in the season was shortened to 72 games due to the COVID-19 pandemic, it still demonstrates the Warriors' dedication to getting him time off to manage any injury risks. This is a team contending for a title, and they will not risk the health of their best player.
Additionally, DraftKings complies with the NBA minimums, which is 58 games. This is even different from FanDuel because their rules say a player must play 70% of team's games, which requires 58 in an 82-game season. DraftKings' market is interesting because Curry can still win even if he only played 50 games.
Here's a break down of the various offerings:
What DraftKings does is extrapolate zero 3s made games to get to the 58-game minimum; if Curry is still the leader in 3s per game this bet cashes.
Bottom line, there's too much value to pass up here. His track record speaks for itself and there's no one close to catching him, even in a down year. Bet Curry to lead the NBA in 3s per game and put another notch in his belt. Just be sure to do it before the market closes tonight.
How would you rate this article?
This site contains commercial content. We may be compensated for the links provided on this page. The content on this page is for informational purposes only. Action Network makes no representation or warranty as to the accuracy of the information given or the outcome of any game or event.