NBA Playoff Round 2 Series Bets: Finding Value On Both Sides the Conference Semifinal Matchups
Credit:
Jesse D. Garrabrant/NBAE via Getty Images. Pictured: Kevin Durant #7 of the Brooklyn Nets and Giannis Antetokounmpo #34 of the Milwaukee Bucks.
Now that each series in the Conference semifinal round has started, we have an idea of how each team matches up with its opponent in Round 2. In this round we have seen outright dominance, a Game 1 upset and some tight games in the second half.
Using what we've seen so far, let's try to find the best value on each matchup with all series prices available.
Best values: Nets -2.5 (+100) and Bucks to win (+300) combo
I picked the Bucks in this series, and after the first game, I felt fine about it. The Bucks didn't play well, but they weren't outclassed, they just shot poorly — especially Khris Middleton.
If you told me after Game 1 it was 2-0 Nets going into Game 3, I would have said I expected to have bet the Bucks again.
But that was before the Game 2 debacle.
The challenge with betting teams at their best value is that they only get to a valuable number when things are bleakest and man, are they bleak. The Bucks are shooting 29% from 3-point range through two games, the Nets are shooting 44% from deep. As a team, Brooklyn is shooting 55-44-88. Again, the Nets are close to shooting 50-40-90 as a team through two games.
Giannis Antetokounmpo is averaging 26 points per game on 62% shooting from the field and yet the Bucks have an Offensive Rating of 100 when he's on-court.
The Nets have gotten whatever they've wanted offensively and Milwaukee hasn't been able to generate anything positive vs. the Nets' switches.
Other than that, Mrs. Lincoln, how was the play?
So here's what I can see happening the rest of the way.
The Bucks have a lot of simple stuff they can correct, especially on the offensive end. This possession is a good example:
Khris Middleton and Jrue Holiday run pick-and-roll, which gets Kyrie Irving, a terrible defender, on Middleton in ISO. Kevin Durant completely lets go of Holiday.
When Durant releases him, Forbes at the top has to recognize that and clear space because one of them gets an open 3-point shot if Middleton can make the pass.
Not only does that not happen, but Holiday inexplicably stops at the elbow. So now when Middleton drives with Durant in clear, blatant double position, the only pass that Middleton can make is an easy read for the defender.
This is the stuff Milwaukee did pretty much constantly in two games. Just mind-bogglingly bad schematic stuff. That's fixable.
The problem is that the Bucks in their two previous playoff run failures have been defined by those very mistakes. They often try a blatantly flawed strategy constantly, running their heads into a wall over and over again.
Defensively, a lot of the Bucks' issues were, again, fixable. They are getting used to Joe Harris' off-ball movement and have to clean that up. But ultimately if Blake Griffin is going to shoot 45% from 3 while Mike James makes huge bucket after huge Bucket, there's not much you can do.
Durant has been a supernova, and there is no counter for that. You just switch the pick-and-roll when you can, put your best players on him and pray. Durant's not even using a pick most times. The Bucks have put two players at the level of the screen to contain Durant 11 times in this series, with the Nets scoring just six points. That's excellent.
But Durant has ISO'd 20 times, with the Nets scoring 28 points off those possessions. That's 1.4 points per possession. For reference, anything above 1.0 for isolations is good. This is basically a nuclear inferno wrapped in a tornado. It's a nukenado.
There's nothing to be done there, you just hope he misses. But the Bucks have to clean up the other stuff, which has mostly been breakdowns. They're not being exploited, they just didn't play well, and looked rattled.
On the road, the role players for Brooklyn should shoot a little worse, the role players for Milwaukee should shoot better.
Boy, where have I said that before?
This has been the constant theme for Milwaukee over the years. There are all these things that should happen for them and they just … don't.
Most of it can be tied to tactical breakdowns and rotation mismanagement by Mike Budenholzer, sure. But there's also just the fact that they never seem to get that game when everything goes right for them.
If what I'm saying here sounds like a question of whether to trust rational and logical deduction of play built on evidence of hundreds of career possessions or the simple narrative that the Nets are winners and the Bucks are losers, well, welcome to the NBA playoffs.
So instead I'll tell you this.
There is a better than 50% chance that the Nets win this series in less than six games, either in a sweep or back in Brooklyn in five games, which means you have EV at +100 or better on Nets -2.5.
If the Bucks lose Game 3, that's it, the total collapse is on and Budenholzer might as well just spend Game 4 finding a team in need of a great lead assistant next season. If they lose Game 4, there's no way Brooklyn lets them out of that Game 5 at Barclays with a chance. We have no reason to think the Bucks can really reach down and find the resilience to dig out.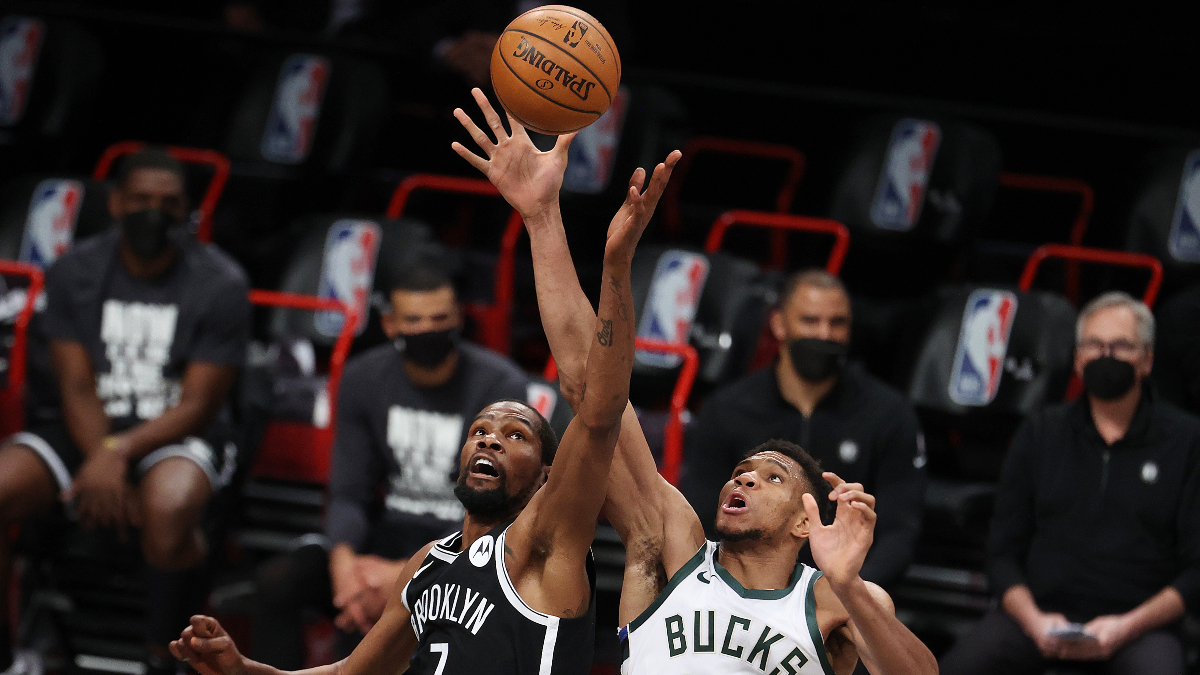 However, if the Bucks win these next two games? They have a better chance than the 25% implied odds at +300 of winning the series. That delta between 25% to win outright and 50% to lose in fewer than six games matters.
If the Bucks even the series, every narrative flips. The Bucks have to win two home games after playing two absolutely horrific games. If it weren't for the Bucks' very specific playoff history in two series against two very different opponents from Brooklyn, this would be a no-brainer bet on Milwaukee.
Maybe the Bucks storm back in the next two and either the James Harden injury or key adjustment from Brooklyn shapes the end of this series differently. We've seen dominant six-game wins, like LeBron James and the Cavs over the Raptors- in 2016.
Durant's been the best player in this series by a mile. The Nets have had every answer. The Bucks have looked completely incapable of taking advantage of the Nets' weaknesses.
But I think there's value in overreacting a little while underreacting a lot.
---
Best value: Series Games Over 5.5 +150
The Nuggets played absolutely awesome in the first half and held a lead, then expanded it to 10 in the third quarter. The Suns responded with a 16-0 run and then a 14-5 run to start the fourth and that was it.
The easy narrative off that game is that the Suns are a special team of destiny and that while the Trail Blazers-' defense couldn't punish the Nuggets' missing Jamal Murray, Will Barton, and PJ Dozier, the Suns are the type of defense that can do so. That seemed to play out with Monte Morris going 1-of-10 from the field for a nice -28 plus-minus.
But a few things there:
Morris is unlikely to shoot that poorly again, especially when he was 1-of-7 on uncontested looks via NBA.com's admittedly wonky tracking data.
Nikola Jokic also missed some weird looks going 3-of-11 on uncontested shots.
The Nuggets, for some reason, tried a three-guard lineup of Morris, Facu Campazzo and Austin Rivers that was outscored by 10 points in less than nine minutes.
And 4. Will Barton was upgraded to "questionable" after missing two months with a hamstring injury.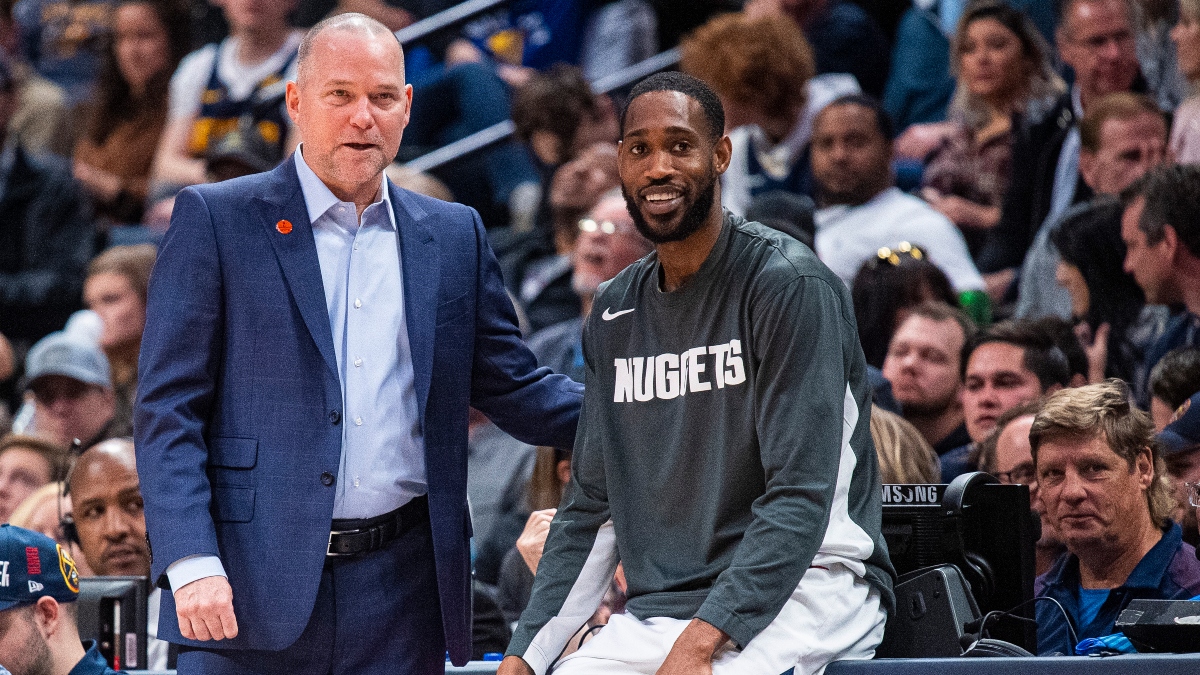 Barton won't play many minutes — you can't press a hamstring injury. And Barton's biggest defensive weakness is his closeout, which can create a lot of bad outcomes for Denver when the Suns reverse the ball, which they do with incredible precision.
However, just having another ball-handler, another shooter, another guard who has the confidence to play in these situations is big for Denver's backcourt. It gives them more options, and that helps.
Denver played far from its best game in Game 1. Their guards may not be as good as they were in the Blazers series, but they're also not as bad as they were in Game 1 vs. Phoenix. That, plus some slight cleanups, will give them a chance whether it's in Game 2 or 3.
But Phoenix is better, make no doubt. I picked and bet the Nuggets to win this series, and I'm not counting it as dead money yet. But even when I picked it, it was based on matchup and long-term thinking, not about which team is better. The better team doesn't always win in the NBA playoffs, despite how the results justify our narratives.
Denver will find some solutions, I lean towards them slightly in Game 2, especially getting six points. But if they lose I still won't be panicking. The Suns may win this series, but the Nuggets will make them work for it, and the Nuggets may win this series, but they'll have to outlast a very good Suns team.
I still think this goes long.
---
Best value: Sixers -1.5 (+135) or Hawks outright +185
Here's an odd set of numbers at BetMGM: The Sixers are -225 to win the series (69.23% implied probability), but +135 on the series spread -1.5, or to win 4-2 or 4-1. The Hawks are +185 to win the series are at 35% chance to win, but Hawks +1.5, which is to win three games or the series outright, is -160 for 60% implied.
So there's a 60% chance the Hawks win at least three games, but only a 35% chance they win this series?
I felt the Hawks were live in this series before it started but with Joel Embiid's injury, there just wasn't a good value on it, and you can tell that Embiid's condition is still creating some of this instability on these markets. How do you properly cap the Sixers as a superior team vs. a team with a good matchup when you don't know if the most important player on the better team will play the whole series?
To put it in context, with Embiid on the floor, the Sixers have a +18 Net Rating in this series and when he's on the bench, they are outscored by 26.3 points per 100 possessions. They get annihilated when he's not on the floor. Ben Simmons, Tobias Harris, Seth Curry, all are in the red in this series when Embiid's not on the floor.
The Hawks have the edge … were it not for Embiid.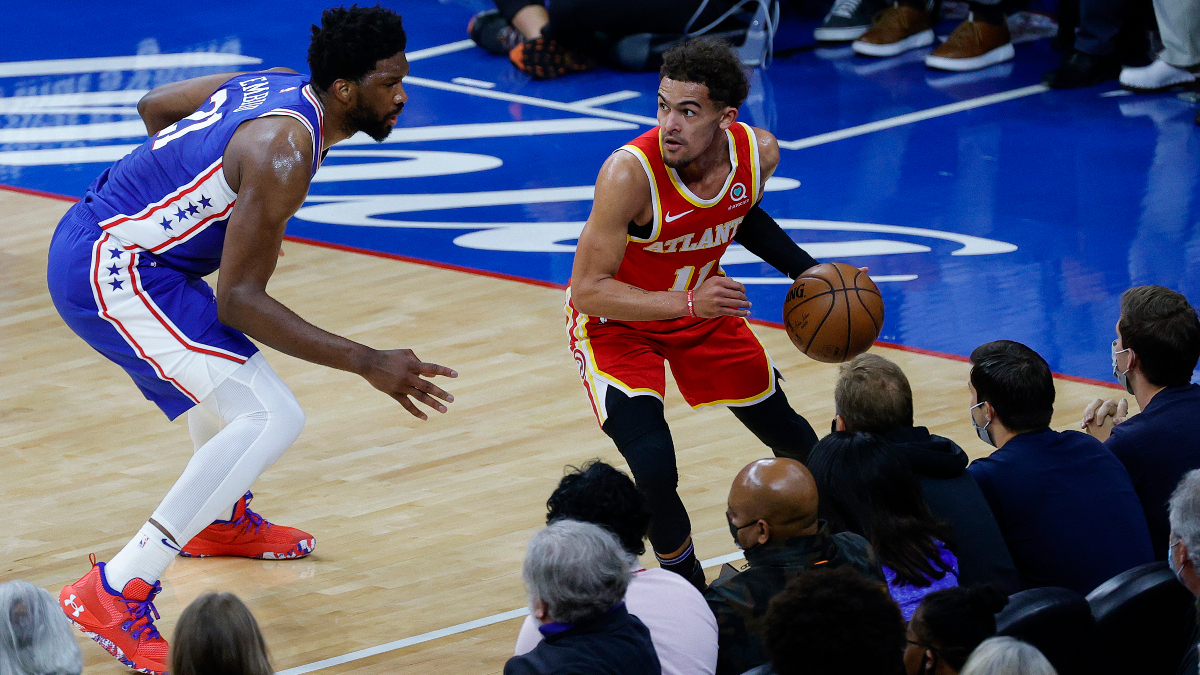 So now you're stuck trying to predict the future with the league's most unpredictable injury situation.
First, let's point out a small trend. In series where the road team has won Game 1, lost Game 2, then gone home for Game 3 as a dog, the dog is 8-17 straight up and 8-16-1 ATS.
There's been no reason to think Embiid will miss a game in this series, but the last time he suffered this injury, in 2017, he had swelling that would surface after he played.
I think the Hawks are good for one more win in this series. Does that win come in a game Embiid misses … or in another game? Can the Hawks beat Embiid twice in the series' first six games?
Even in the Sixers' bounce back Game 2 win, the Hawks were within two at one point and hung until late in the third quarter. A 19-5 Sixers run to start the fourth led by the bench and more specifically, Shake Milton, did in the Hawks' chances of taking two in Philly.
The key is to think about the Sixers' chances if Embiid doesn't play. Yes, they've dominated with him on-court and been destroyed in these two games without him. It's their biggest advantage. But a one-game environment with shooting variation and a totally different playstyle does change the equation.
The Sixers might win a game that Embiid sits out, Embiid might not miss a game, and the game Embiid sits might be the other game we expect the Hawks to get. Any of those outcomes leans towards Sixers in six or better.
On the other hand, Atlanta might just be better in this series. Trae Young and Bogdan Bogdanovic were a combined 12-of-32 from the field and the Hawks hung in the game.
I lean towards Sixers -1.5 at +135, but only if you think Embiid plays in three of the next four or six of the seven series games. Everyone's guessing blindly at his availability, but if you want to bet against Embiid's knee, don't mess around with individual games or total games played, just take the Hawks outright.
I get this sounds like a cop-out. I like either the Sixers or the Hawks, but what I'm really saying is to bet against a Game 7 Sixers win. Either the Sixers take care of business and finish this up after the Game 1 blip or they lose outright. No half measures … unless you want to hedge, of course.
---
Best value: Clippers +1.5 +125
There are just so many caveats to throw back and forth about Game 1.
The Jazz likely won't shoot as poorly going forward as they did in the first half, but Kawhi Leonard and Paul George likely won't combine to shoot 13-of-36 or worse going forward.
The Jazz were without Mike Conley, but there are some whispers that Conley's availability in this series isn't assured. The Jazz stormed back despite that terrible first half, but the Clippers were only down three and managed to run a horrendous final play without calling the timeout they had left.
So what do we make of this?
Well, first off, the Clippers are going to struggle with Donovan Mitchell in this series. Mitchell was beyond words in Game 1, with 45 points on 16-of-30 shooting with five assists (despite the poor Jazz shooting night).
The Clippers have two main coverages in pick and roll: switch and drop. They want to switch everything with their small-ball lineups and drop with Ivica Zubac.
You can't drop against Mitchell, it's doom.
He's good off the dribble with space to operate and when you bring help to tag Rudy Gobert diving to the rim like a brontosaurus going for a cannonball, Mitchell will deftly find the corner shooter.
So the Clippers tried sending two at Mitchell, much the same way Denver did in last year's playoffs. It was a disaster.
Donovan Mitchell putting on a show tonight. Double P&R, Kennard shows on the first one, Kawhi trying to recover, Mitchell attacks before he gets the chance. Splits, doesn't come off the second one, gets by Morris and finishes. pic.twitter.com/Illl4DEofW

— Steve Jones Jr. (@stevejones20) June 9, 2021

The Clippers are not built to blitz the ball-handler, they don't have the personnel for it, so Mitchell is going to continue to cook.
The Jazz shooting is another question. They are a high-floor shooting team, but they also get very easily sucked into just bombing away from deep — 27 of their 53 first-half field goals were 3's.
These are all in-rhythm, trigger-mechanics 3s, by which I mean, pick-and-roll, help comes, pass to the open man, pass to the more open man, shoot.
However, if you're the Clippers you kind of can live with some of this. You'll live with the Jazz trying to be carried by Royce O'Neal or even Joe Ingles. They just have to figure out a way to get the ball out of Mitchell's hands.
The Nuggets were torched by Mitchell in last year's playoff series but Mitchell ran out of steam eventually, struggling as the Nuggets' coverages became just a little tougher every time through.
The key with teams that are trigger-oriented like the Jazz (by which I mean "you do X, they pass to Y and if you then do Z, they react by doing A") is that over time, they get easier to play against. You go through the motions 50 times a game and you get used to the timing. Blitz, pressure, rotate, close, rotate, repeat.
The Clippers are much more blunt with their approach, but that's what makes it difficult to scheme. There's not a scheme for Leonard and George, you just have to play good defense and hope they miss. If you want to simply bet blindly against George, I can't blame you, he was once again a disaster Tuesday night.
However, the Clippers played in that Game 7, traveled, and a day later had Game 1.
Just another reminded that fading teams coming off game 7 is a profitable angle.

Teams that win Game 7 are now 32-48 (40%) straight up in game 1 of the following series! https://t.co/byXVHf0N5B

— raheem palmer (@djrtodaizza) June 9, 2021

So Mitchell was excellent, the Clippers' stars were awful, everyone was tired, and the Clippers had a chance to tie at the end of regulation (which they boned in incredible fashion).
You can get the Clippers at plus-money to win at least three games, still. If the Clippers win Game 2, that value disappears. If the Clippers lose Game 2, they have to win three of four just to get to that Game 7.
So if you're going to bet Clippers without betting them to win a road Game 7 in Utah outright, now's the time.
I genuinely don't want the Clippers +180 here. The Jazz are a much better team at attacking weaknesses, the Clippers make boneheaded rotation moves ("Where was Batum?!" "Why did Zubac play 20 minutes?!" "Kennard?!"), and I don't fully trust their stars against an actually good defense.
But I can get them to win three of five games or better at a plus number. That's the best play on the board.
How would you rate this article?
This site contains commercial content. We may be compensated for the links provided on this page. The content on this page is for informational purposes only. Action Network makes no representation or warranty as to the accuracy of the information given or the outcome of any game or event.