NBA Playoffs First-Round Series Prices: Betting 7 Games for Knicks-Hawks, Value on the Trail Blazers, More
Credit:
Getty Images. Pictured (L-R): Damian Lillard #0 of the Portland Trail Blazers, Giannis Antetokounmpo #34 of the Milwaukee Bucks, Julius Randle #30 of the New York Knicks.
The NBA Playoffs are here, which means series prices are here for the No. 4 vs. No. 5 and No. 3 vs. No. 6 matchups. We'll have to wait until Tuesday night to know the No. 2 vs. No. 7 matchups in the East, Wednesday night for No. 2 vs. No. 7 in the West, and Friday for all the series to be set.
But in the meantime, here's a look at my early picks and leans on these series.
Bear in mind I'll be doing deeper dives as the week goes along, and you can track my picks for series in the Action Network app.
WESTERN CONFERENCE
No. 3 Nuggets(-120) vs. No. 6 Trail Blazers (+100) [PointsBet]
To let you know this series is priced, both teams require laying juice for the win, and in series win spread, the Blazers are offered at -1.5 at +165 and Nuggets +1.5 at +205.
Those are curious figures. The Nuggets are favored to win the series, but plus-juice to be within 1.5 games.What this comes down to is firepower.
The Nuggets are without Jamal Murray, who was lost to a season-ending ACL tear. PJ Dozier is unlikely to be back before the start of the postseason. Will Barton is at best a coin flip to return for the beginning of the series, and it will be his first action in a month if he does return.
The Nuggets have had a lot of success vs. the Blazers in recent years because of their specific defensive scheme vs. Damian Lillard. The Nuggets play two-on-ball at the level of the screen, forcing the ball out of Lillard's hands, cutting the offense off at its knees.
The Nuggets have dominated their matchups with the Blazers the last two years. They lost in their first playoff run in 2019 in large part due to a wild coin flip Game 3 and a Game 7 in Denver that saw Evan Turner and Meyers Leonard both have tremendous scoring performances. You'll notice neither of those players is on the roster anymore.
But the changes to Portland are significant. In adding Norman Powell, the Blazers have added another creator who can handle the ball, allowing them to use Lillard in off-ball actions. CJ McCollum went wild in the 2019 series off all the attention on Lillard. Powell only compounds this problem, even if Denver is better defensively than it was in that series.
One significant shift has been in how the Blazers use Lillard. Lillard only isolated about 10% of the time before adding Powell. Since that has shifted to 15%. That 5% differential may seem low, but it's not.
The key is that by not involving a screener, it doesn't give the defense the ability to bring a second defender to crowd Lillard, meaning that he can just cook one-on-one and then pass when the defense is forced to react, rather than anticipating. He's also begun rejecting the screen outright, allowing him to get downhill.
The changes to Denver are also significant, but not in a good way. While adding Aaron Gordon gives them a massive defensive upgrade to put on wings, you can't just assign Gordon to Lillard because of pure foot speed. Without Murray, the Nuggets' formula has been: Nikola Jokic goes supernova, Michael Porter Jr goes semi-nova, and then the defense carries the day just enough.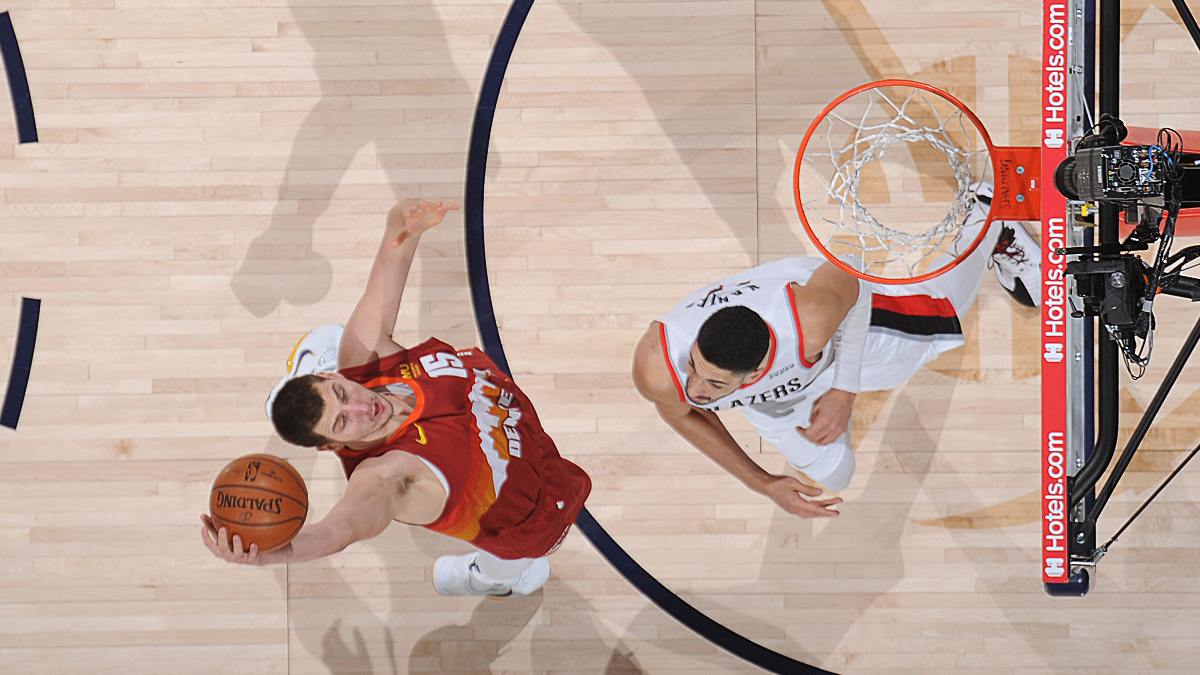 Since Murray went down, the Nuggets are 10th in the offense, a testament to what putting anyone with a pulse next to Porter and Jokic provides and the resiliency of the team and its coaching staff. But in the playoffs, when matchup advantages wind up swinging series considerably, you need on-ball creators, and Denver doesn't have the scoring they need.
The Blazers have been a house on fire since they hit their low point in late April. They had lost back-to-back games vs. the Grizzlies, getting punked on their home floor. A Yahoo article outlined Lillard's frustration of, and the message was clear: the team needed to pick it up, or there would be changes. There was also a reported team meeting. Since then, the Blazers are 10-4 with the best net rating of any team in the league.
I'm not a big believer in "getting hot at the right moment," which's widely been proven not to have any correlation to postseason success. But it's the combination of the way Portland has played, the confidence they have after beating the Nuggets in 2019 (even with different rosters on both sides), and Denver's limitations without Murray. Fully healthy, this is probably a Nuggets win in Game 5 or Game 6. But their missing players matter that much.
Be warned: Denver is the most mentally tough team in the league. They've come back from consecutive 3-1 deficits. Coach Michael Malone is excellent at finding mid-series adjustments, and Denver is likely to get more healthy as the series goes on, provided they don't suffer any more losses in this cursed season.
So expecting Portland to make short work of them is probably ill-advised. Additionally, Terry Stotts is 20-39-3 as a coach in the playoffs, the second-least profitable coach in postseason play since 2003.
But there isn't an adjustment or matchup I can see in Denver's favor to tilt it enough. Jokic should have great games against Jusuf Nurkic's fine-to-good defense; he's the MVP for a reason.
MPJ tends to struggle against physical covers but will likely adjust as the series goes on. But after that, who steps up? Who gives them enough? There's just not enough there, which is a shame because Denver was a sneaky good Western Conference dark horse option with Murray.
Pick: Blazers +100
---
No. 4 Los Angeles Clippers (-350) vs. No. 5 Dallas Mavericks (+275) [PointsBet]
Trying to get a sense of this series from the regular season is a challenge. In January, in the third game of the season, the Mavericks beat the Clippers by 51 points. As you can imagine, this wholly warped the stats on the season series.
That said, the Mavericks did win the season series and did so with Kawhi Leonard and Paul George on the floor.
The Mavericks rank eighth in offense this season; last season, they were first. They are 21st in defense this season; they were 18th last season. And yet, the Mavericks finished with a better win percentage than last season.
What is fundamentally different about this matchup from a year ago?
Now, Luka Doncic dragged the Mavericks to six games against the Clippers last season, picking on the Clippers' drop coverage. Kristaps Porzingis was effective before his injury as well. Dwight Powell was missing for that series after his Achilles injury.
But Seth Curry and Trey Burke averaged 24 points per game, shooting better than 50% from the field and 47% from deep in last year's series, and neither is part of the rotation this time around. Meanwhile, the Clippers have added Serge Ibaka for more small-ball options and Nicolas Batum for shooting.
The swing vote may have to be Dorian Finney-Smith, shooting 39% from 3 this season, and Maxi Kleber at 41%.
My lean is that there's value on the Clippers -1.5 (-160, PointsBet). But there are questions to answer. Can the Clippers successfully cover Kleber if the Mavericks run pick and pop action? Are they better built to defend Doncic?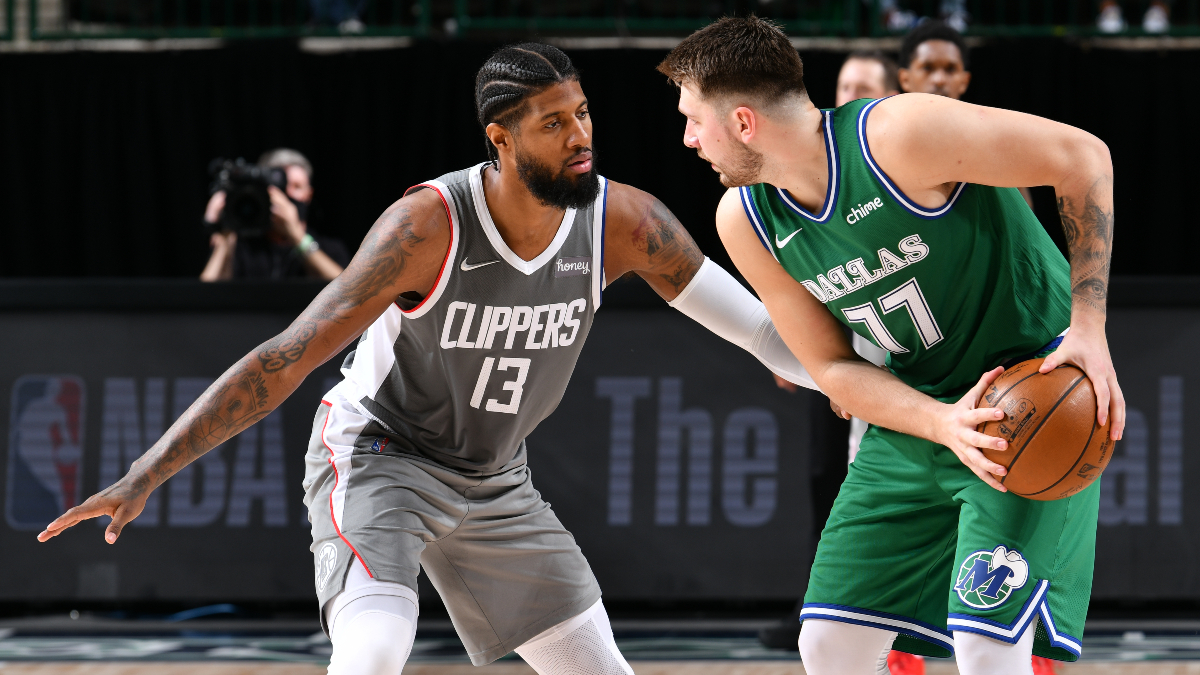 And then there's this …
Most analysis and the models used to develop these prices are built on season-long numbers. You examine how a team has performed all season, across all seasons, to determine their strength.
The problem with Dallas is that they were one team, a terrible team, vs. weak opponents and another, an outstanding team, vs. good teams.
The Mavericks, per Cleaning The Glass, were ninth on offense, third on defense, and third in point differential vs. top-10 teams in point differential on the season, going 11-12 straight up, a full game and a half worse than their Pythagorean expectation. They were 18th in offense, 28th in defense, and 24th in point differential vs. bottom-10 teams in point differential, going just 14-10.
They were dynamite vs. good teams and awful vs. bad teams.
The Clippers were also excellent vs. top-ten teams in point differential (8th in offense, seventh in defense, sixth in point differential, 11-12 record). So maybe that doesn't matter.
But it's enough to make me want to wait on this price. I'm not teasing you; I just don't have an answer yet.
Pick: None (wait for a better price)
---
EASTERN CONFERENCE
No. 3 Milwaukee Bucks (-275) vs. No. 6 Miami (+225) [BetMGM]
We were all over the Heat last year vs. the Bucks. Everyone at Action saw it coming a mile away, and we were far from the only ones.
Now we're right back here.
There isn't the same enthusiasm for this pick across analysts this year, and the price has dropped from last year. Last year Miami was at +357, now it's just +235. You're losing over a dollar in value in this matchup year over year with a worse Heat team and a better Bucks team.
The big issue for Miami is scoring, as they finished 18th in offensive rating. But over the last 15 games, Miami was third in offensive rating. Much like the Blazers, if you believe in teams peaking at the right time, Miami is a good choice.
The Heat finished 1-2 vs. the Bucks this season, with the last Bucks win coming in a game the Heat punted. Miami was just fine with winding up 6th vs. the Bucks, no surprise after last year's postseason.
They split a "duplex" series earlier in the season where Milwaukee won the first matchup by 47, and then the Heat won the second night of the back-to-back second matchup by 11 in a comeback.
For Milwaukee, maybe the best of news is the changes to Miami. Do you know who led all players across all four series in the conference semifinals, in 3-pointers made per game?
Not Duncan Robinson. Not Jimmy Butler. Not Tyler Herro. Jae Crowder.
This is pretty typical. The Bucks' scheme can effectively defend the primary offensive 3-point weapons. In 2019, they defended Kyle Lowry and OG Anunoby well from a distance, but Fred VanVleet destroyed them. Last year they did a great job on Duncan Robinson, holding him to 2.4 makes per game on 35% 3-point shooting. But Crowder hit 4 3's a game (!), shooting 43%.
Goran Dragic was on a tear in the bubble; he's regressed somewhat. Kelly Olynyk had a +23.4 net rating in 58 minutes vs. Milwaukee in that series; he's no longer there.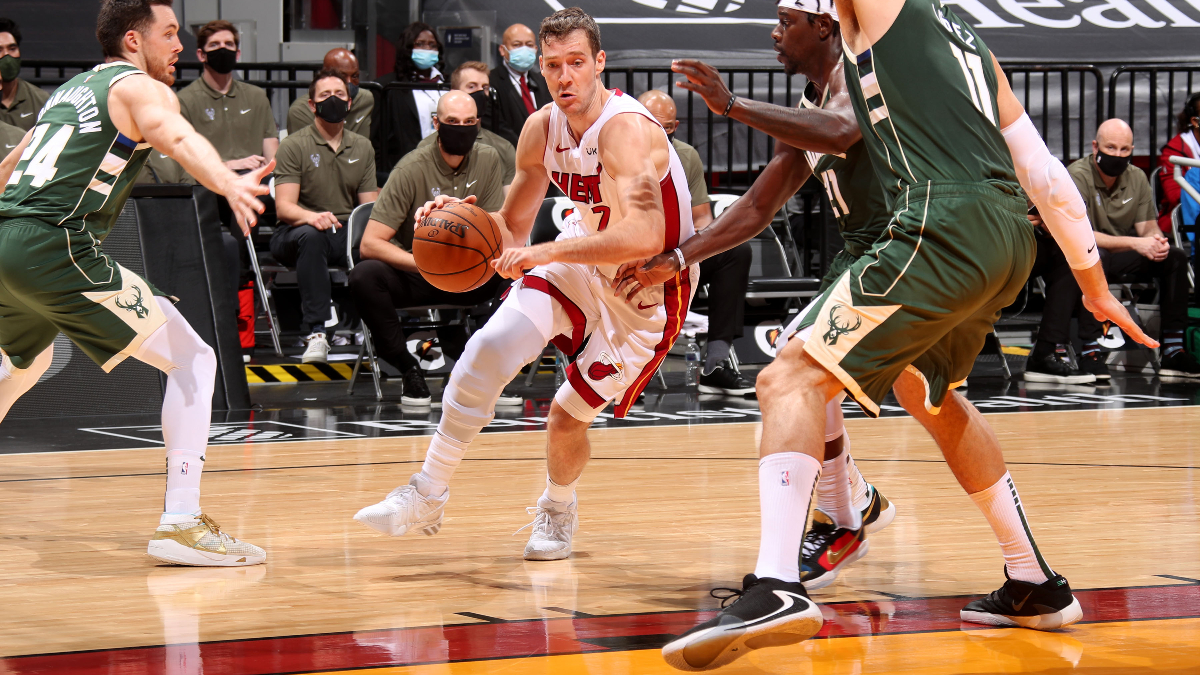 Now for the bad news for the Bucks. For starters, Miami added Trevor Ariza. Ariza is shooting 32.5% from 3, however. Kendrick Nunn is a year older and has more experience, he's likely to be trusted more, and he can hurt them the same.
The more significant issue is offensively. The Bucks just absolutely melted in that series offensively vs. the Heat. They're still great offensively this season, top five in offensive rating and 3-point percentage.
They're not as deep as they were last year, but honestly, that's a blessing as it may mean that Mike Budenholzer actually relies on his best players to win the most minutes he can, something he struggled with in previous seasons.
The most worrying element? Against zone defense, Milwaukee was 12th in points per possession last season. They've slipped to 14th this season. Still good, but that's worrisome, although their effective field goal percentage in those situations is better.
Jrue Holiday has to be the difference-maker in this series. The Bucks gave up five first-rounders to trade for Holiday, a move that helped them re-sign Giannis Antetokounmpo. Holiday in this series has to help defensively vs. Dragic, Nunn, and Tyler Herro, and on offense, he has to create looks on his own, something Milwaukee has melted in attempting in other seasons.
When the Heat load up on Giannis, will they let Holiday create? Holiday has run 212 pick and rolls with Antetokounmpo as the screener all season. The results in those are excellent, with Milwaukee scoring 1.05 points per possession on those opportunities. Notably? 157 of those 212 have come since April 1.
These questions are why I have some hesitancy. I'll dive in more as the week goes on, but you can get Milwaukee -1.5 games (a 4-2 win or better) at around -138, which is good value.
Lean: Bucks
---
No. 4 New York Knicks (-110) vs. No. 5 Atlanta Hawks (-110) [BetMGM]
In his postseason career, Tom Thibodeau is 26-30 (46.4%) against the spread and Nate McMillan is 19-28-1 (40.4%) ATS.
This is not a battle of playoff Wunderkinds.
The paradigm for fading the Knicks is that Tom Thibodeau teams tend to go the hardest of anyone in the regular season. They play hard all the time. I can point to various metrics on this, minutes played, distance traveled, usage rates, even how hard their closeouts are.
But in the playoffs, it turns out, everyone tries hard. Everyone plays to the bone. That advantage, so prevalent in the regular season, dissipates.
The Knicks give up the fourth-highest expected opponent effective field goal percentage based on where opponents shoot and the second-lowest actual opponent eFG%.
The way that translates is "teams missed a lot of good looks vs. the Knicks." For further proof of that? The Knicks had the second-best defensive mark per Synergy Sports on "unguarded" catch-and-shoot jumpers. Opponents shot the second-worst on "wide open" looks via Second Spectrum data, and fourth-worst when a defender was 4-6 feet away, classified as "open."
Now, I'm not surprised those figures held this season; again, the Knicks play a physical, rugged, high-energy style on both ends of the floor. They make you "feel" them. But in the playoffs, that's standardized across.
My hesitation is that I don't know if the Hawks are the team built to outclass and outwork the Knicks.
This is a highly inexperienced matchup on both sides. For the Knicks, they're led by Julius Randle making his playoffs debut and RJ Barrett in his second season. Their veterans are Derrick Rose, Taj Gibson, and Reggie Bullock (making his postseason debut).
For Atlanta? Trae Young, John Collins, DeAndre Hunter (if available), Cam Reddish, Kevin Huerter, all making their postseason debuts. The Hawks' veterans are Danilo Gallinari, Lou Williams, and Clint Capela. Certainly, those guys have big series under their respective belts, but the kiddos will have to learn what the playoffs are about for themselves.
You can get over 5.5 games played at -200 at DraftKings, and if you're feeling froggy, over 6.5 (a 7-game series) at +195. (You can also just bet Knicks in seven games at +450 and Hawks in 7 at +430 for a hedged profit.) My read on the series is a sloppy, awkward affair, even it's higher scoring than expected and one that drags on for six or seven games.
Lean: Long series
How would you rate this article?