Why Won't Bucks Coaches Adjust? 'They'd Rather Lose Than Abandon Their Beliefs'
Credit:
Jim Poorten/NBAE via Getty Images. Pictured: Giannis Antetokounmpo #34 and Head Coach Mike Budenholzer of the Milwaukee Bucks.
Milwaukee Bucks head coach Mike Budenholzer, much like his mentor, doesn't make adjustments often -- not in the regular season and certainly not in the postseason.
With the Bucks down 0-2 to the Miami Heat, Matt Moore talks with NBA insiders on why Bud will likely win or lose with this philosophy ahead of Game 3.
"Why won't he adjust?" 
That question plagues the NBA playoff discussion like no other. The answers to solving a team's problems seem so plain to the outside world when a team goes down in a series. A coach's unwillingness to adopt those measures seems to reflect pure stubbornness or ignorance of the things holding them back.
Coaches are evaluated by fans and media based on a handful of observable events. Did they make this patently obvious lineup change? How's their offensive play-calling out of a timeout? Did they call a timeout at the right time? Did they challenge the right call?
But it's mostly "Is the team good?"
Coaching is primarily about being the lead decision-maker. Who gets minutes, what's your identity, when are you practicing and when are you not, what lineups work, how do you manage stamina?
But in the playoffs, everything switches to adjustments and managing team mood. All the conversation is about the former, and the latter usually goes completely ignored.
In the playoffs, against one opponent, the tactical advantages and disadvantages are transparent. So the question becomes "why isn't this coach adjusting?" And it's asked over and over again, often without the requisite change ever coming.
How can a coach be good enough to lead his team to the playoffs, often times as a favorite, and be unable or unwilling to adapt the one tactical approach that can flip the series in his favor?
What follows is not an attempt to excuse stubborn approaches that cost teams series, but rather to explain and seek a way for it to improve.
The Buck Stops There
I can reference any of the ongoing playoff series when it comes to the issue of adjusting vs. resisting that urge, but really, we can be honest. This is about Milwaukee Bucks head coach Mike Budenholzer.
Budenholzer has built the best team in the league, record-wise, in three of the past five seasons. He has also flamed out of the playoffs before the Finals in each of those five seasons.
The loudest criticism has been about Budenholzer's lack of adjustments. When the Raptors figured out how to ably defend Giannis Antetokounmpo, he stuck with his offensive approach, throwing Antetokounmpo against a brick wall over and over. When the Raptors took advantage of the Bucks' defensive scheme, he stuck with it.
Going back further, in 2015 the Hawks were injured beyond recognition by the time they faced LeBron James and the Cleveland Cavaliers. But the team's entire scheme was built to stop James and make him pass, despite the fact that the Cavs had specifically built their team to have three shooters and a finisher (Tristan Thompson) around James.
Budenholzer has not found a tactical adjustment to beat a team that took at least two games off him yet. That's damning.
Budenholzer is objectively not a bad coach. He has coached these teams to the best record in the league. His team reached the Eastern Conference Finals twice. It would be one thing if they were bounced in the first round, but they can win playoff series, that's how good they are.
So why are adjustments so hard for Budenholzer?
Not making adjustments is a choice and that choice ties back to where Bud got his NBA start: Gregg Popovich.
"Pop" Culture
Popovich has won five titles with the San Antonio Spurs and had a playoff streak lasting over 20 years broken this season. The Spurs' stretch of high-level success across so many season is nearly unprecedented.
He's arguably the greatest coach in the history of the sport, worthy of mention alongside Red Auerbach and Phil Jackson.
Also, surprisingly, Popovich really doesn't make adjustments in the playoffs the way his reputation proceeds. Popovich put it plainly several years ago:
"I think overall, over a whole series, the number of adjustments, or the magnitude of adjustments, is definitely overrated," said Popovich.

"I think there are certainly tweaks that are made. And then there might be, you know, one or two adjustments that are made — a personnel change or a defensive change — that kind of thing that helps win a game here or there. But for the most part, I think it's probably exaggerated."
Budenholzer joined Popovich's staff in 1994-95 and spent nearly two decades with him. And Popovich's thinking on this isn't unique. It speaks to a common line of thought that says that you focus on making sure your execution is right first before thinking of changing what you do, especially when you've been incredibly successful with that approach.
"Stay true to who you are," is a common refrain. One exec described it as going beyond tactics and almost into a coaching morality based on approach:
"My guess is they need to adhere to a principle because that's how coaches are. Principles are everything and they would rather lose than abandon their beliefs. What some consider adaptable and flexible, others consider flaky and inconsistent. It's almost a badge of honor to have a principle and see it through."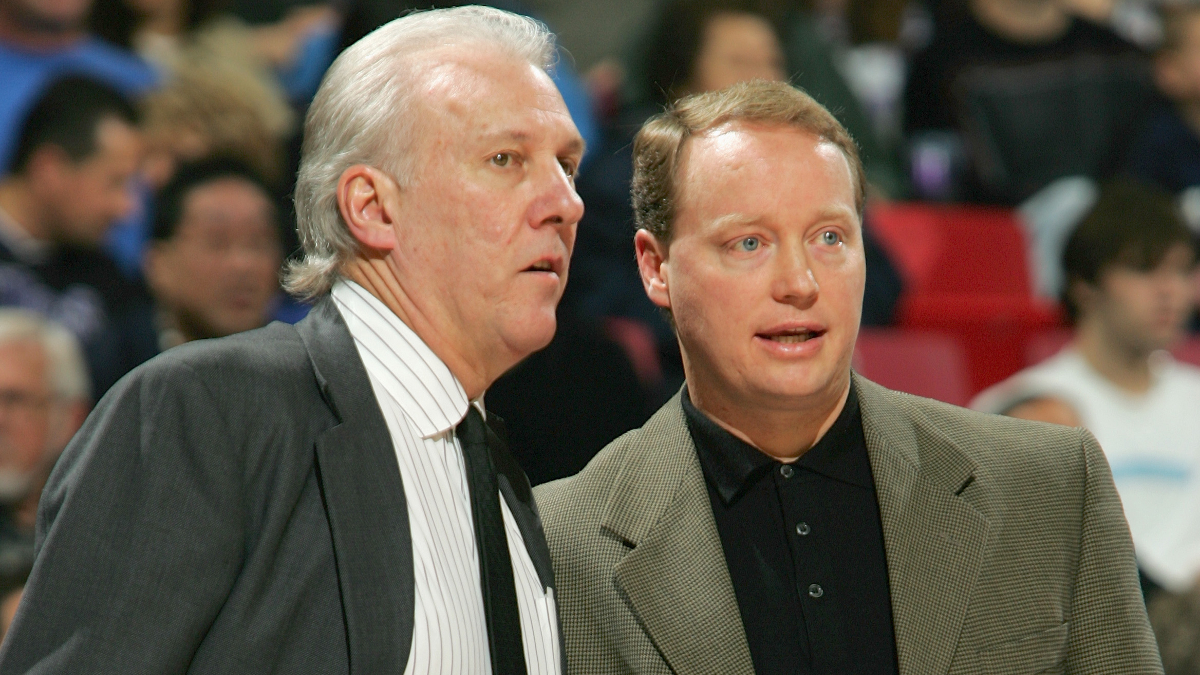 I asked one NBA scout about where the reluctance to make adjustments comes from.
"I think a lot of it is wanting to trust what got you there in the regular season," the scout said. "Like, to me, it's no coincidence that the guy who is willing to make changes in the playoffs (Nurse) is the same guy who makes changes all throughout the regular season."
"Like if you make a change you have to make sure it works because if you make a change and it doesn't work, that could fuck with you mentally right? Like bench a guy and it doesn't work, you lose that guy for the rest of the series."
And that brings in the other part of this: while an adjustment can ultimately be the right one, it depends on buy-in from the people involved, and that's sometimes tough.
A Game of Confidence
Players want to win and will sacrifice if they feel it's what's best for the team. But they're also hyper-confident. Disrupting that, bending to the opponent, is dangerous.
Check out Jimmy Butler's response to the question of why Giannis Antetokounmpo didn't guard him late in Game 1:

As a coach, if you suddenly start getting away from your identity, the players question both your confidence and their own. That's not going to lead to good outcomes. It's a spiral. Your team is losing so you change your approach, which undermines confidence and increases the risk of a loss.
Steve Jones is a former NBA assistant coach and video coordinator who believes a consistent message from the head coach is key:
"The main hesitancy for coaches is, in essence, it goes against what they've done all year long," Jones says. "These are things you've done for an entire season. You've worked to perfect it. You don't want to disrupt who you are, what you've been, what you do just to attack, or react to a specific team. Because ultimately the playoffs are about matchups, what doesn't work vs. one team may look great against the next. The best adjustments in the playoffs are the subtle ones where you tweak what you do to fit a certain team.

"Coaches go over more scenarios than most can imagine and have to battle a gut feeling vs. their brain all the time," Jones continued. "The thing that gets lost sometimes is how much you can affect your team with certain adjustments. You can affect the confidence in a big way because if you take something you've worked to get people to believe in, say essentially it's not good enough and then fail again, what do you have left? That's a quick way to lose a team. It's also easy to forget the other team knows this as well and they can smell blood in the water. You're ringing an alarm."

"It's tough to ask a big who has been in a drop all year long to get up on every screen. Not only that but you could be putting guys in rotations who may not be used to it. That ties into that trust and identity."

"There's a reason the Lakers don't start Anthony Davis at the 5 and it's not because it's not their best lineup."
Sometimes the adjustment is a personnel one, and it involves starters. That gets even more complicated.
The Denver Nuggets had a -13.6 net rating with Paul Millsap on the floor vs. Utah Jazz, and a +7.5 net rating with him on the bench. It was patently a bad matchup for Millsap with the Jazz employing long, athletic defenders like Juwan Morgan with Rudy Gobert who roam the paint.
Millsap started all seven games.
"He's a guy I continue to trust, and he's important to our team," Nuggets head coach Michael Malone said before Game 7 on Millsap's role in the series. But Malone also cited how he closed games in this series with younger and more athletic lineups, and credited Millsap for being supportive.
But Millsap is also a) not a big-ego player and b) 35 years old with his biggest contracts behind him.
If you're young or in your prime, losing minutes in a playoff series messes with your earning potential and/or your ego, and that can influence team relations with an agent, which can influence negotiations with other free agents. Eventually, coaches have to do what's best for the team, but these are all factors that go on behind closed doors.
Players need to feel like their coach trusts them, and that trust needs to be reflexive.
"Imagine if OKC had taken Dort out of the lineup because of how he was shooting?" Jones asks. "Coaches have to get the most out of their players and keep their team confident in what they are trying to accomplish."
The Cold Hard Truth
Let's go back to what that scout said about coaches who, like Nurse, constantly make adjustments throughout the season and those, like Bud, who do not. The takeaway was to trust what made that team successful all year.
The Bucks played drop coverage all year. They very rarely switched. They very rarely played Antetokounmpo more than 35 minutes per game and they very rarely played Giannis at 5.
They clearly defined who they were and absolutely stomped teams with that approach. But it also means when faced with a matchup where they need to be able to bring different coverages and rotations to the table, there's no familiarity.
Budenholzer clearly needs to play Antetokounmpo the majority of Game 3. The Bucks need to be able to vary their coverages. They desperately need to put more pressure on Goran Dragic. But the disruption of these concepts means moving completely away from the identity that got them here.
"Bud believes in his system," one league executive told The Action Network. "Coaches have to believe in their system in order to implement it, but then it becomes this anchor they've tied themselves to. Some guys define how they play vs. the way they play, and those teams often times have more playoff success."
It doesn't change the reality that the team the Bucks have been isn't working now. Some of that is a product of how different the playoffs are from the regular season, some of it is the specific matchup with the Heat, some of it is poor execution.
"Unfamiliarity plays a role in this," Jones said of the need to know what you're adjusting to. "In the regular season, you want to try different things to see what works and what doesn't because ultimately whatever scheme you want to use needs to get the most out of the roster you have."
Ultimately, fans, the front office, and ownership won't care about what the challenges are to making adjustments. They have to be made. That's why they're important in playoff series.
It's not as simple as coaches ignoring the obvious solutions in front of them, but it doesn't change the reality that if coaches don't make them, they're probably going home.
I once asked George Karl if he'd rather win by adapting his style to the demands of consensus or lose playing his way. He told me he'd rather lose by playing his way.
It was a sign of how much he believed in his ideas and philosophies. Karl won 1,175 games as an NBA coach with a 59% winning percentage and a NBA Finals appearance.
He told me that before his first playoff series against Stephen Curry and the Golden Warriors in 2013.
The Nuggets lost as a favorite in six games.
How would you rate this article?
This site contains commercial content. We may be compensated for the links provided on this page. The content on this page is for informational purposes only. Action Network makes no representation or warranty as to the accuracy of the information given or the outcome of any game or event.