Moore: Game 2 Picks and Matchup Analysis for Raptors-Magic, Nuggets-Spurs, Thunder-Blazers
Credit:
USA Today Sports. Pictured: Kawhi Leonard, Nickola Jokic, Damian Lillard
There are three Game 2s on deck tonight: Raptors-Magic (8 p.m. ET on TNT), Nuggets-Spurs (9 p.m. ET on NBA TV) and Thunder-Blazers (10:30 p.m. ET on TNT).
Matt Moore runs through lessons from the series openers, plus uses more matchup analysis to make some picks.
Let's preview Tuesday's Game 2s with a look back at the series openers and analysis of the matchups to reveal where the value is tactically headed into some must-win games.
I would be concerned if the Raptors had played like the Raptors in Game 1 and lost, but they played unlike themselves in many ways. They were a top-10 team in 3-pointers allowed per 100 possessions and Orlando dropped 14 on them behind the best percentage of any team on the first weekend of playoffs. Kyle Lowry went scoreless. Marc Gasol messed up several key possessions. It was a mess.
Now don't get me wrong: The Raptors played exactly like Game 1 Raptors. That's what the Raptors do in series openers, which is why I grabbed the +8.5 on Orlando. I spend my whole day figuring out the logic puzzles of the NBA, and even I knew that "Raptors favored by 8 vs. a team whose entire identity in the regular season was 'beat good teams, lose to bad ones'" was blowing the wind in a certain direction.
But sustaining what the Magic pulled off in Game 1 will be difficult. For starters, the bar for a better Lowry game is literally "score a bucket." If he converts a single field goal, the game is radically different. The issue with Lowry in the playoffs is consistent: It's not that he doesn't get to have bad games, it's that he can't have "stuff the worst nightmares are made of" games. And that's what he had in Game 1.
That said, there's got to be better work from him defensively. He simply got beat too many times, especially in situations like this in mid-transition:

That was a trend for the Raptors; they gave up some fast-break points, but it's these sequences that really hurt them, when they should be back and the Magic catch them off-guard.

One thing to consider with these breakdowns: They're all fixable. That's a consistent trend when analyzing the line. The Magic didn't present problems the Raptors couldn't solve — they challenged the notions of what Toronto should be able to do and made the Raptors a victim of their own miscues. That's how you steal a playoff game on the road, but it's hard to do in back-to-back games with both the urgency of a Game 2 and a good film session.
Nikola Vucevic had a rough game, which should fix itself in Game 2, even if the Magic's overall offense regresses. Notably, he got good looks in pick and pops vs. Gasol that will still be there.
Look at the all three of the clips above: Gasol was a help defender and got cooked on all those. This is an issue. He can muscle up Vucevic in the post, but Gasol is going to have problems in any kind of space containment.
A key lineup note: The Raptors' starters — despite Lowry's sucking — had a net rating of plus-28.9. They slaughtered the Magic, especially when Jonathan Isaac (who hit a huge late 3) was in. That makes the first-half spread of Raptors -4.5 valuable, which is notable for another reason: The Magic's bench got an outlier defensive performance. Khem Birch and Michael Carter-Williams had an 85.3 defensive rating; that's unlikely to sustain. The Raptors got worked with their bench units against lineups they should win against. That's another thing that feels like an outlier.
Pascal Siakam was incredible. He roasted Jonathan Isaac and was able to just have so much control on his drives. The Magic need to attack his handle a lot more.

Carter-Williams hit three 3-pointers in 19 attempts for Orlando this season in 227 minutes. He hit two in Game 1. The Raptors rightfully didn't defend him. And he made them pay. Playoffs:

As for the line (Raptors -10.5), 2-seeds are 9-6 against the spread when favored at home after losing Game 1. That margin seems high, but we saw in Game 2 of Sixers-Nets what happens when a frustrated, better team is up against the wall at home. Blowouts. The Magic would be happy with the split, and the Raptors know they're up against a wall. The Magic shot an outlier from 3 and had a huge number of things fall into place in Game 1, which are difficult to replicate. Toronto takes care of business with some easy adjustments in Game 2.
I'm in a tricky spot here: 1) I picked the Nuggets to win the series in six; 2) I live in Denver, so they're my "home" team. I'm exposed to them more, which can often create a favorable bias; 3) I have never been a believer in a team led by DeMar DeRozan and LaMarcus Aldridge. So when I say "the Nuggets just missed shots," it definitely comes across as being sourced from a place of hubris or denial.
Except that I took the Spurs in the first quarter and first half on the moneyline in Game 1 knowing that Denver would come out nervous and tight. But the Nuggets made really good reads and played with urgency to match San Antonio early, and settled down in the second quarter. They just couldn't shoot.
For the love of God, look at this: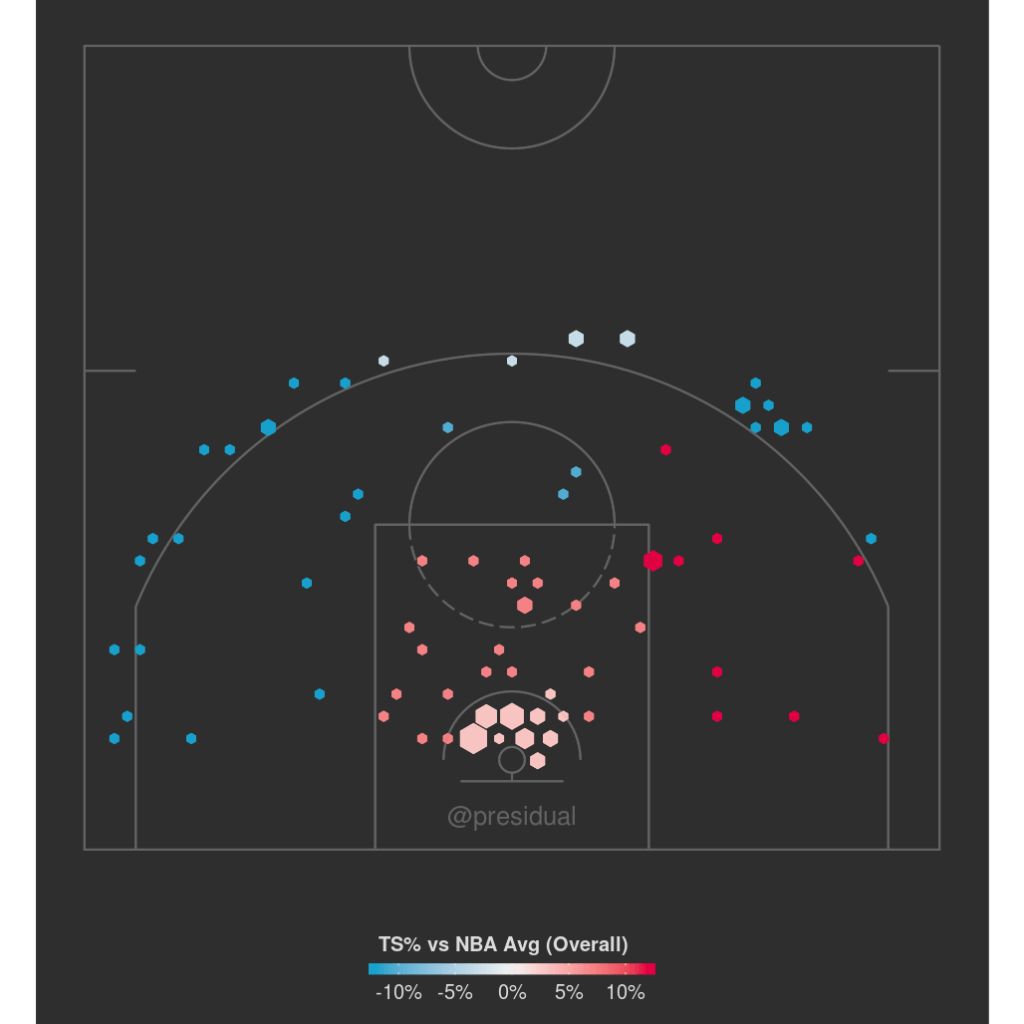 The Nuggets had a 4.3% lower effective field goal percentage than expected based on Second Spectrum data. They shot 5-of-17 on catch-and-shoot opportunities. That's catastrophic, and so many of them were great looks.
The Nuggets missed three straight catch-and-shoot looks to tie the game in the third quarter (and Will Barton missed a pull-up 3). The inability to get over the hump in that stretch, followed by Derrick White's killer dunk, really killed their momentum.

There's a temptation when you miss good looks in a playoff spot to say "they must have done something wrong." Casual fans will say "well, if you're missing 3s, you should go for something else." Except trying to take mid-range 2s for non-shot creators or getting to the rim when the Spurs are jamming the paint does not improve your chances of success. You keep shooting and hope that things get back to standard performance. The Nuggets weren't great in this area, they were 16th in effective field goal percentage on catch-and-shoot shots this season; they are prone to cold streaks. But it was a one-possession game at the end. If the Nuggets just shoot better than 29.4% on those shots, they win the game.
There were things the Spurs did well, particularly the double on Nikola Jokic. They dared other guys to beat them, and Denver almost did. But Jokic finished with only three turnovers to 14 assists. He handled the defense really well and made the right passes. And then…

The Spurs are a fascinating team. They shoot brilliantly on great shots … they just hardly take them. The Spurs took the sixth-least catch-and-shoot shots despite a blistering 71% effective field goal percentage on them. They led the league in 3-point percentage in the regular season and were dead last in attempts per 100 possessions. It's baffling, but like all Spurs things, they make it work. However, it's also part of why they almost lost a game in which Denver shot 42%.
This is why I worry about a team in which DeRozan is going to get the final shot in most situations. These are shots DeRozan can hit. They're also the only shots he's going to take, particularly in key situations:

Meanwhile, the Nuggets' biggest real concern is Bryn Forbes. He's a killer from the perimeter and has been big in every matchup against Denver this season. Jamal Murray fell asleep on the Spurs' first scoring possession and splash. Then the Spurs ran him off multiple stagger screens and Forbes got loose from Monte Morris:

The former is a problem because it's unknown whether the Nuggets are going to make the logical adjustment and put Gary Harris on Forbes to tail him and move Murray to White, and the latter is problematic because the Nuggets don't have the defensive knowledge base or personnel to be able to switch on those screens effectively. Forbes should have another big Game 2.
Jamal Murray had a 29.6 usage rate in Game 1, nearly twice that of Gary Harris' 16.5 — that's also a problem. Harris is more steady, more reliable and the Nuggets' offense started to cook when he got going. Murray is aggressive, which is good for Denver. But if Jokic is going to be held to a low usage rate due to the consistent double team, Murray can't try and do it all on his own. There's talk of more Murray pick and roll with Jokic, but more DHO with Jokic and Harris is a much better path for Denver's success.
Denver has to be the play (-7), with most of the money coming in on the Nuggets (73%) as of writing (see live data here). It took an apocalyptic shooting performance for them to lose a close game, they're at home and, if they lose this, the series is over. San Antonio might just get another outlier performance and out-tough Denver mentally, but the Nuggets also have a lot more counters in their bag than the Spurs have in theirs. The nerves are gone, and shooting should stabilize. Game 3, however, is another matter.
This series is not the one for: Mason Plumlee or Jakob Poeltl.
Similar to Denver, the Thunder just missed a ton of good looks. Now, they're not as good of a shooting team as Denver, so a bad performance is expected. But 4-of-20 is apocalyptic.
The big key for me from Game 1 is that OKC got outscored 39-25 in the first quarter, then won the second and fourth quarters, only losing the third by a point. So essentially you have a hot start from the home team coupled with a horrible shooting start, then OKC settled in.
I'm on Thunder +2 in this one, having grabbed it earlier, but it makes me queasy. Essentially, betting on the Thunder when they're the better team and should win is horrifying. They're the underdogs here — and 10-7 ATS this season as an underdog — but they are the better team on paper given the Jusuf Nurkic injury. And they simply never seem to perform to their ceiling. I have confidence it will be a close game in the fourth no matter what, but the outcome is more nerve-wracking. I'll also be hammering the Blazers if they're down at half and be on the Thunder in the fourth if trailing. The Thunder are magnetized to being tied.
One outlier I don't find sustainable was Enes Kanter, who was the talk of the town after Game 1 with 20 points, 18 rebounds and a plus-15. Except after that first quarter? He had 12 points and was a net-zero. That's better than the other Blazers, who were under water, but a sign that maybe people should chill out with "Kanter is good now." The Thunder will continue to attack him and it showed more and more in Game 1, there are opportunities:

Al-Farouq Aminu has an over/under of 10.5 in this game and I like the over. He's going to get quality shots with Jerami Grant going to help out inside. Similarly, I like Jerami Grant to get going after shooting just 2-of-8, I'm on his over of 13.5 points.
How would you rate this article?