Exclusive Q&A: The NBA Details Its Role in Sports Betting, Integrity Fees and More
Credit:
Kyle Terada-USA TODAY Sports. Pictured: Adam Silver
Scott Kaufman-Ross, the NBA's Vice President, Head of Fantasy & Gaming, sat down with The Action Network's Matt Moore for an exclusive Q&A to discuss the league's stance on sports betting.
Kaufman-Ross on integrity fees: "We have a much better chance to protect our integrity in a regulated market than in an unregulated market. However, there are expenses that come with it."
Nevada's margins have historically been around 5 percent, but Kaufman-Ross says there's reason to believe that could be much higher in a fully regulated environment.
With the NBA announcing a formal partnership with MGM Grand on Tuesday, the league's first foray into formal relationships with the gaming industry represents a shift in the sports industry and the next step in a burgeoning frontier opened after the Supreme Court ruling this spring.
The NBA continues to lead the way among sports leagues in attempting to carve out a space for sports betting, and it's having plenty of conversations with the ever-increasing number of state legislatures to take up sports betting bills.
But that approach has drawn pushback from the gaming industry. At the 2018 NBA Finals, Adam Silver spoke at his press conference about the evolving nature of those conversations and the criticisms it has brought.
The Action Network sat down with Scott Kaufman-Ross, Vice President, Head of Fantasy & Gaming for the NBA before Summer League to discuss the league's position on the widely discussed integrity fee and what the future could hold.
Editor's note: The transcript below was condensed in spots for clarity.
---
Matt Moore, Senior NBA Writer for The Action Network: Is the league in a position where it wants to drive the conversation at the state or federal level, or are we still in a reaction stage? 
Scott Kaufman-Ross: I wouldn't say we're in a reaction stage. When the Supreme Court took on this case, we got together and thought through "There's a good chance the Supreme Court will rule (the way it did) and we need to be prepared." And while Adam (Silver) has been consistent that a federal framework is preferred, just for consistency, realistically that was unlikely to happen, so we needed to be prepared at the state level.
So what we did is we prepared a model bill of what we thought would be the right framework from the league's perspective either at a state level or a federal one.
MM: Is the league still pursuing federal legislation or is there an understanding that that ship may have sailed? 
SKR: Right now we're more active at the state level because that's where the conversation is happening. I'm not sure we're taking the position that the league should drive the conversation. It's more that should there be interest at the state or federal government, we should be a part of the conversation. It's not as if we're flying to states saying "You should take up sports betting." We're saying if you choose to take up that legislation, the leagues are key stakeholders and we should be a part of that conversation.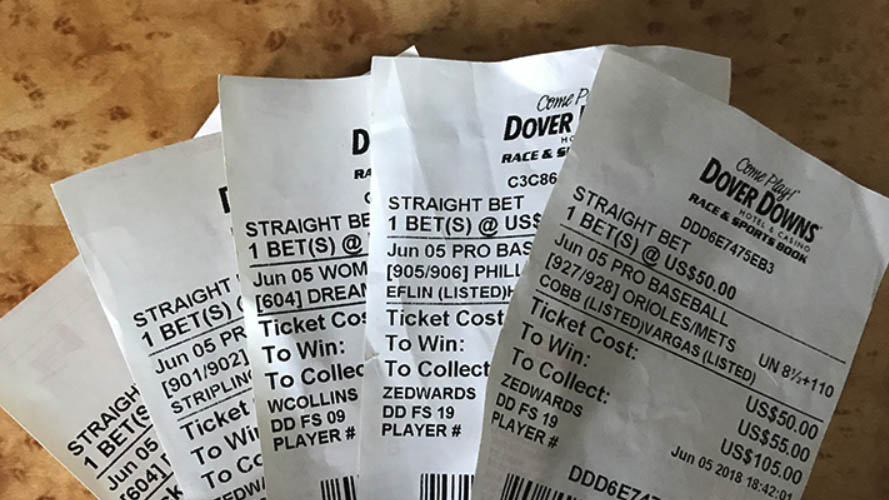 Courtesy of Lauren Joffe
MM: The league has very profoundly pushed its priority on preserving the integrity of the game. Does the league also see this as an opportunity for the league in terms of revenue and not just something that's happening to the league?
We wouldn't dispute that there are commercial benefits to sports betting. And Adam in his op-ed addressed that it was part of it. Integrity of the game is of the utmost importance to us. I think there's been some confusion in the media suggesting the league's position is that "a regulated market is worse for the integrity of the game" which is certainly not what we're saying. We have a much better chance to protect our integrity in a regulated market than in an unregulated market. However, there are expenses that come with it, and now there will be more that we can do to protect the integrity of the league now that it's going to be regulated.
Right now in Vegas there is roughly $5 billion in handle, and the estimates for the illegal markets are typically $150 billion for the mid-level of what we typically see. So that means we can only monitor $5 of the $150 billion. And we do. We have arrangements with companies to monitor sports betting in Nevada and we have arrangements with companies to monitor sports betting internationally.
So when it becomes regulated, now that other 97% comes into the public sphere and we'll have an opportunity to monitor that. And that's a good thing for integrity, but it will also cost more money, because we'll have to monitor 30 times as many data points and do 30 times as much education, etc. It's true that we think it's better for it to be in a regulated market, but it's just going to be a little more expensive.
---
>> Download The Action Network App to get real-time odds, track your bets and follow all of our experts' picks.
---
MM: What are the actual tangible costs that the integrity fees would go toward? 
SKR: First I want to be clear that the fee is not just about the cost. It's about the fact that it's our product, etc., but it's not just about the cost.
Let's take Nevada right now. The Nevada Gaming Control Board has full view into all the regulated sports betting that's happening. In an intra-state approach where you don't have the federal government monitoring what happens across state lines is not going to be something that the state governments and state regulators can do. One of the things we've asked for is that the operators share anonymized real-time betting information. No customer names, or PII, so we can monitor suspicious betting activity.
(NOTE: The NBA's deal with MGM includes this type of real-time data sharing.)
We have no doubt that the operators are going to do what they can on that front, and the regulators are going to do what they can do on that front.
So if the operators see something, they're going to report it. We have full confidence in that, same for the regulators. But neither of those parties are going to have the purview of what's happening across state lines — especially in the Northeast, where so many states are close together.
If a bettor wanted to manipulate a market and said "OK here's a prop bet that I have a way to manipulate based on information or a relationship whatever that may be. And I know that the prop bet is only going to be a $500 max, but if I place that 10 times in Pennsylvania, and then I drive it five miles over the border and I can place it 20 times in New Jersey." Well now you have a bettor who has significant exposure on a prop bet that perhaps is subject to manipulation, but each operator is only going to see a $500 bet and each regulator may only see that bet was placed five to 10 times.
But when you have a holistic view of what's happening across states, you may realize the level of effort and the level of exposure and flag a risk that you may not see otherwise.
We got this idea from talking to international regulators, who said: "Right now what we see in Europe and Australia is insufficient, and we wish we saw more real-time data across operators." That is the major thing that the leagues want to do is hire a lot of people to do data analysis, hire companies to help, etc.
In addition to the companies that we're already working with on integrity monitoring, we're also talking to IBM and NASDAQ who have tools who can do this from the [financial] markets. We have access to other information like player information and referee information the books may not have.
The point is: to set up a best-in-class integrity and monitoring program, we need to play a major role on that, and it's something we can't do right now because it will take a multi-state view.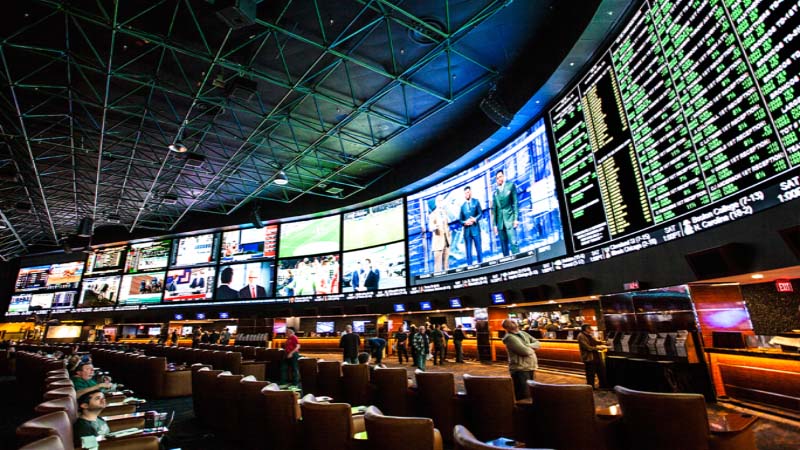 The Westgate Las Vegas SuperBook
MM: So more data analysis is the key?
SKR: Yes, but then, what you have is more investigations, and hopefully, all those investigations will turn up nothing. But when you have more data, you see more suspicious things, and that sparks more investigations. We do all these things now, but we'll do much more once it's regulated. It's very different when there's signage in the arena about sports betting. It becomes so much more commonplace.
MM: The big issue is scope, not only with it being legalized in a huge market but the variety of systems being implemented?
SKR: I agree it's going to be complicated and we're going to have to figure out how to match the information across the different states, and that's why it's going to be expensive. We are ready to take that on, we want to take that on, we don't expect state regulators or operators to do this across the state, and that's why we feel it's important for us to play a role.
MM: There's been some question about whether the league is open to in-arena betting and what their feeling is on that. What's the league's position on mobile betting? 
SKR: Our model bill provides for mobile betting. If we're going to be successful in crowding out the illegal market, we have to be in that space.
(NOTE: At Tuesday's press conference, Jim Murren, the CEO of MGM Resorts International, announced that The Borgata, an MGM property in New Jersey, will have its mobile sports betting product up and running by the "end of this week.")
If you have mobile betting, I'm not really sure that in-arena is any different than anywhere else. That's not to say we would rule out in-arena kiosks, but in different states, the licensing of that may be more cumbersome than you'd think, but to the extent that there is mobile betting, we know that there will be betting in the arena.
MM: One of the largest pushbacks from Adam's comments has been the response that Nevada already has legalized gambling, but as to our awareness, there are no fees being sent from Vegas to the leagues, so what is the justification for a shift when it comes to other states? 
SKR: Nevada has had sports betting for many years, and our position wasn't always the same. Thirty years ago, before the internet and before the growth of this illegal market, our view was that the best way to protect the integrity of our game was to prohibit sports betting. Technology changes and the advent of the internet and mobile made it so much easier to bet on sports illegally and that's how we've seen this $150 billion illegal market grow.
So we took a fresh look and we said "OK, we now think the best way to protect the integrity of our competitions is through a regulated market, and so Adam wrote the op-ed supporting legislation legalizing sports betting.
Now that we are engaging and attempting to build a best-in-class framework across the world, we're saying "Well what should the law be?" Our view is that betting is happening on our sport and therefore we should participate in the revenue that's generated on the back of our competitions.
If you look around the world, both in the U.S. and the international markets, there's actually a fair amount of precedent for this. Australia and France are two markets that have this, and also in the U.S., the horse racing industry works very similarly. If you want to place a bet on someone else's host track, you have to have an agreement with that track, so the creator of that competition participates [in the economics]. So we're looking at — what is the best way for sports betting to be legalized?
(Fees) are one component, and that's obviously the component that gets the most publicity, but it's part of a framework that is really intertwined. The five points being:
Integrity provisions and data monitoring
Consumer protections
The use of official data
The leagues having a voice in restricting certain types of betting if we think it's problematic and working together with a regulator to limit those
The fees
They all sort of work together as one cohesive framework, and it's really not just "oh we think there should be a fee."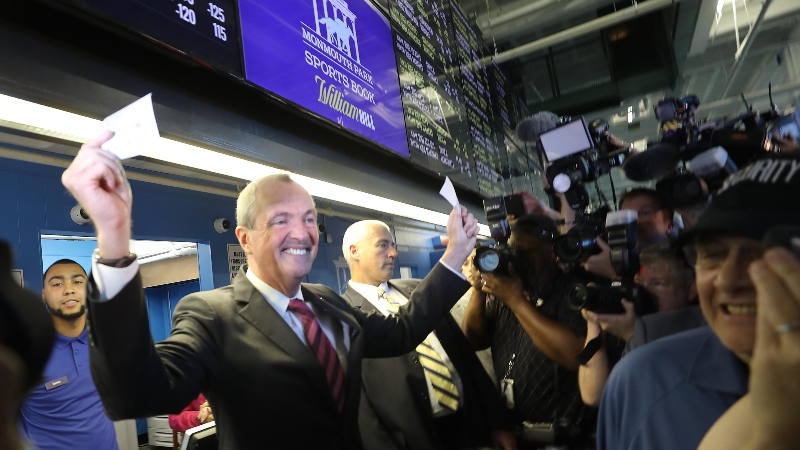 Chris Pedota/NorthJersey.com via USA TODAY NETWORK. Pictured: New Jersey Governor Phil Murphy.
MM: What's the league's response on how fees would impact the odds, which could then drive bettors to the illegal market, given how thin sports betting margins are?
SKR: In Nevada, sport-betting margins over the past five years are at 5.4%, according to the Nevada Gaming Control Board. But if you look at international markets — BetFair, William Hill, GBC/Ladbrokes — these are publicly traded companies; they report their margins and their margins are considerably higher. Their online margins are about seven to 8%, their retail margins are 12 to 18%, and their group margins, or total margins, tend to be in about the nine to 10% [range].
So while I hear you that margins in Nevada have been 5%, there's a lot of data points that suggest it could be significantly higher. And no one really knows what sports-betting margins will look like in the rest of the country, but if you look at what helps enhance margins in the international market, the biggest differentiator is what is the percentage of straight bets vs. multiple bets.
In Nevada, it's 99% straight bets, 1% multiple bets. From what we understand internationally, it's 20 to 30% multiple bets, and they do that using their technology to incentivize fans to bet on those higher-margin bets.
(NOTE: This study has parlays as 2% of Nevada's handle from 1984-2017, but Kaufman-Ross' point stands.)
So (international markets) have products like "Bet Builders," "Request-A-Bet," "Odds Boosters" and "Edit Bet." All of these things that have been invented in the last 10 to 15 years as things have moved to mobile have served to create new tools to customize their bets at a higher margin. Another example is the cash out feature, which is extremely popular internationally, [and] allows the operators a second opportunity to take a second bite of the margin by allowing customers to take risk off in exchange for some margin.
---
>> Sign up for The Action Network's daily newsletter to get the smartest conversation delivered into your inbox each morning.
---
In a more developed, mature market, that innovation creates product and capabilities for companies to increase margins that we just haven't seen in Nevada, which is a little more traditional.
There will be so much Silicon Valley money, so much tech, you're going to start seeing some of those features which will change the margins (in the United States).
MM: It seems like one of the bigger issues is whether the leagues are regarded as active participants in these conversations. 
SKR: The big stakeholders are the gaming industry, the states and the leagues. And if all three stakeholders are working together, it's going to be a much more successful endeavor for sports betting. It's been disappointing seeing certain states say "The leagues aren't a stakeholder, we're not going to involve them at all." We're very grateful to be involved in those conversations and a lot of states have done so: Connecticut, New York, Illinois, etc., saying "Let's bring the leagues to the table."
That's what we're asking for, we want to be recognized as one of the stakeholders and work together to make legal sports betting a safe environment for the integrity of the game, a fun endeavor for our fans and an environment where all of those stakeholders can make money.
The biggest misconceptions are that we think a regulated market is bad, we're just explaining the costs involved. And the second is how different the future will be from the Nevada model, because of how different the technology and operators will be.
How would you rate this article?