Mears: My Favorite Bets for NBA Summer League Saturday (Day 2)
Credit:
Photo credit: Stephen Lew-USA TODAY Sports. Pictured: Frank Jackson
The NBA Summer League returns to action today, with eight games at 5 p.m. ET or later.
Below I talk through several games and give my early betting leans on several of the affairs.
Yesterday's article went 4-2, with the later two bets (Pelicans ML and Suns spread) canceled due to the scary earthquake on the West Coast.
In general, the Summer League features the newest rookies, but it's largely dominated by second- and third-year NBA players. We saw that yesterday with guys like Frank Jackson, Lonnie Walker, Cam Payne and Zhaire Smith all playing very well in their minutes.
My heuristic for prospects is this: If a rookie struggles, it's OK. But if a second- or third-year guy doesn't stand out on the Summer League court, that's a very bad sign. They should be dominating this rosters.
Anyway, let's get to today's games and guys I'll be wagering on. Here are my betting leans for today's slate.
Milwaukee Bucks (-2) vs. Atlanta Hawks, 177 — 5 p.m. ET
The Bucks and 76ers yesterday combined for 213 points, as the game was played at a super fast pace. The Bucks didn't even shoot well, going 41.0% from the game, but they got up 78 shots and 30 three-pointers. They also accumulated 13 blocks and steals, which helped them keep the pace high.
The question mark for this game revolves around Bucks prospect DJ Wilson, who was a surprise inactive in yesterday's affair. It's unclear whether he'll suit up today; if he does, I like the Bucks at a small number off a loss, but if he doesn't I'll pass on the spread and bank on another fast-paced game.
Betting lean: Over 177, Bucks -2 if DJ Wilson plays
---
Philadelphia 76ers vs. Boston Celtics (-1), 174.5 — 5:30 p.m. ET
As mentioned above, the Sixers put up 107 points against the Bucks yesterday in an up-and-down affair. They don't have any super ball-dominant players, and their main prospects — Zhaire Smith is the most important one — are athletic wings with lots of steals and blocks potential. That showed yesterday, as they grabbed a ridiculous 21 steals and blocks.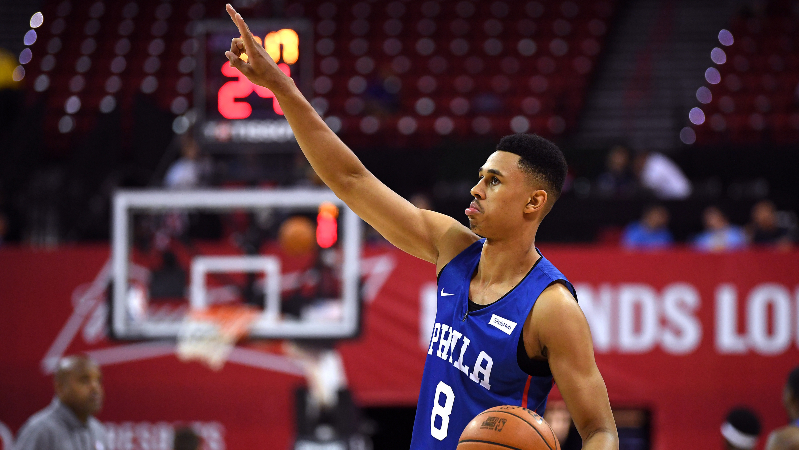 I expect that will be the case again against the Celtics, who aren't exactly loaded with stud ball-handlers. Journeyman Aaron Harrison, now in Europe, is on this squad, as is a couple rookies in Romeo Langford and Tremont Waters.
The Celtics have some NBA talent — Guerschon Yabusele will be a guy to watch, as he'll get actual playing time this year — I'm expecting the Sixers to be able to get out in transition again in this one.
Betting lean: Over 174.5
---
Indiana Pacers vs. Memphis Grizzlies (-1.5), 169 — 7 p.m. ET
I don't normally like betting favorites in Summer League for reasons described here, but this Grizzlies squad has a lot more proven NBA talent. Aaron Holiday for the Pacers should be great and take another step forward this year, but that's about it for Indiana on this roster.
Meanwhile, the Grizzlies have six guys on this roster who played for their main team last year, including Bruno Caboclo. This will be his sixth NBA season, so while I'm a bit surprised he's on a roster, I think he will be intriguing if he actually suits up to play.
Regardless, they also have guys like Ivan Rabb and Jevon Carter, who have pro experience, and Brandon Clarke, a rookie I'm very high on in the future.
Betting lean: Grizzlies -1.5
---
LA Lakers vs. LA Clippers (-2), 175.5 — 7:30 p.m. ET
This Lakers team is … not good. They got blown out by 20 points against the Bulls yesterday, and the roster is uninspiring, especially if their rookies like Talen Horton-Tucker aren't going to play. The Bulls, led by top-10 draft pick Coby White, had no issues scoring.
The Clippers, outside of Jerome Robinson (who I think will play), aren't loaded with talent, either. That makes me think this game will have a big exhibition feel, and points shouldn't be too hard to come by. I think public perception is that when talent is bad, the offense will suffer — but I think that's actually the opposite. I'll take the over here.
Betting lean: Over 175.5
---
Washington Wizards vs. New Orleans Pelicans (-1), 176 — 10 p.m. ET
The Pelicans didn't get to finish their game last night, and Zion Williamson will not suit up in this one. That said, I still like them to cover this small spread against a Wizards team that is largely devoid of talent both on their regular team and this Summer League squad. They'll feature Rui Hachimura, who I'm not personally high on. Perhaps Troy Brown takes a step forward this year if he plays, but other than that it's a rough roster.
Meanwhile, the Pelicans still have a ton of talent with Zion. Notably, point guard Frank Jackson put up 30 points in 31 minutes of action, shooting 64.7% from the field and 5-of-9 from beyond the arc. He should be the best player if he goes again, and other guys like Kenrich Williams on the roster are good enough to round out the rotation.
Betting lean: Pelicans -1
How would you rate this article?