Wob's NBAvengers: Untucked Kyrie and the Other Great Alter Egos
Credit:
Greg M. Cooper-USA TODAY Sports. Pictured: Boston Celtics guard Kyrie Irving (11).
When Kyrie Irving is on -- and his jersey is untucked -- he's borderline unstoppable.
He is on a short list of players with an iconic alter ego on the basketball court. Rob Perez takes some time to appreciate Untucked Kyrie and some of the other great NBAvengers.
He's the most popular player in the NBA.
Before his emergence, we'd have to debate who is most-deserving of this honor — whether it's LeBron, Giannis, Steph, Wade, or Westbrook — all of these stars have had claim to the throne.
But now, it's a consensus — an evolution of the man himself into the world-renowned supernatural being beloved by basketball fans from all walks of life.
Untucked Kyrie.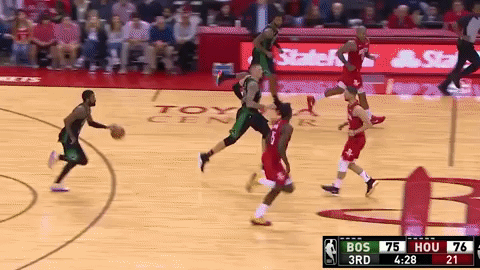 Similar to T'Challa throwing on the Black Panther uniform, Tony Stark suiting up into Iron Man, or Dr. Bruce Banner losing his temper and morphing into the Incredible Hulk, the NBA has assembled its own legion of Avengers throughout time who, when called upon, can save a franchise in their moment of reckoning and destroy the most worthy adversaries no matter what obstacles are before them.
The NBAvengers list is a cast of characters who have all had their moments of glory at the peak of their performance:
Hoodie Melo
Gang Sign John Wall
Shirtless J.R. Smith
Headbutt John Starks
Choking Reggie Miller
Mouthpiece Steph
Toothless Isaiah
China Klay
Finger-Wagging Mutombo
Beer-Drenched Artest
Darth Giannis
Wheelchair Pierce
Waiters Island
Smiling Kawhi
But if we're being completely honest here, they all pale in comparison to the group's most powerful superheroes.
You see, the thing about Untucked Kyrie is that he's not just a one-off social media fling. Every time you look up and his jersey is flailing in the wind like a cape, he is getting grown man buckets.
Buckets that you can't even get in NBA 2K. The violence he demonstrates playing the game is impossible to dislike. Even when he's torturing your team with displays of AND 1 mixtape brilliance translated to the world's most competitive basketball theater, you can't help but sit back, assume the surrender cobra position, and tip your hat.
Regarding this version of Kyrie, there are so many questions to ask:
1. How does he obtain his power? Does he untuck the jersey himself? Does it just fall out of his shorts naturally? Or is it when an opposing player grabs him?
2. Will we see an opposing coach call a timeout just to get the refs to make him tuck it back in?
3. Is he the most powerful NBAvenger of all-time?
While we can't answer the first two today, we can address Question 3.
To be the most powerful NBA transformation, you must have the most accomplished resume of achievements while in character. Any time there has been a memorable moment where Kyrie's jersey was tucked in, it cannot be included.
Untucked Kyrie has an NBA Finals-winning Game 7 Hall-of-Fame-rotunda play…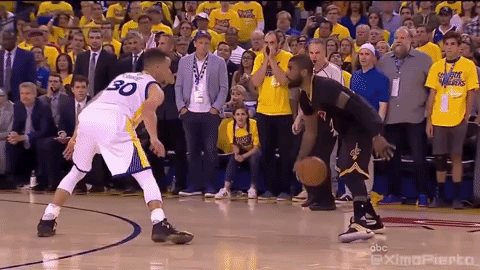 …two 40-point Finals performances, and multiple playoff-defining sequences in his utility belt.
So who's his competition?
Flu Game Jordan
June 11, 1997. Salt Lake City, Utah. Game 5. The performance heard around the world. If you call yourself a fan of basketball, you will never forget the night, whether you were watching it live or not.
After going down 16 points early, Michael Jordan unleashed a 38-point, 7-rebound, 5-assist, 3-steal exposé, battling serious flu-like symptoms throughout the game, and single handedly dragging the Bulls to a 90-88 victory.
All he does for an encore is drop 39, 11, and 4 two days later to clinch Chicago's fifth championship of the decade.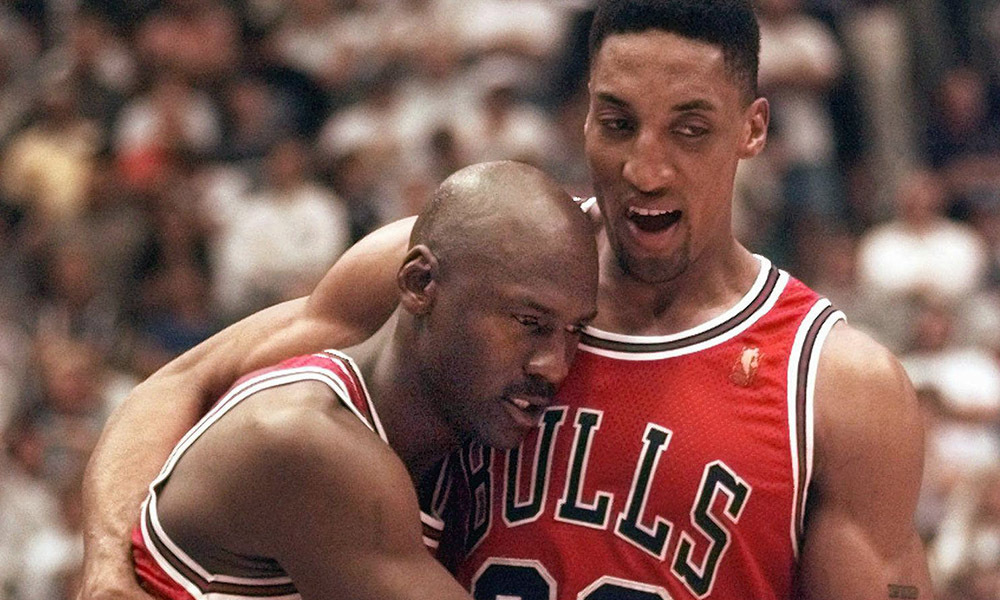 This wasn't the first time a sick Michael Jordan took out the pain of his illness on another team.
If we go all the way back to April 19, 1988, a season in which Jordan averaged 35 points and a career-high 40.4 (!) minutes per contest, the first "Jordan Flu Game" happened.
With the Bulls and Knicks jockeying for playoff positioning and Chicago two games away from its first 50-win season in 15 years, and MJ decided to uncork 47 points in Madison Square Garden, including the famous posterization of Mark Jackson and kicking Patrick Ewing in the head.
Jersey-biting Kobe
Almost every single Kobe Bryant game-winner has come following some form of the patented jersey-biting.
Whether it's in the huddle, walking back onto the court after a timeout, after a dead ball, or even during the play itself, you could argue this alter ego is responsible for some of the biggest Lakers victories and most famous franchise moments in NBA history.
But if he's not doing it while the play is actually happening, should it count? Is it a power source he bites into before play resumes to level up above his competition?
If the court of #NBATwitter determines it doesn't, then Kobe's entire career was technically played as jersey-biting Kobe and it's not valid as an alter ego. It's just Kobe.
Big Shot Bob
Robert Horry: the UNDISPUTED champion. Kyrie's handles and rim-finishing ability may have the sex appeal, Jordan has the notoriety, and Kobe may have the popular vote — but there is no one in NBA history even close to comparing to the resume of "Big Shot Bob."
If the ball touched this man's hands in the final seconds of a crucial playoff game, there has never been a bigger guarantee of soul-wrenching doom in basketball history.
During the regular season, Robert Horry was a complete afterthought. Clark Kent walking among the civilians hiding in plain sight. He averaged 7.0 points per game and held a below-league-average 13.4 Player Efficiency Rating in 1,107 career contests.
But when this man was thrust into action during the playoffs, he strapped on the infinity gauntlet and unleashed the titan power bestowed upon him:
21 points in the final 17 minutes of Game 5 of the 2005 NBA Finals, including the game-winning 3 in overtime…
The 2002 buzzer-beating 3 vs. the Kings in the Western Conference Finals to tie the series 2-2 instead of having to go back to Sacramento down 3-1.
Game 3 of the 1995 Finals when Horry essentially won the title with the game-clinching 3 to give the Rockets a 104-100 lead with 14 seconds left.
Game 3, 2002 first round vs. Portland, Horry drills the game-winning three from the corner.
Game 3 of the 2001 Finals when Horry puts away the Sixers with a last-minute 3 that he's already celebrating as the ball just approaches the rim.
Game 4, first round vs. Denver, Horry essentially ends the Nuggets for the next decade with a burial corner 3-pointer.
Now we know why Jordan wasn't feeling so good, Mr. Stark. If and when Big Shot Bob ever decided to his snap his fingers, half of the NBAvengers would instantly dissolve into retirement.
Or just go and play baseball for a couple years until he was done.