Moore: Analyzing Winners & Losers of the Rockets-Hawks-Timberwolves-Nuggets Trade
Credit:
Getty Images. Pictured: forward Robert Covington (left), center Clint Capela (middle), guard Malik Beasley (right).
I wrote a 900-word column yesterday that led with the idea this was going to be a quiet trade deadline.
Spoiler alert: It's isn't.
While I was chasing down some leftover information, including from one of the teams involved in Tuesday night's not-a-blockbuster-but-man-that-was-a-lot-of-stuff four-team trade, one deal fell apart and then morphed into something different. The sense I was getting from one of the teams involved was that they weren't going to do anything … and they did a lot.
Ultimately, the deal involves 12 players and two picks:
Final trade summary:

Rockets get – Robert Covington, Jordan Bell
Hawks get – Clint Capela, Nene
Wolves get – Malik Beasley, Juancho Hernangomez, Evan Turner, Jarred Vanderbilt
Nuggets get – Shabazz Napier, Gerald Green, Keita Bates-Diop, Noah Vonleh

MIN, DEN get 1st-round picks

— FantasyLabs NBA (@FantasyLabsNBA) February 5, 2020
Let's figure out how we got here.
HOUSTON ROCKETS
Traded: Clint Capela, Nene, 2020 first-round pick
Received: Robert Covington, Jordan Bell
At the very core of this are a few precepts for the Rockets:
NBA centers have never been less valuable, at least for how Houston wants to play.
Russell Westbrook fundamentally alters the way the team plays and with his contract and relationship with Harden, he's not going anywhere.
Post-ups against defensive switches are never going to generate the kind of impact that will fundamentally hurt them defensively against the offensive boost of playing five-out.
The benefits with this move are obvious. Houston's best defensive season under Mike D'Antoni was 2018 when they switched everything. In recent years, they've had to make compromises to that strategy, in part because of how teams found ways to attack Capela.
Covington is a 6-foot-9 hyper-versatile forward, who has shot below 35% from 3-point range just twice in the past seven seasons. Notably, one of those seasons is this year (34.5%). Last season he was a DPOY-level defender before his injury. In Minnesota, they've been playing a drop scheme, which accentuates none of his strengths. He'll have more value in Houston.
Still, it's notable that the Wolves' defensive rating was 110 with him on-court, and 104 with him off. There are a lot of factors that go into that, most notably the woeful defensive play of Karl-Anthony Towns after a hot start. The Wolves have a 117 defensive rating with those two on the court.
The Rockets are gambling that they can switch everything now. Harden is good in the post against bigger opponents; it's his biggest defensive strength. Westbrook is similar in that way, PJ Tucker is a brick wall and Covington is strong as hell.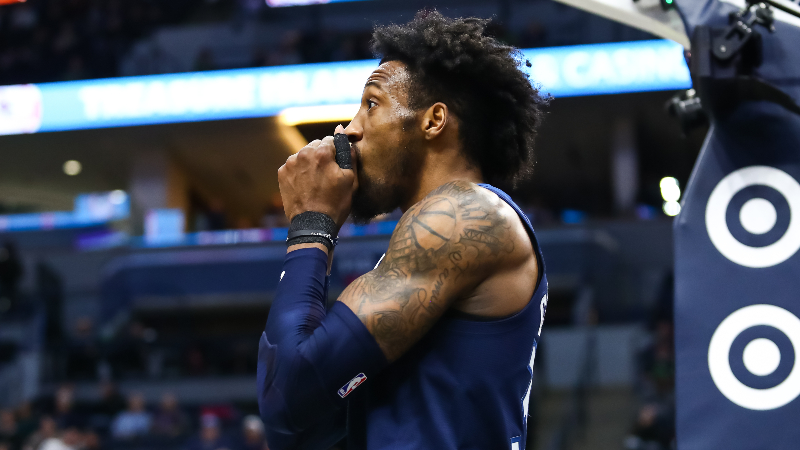 So any team looking to run pick-and-roll, then post the roll man vs. the smaller defender is falling into Houston's trap, because there simply aren't a lot of truly great post players in the league.
Among players with at least 100 post-ups this season, only Joel Embiid averages over 1.0 points per possession. Nikola Jokic and Anthony Davis are both in the top 10.
So, as it often does with the Rockets, it becomes about the math.
Post-ups vs. tough small defenders at a less than 1.0 points per possession rate or more catch-and-shoot 3's in a small-ball, 5-out scheme converting at more than 1.0 points per possession.
Now, there are several problems here. For starters, under the radar, as those numbers above indicate, Covington … hasn't been great defensively. He's a great spot-up defender, smart and long enough to disrupt shots. But he's 38th percentile in isolation, and the eye test backs that up. He can get beat off the dribble.
So even if teams don't target the big in the switch, they may wind up just blowing past Harden (a bad defender on drives), Westbrook (a bad defender on drives), Tucker (getting older and facing more wear and tear), and Covington. Without a center, specifically Capela, there's no back-line rim protection. If opponents get past that first level and clear the lane, it's going to be tough for Houston.
The Rockets now have Jordan Bell and Isaiah Hartenstein as their frontline options. Hartenstein is a 7-foot center, but he's also light and able to be moved inside. Bell is stronger, but a lot less disciplined and undersized.
Houston may make a move for another center, as the Athletic reported they are pursuing more moves before the deadline. But even if they do, the team has made it pretty clear they believe their best five in crunch time and the majority of the time is still small-ball, five-out.
Sources close to the situation indicated that these evolutions weren't part of the concern for Houston. The thought is that their overall talent with Harden, Westbrook, and capable spacing will still get them past teams that they might have had an advantage over.
At the crux of this, the Rockets probably got better vs. the teams they were afraid of in the West, while getting worse against the teams who were afraid of them.
Capela was pivotal in their matchups vs. the Nuggets and Jazz. Denver, specifically, cannot defend the lob. Nikola Jokic simply can't play up against Harden and recover low. The Nuggets started to find some solutions this season, using Jerami Grant as a lob-protector and with the way they guarded Harden.
That's crucial because teams aren't going to suddenly stop doubling Harden. They're going to make Covington et al beat them. Without a lob threat, there's not a simple mechanism that Harden or Westbrook can make when defenders help. They can dish to the open 3-point shooter off the help.
The Rockets also rank 23rd this season in catch-and-shoot efficiency. They shoot with extreme volume, which drags their efficiency down, and their offense still ranks third league-wide. They will still put up big numbers. But when the playoffs come, the Rockets will be faced with the same problem they face every season. The shooters who space the floor have to be lights out because teams are going to put all the pressure on them.
This move is the ultimate all-in proposition. No more half measures. All 3-pointers and Harden ISO's. Switch everything. No bigs. The Rockets are daring size to beat them. We'll see if it can, but they will miss Capela. Covington is a gamble and a fascinating one. The margins here are razor-thin.
This is a lot of detail for a pretty simple deal for Houston. According to one source: "We think it moves us closer to a championship. That's it."
---
ATLANTA HAWKS
Traded: 2020 first-round pick (via Nets), 2024 second-round pick, Evan Turner
Received: Clint Capela, Nene
I love this move for Atlanta. L-O-V-E it.
Capela's production has dipped in Houston with wear and tear, but he fills so many gaps for the Hawks. They are a defensive mess, but De'Andre Hunter and Cam Reddish will be good wing defenders in time. Having a top-flight rim protector helps so much when you have a liability like Trae Young on the edge. It makes things easier on John Collins, too.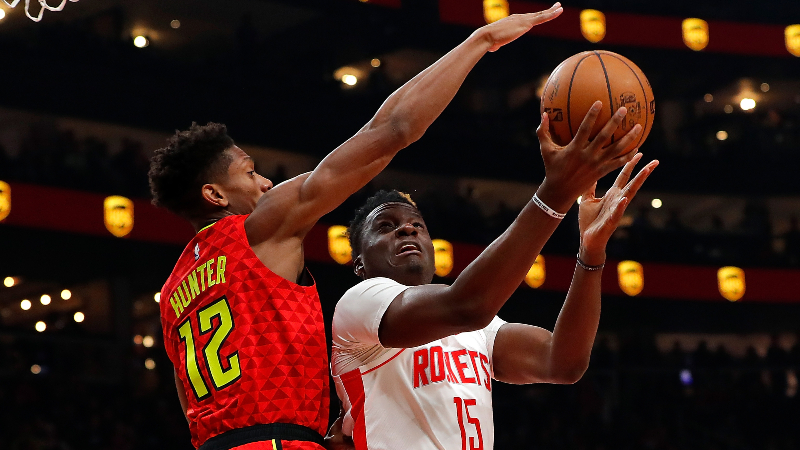 The offensive fit isn't as seamless as you might expect. Young has the lob pass, for sure, he's at least a top-5 passer in the league right now. But he's also small, and if teams are putting two on him, lobs become the thing that struggles.
However … remember all those lobs that Festus Ezeli, Andrew Bogut, JaVale McGee, and all those mediocre bigs with the Warriors got? That was because teams would have to put two on Steph Curry in pick-and-roll, so when he passed to Draymond Green in the short roll, a defender had to come stop Green … who then lobbed to the center.
Hey, you know where Hawks general manager Travis Schlenk used to work? The Warriors front office.
Capela allows the Hawks to run this with Young and John Collins. Over and over and over. Alex Len is underrated, but he's better in the backup roll, and Capela's pure lob threat athleticism makes this more dangerous.
To only give up a pick that wasn't theirs and a second for Capela is a monumental win.
---
DENVER NUGGETS
Traded: Juancho Hernangomez, Malik Beasley, Jared Vanderbilt
Received: Shabazz Napier, Keita Bates-Diop, Noah Vonleh, Gerald Green, 2020 first-round pick (via Rockets)
Gerald Green, who is out for the season, is likely to be waived. Napier and Vonleh are expiring contracts. The asset the Nuggets focused on was the first-rounder. They wanted a second-rounder for Hernangomez and couldn't get a high one, they wanted a first for Malik Beasley and hadn't found a high enough one.
So they packaged them together, picked up some short-term depth that affords long-term flexibility, and got the first-rounder they wanted.
There is a thought process that this sets up another move for the Nuggets, and no matter how much I pry, I continue to only get "we'll continue to look for deals that make us better."
I remain skeptical. The Nuggets have been extremely patient with trades. Sources have indicated that they were close in recent weeks to multiple splashier trades that fell through for one reason or another.
Bear in mind that the Nuggets just acquired a 2020 first-rounder to replace the one they sent the Thunder in the Jerami Grant deal. When that deal went down, the Nuggets were really proud of it, in part because they didn't want a pick in this draft. Their rotation is too full, to begin with, and the draft is weak. So adding this first-rounder opens up their options.
But Bradley Beal can't be dealt until this summer after signing his extension last season. The Pelicans continue to say they're not moving Jrue Holiday and honestly it is hard to find a reason that they would.
So what's the big upgrade? Changes are coming to this Nuggets roster — they need more shooting, especially after trading Beasley, and they are reconfiguring to the reality that Michael Porter Jr. is a star in the making.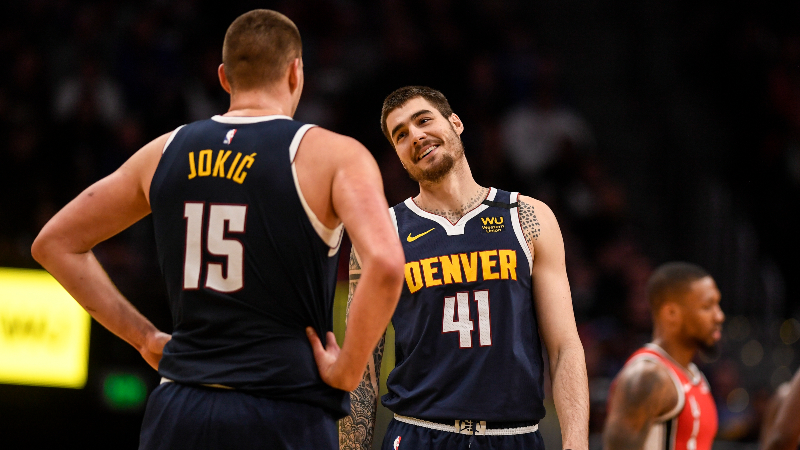 Hernangomez and Beasley were both talented and young, so they needed to get return for them, but they were also only barely hanging in the rotation. If there's not another move, fans will view this as turning two good-ish young players into flotsam and a pick. But the Nuggets will view it as getting return for two players they were going to lose in restricted free agency this summer who were too good to keep cheap, not good enough to pay good money for, and barely in the rotation.
There are costs, though. Denver's depth was compromised here. The wing rotation, as it currently stands, is Gary Harris, Will Barton, Michael Porter Jr. Keita Bates-Diop, PJ Dozier, and Torrey Craig.
Craig is an offensive liability, Bates-Diop is shooting 33% on 3s this season. Dozier is more of a point guard, but so is Napier. And they still have Monte Morris. All this is partly why people believe another move has to be coming.
Except that this is the same front office that sat through not one, not two, but three Ty Lawson DUI's before moving on, kept Kenneth Faried a full two years after he fell out of the rotation, and didn't trade Danilo Gallinari before he hit free agency.
They believe in the value of not making the wrong move.
Bear in mind that the Nuggets' nine-man rotation remains the same. The nine-man they want for the playoffs consists of the starters (Jamal Murray, Harris, Barton, Millsap, Jokic) plus Grant, Morris, Mason Plumlee, and MPJ.
That's how Denver views it. If an injury occurs? They believe the drop off is significant enough that the relative backup value doesn't come into play. It's the rare occasion where a player's value to his team is less than his market value.
Do not overlook the fact that part of this trade was getting Capela out of Houston. That's how much they were concerned about that matchup. Remember that the Nuggets literally tanked a game vs. Portland last season to make sure Houston wound up in the other bracket.
For now, we wait to see if Denver does anything else.
Do not expect a move for Holiday. I could be wrong, things change quickly (as I found out last night) but I would be surprised by such a move.
---
MINNESOTA TIMBERWOLVES
Traded: Robert Covington, Keita Bates-Diop, Shabazz Napier, Noah Vonleh, Robert Covington, Jordan Bell
Received: Juancho Hernangomez, Malik Beasley, Jarred Vanderbilt, Brooklyn Nets' lottery-protected 2020 first-round pick, Evan Turner
When the Warriors backed out of their involvement in the deal Tuesday, the Wolves turned to Nuggets general manager Tim Connelly, who has long-standing ties to the organization through the late Flip Saunders, whom he worked with in Washington. The Nuggets needed to move their guys, the other three needed another team to facilitate the money, and it came together.
As described above, Covington wasn't playing great with the Wolves, and they needed to make a change. The Wolves swapped replacement level players for a good pick (currently 19th), an expiring contract in Evan Turner, and the Nuggets' two young wings.
Hernangomez is athletic and fun. He's mistake-prone, but he's also high energy and can shoot a little bit.
Beasley is the second-best pick-up here behind the pick. He's super athletic, fast, and can shoot the absolute lights out. Beasley is a guy who can hit five threes in a quarter like it was nothing. He's also often lost defensively and drifts for long stretches in-game. His on-dribble game has almost nothing to it.
All of his issues are related to experience and maturity and when he's locked in, he can be bothersome with his length and athleticism.
Offense isn't really the problem for the Wolves, but Beasley should get good shots off the attention Karl-Anthony Towns draws.
The big question remaining is whether the Wolves can shoehorn the Warriors back into this deal before it's completed by the deadline, to get D'Angelo Russell. They now have another pick and a bigger expiring to move. That helps. It's up to Golden State whether they go for it.
Potential Betting Impact
Rockets: I was always planning on fading them in the playoffs, and that goes up now. They are more vulnerable to the Nuggets and Jazz after this deal. Right now, I'd have those two teams as favorites over Houston, whereas with Capela I would have Houston favored.
I don't think this significantly improves their chances against the Lakers' size, and I think their chances against the Clippers remain basically the same — though Covington helps more against their wings than Capela did against their bigs.
Nuggets: There's a slight improvement to their West odds (15-1 at the Westgate Las Vegas SuperBook). They match up better with Houston, and if you're trying to get a position in before they pull off another deal, this is the best moment.
If you wanted to put a Nuggets position together, now is probably the time to do it. They won't get worse from here on out, barring injury, they'll only stay the same.
Hawks: Nothing doin' here, their season is over. I would expect some tighter spreads. The Hawks only got better here.
Timberwolves: No futures plays, but expect them to start outright tanking after the All-Star break. I'm not sure the players they added will make them better.
How would you rate this article?