NBA Win Total Betting Odds: Analyzing the Los Angeles Clippers' Over/Under in Orlando
Credit:
Photo credit: Brian Rothmuller/Icon Sportswire via Getty Images. Pictured: Kawhi Leonard and Paul George
Los Angeles Clippers Win Total Odds
I'll be blunt from the top: Stay away.
I have so much I can tell you about the Clippers. I've been digging in on their statistical profile and watching clip after clip on them for over a week. I can tell you about how Montrezl Harrell is begging you to play him to the middle so he can spin baseline. I can tell you about Paul George's ability to pass out of the hedge one-handed moving away from the target. I can talk about how many bucket-getters this team has.
But none of it changes the fact that the Clippers have been unreliable all year based on their team's entire approach and the lead of their best player — and none of that changes in this bubble.
The Clippers are a great team. That's evident from their record, their statistical profile or even just a glance at their roster. Despite what is a pretty clear nonchalance when it comes to regular season play, they went 44-20 straight-up and 34-30 against the spread (53.1%).
In the 13 games Kawhi Leonard missed, they went 6-7 straight-up and 4-9 against the spread. Without Paul George, 14-8 straight-up and 11-11 ATS. Without either one? 0-3 SU and 1-2 ATS.
Will George or Leonard play? Probably? Both at the same time? Probably for a few games?
Will both play the entirety of the time? Unlikely. The Clippers' entire ethos has been to focus on the playoffs and not the regular season.
It should be noted that I would have thought the number of games missed for Leonard was higher. The perception of his being absent exceeds the actual amount. Now, he missed 20% of the season, which is not a small amount. But it's also not as much as I would have thought.
The Clippers' regular season nonchalance isn't the only reason this has to be a stay-away, however.
THE SITUATION IS MANAGEABLE
The Clippers begin the season resumption in second in the Western Conference. With home court eliminated, there's really only one thing the Clippers are playing for: avoiding the Lakers until the Western Conference Finals.
If the fourth-place Utah Jazz go 8-0 (unlikely), the Clippers would have to go 6-2 in order to clinch a higher spot. Let's give the Jazz a more-reasonable-but-still-on-the-high-end performance of 6-2. The Clippers would need to go just 4-4 to clinch a higher spot, and that's assuming the Nuggets remain in the second/third spot and don't fall themselves.
It's reasonable to work with the idea that four wins gets the Clippers to a lock in second or third, at which point they'll have little to play for. Four wins, of course, would hit the under of 5.5. But note…
THE SCHEDULE IS A BREEZE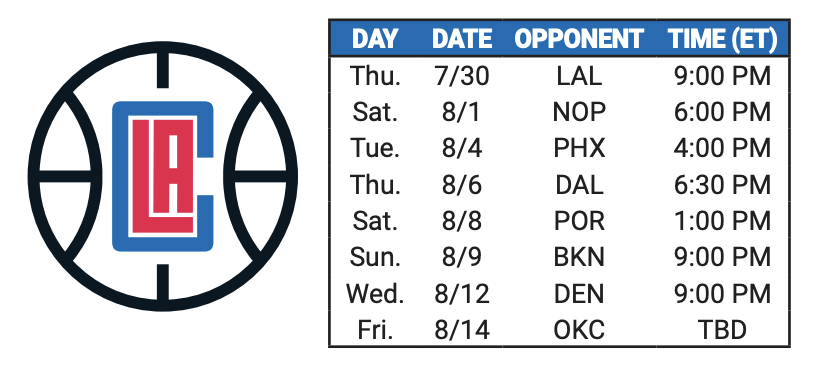 The Clippers are going to be favored in every game except the opener vs. the Lakers, and they started as a pick'em there at many books. (They are currently +1 consensus dogs.)
Now, that's not surprising, but the differential between the Clippers and their opponents are notable. If the Clippers actually gave a full regular season effort (i.e. not a playoff effort but best for regular season play), they have maybe four concerning games: the Pelicans, Mavericks, Nuggets and Thunder.
Say they lose to the Lakers and split those four games, putting them 2-3 with games remaining vs. Phoenix, Portland and Brooklyn. Sweeping those games hits the under at 5-3. But that also means that any swing among those concerning games — or if they beat the Lakers (after going 2-1 vs. them in the regular season) — and the over tilts heavily in their direction.
As we game-planned out above, they probably need four wins to secure a top-three seed. Phoenix, Portland or New Orleans, Brooklyn, and one of the remaining games gets them there.
The Clippers, by the way, went 13-5 vs. their scheduled seeding game opponents this season. No team finished with an advantage in those season series. They took two wins off every team except Denver.
SO…. WHAT YOU'RE TRYING TO SAY IS…
Again, it's got to be a stay-away. If the Clippers go into the reseeding games deciding to ramp up at full intensity before the playoffs, they can go 8-0. They're that good; the schedule is that vulnerable. Their 80% is still likely 6-2.
But there's just no way to evaluate what that number is going to be. The line is extremely sharp for what to expect. A number higher or lower, and there's value. This is just too on the nose.
WHAT ABOUT THE ON-COURT STUFF?
The Clippers crush you in the margins on both ends of the floor.
It's easy to look at their bevy of perimeter defenders and think of it as flash and firepower, but in reality the Clippers' scheme defensively hinges around its bigs. But they make up for that by being the No. 1 team defending catch-and-shoot jumpers in the league this season. They allowed just 33.3% (48.8% eFG) shooting on catch-and-shoot situations, the most efficient opportunity for teams.
Essentially, they drop their bigs conservatively in pick-and-rolls, looking to contain and allow jumpers off the dribble, while locking down the waiting spot-up shooters. They run teams off aggressively and prevent looks from high-quality shooters.
But part of that drop scheme is that it specifically enables the types of players who can dominate a playoff series to go off:
The Clippers have the capacity to switch up their defensive coverage 1-4. It's their center position where issues begin to pop up.
When they commit with two defenders, it's often easy to read and counter:
And when they switch, they run into a host of issues, but the most obvious one is Harrell's inability to manage the space:
Ivica Zubac does much better in these situations than Harrell. In reality, Harrell on his own is compromised in space, unable to bother opponents and basically just corralling them and hoping they don't get to the rim. When Harrell and Lou Williams are on the floor together, the problems are exacerbated.
The regular season hid most of these issues; lineups with Harrell, Williams and Kawhi gave up just 100.6 points per 100 possessions this season. That's spectacular.
But dive into film, and you'll notice how often one or the other is compromised. It may not have mattered vs. the wide assortment of opponents the regular season provides, but in these eight games with focused scouting and especially in a playoff series… that combination will be targeted by their opponents.
For the specific purposes of this discussion, of the eight teams they play in the seeding schedule, Phoenix, Dallas, Portland and Oklahoma City have the personnel to take advantage of the space the Clippers' defensive front provides. The Nuggets and Lakers will attempt to win with sheer size (which isn't a bad strategy, either).
The Mavs are probably the most interesting test case because of the damage Luka Doncic can do vs. drop schemes, combined with how good their spot-up shooting is.
The Clippers can switch effectively if Harrell isn't on the floor. Here the Bulls get the mismatch in the post with Lauri Markkanen, but he's not good enough in the post to counter it; this is pretty standard for most teams at this point.
No one is really able to punish small switches onto bigs except for the Sixers and Nuggets with the league's two best centers. The Bulls get a bail-out from Zach LaVine here, but the Clippers' process is good:
The Clippers may also shift to a more aggressive scheme putting two on-ball. But as good as they are at intercepting passing lanes and pressuring ball-handlers, there are gaps; this isn't a lockdown defense and hasn't been the whole year. The idea is that their best version can become that, but it will still have issues with certain matchups.
The problem is that even if you discover ways to effectively attack their defense, you still have to outscore them. The Clippers went 8-16 when posting a Defensive Rating above 110 this season. That's not surprising on its own; that's pitiful defense. But they also managed a 110 Offensive Rating or higher in 12 of those 24 contests. They can get within spitting range on offense alone.
The biggest reason? They just have bucket-getters, all over.
Kawhi Leonard, Paul George, Lou Williams, Marcus Morris (who they added at the trade deadline) … all of these players can simply go 1-on-1 and create points, the kinds of shots that naturally compromise a defensive scheme.
You can't drop vs. the Clippers. Just can't do it. Not gonna work:
You especially can't do it vs. Kawhi:
(My frustration with the Wolves' scheme will have to wait for another day.)
Williams is and always has been one of the best tough shot-makers in the league, and that hasn't faded with age:
What really stands out when you dive in, though, is how good this team passes both individually among those bucket-getters, and as a team making reads.
Williams has become an exceptional passer late in his career. He could always nail tough jumpers, but the ease with which he makes reads these days really opens things for the Clippers.
Their ability to play four-out with guys like JaMychal Green or Leonard at power forward also helps, because it allows for things like this:
George never really gets the credit he's due as a passer. Watch three defenders converge on this inbounds play and how he threads it out of the jumper motion (one of his go-to's):
There's a reason teams drop, and it's because if you play up but don't commit to a trap, the Clippers have guys who can get to the edge, force help and punish you for it, like George:
And with Leonard, he's so tall and has become such a great passer the last two seasons that he can instantly flip your defensive script even if you get the ball out of his hands:
And Harrell may be compromised defensively, but he makes up for it on the offensive end. Particularly, it's valuable that he can punish blitzes on the ball-handler not only by scoring if uncontested, but reversing the ball once the defense is scrambling, allowing open spot-ups:
Also, don't let him get baseline on you:
WHAT IT ALL MEANS
The Clippers are absolutely a title contender. There's value on them to win the title at +333 (DraftKings). Using them in a variety of Finals matchup positions also isn't a waste.
But the Clippers have been saving their fastball all year, and we have no reason to believe these seeding games are when they'll toss it. Better to wait for the playoffs than hope a team with little regard for regular season play suddenly gains enough to win six of eight.
How would you rate this article?