Q&A With NBA Bookmakers: Value of Home Court, Betting Impact of Positive Tests, More
Credit:
Photo credit: Carlos Osorio/NBAE via Getty Images. Pictured: Toronto Raptors hype team pumps up the crowd during Game Five of the NBA Finals
The NBA is still on track to resume play July 30, and so bookmakers are preparing for what is certain to be the most unusual handicapping situation in league history: neutral court, no fans, inside a bubble.
That brings with it a whole host of questions for bettors given the likelihood of positive tests for players and their potential impacts. Home court no longer exists.
So we reached out to bookmakers to get their thoughts on the way lines will be shaped in Orlando and if bets will hold if a star player tests positive.
Question #1: If a star player tests positive, are those futures, series, or game bets still valid?
TLDR Answer: If the games are played, the bets are actionable.
The good news for bettors is that it does not appear that a positive COVID-19 test — requiring a 14-day quarantine and two negative tests before a player is cleared to return to play — will invalidate futures or game bets.
The comparison made across the board is that the books would treat a positive test the same way they would an injury. Team futures and individual game bets remain actionable as long as the games are played.
From John Sheeran, Director of Trading at FanDuel: "All bets are final in relation to the team futures. It's effectively like an injury. All bets will stand provided the season is finished as planned. At FanDuel, we always try to rule in bettors' favor where possible, and I think we will use a common-sense approach in relation to markets where we can (considering our rules). In general, I expect the majority of wagers to stand. Player props are only offered on a game-by-game basis and are void where players are not on the roster; therefore, I don't expect any impact on game-to-game player props. For player awards, etc., same as team futures above."
From Johnny Avello, DraftKings Sportsbook Director of Operations: "They have to go as action. Futures are based on all the teams participating. But for that to happen, the games have to stay intact. If you played a game and the player is out, you have action. A player prop will be a refund."
From Andrew Mannino, PointsBet Senior Sports Content Analyst: "While it is similar to an injury situation, we'll have to wait and see how the league reacts. If the games are held, the bets are actionable. But we'll have to see how the league reacts to these situations on an individual basis."
From Nick Bogdanovich, William Hill Director of Trading: "If a player tests positive for COVID, all bets are still alive. If a player is involved in a prop for a certain game and does not play that game, it is a refund. But future tickets or the game itself will all be action."
From Jason Scott, BetMGM VP of Trading: "All bets will stand as it would if a player was injured. For every punter disadvantaged on a future or an over, there is someone else on another team and an under who is advantaged. If the player tests positive before July 31 we would consider refunds."
From Jeff Sherman, Vice President of Risk Management at SuperBook USA and Westgate: "If a player tests positive and has to miss time or be disqualified from playing, futures, series wagers or any game wagers would still be valid on the team involved. If there were player props, it would depend on the stipulations posted at the specific book. If it were a player prop for an individual game, if the player does not play, wagers involving that player would be refunded, while wagers on other players would be live. The books will have to make quick adjustments on the other player props if a player is ruled out for that game."
So the big picture outcome from this is that it will take a cancellation of a game for a game bet to be cancelled, and the cancellation of a series for a series price to be cancelled. If the games are played, the bets are actionable.
Question #2: How will the betting market react if a star player or significant role-player is out?
TLDR Answer: Odds will significantly shift, especially after those first few games.
Bear in mind that most players move the line far less than fans expect. The biggest and most impactful players, like LeBron James, can move the line 3-5 points or more. But most players will move the spread by only a half-point to a point, and often role-players won't change things at all.
The Lakers' title futures remained static across books after Avery Bradley announced to ESPN he would forego play in Orlando, as an example.
But short term, the best teams are also built to survive without stars. It's long-term that it gets trickier.
"If it's a good team, it can probably get by without a week or two without a major player," DraftKings' Avello said. "A major injury … those players put teams out for months. The virus will put a player out for 15 days. If that injury eliminates him permanently or for quarantine, then that's a different deal."
"Can the Bucks go without [Giannis]? Yeah, probably for a couple of weeks. Same for the Celtics and Raptors. But eventually, it will start to cost them."
"I think every team that loses their best scorer will find themselves in a challenging situation," PointsBet's Mannino said. "None of these teams are built to go two weeks without their star."
But ultimately, this is all the same procedure as if the player was injured.
"The main consideration will be time out/games missed," FanDuel's Sheeran said. "The cause of the absence is largely immaterial. Obviously, there is an increased chance that a positive test could impact the teammates compared to an injury, but I think we will trust the teams and league to communicate that as timely as possible."
We see players go down all the time; this situation is no different," said William Hill's Bogdanovich. "The big question now is if the player tests positive will any other players on the same team test positive, too? It has the potential to be a much bigger problem."
But at that point, the problem becomes greater for the league, which will also provide guidance for the books.
It should be noted, however, the league's approach as it stands right now, is to carry on no matter what. If LeBron tests positive and is out until he clears two negative tests but no other Laker or even a small number of Lakers test positive, play continues.
The NBA's protocol memo, which The Action Network obtained, sent to players and teams, does provide an outline for possible re-suspension or cancellation, however.
"These protocols are designed to promote prevention and mitigation strategies to reduce exposure to, and transmission of the coronavirus; however, it is possible that staff, players, or other participants in the resumption of the 2019-20 season nonetheless may test positive or contract the coronavirus. The occurrence of a small or otherwise expected number of COVID-19 cases will not require a decision to suspend or cancel the resumption of the 2019-20 season.

The NBA and NBPA will continue to monitor the campus environment and season restart and, based on circumstances over the course of the resumption of the 2019-20 season, may discuss any modifications to the campus environment or these protocols if the parties and their medical experts agree such measures are necessary to promote safety (e.g., increased physical distancing, dismissal of guests from the campus, additional health monitoring).

Factors that may inform these discussions and any related actions include, but are not limited to, the timing, number, and/or suspected method of transmission of confirmed cases and the ability to isolate such cases within the campus environment through regular testing and contact tracing."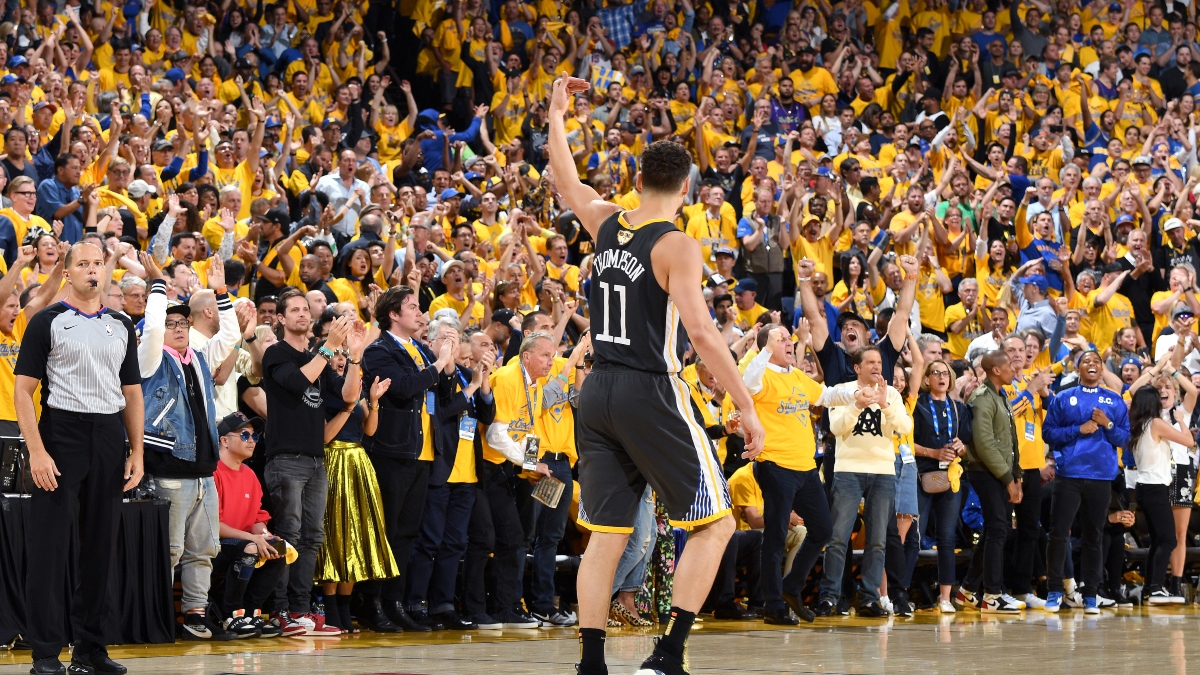 Question #3: What's the effect of not having home-court advantage?
TLDR Answer: Books at first will treat games like a neutral-court situation. Game 7s will be particularly challenging to handicap.
Home court is no longer a thing. It just doesn't exist. But there are also no fans — it's not just neutral court, it's an actual fan vacuum. How does that impact things?
For most of the books, the answer was "not much different from a neutral court." The lines are built from models on team performance factoring roster, rest, injuries, etc., and then home-court advantage is applied. That impact varies from team to team, and it's simply excluded from the adjustment on the lines in this instance.
"It's just a neutral court" for DraftKings, according to Avello. "You just do what you do the way you normally do it, without home court factored in."
"It's different in that I think the playoffs accentuate home-court advantage," Mannino said. "We figure it's around 2.5 or 3 points. But 80% of Game 7s are won by the home team. That being absent definitely will have an impact on some lines."
Sheeran, Director of Trading at FanDuel, had some more insight into why there's even less of an impact here. "Home-court/field advantage has been decreasing significantly over time across the majority of core sports. This decrease has largely been driven by better travel planning and more centralized decision-making, leading to greater consistency and less bias towards home support. Therefore, the impact on lines in the current landscape is less than it would have been in previous years."
But as for how this particular scenario will help teams? It's still unknown given how unprecedented it is.
"It helps all the lower seeds for sure; just how much is still unknown," William Hill's Bogdanovich said.
"Uncertainty favors the underdog," Mannino remarked.
Avello noted that totals may be more impacted than the spread in this scenario, with a potential lean towards lowering the number in some instances. There's been broad speculation that an empty arena makes it easier for defensive communication without crowd noise.
The other possibility is in play, however, according to two coaches consulted by The Action Network. "Will guys feel comfortable talking in an empty, mic'd arena?" one coach said. "My guys don't talk enough as is, and they've been out of habit for three months. It's a concern for sure."
BetMGM's Jason Scott noted that the Sixers were an astonishing 29-2 at home and just 10-24 on the road; they're potentially the most vulnerable team in this environment. Meanwhile, Dallas went 21-12 on the road compared to 19-15 at home, so their chances might be better based on that model.
Ultimately, all the bookmakers expect this to be a special circumstance they'll have to react to on the fly.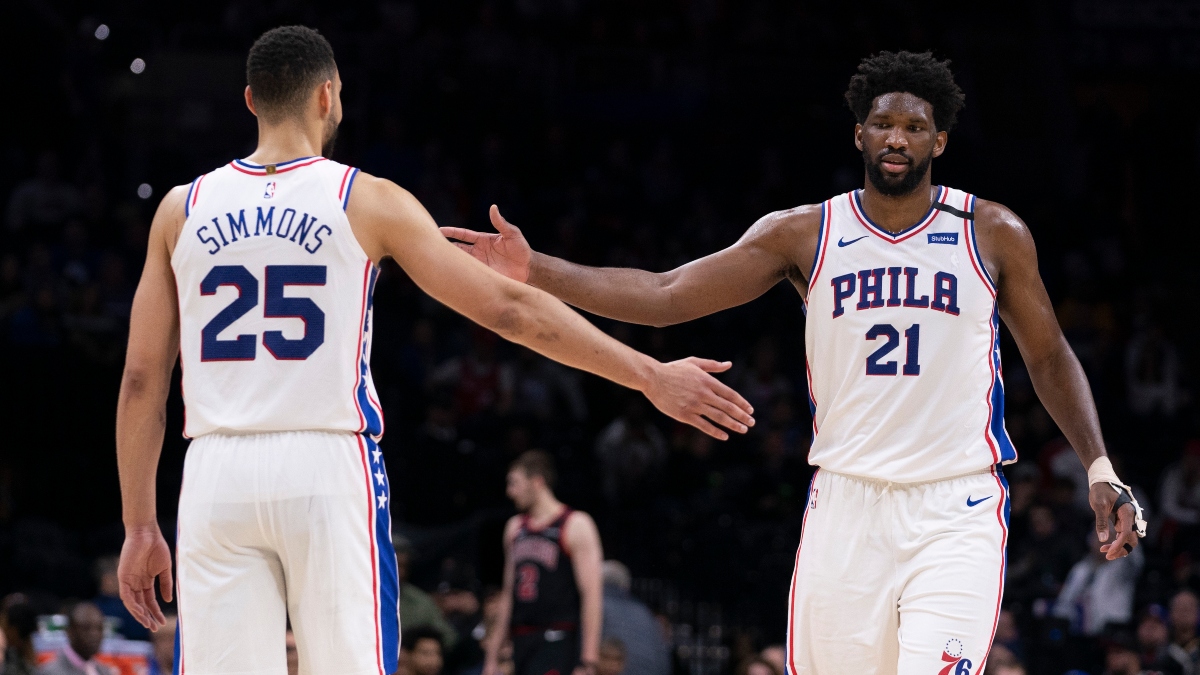 The Verdict: Uncertainty Abounds
This is the sentiment bookmakers are operating with, understanding they may have to adjust, perhaps drastically, on the fly.
"Having been in the industry for 35 years and seeing some unusual stuff pop up, I'm confident we can handle whatever happens," Bogdanovich said.
The books polled on this process all described that they are working from priors — the situation as it was before the league's suspension. Futures aren't being radically shortened based on uncertainty because it is — to borrow a phrase — an unknown unknown.
"We can't account for what might happen," Sheeran noted. "Our odds are based on certainty, so we are not building any assumptions into our odds. "
For now, most odds reflect what they were back on the morning of March 11, before contact tracing, before masks and social distancing, before Rudy Gobert tested positive, before America stopped cold.
"I'd like to stay on the optimistic side," Avello said. "The odds are based on teams going full speed. We don't know who might contract [the virus] or if they will. Everything is based on full steam."
From there, it's wait and see.
"There's no real way to do it. We will just roll with the punches and react where necessary," Scott said.
How would you rate this article?