Rovell: NBC Sports Washington's Betting Broadcast Impresses in Debut
Credit:
NBC Sports Washington
Friday, NBC Sports Washington debuted an alternate sports betting-focused broadcast of Wizards-Bucks.
It featured a "predict-it" game that allowed viewers to watch and guess what would happen next, leading to an increase in digital engagement.
The alternative broadcast tested the future of a seamless sports gambling product and was the first betting-style broadcast by any of the four American major sports leagues.
The numbers are back from NBC Sports Washington's betting-centric streaming broadcast, and they are impressive.
Twenty percent of the fans who streamed Friday night's broadcast between the Washington Wizards and the Milwaukee Bucks just watched the alternate feed, which offered a "Predict The Game" contest.
The contest featured the regular broadcast, but included questions to those streaming the alternate feed as to what would happen next.
A few examples: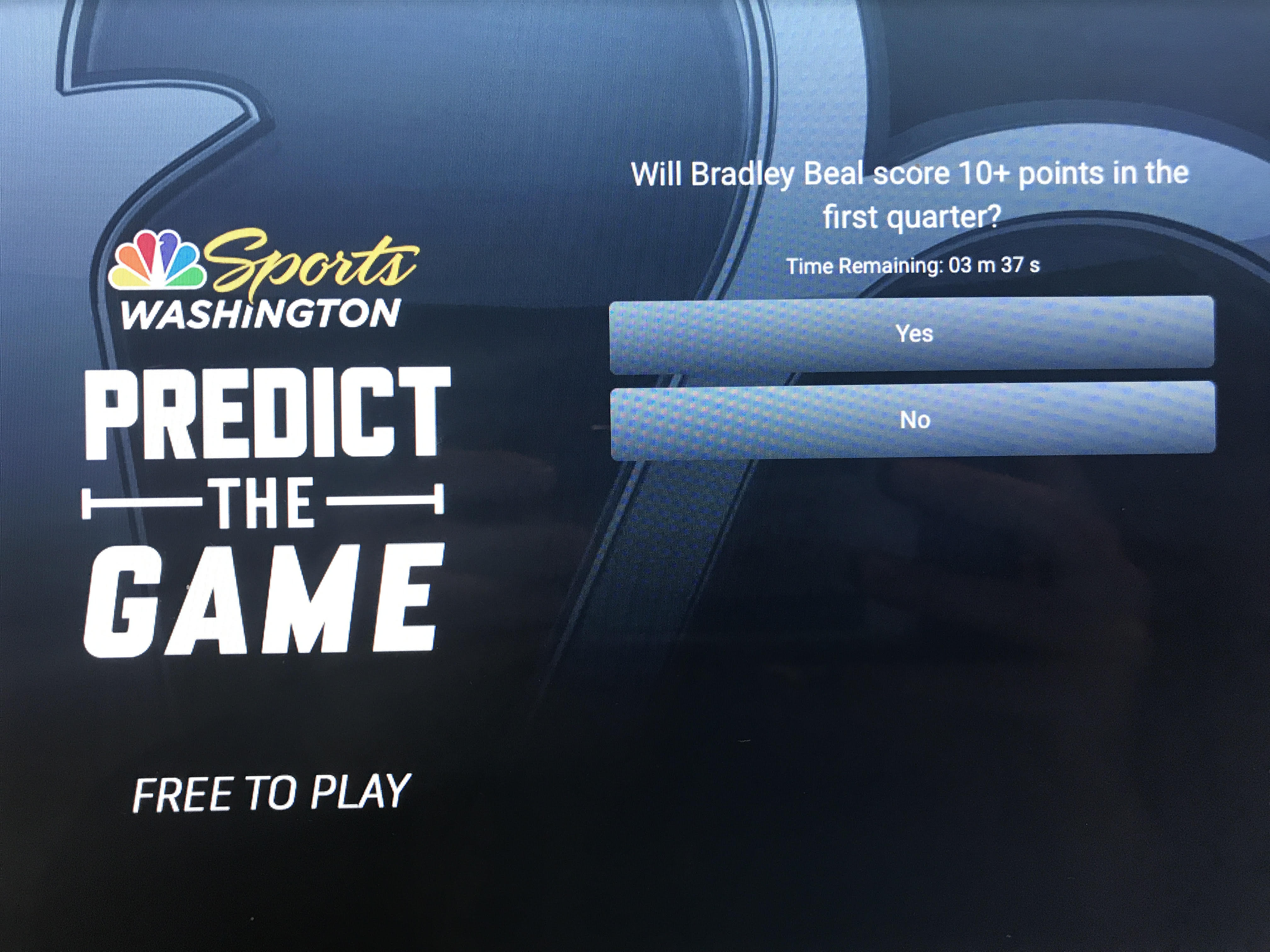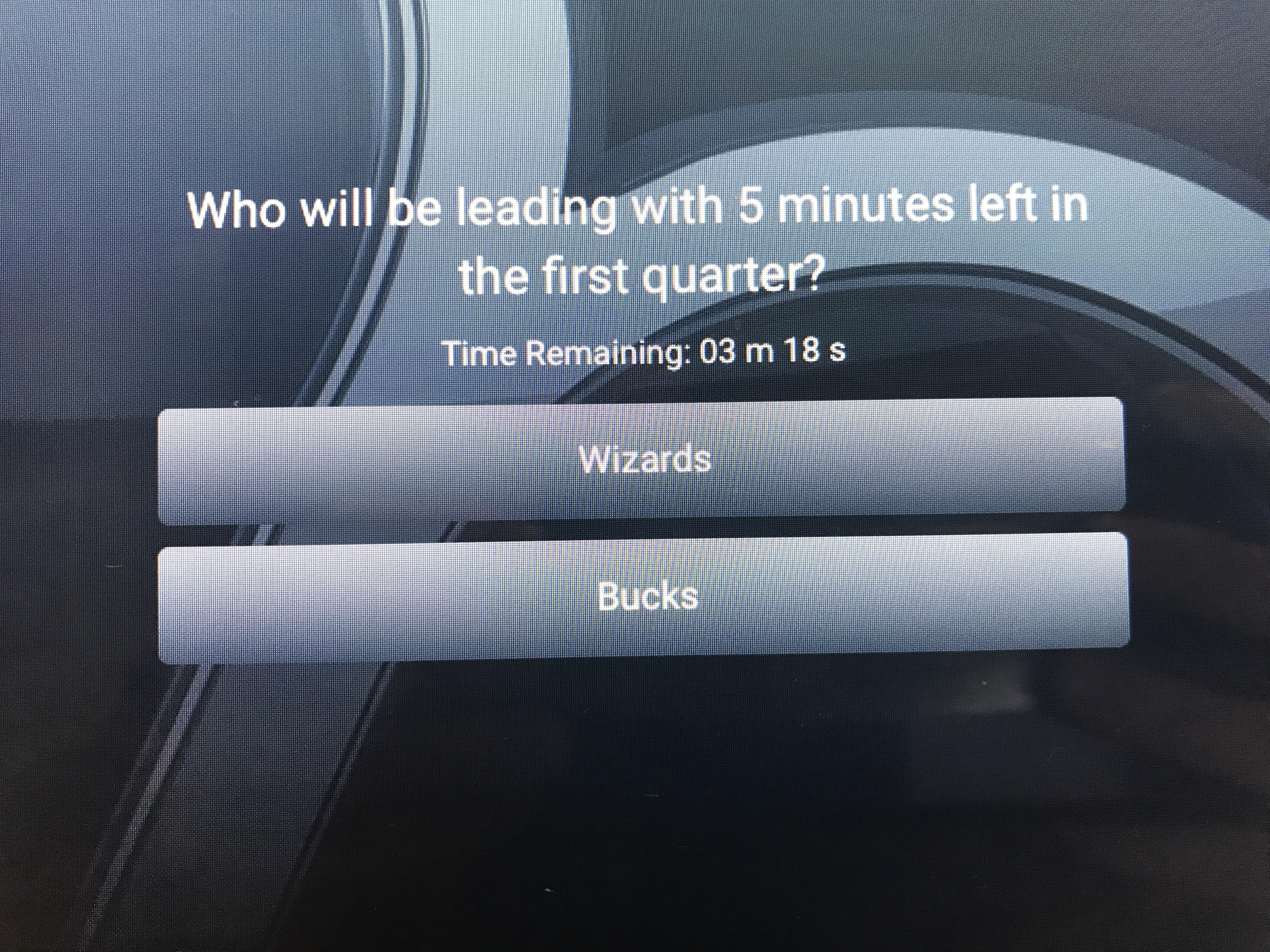 As predicted, a game that I had no interest in watching — Bucks star Giannis Antetokounmpo was out — became not only watchable, but enjoyable. Others seemed to have felt the same way.
"I live in the D.C. area and haven't watched a game all year long," Josh Robison of Maryland told The Action Network. "Yet I'm playing along on a Friday night. This idea is brilliant."
I found myself banging the table when Bradley Beal scored more than 10 points in the first quarter. I never cared about the Wizards or Bradley Beal before.
"We are encouraged by the early engagement data," said NBC Sports Washington GM Damon Phillips. "We had close to 4,000 responses. Fans who participated in Predict the Game spent significantly more time on our digital platforms than regular users."
The details need some work — I didn't know my cumulative score as I went along — all I knew was I wasn't on the leaderboard. And in order to play you had to enter your answers on a second device since it wasn't clickable off the feed.
The winner won a measly $500, but that wasn't the point. The feed on the side included a live moneyline, even though you still can't bet on sports legally in D.C., and a real sponsor — MGM National Harbour.
There have been plenty of predictive win products that let you play along with the game, but this was the first time there was an integrated product with a rightsholder.
"We really believed the best product would revolve around live games, and as the rights holder for NBA and NHL teams, we were in a unique position," Phillips said. "Last season, at about the same time as the Supreme Court decision, our head of creative services and advanced technology, Mark Friedman, had already been testing a predictive-gaming feature. That was the foundation of what we presented Friday, so we had a head start thanks to Mark."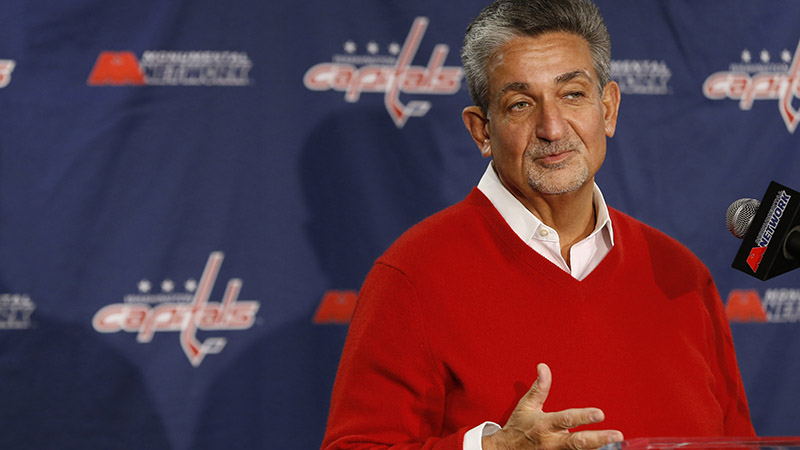 That it was NBC Sports Washington comes as no surprise. Wizards and Capitals owner Ted Leonsis owns a third of the network.
He is also an investor in two companies that have interest in sports betting — SportRadar and WinView.
What makes the WinView investment intriguing is that WinView claims to own the patents to predictive gaming and NBC Washington's broadcast did not go through WinView.
The alternative broadcast tested the future of a seamless sports gambling product and was the first broadcast by any of the four American major sports leagues to do so.
It comes on the heels of Turner's broadcast of Phil Mickelson and Tiger Woods, which integrated live betting data, including how people were betting at MGM.
None of the current data deals struck by sportsbooks with the leagues include the rights to in-play betting, which makes up roughly 70 percent of all betting in Europe.
Phillips said the phones at NBC Sports Washington have been lighting up over the first broadcast — they plan on having seven more throughout the season.
"I've been pleasantly surprised by the amount of interest from advertisers, leagues and other media companies," Phillips said. "We've had a number of advertisers inquire about sponsorship opportunities for 'Predict the Game.' Leagues are intrigued by the future possibilities. Several colleagues from other media companies were genuinely happy that someone took the first step with integrating sports betting into a live game broadcast."
How would you rate this article?
This site contains commercial content. We may be compensated for the links provided on this page. The content on this page is for informational purposes only. Action Network makes no representation or warranty as to the accuracy of the information given or the outcome of any game or event.