Wob: The Knicks Must Face Their Toughest Test Yet — Themselves
Credit:
USA TODAY Sports. Pictured: Courtney Lee, James Dolan and Joakim Noah
The New York Knicks are at a crossroads ... again.
Can they resist the temptation of selling low on young assets in favor of aging -- and expensive -- veterans?
A bevy of talent awaits atop the 2019 draft if the Knicks can just put the phone down and resist doing something stupid for ONE YEAR.
I'm a single 31-year-old guy.
It's not necessarily by choice, but I'm fine with it. My weekends are open, I have fewer real-life responsibilities compared to those people with children, I can eat pizza rolls for dinner whenever I so please, and I get to live the "single" lifestyle when I actually do go out.
Do I want to get married one day or be in a full-time relationship? I'm not against it, but I refuse to commit to anything of that magnitude unless I know that other person I'm seeing is "the one." Anything else to me is just a waste of my time.
But I'm not going to sit here and preach these values without conceding that I do occasionally slip up. I'm as guilty as the rest of you.
Whether it's a 2 a.m. text message to an ex after one too many adult beverages or a late night Tinder swipe-right spree — I find myself waking up with regret more times than I'd like to admit.
Why am I telling you all of this? Because my beloved New York Knicks are the NBA's real-life epitome of this sentiment, and they once again must face the temptation of the forbidden fruit in their own Garden of Eden.
Every four or five years, the Knicks pledge to change their ways:
"No more saying 'I love you' to draft picks when we don't actually mean it."
The last player drafted by the Knicks to re-sign with the team for more than one season (immediately following rookie deal expiration) was Charlie Ward in 1999.
Wilson Chandler, Danilo Gallinari, Landry Fields, Trevor Ariza, David Lee … you name any New York fan favorite, the Knicks have ghosted them at signing time after years of pillow talk.
"No more late night Tinder sessions with end-of-their-prime veterans."
Tracy McGrady. Steve Francis. Amare Stoudemire. Allan Houston. Jerome James. The examples are endless.
All of these players dressed up in their Sunday best, found the most scenic shot in the city, made the photo their cover picture and left their Instagram profiles unlinked to make sure the Knicks didn't know what they actually looked like without 15 filters implemented.
The Knicks don't care, they've been thirsty for any type of action since the 1999 Finals. Just say when and where for some Contracts & Chill.
"No more chasing the one who got away."
The Knicks' Achilles heel: The mass text.
After years of ineptitude and irrelevance, New York had finally built something formidable, fan-friendly and sustainable in 2010-11.
The Raymond Felton, Landry Fields, Amare Stoudemire, Danilo Gallinari, Timofey Mozgov squad was a young, high-flying, fast-paced, ball-sharing, scoring machine.
Other than Stoudemire, the team was stacked with fresh talent on cheap deals growing faster than any franchise could ever hope for. So what happens next? James Dolan logs in and checks his matches to find Carmelo Anthony has also swiped right.
He forces out the architect of the Knicks' rebuild, Donnie Walsh, takes control of basketball operations and guts the foundation for a quick lay after being dumped by LeBron.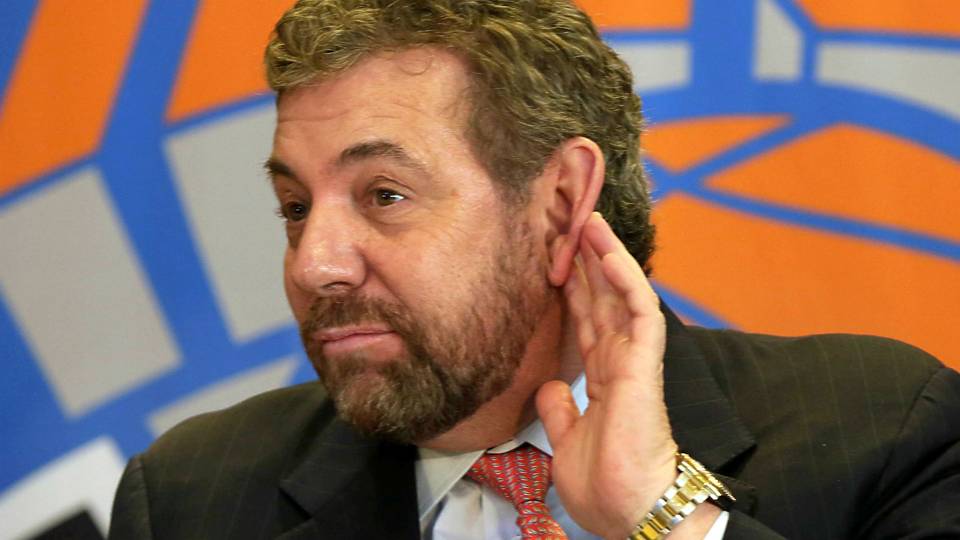 Fast-forward to the Summer of 2016, and the franchise enters another offseason with cap space freedom around one "win now" fringe All-Star (Kristaps Porzingis).
Instead of harvesting this flexibility or looking to bring in similar "win now" players for just one year, Knicks President Phil Jackson decides to lock up NBA 2K9 studs Joakim Noah and Courtney Lee to a combined $120.5 million over the course of four years, hampering the ability to sign any free agent to a max contract for the foreseeable future.
The circle of life is complete. Every time a has-been big man gets a four-year deal from the Knicks, I feel compelled to scream Nants Ingonyama Bagithi Baba.
It's the birth of a brand new Washed King.
But this time it's different. Knicks management swears by it.
Asked by about past Knicks mistakes that the organization will avoid in the future, president Steve Mills says, "We're not going to trade any of our (1st round) draft picks." Mills adds that they aren't going to trade assets for a player that they can sign in free agency.

— Ian Begley (@IanBegley) September 18, 2018
That is not the Knicks I know!
This is the basketball equivalent of saying "OK, I'll do just one tequila shot and then I'm going home." The Knicks don't do just one tequila shot; they get blacked out, trade Kevin Knox for Jimmy Butler, climb on the bar naked, sing Frank Sinatra out of tune, and get tomahawked out the front door by the bouncers.
Knicks president Steve Mills, when asked indirectly about trading for Jimmy Butler, reiterates that the club won't skip steps in developing the roster. So the Knicks remain unlikely to trade major assets for a player they feel they can sign in free agency.

— Ian Begley (@IanBegley) September 20, 2018
With Noah on the verge of being waived/stretched, and rumors abound that Lee will soon be traded to a contending team, do I dare write the hypothesis that the Knicks have changed for good?
Do they actually see the light at the end of the tunnel and understand what's necessary to get there?
Tanking, while running the rookies/sophomores 40 minutes a night, and not burning cap space is just so obvious — but with this franchise, you never know.
New York has something special here with Kevin Knox, Frank Ntilikina, Mitchell Robinson and eventually Kristaps Porzingis.
The Knicks aren't going to win anything this season, but if Monday's preseason teaser against the Washington Wizards showed us anything — it's that these kids can play and have the potential to be a wrecking ball of a lineup a couple years down the road.
Most importantly, a draft awaits with phenoms Zion Williamson, RJ Barrett, Nassir Little and Cam Reddish as rewards for patience.
One of these can be yours, Knicks, if, for one year, you just put the phone down and don't do something stupid because you saw your ex post a video from the club making out with someone new.
Sinning can be an enjoyable evil at times, but at some point we all pay for our transgressions one way or another.
For me, it's a lifetime sentence of being the dog that never catches the car it's chasing because there is a shinier car ahead of it. And for the Knicks, it's always failing to be the cool kid because they insist copying what all the other cool kids did first.
Changing is easier said than done when you can't kick old habits. So as the franchise approaches its most important campaign in recent memory, with a buffet of championship-caliber superstars available at year's end, I'm going to tag in J. Cole, the lyrical embodiment of this moral dilemma, to bring Knicks fans back to reality:
Fool me one time, shame on you.
Fool me twice, can't put the blame on you.
Fool me three times, Kyrie and Durant won't sign, to load the Garden and make it rain on you.
How would you rate this article?