Moore: Making The Definitive MVP Case For Denver Nuggets Star Nikola Jokić
Credit:
Adam Pantozzi/NBAE via Getty Images. Pictured: Nikola Jokić of the Denver Nuggets.
There is no comparison for Nikola Jokić.
There has never been a player like him before in the league. Jokić is a capital G "Great" superstar, as he's proven this season and trying to liken him to anyone else is impossible.
He's not alone in being one of one, but recognizing that what we're seeing in the Denver Nuggets' franchise icon is unlike anything else we've witnessed is the first step to moving beyond the biases that Jokić had to bust through to earn his due respect in the NBA.
In the beginning, it was easy to compare Jokić to Lithuanian legend Arvydas Sabonis. A European big man with touch and high basketball IQ, who was voted one of FIBA's 50 best player of all time. Sabonis was a EuroBasket Most Valuable Player and a EuroLeague MVP as well.
However, Jokić has moved past that.
Earlier this season in a matchup vs. the Boston Celtics, Mike Gorman — the Celtics' play-by-play announcer for 40 years — and Brian Scalabrine likened Jokić's performance to Larry Bird.
You can watch his passes and compare them to Magic Johnson. You can watch his Sombor Shuffle and compare him to Dirk Nowitzki. You can watch his post-up moves and compare him to … well, I don't know if there's actually anyone.
He doesn't dominate with size like Shaquille O'Neal, but he still bullies opposing centers. He doesn't make it look effortless like Hakeem Olajuwon, but his shots are impossible to block. He has moves and countermoves.
But all of these individual parts do not make the whole. If Giannis Antetokounmpo's MVP campaign was built off his linear dominance (overwhelm with athleticism; punish help with passing; and, dunk if no help comes), then Jokić's is built on the palette of an artist bringing a thousand different brush strokes together. No one combines all the pieces together the way he does, and no one does it so effortlessly.
---
Jokić is going to win the 2021 NBA MVP award. That's been known for some time and oddsmakers have tracked it, as Jokić went from +800 to +450 to +200 to -125 and now -10000 at many books.
However, it's important to document and explain why Jokić is most valuable, and much of what I'll talk about can be tailored to your definition of that third word: valuable. For the purposes of this discussion, we're defining valuable as impact on a team's ability to win through whatever means available.
To do that, we'll use numbers and the eye test. You need both to synthesize your argument.
If you rely on the metrics, you're ignoring the details that often define why things are so impressive.
If you rely on the eye test, you're trusting a faulty memory to account for thousands of possessions. We're looking to get both to line up.
---
Offense
There's so much subtlety and complexity to Jokic's offensive arsenal, but let me simplify it for you.
If you single cover him, he's going to score on you. If you double him (you should never double him), he's going to shred you with passing.
If you put a big on him, he's stretching the floor to 3-point range. If you put a small guy on him, he's putting that little guy in pick-and-roll trouble.
If defenders over-pursue, he uses that aggression against them. If they lay back, he'll drop it in.
If they force him to be a shooter, he'll make tough shots. Force him be a passer, he'll thread a needle. If you make him the roll man, he'll hurt you both ways.
There is no good answer for Jokić.
Passing
You've seen the highlight reels. I don't need to convince you Jokić is a great passer, but let's put it in context.
The handoff is at the center of everything the Nuggets do. It's the primary mechanism for focusing attention on Jokić, and however the defense responds to those mechanism, he punishes the defense for it.
Here the defense reacts to that handoff action and when Jokić sees the help drifting middle, he fires a pass. The key with all of these passes is to notice not only the ingenuity and vision, but the placement of these passes, right into the shooting pocket.
Michael Porter Jr. doesn't convert this shot, but off the roll Jokić is able to have two players on him and still bring a third to the perimeter, which opens things up underneath. He's also able to cleanly get the pass off at a 45-degree angle with Batum right up against him.
The reads are instantaneous, too. As soon as he sees the help come from the corner, he's passing. The shot fake is just a mechanism to further draw in the defender. Look where this pass lands.
The angles Jokić is able to successfully pass into are ridiculous. This is a pass from the middle of the floor over his right shoulder to the corner.
So much of what Jokić is able to do is when there's a pass the defense thinks he wants to make, he makes the other just as it comes available.
He moves into a floater here off the closeout from Porzingis. And while the defense is trying to help off to stop his shot, PJ Dozier's man is helping underneath on the pass they think he wants to make.
Instead …
If Stephen Curry panics defenses with his perimeter threat, Jokić panics them with the multitude of ways he can hurt the opposing defense, even under duress.
This is a hard double and Jokić doesn't panic. He presses the defense to think he's passing to the perimeter and instead just waits for Zeller to lose Millsap.
Of course, the outlet passes make the highlights. Jokić's ability to read instantaneously and deliver on-target and in stride create frustratingly easy buckets.
Scoring
A central point to Jokić's case for MVP is that his scoring isn't one dimensional. He isn't reliant on his 3-point shot to open up drives inside, and he's not handcuffed to the rim.
A big reason there continues to be resistance to the idea that Jokić is a great player is how he looks when you watch him. Jokić spreads the floor here in a pick and roll that gets Tristan Thompson a step off, but Jokić, though he's in the best shape of his career, still isn't going to explode past for a dunk.
He draws him in, then spins back the other way and Thompson is still there. This shot looks awkward and forced, but you have to have watched him enough to know what he's doing sometimes.
Here, when he turns into Thompson, he can (or if he wants) go wider with this last pivot step to try and fade to his right. He chooses not to because by closing the distance between himself and Thompson that fast, it makes it harder for Thompson to adjust and actually block the shot.
Jokić's strength isn't discussed enough. It's one thing to be big, but Jokić uses his size as well as anyone. If you're undersized, he mauls you like a bear.
Bam Adebayo tries to front and deny Jokić the pass here, and does so for a full 11 seconds. Then, Paul Millsap makes a good lob overhead and all of a sudden Adebayo, because his leverage is so compromised, is basically a small child versus a bigger kid playing keep-away:
A popular tactic in today's NBA is just to switch everything. There are so few great post-up players, and those shots are so inefficient on average, that the tradeoff for putting a guard on a big is worth it.
There's also the fact that often times officials will reward the smaller player in those matchups either by allowing them to be more physical than big post defenders, or calling charges.
However, Jokić annihilates these. He doesn't need to cram a smaller player under the rim and dunk on him. He just needs to get position, which they can't deny, and then turn:
There are players who did better job defensively on Jokić by the numbers this season, but when I watched Myles Turner — Defensive Player of the Year candidate — did everything the best guarding Jokić. He still got torched.
Turner hangs with him here, but again, Jokić uses the leverage players have to expend to stop him from getting to the rim against them to create space.
Don't reach. I am begging you. Do not reach on this man.
The Complete Player
But again, it's not these individual skills. It is not a linear path to follow for Jokić's greatness. It's the synergy between his skillsets.
Take the following sequence. Jokić posts and the threat of him scoring forces a double team to try and get the ball out of his hands. So he passes, dribbling away from the double, moving away from target and all the way to the far corner with a perfectly on-target pass.
However, the rotations are good and Denver swings the ball back to Jokić at the 3-point line after the defense has disengaged.
He was a threat in the post as a passer and, finally, from 3-point range.
The Evidence
Those are the examples. You need to have watched to see what Jokić can do, how he manipulates the defense and what his skillset is. However, we need concrete evidence to know that the results match our eyes.
They do. Let's take our premise that there isn't an answer for Jokić defensively.
Only 10 players have 200 or more post-ups where the player shot or turned the ball over this season, via Synergy Sports. Among those players, Jokić is third in points per possession and second in FG percentage.
So, you can't single-cover him.
So, teams double. That's an even worse idea, as you would imagine.
Only five players this season have been hard doubled in the post more than 100 times. The Nuggets score an incredible 127.6 points every 100 times opponents double him down low, with an effective field-goal percentage of 73.6%, which is hotter than the sun.
OK, so you can't double him.
So, you try and make him a shooter. You wall off the paint and drop in pick-and-roll coverage. Here are the 18 players classified as "big men," with at least 100 jump shots this season, sorted by effective field-goal percentage:
That's just big men, though. Jokić is 90th percentile on jump-shot efficiency this season.
Overall, here's what Jokić's shot chart looks like: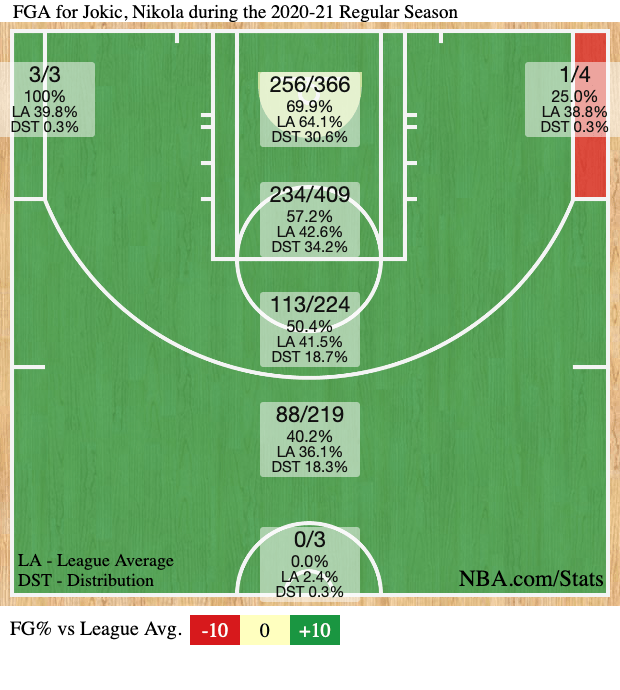 There is nowhere on the floor he isn't efficient. There is no path to taking away what he does.
The advanced metrics are all in Jokić's favor. He has the highest VORP of any player, which stands for Value Over Replacement Player. He's No .1 in EPM (estimated plus-minus) by a considerable gap.  He's first by a wide margin in Win Shares, on pace for the 14th-best Win Shares per 48 minutes rate in NBA history, with most of the players above him having had MVP seasons. He is second to Joel Embiid in PER as of this writing, by 0.1 points.
He has also put up his stat line — 26-11-9 — with the second-lowest usage of any candidate. Jokić has produced the most, while needing the ball the least.
With Jokić on the floor, the Nuggets score an average of 120 points per 100 possessions, which is the highest of any candidate. However, Denver is not as good when he is on the floor in net rating (point differential per 100 possessions) at +7.5 as the Sixers are with Embiid (+12.5) in the same category.
The question is how much of an influence does Jokić have on the offense relative to Embiid, and the difference is significant, though the Philadelphia star is certainly the second-most impactful player this season.
It's important to note Jokić has neither the best on-court net rating, meaning the Nuggets aren't better with Jokić than with other candidates, most notably Embiid, or the biggest differential in on-vs.-off-court net rating. They aren't worse when he's off the floor than the Warriors are when Stephen Curry sits.
I have always rejected the differentials argument, though I like the metric. The reason is I don't want to reward a player for having bad teammates, because by extension I have to then punish a player for having good teammates. An MVP should be able to point to their team's success, and that success comes from his team's play; not just their own.
So, while Jokić doesn't stand out as the best by either of those on-court performance team-centric metrics, he fits snugly in the middle. Both clearly improve his team and make it elite when he's on the floor, even if others have been better for one specific reason.
So, of course, we have to talk about the defense.
---
Defense
Let us now speak honestly. Let's abandon our preconceptions and approach this with fresh eyes, clear from what impressions or the past tell us.
I'm not here to tell you Jokić is a better defensive player than Embiid or Chris Paul. He is not a monster shot blocker. He is not a rim deterrent like Rudy Gobert. There are situations in which he can be exploited for his lack of lateral quickness. You can put him on skates:
However, I'm here to tell you that you cannot describe Jokić as a bad defender or someone who "doesn't play defense." That's simply not accurate.
Here's the reality: the list of big men that can reasonably be expected to "lock down" elite perimeter ball handlers is low, just as the number of guards who could reliably guard the league's few elite big men in the post is low. You can put Jokić on skates if you get him in isolation.
Here's the problem. Jokić and the Nuggets don't allow him to be put in those situations. What does it matter if a player has a weakness if you can't exploit it?
Synergy Sports only has Jokić logged for 15 made baskets against him in isolation defense. Here's one by CJ McCollum:
That's good defense. McCollum just made a tough shot and no defender is really going to do better in that situation.
Second Spectrum data provided to Action Network shows Jokic has switched onto a ball handler just 52 times this season. Among all players who have 50 or more switches as the screener defender, he has allowed the eighth-fewest points per possession.
Here's him on a switch against Kevin Durant:
The key is that he's done well in the limited number of possessions he's had to contain elite ball handlers, but more importantly, Denver doesn't allow him to be in situations where he'll be exploited.
This is central to understanding NBA defense. A few years ago, I asked Nuggets Assistant Coach Wes Unseld what the team would do when teams forced Jokić to switch onto their elite ball handlers.
"Why would we do that?" he asked.
There's this idea that offenses get to dictate everything and it's not true. They present problems and the defense has to solve those issues. For years, Denver struggled with Jokić on the floor defensively, because he was playing drop defense in pick and roll. It's the easiest for bigs. You have to cover less ground, don't have to keep anyone in front of you and allows shooters to stay home.
However, Jokić communicated after many struggles that he preferred to play more aggressive. So instead, the Nuggets use Jokić at the level of the screen, either blitzing the ballhander to force him to pass or playing at the level to give Denver's small guards more time to contain.
Here are two examples where Jokić shows hard versus Paul George, then against Damian Lillard. The star drives on him, but the Nuggets bring help (which you should since it's Lillard) and the Nuggets' rotations hold up in a scramble to force a contested mid-range miss.
The Nuggets have the No. 1 defense guarding pick and roll ball handlers, according to Synergy Sports. When you include passes, they are seventh. Jokić as the "big defender" in the pick and roll is 72nd percentile. Those numbers simply aren't possible if he's a negative defender.
Now, there are counters to this. Particularly, if you reject the screen like Donovan Mitchell does here and Jokić anticipates too soon, it's a runway for the ball handler:
And if the screener pops instead of rolls to where the help is, that forces Jokić to recover and cover ground, which he's never going to be great at:
However, the Nuggets are also 12th in defensive rating overall and 11th since adding Aaron Gordon. Denver is also 30th in transition points allowed per possession and eighth in half-court defense. Guess which one is more important, especially for playoff performance?
Jokić is 19th in the league in deflections per game, plus he's 25th in steals at 1.4 in the category. Steals and blocks are often bad indicators of actual defensive acumen, but part of how Jokić has grown to be less of a weak point defensively is by using his quick hands to his advantage:
Again, the point here is not that Jokić is an elite defender or even among the top quarter of the league. It's simply that you can't make the argument he's a net negative and trying to show that he's even neutral is difficult. Jokić grades out, at worse, as a slightly above-average defender this season.
---
Winning
The knock on Jokić early in the season was that Denver wasn't good enough for him to be a contender. The franchise started off rough, floating around eighth in the West for the early part of the season.
That's all changed.
The Nuggets are:
29-13 since February 15

26-9 since March 1 (best in the league)

15-6 since April 1 (best in the league)

10-4 since Jamal Murray's injury on April 12
As of this writing, they are just three games back of the Sixers in record. Denver will finish with a worse record and a lower seeding, because they play in the Western Conference. The gap between the conferences is as wide as it has ever been, but the Nuggets have won the games they needed to so far.
Then, there's the availability question.
This season there should be more allowances made for missed time than ever in the league's history. This is the most brutal, truncated schedule in league history, with player absences due to health and safety protocols, as well as (necessary) incessant testing on top of it.
I'm not as convinced by the argument Jokić's not having missed a game through 68 played is as convincing as some. However, it should be noted all the other candidates have taken nights off not due to injury or protocols, but just to rest. That's understandable. Again, this season is nuts.
But Jokić hasn't.
He has shown up for his team every single night. He has played against the great teams and bottom dwellers, on back to backs and four in five nights. He has played every minute for a team that needed every minute from him.
You cannot, in good conscience, call Jokić anything but a winner by those standards.
Narrative
At this point, most of the various voting blocks that make up the MVP award have fallen line with Jokić. The beat writers have seen him stomp up and down on the local team or they've asked their sources. The league sources I've spoken to have been fairly resolute in the MVP being Jokić, with one executive who is not from the Nuggets asking me, "Why is the media making this a thing when we all know it's Jokić?"
The stats wonks will obviously go in his favor. He trounces the competition by most of the available and used metrics (the exception is ESPN's Real Plus-Minus, which has him ninth in the league). The hardcore analysts like Zach Lowe will respect what he's done on the floor night in and night out. Former players like Reggie Miller have indicated they believe he's the MVP as well.
The last remaining real voting group that still has reservations is the one featuring national media personalities.
Having studied the MVP race for more than a decade, I'll tell you this: you don't want groupthink. Too often ideas become concrete and there's no room for disagreement. A vote for Embiid is absolutely valid this season. He's deserving. So is Steph Curry. These arguments depend on how you define "valuable" and that can be based on whatever idea you present.
What's truly fascinating, though, is the historical argument that's arisen. Nick Wright was the first to really bring it to the forefront last week when he said Paul would be his MVP because Jokić would be the worst MVP in the last 35 years when examining the historical legacy of the player.
However, Wright wasn't the first. If you dug into skeptics' answers long enough, you would find this question: "Are we going to look back and really say that Nikola Jokić was the MVP?"
There's a strong resistance to the idea that Jokić is a truly great player. This is baffling upon any detailed examination. Typically, this kind of reservation is held for regular-season stat producers.
If Jokić had been exposed and eliminated in each of his playoff runs, that would be an understandable position. But he hasn't. He's playoff certified. He's won three series and made the Western Conference Finals in two tries, plus in his first season he was a Game 7 Evan Turner performance short.
Jokić was the best player in a series with Leonard and George this season.
How on Earth does that not qualify as great?
There's something to the way Jokić looks that makes it difficult for some to move past the idea that he simply can't be a great player. Too slow. Too plodding. Not cool enough. Not a social media star. Not an awesome quote. Too awkward. Plays in Denver.
But the fact that we have an idea of what greatness has to look like betrays everything about what makes sports great. It's about how you perform on the court, that's how good of a player you are. This isn't even about the metrics, which I believe are important to recognize. You can watch Jokić marvel at what he does. I gave you examples above. There are hundreds more.
However, you have to pay attention.
The Nuggets, despite making the Western Conference Finals last season, appeared on national TV just 11 times this season, including last Friday's Jazz-Nuggets game that was bumped.
I don't believe that if you pay attention the entire season that Jokić is the only player you can decide is the MVP of the league. There are multiple worthy candidates this year, despite how difficult the season has been. However, you cannot pay the requisite amount of attention to Jokić and conclude he isn't fantastic or won't go down as an all-time great player.
And if you're still skeptical? Keep this in mind: Jokić is 26 years old. He's just getting started.
The MVP is supposed to reflect the regular season. Even a narrative voter has to accept that a Serbian horse enthusiast dominating the league with his passing and efficiency, leading a team in the West to the best record among squads that made the conference finals last season, and doing so after losing the team's second best player, is a good story.
---
Most Valuable
My definition of valuable for the MVP is "most impactful toward his team's chances of winning." Jokić's performance offensively, night in and night out as the focus of all defensive attention, and the way he has masterfully destroyed attempts to stop him, lays the ground work for his candidacy. The Nuggets' success both before and after Murray's injury impacts matters as well.
The best players don't just light up the stat sheet or fill the highlight reel.
They control the game. They bend the opponent to its will and leave it helpless to stop them.
Jokić has done that.
Double teams. Triple teams. Zone. Shooting. Post-ups. Rebounding. Putbacks.
He has been a complete player and no one has impacted their team's chances of winning more than Jokić, your 2021 NBA MVP.
How would you rate this article?
This site contains commercial content. We may be compensated for the links provided on this page. The content on this page is for informational purposes only. Action Network makes no representation or warranty as to the accuracy of the information given or the outcome of any game or event.