Nuggets vs. Spurs Game 6 Betting Preview: Will Denver Close Things Out?
Credit:
Isaiah J. Downing-USA TODAY Sports. Pictured: Denver Nuggets guard Will Barton (5), San Antonio Spurs forward Rudy Gay (22).
Game 6 Betting Odds: Denver Nuggets at San Antonio Spurs
Spread: Spurs -3
Over/Under: 208
Time: 8 p.m. ET
TV Channel: TNT
Series Score: Nuggets lead 3-2
---
>> All odds as of Wednesday night. Download The Action Network App to get real-time odds and live win probabilities on your bets.
---
The Nuggets have dominated the last two games and will look to close things out on the road in San Antonio as underdogs. Our analysts break everything down.
Betting Trends to Know
Since 2005, the Spurs are 58-38-3 (60%) against the spread at home in the playoffs. But as a favorite of three or fewer points or an underdog, San Antonio is 5-6-1 ATS at home in the postseason. — John Ewing
The Spurs are coming off a bad road loss in Denver, losing by 18 points in Game 5. They'll now return home looking to right the ship — just like they did in Game 3 at home after their Game 2 loss.
Since 2005, the Spurs are a different team in the playoffs at home compared to on the road when coming off a road loss in their previous game. At home, San Antonio is 15-10-2 (60%) ATS, covering the spread by 2.4 points per game after a road loss. When the Spurs continue their road trip, they are 4-19 (17.4%) ATS, failing to cover the spread by 7.9 points per game. — Evan Abrams
---
Locky: My Thoughts on Game 6
I think sometimes within a playoff series, we have a tendency to assume all things that occur are a byproduct of where the game is played. A team plays great or poorly, and it's "oh well, now they're going home!" or "well, that's because they were on the road" or "their home-court advantage was too much."
The zig-zag nature of the playoff series, where Games 5, 6 and 7 are alternating locations, helps contribute to that.
We expect a zag, when it may actually be another zig.
This is a situation where, I think, there is an assumption that the Spurs win because they're at home. And there is an assumption that we're going to Game 7. And I actually don't think that's true.
Rather than assume that the location has dictated Denver's performance, let's look at what has happened in the last two games. It cannot be overstated how big of a deal it's been to swap Torrey Craig with Will Barton in Denver's starting lineup.
Craig doesn't need to provide big scoring, but by moving Barton's role in the rotation, everyone else has played better as a result. It's been the key adjustment. Denver's offensive efficiency in the first three games, per Cleaning the Glass has been 103.2, 114.1 and 110.1. The last two games: 122.6 and 125.6.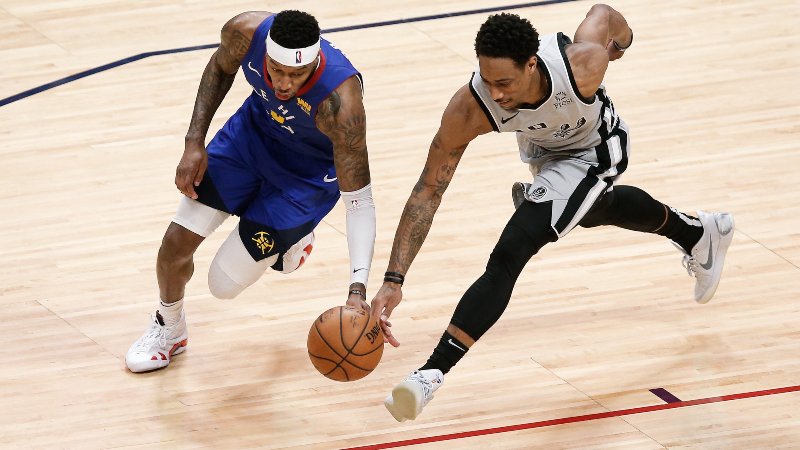 Now, Craig in the starting lineup hasn't been the ONLY thing that's changed. Nikola Jokic has looked much more comfortable, and Jamal Murray has been somewhat consistent. But the point is, Denver is playing at a level that San Antonio has been unable to match.
I don't know if the Spurs can play at that level, and a lot of their success was rooted in the fact that Jokic wasn't playing great and Murray was a total no-show, combined with Barton actively disrupting everything with poor play. Those things are ironed out now.
I am going to play Denver's moneyline here. I think this late in the series, when both teams really know what the other is going to do, Denver has now shown a level of comfort, both on the road and at home. I think that can carry over to a Game 6 victory at a decent plus-money price. — Ken Barkley
---
Mears: How I'm Handicapping Tonight's Game
I'm a little conflicted on this game. On one hand, I mostly agree with everything Locky said above. In series, I think we're really susceptible to biases, especially primacy bias, which means we largely overrate the initial thing we saw. Our thought is that these teams are close — it was 2-2 for a reason! — despite the Nuggets being largely better all season.
Perhaps those first couple of games were a result of either randomness or the Nuggets adjusting to their first playoff series as an incredibly young team. Perhaps the last two games are more in line with what we should expect from this series on average.
That said, this trend worries me:
As of Wednesday night, the Spurs are the public team, and they're getting more money than bets. That said, it's slight — a difference of only 4% — and maybe more money comes in on the Nuggets Thursday, especially since they've moved to +3 after opening at +2.5.
I would be wary of seeing sharp money on the Spurs, but my personal thoughts on this game puts me on the Nuggets. There are systemic issues with Spurs that just aren't going to go away, notably how optimized their schemes are.
There's just a huge math problem in this series, and it's especially been an issue the last couple of games. The Spurs hit just five 3-pointers in Game 5, taking them on only 22% of their possessions. They didn't get a ton of shots at the rim either. That's just not a strategy for success over a long series.
LaMarcus Aldridge and DeMar DeRozan not only want to take mid-rangers — they don't really have any other options. As the Nuggets learn the Spurs' plays and adapts to their sets, the lack of adaptability on the side of the Spurs, along with the math problem, makes this a fairly lopsided matchup.
I'll continue to monitor the sharp money on this one Thursday, but I'll likely be on the Nuggets. If you want to see how I end up betting the game, make sure to download our app. — Bryan Mears 
---
Moore: Trust the Math on Denver
Math is a thing.
In the past four games since their atrocious, outlier shooting performance in Game 1, the Nuggets have 54 made 3-pointers. The Spurs made 24. That's a 30-point differential on 3-pointers alone.
The Nuggets have 72 fast-break points to 47 for the Spurs. Denver is moving the ball, getting into sets, pushing off misses, getting San Antonio gassed, and finding back cuts and open 3-pointers.
The Spurs are doing this:
The Nuggets have a guided missile system. The Spurs are throwing rocks.
Now, a few well placed rocks in Game 6 can definitely turn this, but as Barkley mentioned earlier, the Nuggets' offense has been up over 115 in every game since Game 2. They really just had a bad outlier game in Game 1. The Spurs have to do so much to keep up and it may not be feasible.
They can; they were actually the most efficient 3-point shooting team in the league this season. But Denver knows that, and have stayed home on their limited amount of shooters, and let DeRozan and Aldridge clank up as many contested mid-range fall-aways as they want.
DeRozan has to get back to assisting; he had the highest assist mark of his career this season, something he noted he took great pride in. But he outright looked off Bryn Forbes at several points in Game 5. DeRozan is frustrated with no-calls and the physical defense played by Gary Harris and Craig.
The matchup changes Denver employed should be getting Forbes open constantly vs. Murray.
But as I've noted before: Popovich isn't the wizard of matchup adjustments most think he is. He outright scoffed at the notion at shootaround Tuesday, and said openly after Game 5 they needed to "have better players." Popovich knows when he's outgunned and there are only so many tricks and gimmicks he's willing to employ.
The Spurs aren't outclassed in this series, not in the slightest. But the tide turned dramatically after Game 1 and turned even more sharply in Game 4. The Nuggets have now won three of four games vs. the Spurs.
San Antonio may have one more gasp, but the better value is on Denver, which seems to have realized it is, in fact, the better team. — Matt Moore
---
Editor's note: The opinions on this game are from the individual writers and are based on their research, analysis and perspective. They are independent of, and may not always match with, the algorithm-driven Best Bets from Sports Insights.
How would you rate this article?