BlackJack: Maybe I'm Crazy, But I Kinda Like The 76ers to Win The Whole Damn Thing
Credit:
Photo credit: Nicole Sweet-USA TODAY Sports. Pictured: Joel Embiid and Jimmy Butler
The latest 2018-19 NBA title odds: Golden State Warriors (-215), Toronto Raptors (+1050), Milwaukee Bucks (+1200), Philadelphia 76ers (+1500), Boston Celtics (+1500) and Houston Rockets (+1500).
While the Warriors are the most likely champion (as the odds indicate), BlackJack Fletcher explains why the 76ers have value at the current price.
I want to start this by saying the most likely outcome of the 2018-19 NBA season is the Golden State Warriors hoisting the Larry O'Brien Trophy in June.
There's a reason they're around -200 favorites to win it all, but it's not quite a fait accompli.
Great teams have lost. Superteams have lost. Just look at the 2004 Los Angeles Lakers. They were a so-called Superteam. They were coming off three titles in four seasons, had Phil Jackson as coach and a roster consisting of Shaquille O'Neal, Kobe Bryant, Gary Payton and Karl Malone.
Yet they could not get past the Detroit Pistons and it signaled the end of their dynasty, as O'Neal and Payton were traded and Jackson retired.
I'm not saying the Warriors are a one-to-one comparison with the Lakers, but there are some parallels.
Kevin Durant and Klay Thompson could be on their way out after this season due to free agency. Steve Kerr may not be leaving, but it is worth noting he has had numerous health problems and has dealt with internal strife this year between Draymond Green and Durant, and has won three titles.


To be clear (again): The Warriors are still the most dominant team in the NBA, but I'll be taking a futures position on a different team, the Philadelphia 76ers.
Philadelphia has gone all-in on this season. Much like Toronto and Milwaukee, the 76ers were active in the trade market. Toronto added Marc Gasol, the Bucks added Nikola Mirotic.
But out of all the trade deadline moves, Philly's was the most significant, as it added the best player of the bunch in Tobias Harris.
Harris is shooting 43% from 3 range this season. And it's worth noting the 76ers also added Jimmy Butler earlier in the year, making their starting five downright terrifying.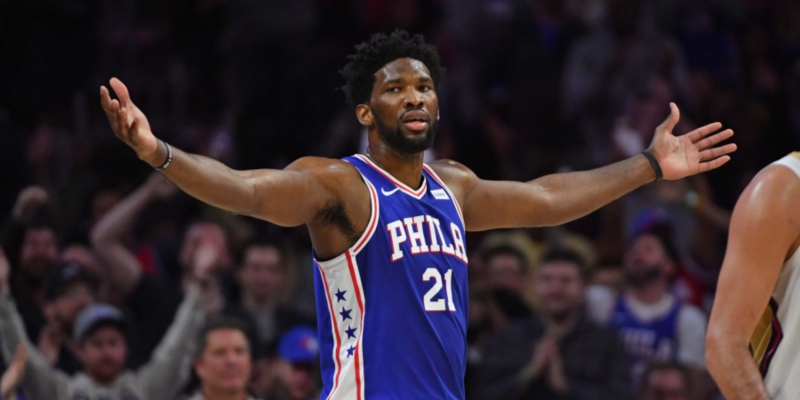 Ben Simmons is a versatile and huge point guard. J.J. Redick somehow keeps getting more efficient as he ages. Butler and Harris are incredibly talented wings who can score at the rim or from three.
And then there's the big fella. Joel Embiid.
He stretches the floor from the rim to the 3-point line. The Warriors can counter with DeMarcus Cousins, but guarding Embiid all night will tire the hell out of Boogie.
This Sixers lineup has not been on the floor very much yet, but when it has been, it's been devastating. They have five incredibly talented scorers, so if you try to double Embiid or Simmons down low, they can kick out to Harris, Butler or Redick.
Not to be overlooked, Philly also has multiple closers now with Butler and Harris.
There is nothing this team cannot do, no style it cannot play.
If the Sixers can get strong defensive efforts out of their starting five — which is a major "if" — there's no reason they cannot contend with any team in the East … and the Warriors out West.
At a price of 15-1 right now, I'm willing to roll the dice that "The Process" has finally reached its climax.
It may sound strange, but I think the Sixers might just win the whole damn thing.
How would you rate this article?