NBA Win Total Odds & Pick: Ben Simmons Uncertainty Impacts the Philadelphia 76ers' Ceiling
Credit:
Jesse D. Garrabrant/NBAE via Getty Images. Pictured: Ben Simmons #25 of the Philadelphia 76ers.
The Philadelphia 76ers have high expectations despite internal turmoil with an over/under of 50.5 wins.
Matt Moore analyzes their win total odds below.
Check out this post for updated season win totals and this post for my other 29 season win total picks.
Philadelphia 76ers Win Total Odds
The Case for the Over
Before we talk over or under, we need to set the table here.
You cannot make an absolute determination on the Sixers' win total unless Ben Simmons is traded. If that does not happen before the total is off the board, you're out of luck. ESPN's Adrian Wojnarowski reported Monday that the Sixers are making progress in talks with Simmons' agent Rich Paul to potentially have the point guard return to the team, but nothing is imminent.
You can't fade them with the under due to the possibility they make some sort of wild blockbuster that puts the perfect superstar next to Joel Embiid. You can't bet them at a number above 50 without knowing what return the team's second-best player garners.
I'll set up both scenarios for you, but betting into this blind leaves you with too many outcomes.
Joel Embiid remains the most dominant center in the East and one of the five most impactful players in the league on both ends. Embiid allowed the fourth-fewest points per chance while in drop coverage in pick and roll this season from a regular-season perspective.
To translate that, Embiid was the fourth-best center at defending the rim in the most commonly used pick and roll coverage in the NBA. He's a beast in the post and made strides in the regular season handling the double-team (and then, unfortunately, regressed again in the Hawks series).
Embiid sets a high floor for the Sixers (as long as he's healthy enough to play 60 games). The Sixers have won 65% of their games since 2017-18 with Embiid on the floor. However, when he's missed time, the Sixers have still won 51.2% of their games when he's been out.
If Embiid only plays in 60 games, that gets you to 39 based on the 65% rate, and in the final 22 games, you need just a tick above the 51.2% rate. If he plays more, you're golden.
The Sixers' defense will still be elite. Last season, they were first in halfcourt defense, second in pick-and-roll defense, fourth defending jump shots, ninth defending at the rim non-post-ups, sixth in catch-and-shoot points per game, third in opponent second chance points per 100 possessions, and second in opponent turnover percentage.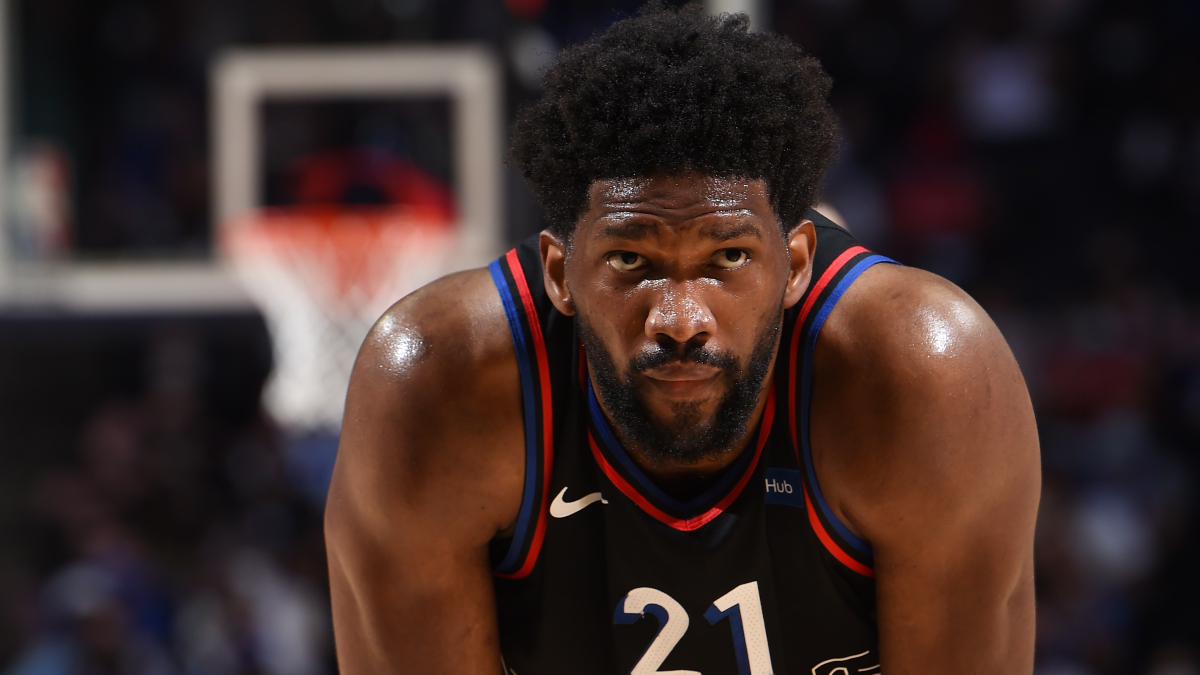 Doc Rivers' teams have gone over in his last three seasons between Philly and the Clippers. The baseline is very high for a team with veteran talent and improving young guys like Tyrese Maxes and Paul Reed. The Sixers had the most wins in the Eastern Conference vs. sub-.500 teams.
That's how you build a big regular-season win total: beat the bad teams. The Sixers are elite in that area, winning by 9.92 points per game, the most of any Eastern Conference team. The Sixers were fortunate to win at a 55-win pace last season; their win profile had solid underpinnings.
OK, we can talk about Simmons now.
There are two paths to game theory this thing out and get to the over.
Path 1: Morey gets what he wants. With Lillard signaling he's content to wait for the Blazers front office to either prove themselves right or implode spectacularly, there aren't any names here, but this is the NBA. Bombshell trades occur all the time.
If Morey gets the All-Star he's been chasing, this number goes up immediately by at least a few wins. Betting on Morey has been profitable. Going back to 2012 when the Rockets added Harden, Morey's teams have gone 5-3 to the over (not counting the COVID-shortened season, or as they call it in Houston, "the Westbrook year").
Path 2: Morey doesn't get a superstar, but effectively gets a price high enough to get a top return of win-now pieces. Maybe that's a combination from the Raptors, or upside pieces from the Wolves, or another team decides to pull the trigger on a big deal.
You're betting on Morey coming out well with trading Simmons. The playoff disaster compromised Simmons's trade value, but it's been three months since, and executives I spoke to this summer still felt he was a player who could help you win.
What could go wrong?
The Case for the Under
A lot! A lot could go wrong!
Embiid tore his meniscus last spring. It was a minor tear, and he played through it to his credit. But he elected not to have surgery to end his season, nor in the offseason and has been on a recovery plan.
Given his history of injury, that has to make you nervous. What if he re-aggravates it? What if it doesn't heal and very late, his doctors advise that he needs surgery?
That's speculative, though. Embiid has been in the gym, according to Morey.
This is still betting on a player that routinely has injury issues that cause him to miss weeks at a time, coming off a minor significant injury (if there is such a thing?), and with the floor-setter backup star that allows for that 51.2% rate without Embiid being traded.
Even if Embiid is healthy and plays, some regression is likely. Embiid shot the fifth-most mid-range jump shots last season per NBA.com and shot 49.1%, the sixth-best mark of any player with at least three mid-range attempts per game.
As a comparison, Embiid shot better than Paul George last season from mid-range. Embiid shot 45.7% on mid-range jumpers last season per Second Spectrum. If that number goes back towards his previous three-year average of 40.3%, that's going to tick off a few wins.
The Simmons trade return is a known unknown. Yes, Morey has done well in most of the trades in his career. Yes, he's probably waited long enough for Simmons' value to recuperate, and he'll likely wait to see if a team gets desperate.
But even if the Sixers front office makes the right move on paper, it might not work. The chemistry might not work and somehow be worse than Embiid and Simmons' chemistry. There might be a shooting dip in a new spot.
Tobias Harris had his best shooting season of the past seven seasons in eFG% and differential from expected eFG% last season. In short, he shot better than expected based on location and opponent location than at any point since that data became available in 2013. If you track his career, that number tends to regress the season after it jumps, even if his shooting performances are stable.
What I'm getting at is that Tobias Harris is unlikely to top a career shooting season with another one.
The Sixers finished with 1.1 more wins than expected based on Pythagorean expectation pre Cleaning the Glass, which was 10th-highest in the NBA. They overachieved last season.
76ers Win Total Bet
Part of the issue beyond the Simmons trade variable is the number.
The Sixers have been a 50-win team (or 50 wins adjusted for schedule) in three of the past four seasons, with the outlier the COVID-truncated 2020 team. They have an MVP candidate in Embiid, shooters in Seth Curry and Danny Green, Tyrese Maxey showed real growth in summer league, and there's Tobias Harris.
But Simmons was a massive part of those 50-win seasons. His defense and passing are impactful. Simmons did help make the Sixers as good as they've been, and there's a cost without him.
Embiid fully healthy can hold a team up to at least 50 wins, but counting on Embiid to be healthy for the number of games to get there is tough. This team doesn't have the underpinning structure to have back-to-back top seed finishes, but they don't need that for the over.
It's a hornet nest. Don't walk in.
How would you rate this article?
This site contains commercial content. We may be compensated for the links provided on this page. The content on this page is for informational purposes only. Action Network makes no representation or warranty as to the accuracy of the information given or the outcome of any game or event.