NBA Win Total Odds & Pick: Will the New-Look Portland Trail Blazers Rise in the West?
Credit:
Bart Young/NBAE via Getty Images. Pictured: Damian Lillard
The Portland Trail Blazers are expected to remain competitive in a crowded Western conference with an over/under of 44.5 wins.
Matt Moore analyzes their win total odds below.
Check out this post for updated season win totals and this post for my other 29 season win total picks.
Trail Blazers Win Total Odds
The Case for the Over
Portland has won at least a 48-win pace in three of the last four seasons. The lone season they went under that mark, Jusuf Nurkic was out for most of the season. The combination of Damian Lillard, CJ McCollum, and Nurkic has been pretty much a guaranteed top-10 offense every season.
In 370 minutes last season after trading for Norman Powell, the Blazers' starting five of the Big 3, Powell and Robert Covington had an offensive rating of 118 and a net rating of +13.4. They smashed teams. They get more time together with a more regular schedule and a renewed sense of purpose behind a new coach.
Terry Stotts went from "one of the best coaches in this league, you can't fire him" to "he's definitely going to be fired" by The All-Star Break. Stotts was a good coach; the Blazers made the playoffs every season with Portland after his first year.
However, it was clear he'd lost the locker room and, more importantly, had lost the backing of a frustrated Dame. The pressure was mounting, and something had to change to appease Dame. General manager Neil Olshey, predictably, blamed coaching, kept the core roster intact, and replaced Stotts with Chauncey Billups.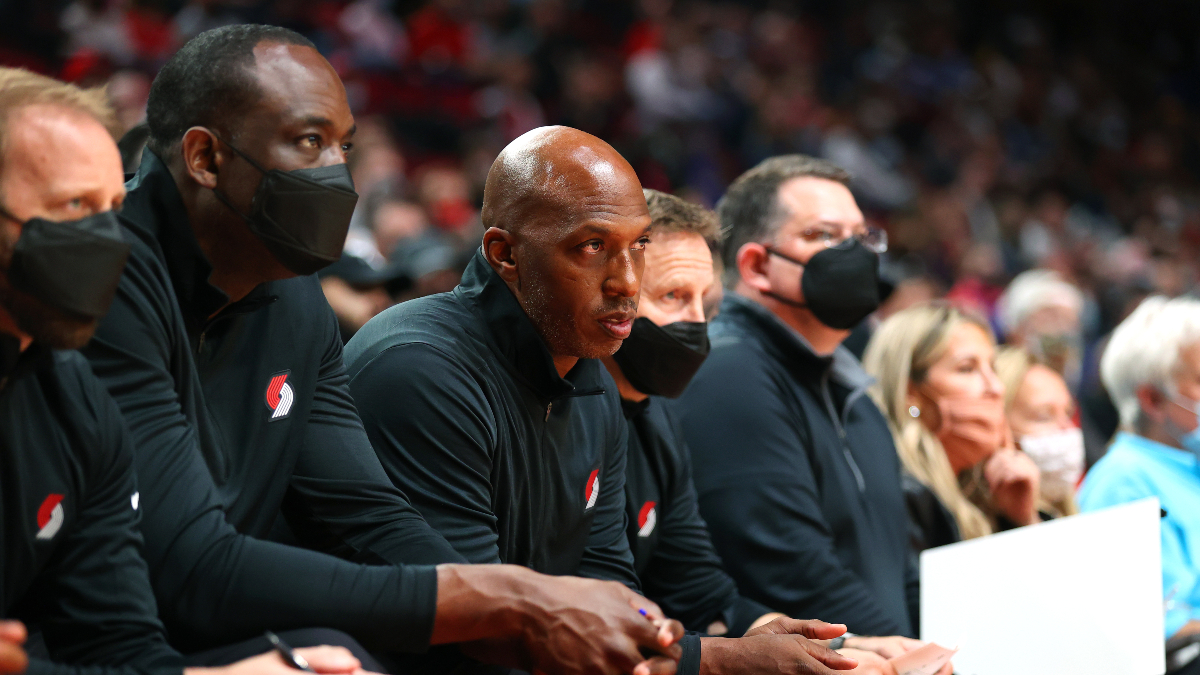 Yes, Billups' hire was controversial after his late 90's sexual assault allegations resurfaced. The fanbase is understandably still frustrated about not only the decision to hire Billups in light of those accusations but how his background was researched.
Nonetheless, it's impossible to argue Billups does not have the players' ears coming into training camp. Lillard has a long-standing relationship with Billups; Billups was among the first leaked names of Dame's preferred coaches. Billups also has a relationship with Nurkic that's strong. He's a former player, so connecting with them is easier, and managing both their respect and trust will come easier to him, given his experience.
Their bench is undeniably improved. Last season's bench was an unmitigated disaster. I literally wound up betting against Portland in the 2nd quarter for the first half of the year because they were forced to play Kanter-Melo minutes and got killed every time.
Cody Zeller is a no-name who doesn't inspire anyone. Zeller had the second-best net rating of any player on Charlotte last year. More importantly — and honestly, shockingly — of the seventeen centers with at least 100 switches last season, Zeller allowed the sixth-fewest points per possession. His switch numbers were terrific.
Alongside the addition of Larry Nance and the development of Nassir Little, the Blazers will actually have capable defensive personnel next season. Nance was among the best last season in terms of deflections, steals, and defensive impact in an injury-riddled season in which the Cavs gave up within a month. He can operate as the short roller and shot 36% from 3 last season. He's legitimately good.
Tony Snell is another offseason addition. Snell played just 47 games last season. He had 171 shots. Of those 171 shots, 95 were jump shots. So the sample size here is not much to work with. It's a half-season in limited minutes.
However, Snell was the most efficient jump shooter in the league in those minutes and on those shots. That's not a value-based judgment. It's an objective statement. He shot the most efficiently on jump shots in the NBA last season.
The Blazers got better. They were a playoff team last season with a win total higher, and they improved the roster.
Lillard likely won't be traded this season. There's a near-unanimous agreement on that. Lillard is committed to giving this roster with a new coach a fair shake. So that trade isn't a concern.
Portland always seems to zig when expected to zag. They followed up a disappointing first-round sweep with a Western Conference finals appearance, then followed that up by having to play-in through the bubble. And still, they've gone over in three of the past four seasons.
The Case for the Under
For starters, things are definitely wobbling.
Lillard began making his discomfort known last year as columns from reputable reporters with a history of access to his camp wrote that the team wasn't doing enough to put a contender around him.
That was followed up multiple times this summer with various instances of his unhappiness. Lillard expressed disappointment in a Team USA press conference with how free agency went.
Now it's preseason, and everything's great. Dame wants to stay, Billups is winning the press conferences, the roster is better if not substantially upgraded, everything's great. But how long does that last? If they suffer a losing streak, how do they react?
It's difficult for teammates when the franchise's best player is on shaky ground and may be on his way out. It can create a disconnect. Disconnect kills chemistry. Bad chemistry hurts performance.
That instability is not suitable for overs.
There is hope this team will be better defensively, for the reasons above. However, they simply haven't been. At some level, the combination of Nurkic (can't play in aggressive at-the-level pick and roll schemes) and Lillard (can't get over screens in drop coverage) is a combination that's too difficult to get stops with.
Nurkic had the best defensive rating of any player on Portland. But Nurkic struggles with foul trouble and playing heavy minutes due to conditioning, which bit him in the playoffs.
Now there's talk of shifting the defensive scheme. The Blazers are planning to play at the level more. Not playing drop sounds great. It means Lillard and McCollum die on the screen less often.
But Portland had the seventh-worst defensive rate with that scheme last season. Nurkic is not light on his feet, which is essential for that scheme. Nikola Jokic isn't fast for an NBA player, but he's light on his feet and nimble. Nurkic is plodding; he's a bruiser.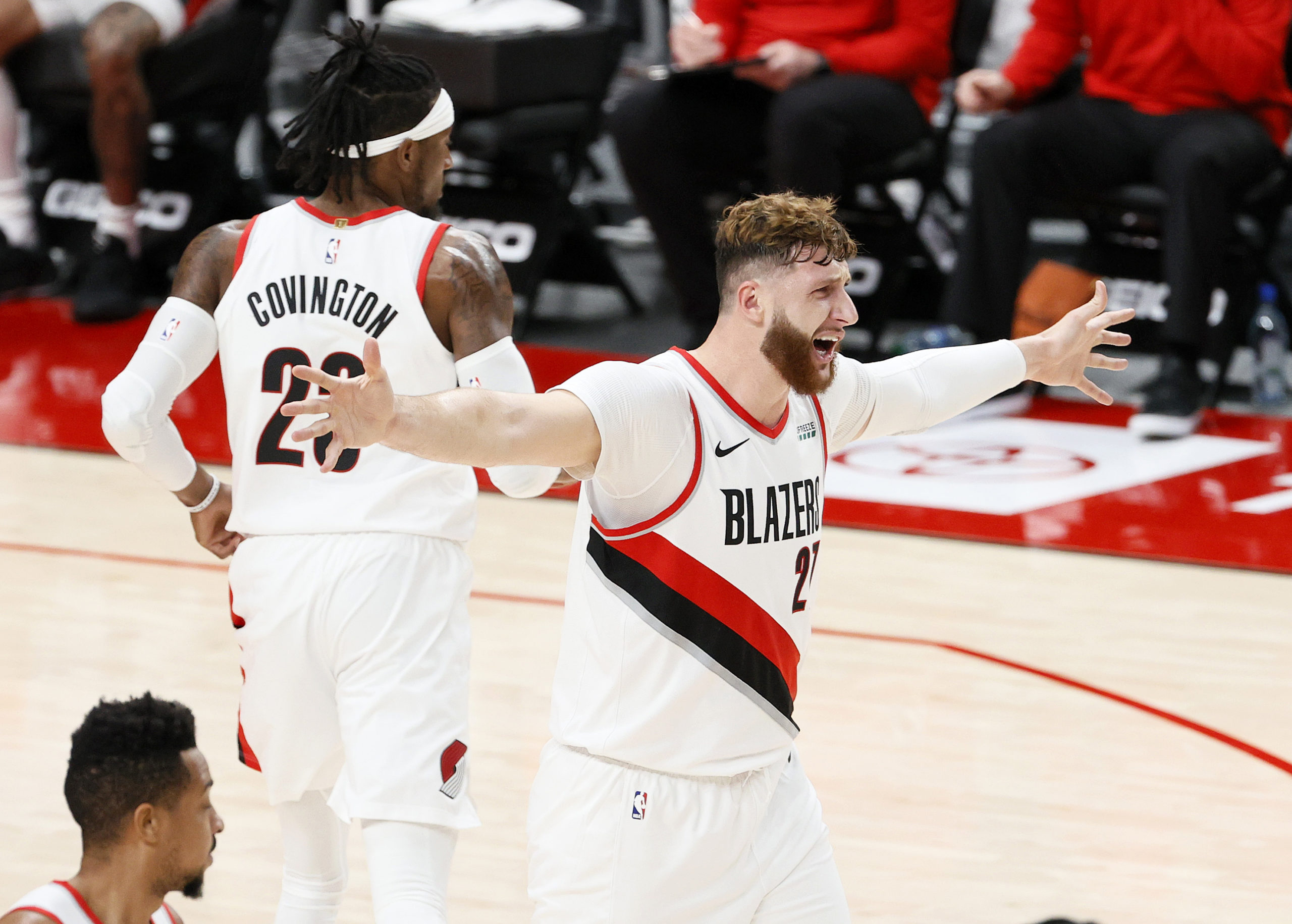 Last season, Powell was brought in by trade and re-signed in the summer to be the connective tissue for the starters. If Lillard and McCollum too often devolved into my-turn, your-turn, then Powell was meant to be the third playmaker to fill the gaps while spacing the floor.
Powell was 22nd percentile in points per possession in pick and roll as the ball handler, including passes according to Synergy Sports last season, indicating he wasn't strong in that regard.
He was good as a spot-up shooter. Defensively, he found matchup problems in the playoffs being undersized at small forward, though he is capable and experienced.
Portland has eight rest advantage games to 11 disadvantage games and is tied with 14 teams for second-most back-to-backs. They travel the most miles in the NBA this season.
Trail Blazers Win Total Bet
This has to be an over. Their expected wins-per-82 mark last season was 46.8. Collectively and together, Carmelo Anthony and Enes Kanter were negative-impact players on the roster and were replaced by potentially positive ones.
I think skepticism on their ceiling is valid; I'm not convinced a rookie head coach makes them into a contender overnight. They'll likely still struggle with full-strength good teams, but they'll beat up on the bad.
The reality is that there's no indication from anyone around the team or around the league that Lillard will be traded (before the next offseason). The combination of Lillard, McCollum, Nurkic and Powell is pretty much a guaranteed 40 wins. I like this up to 46.5.
How would you rate this article?
This site contains commercial content. We may be compensated for the links provided on this page. The content on this page is for informational purposes only. Action Network makes no representation or warranty as to the accuracy of the information given or the outcome of any game or event.