Predicting the Next NBA Legends by the Numbers
Credit:
NBA legends featured image
Every NBA player has dreams of making it into the Naismith Memorial Basketball Hall of Fame, where they can rub shoulders with the likes of Wilt Chamberlain, Michael Jordan, Bill Russell, and countless others. But, in reality, only a select few truly have what it takes to rank among the top NBA legends.
Action Network decided to determine the next batch of NBA legends from the current group of players in the league. By analyzing a variety of statistical factors, we've compared 2021's top 10 basketball players to 10 historical NBA players to see how today's squad stacks up against the legends.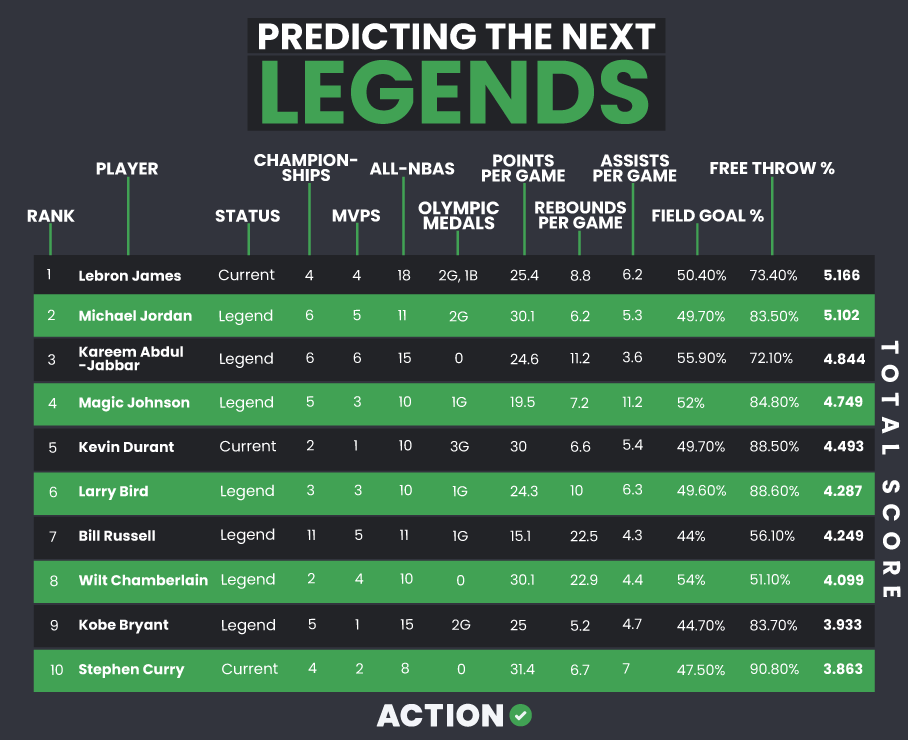 LeBron James Poised to be Next NBA Legend
LeBron James has hit and surpassed just about every NBA milestone imaginable. Not to mention, James has also had unprecedented success on the global stage representing Team USA in a variety of competitions. To that end, it is no surprise that LeBron James tops our list to become a surefire NBA legend.
While the Jordan vs. James debate is sure to rage on for years to come, there is no denying LeBron his spot among the current and historic NBA-elite.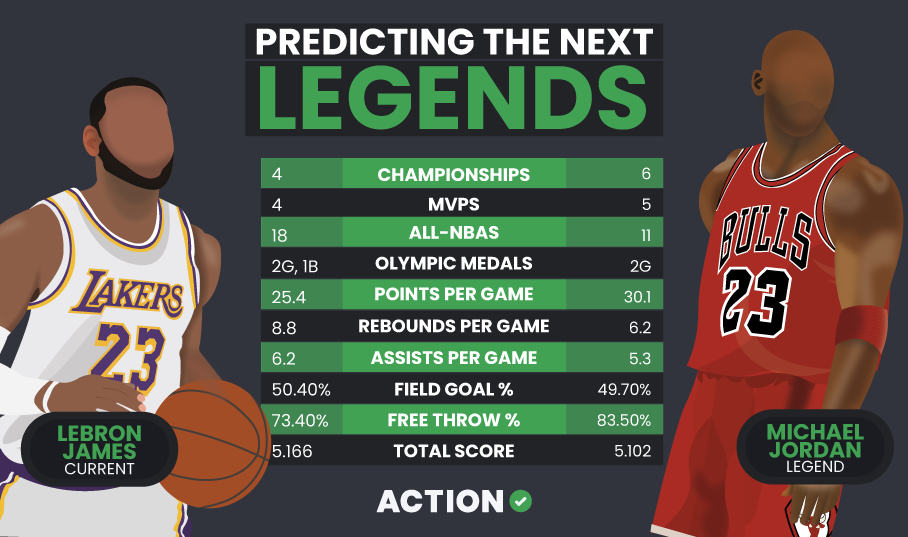 Durant Battles Magic for Top 5
Magic Johnson had a legendary career that was cut short due to illness. So his already impressive stats, in theory, should be even more eye-popping! Kevin Durant, a current NBA superstar, appears to be hot on his heels from a statistical perspective to become a top 5 legend. Magic still holds a fairly comfortable lead over Durant when it comes to Championships and MVPs, the two most heavily weighted stats in our assessment. Durant has some work to do yet to surpass Magic!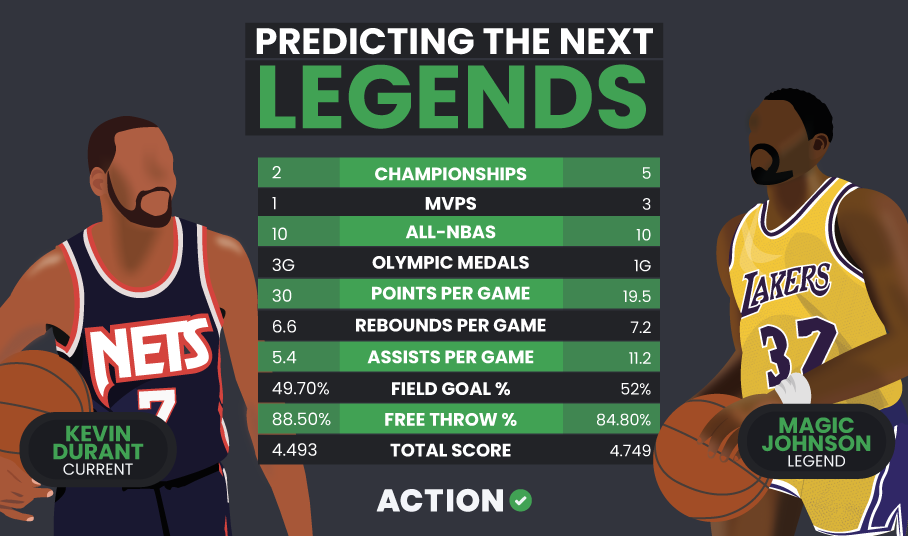 California Love Rounds Out the Top 10
Kobe Bryant is a NBA legend that combined unparalleled talent with an unmatchable work effort. His determination to win, no matter the cost, was legendary in itself. It's absolutely no surprise that Bryant features prominently among the NBA's greatest. Steph Curry, a fellow California favorite, can be viewed as spearheading the evolution of the modern NBA. His all-time great three-pointer shooting prowess has led the Warriors to four Championships in one of the most dominant stretches in the NBA.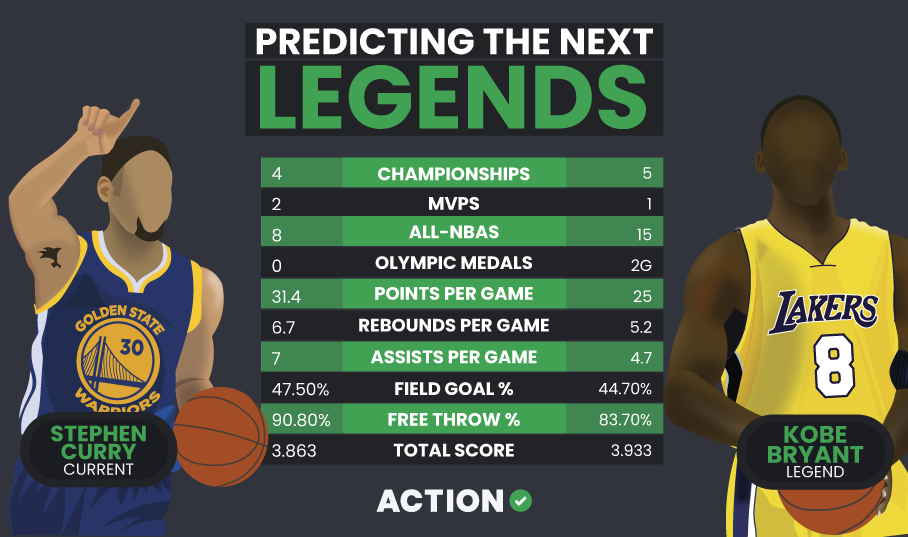 Other Current NBA Players With a Chance to Become Legends
Our statistical look at current players compared to historical NBA legends just barely scratches the surface. There are a number of current and retired players who can be (and are) viewed as legends or potential legends. Some of the notable names not to make the Top 10 of our analysis includes:
Nikola Jokic (current)
Giannis Antetokounmpo (current)
Damian Lillard (current)
Shaquille O'Neal (legend)
Tim Duncan (legend)
Jerry West (legend)
With the NBA season currently underway, make sure to check out our NBA odds and picks for your favorite teams and players. New users should also check out FanDuel Sportsbook, which consistently offers the best average odds pricing for NBA games.
How would you rate this article?
This site contains commercial content. We may be compensated for the links provided on this page. The content on this page is for informational purposes only. Action Network makes no representation or warranty as to the accuracy of the information given or the outcome of any game or event.