Wob's Preseason NBA Awards Predictions: Is This James Harden's Year?
Credit:
Steven Erler-USA TODAY Sports. Pictured: Houston Rockets guard James Harden.
With the 2019-20 NBA season starting next Tuesday, Rob Perez (@WorldWideWob) runs through his award predictions.
Last season's major NBA awards felt extremely competitive as the season wore on. In the end, the awards were, at best, two-man races with most winners seeing a comfortable cushion in the voting results.
Giannis Antetokounmpo stormed out of the gate, while James Harden steadily made his MVP case by carrying the Rockets on his shoulders. Luka Doncic took the league by storm early, while Trae Young put up his best rookie performances after the All-Star break.
So what can we expect this season? With the landscape of the NBA in a completely different space compared to the start of last season, it's up in the air. Below I make my best bets for the major NBA awards of the 2019-20 season.
---
Odds as of Thursday. Check out PointsBet, where Action Network users can access an exclusive promotion to get a 200% deposit match (deposit $50, bet with $150).
---
MVP: James Harden (+750)
Just two games into the preseason, we've somehow, someway witnessed an unprecedented version of James Harden. It was just six months ago when one NBA team actually decided the best way to guard Harden was by standing behind him so he couldn't draw fouls.
Even though it didn't work, Harden interpreted this defensive philosophy, processed it through his 16 GB RAM rule-bending brain and produced an algorithm to combat any virus threatening the motherboard:
James Harden promised he'd be debuting a new move this season and here it is…a running one-legged what the. this needs a name immediately. pic.twitter.com/O1BLxftDtd

— Rob Perez (@WorldWideWob) October 1, 2019

Harden's 'Run Shoot Option' won't propel him past LeBron James, Kawhi Leonard or Kevin Durant as the world's best basketball player — but what it signifies is his propensity for always being one step ahead.
Harden isn't just one of the greatest offensive players in NBA history — he's one of the smartest. He takes your little plan and turns it on itself; his game evolves so fast that the Board of Governors can't pass rule changes fast enough to keep up with it.
The NBA is undeniably a copycat league, and Harden's consistent originality leading to historical achievements is so unique that it should define his legacy more so than his postseason results.
As he showcases his plethora of new moves, he gains an advantage this season which he has never had before: Russell Westbrook. We could sit here and argue all day, "Who is better: Russ or CP3?" — but in terms of skill it doesn't matter. What does is Westbrook's willingness to be Robin to Harden's Batman, something Chris Paul was never able to accept.
When you are teammates with someone of James Harden's divine status, "who is better?" is not nearly as prioritized as "who is better for him."
This is Houston, not Oklahoma City. If Harden were the one being traded to Westbrook's franchise, this whole relationship would be completely disparate. Harden is the icon here, and everybody knows it.
Just when you thought he might finally be out of tricks, he will take a leap bigger than ever before. He has never had support like this, on or off the court, not even on the Thunder. The difference? It's his next chapter. This is Harden's team now.
Rookie of the Year: Rui Hachimura (+3000)
Here's the wonderful part about winning Rookie of the Year: You don't have to worry about all of the "well, his team isn't that good!" arguments that are associated with MVP. The best rookies are drafted by the worst teams, so overall team record usually has little-to-no effect on who wins the award.
With that said, boy does this Washington Wizards team stink.
With John Wall still sidelined nursing an Achilles injury, plus Isaiah Thomas and Ian Mahinmi out indefinitely, we are looking at one of the worst starting fives in the entire league: Ish Smith, Bradley Beal, CJ Miles, Thomas Bryant and Rui Hachimura!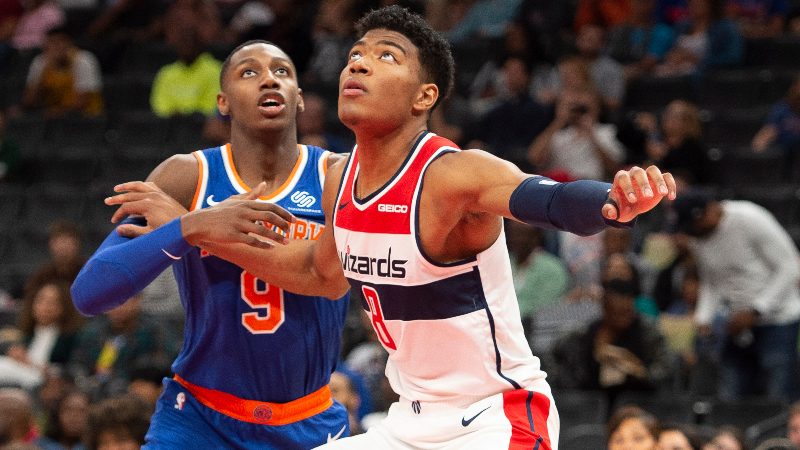 While many will look at this lineup and see Ls, I see opportunity. With the exception of Malcolm Brogdon, every NBA Rookie of the Year dating back to Andrew Wiggins in 2015 had a usage percentage of 22% or more. This means opportunity.
Again, I beg you to look at this team's rotation and tell me who is running the offense when Beal isn't involved.
Despite an impressive showing at the FIBA World Cup in China this summer, Hachimura probably isn't the most talented rookie in the class — but he is undoubtedly going to have the rock in his hands more than anyone else not named Ja Morant.
Thus, there are going to be nights when you're watching SportsCenter and see a "Hachimura: 22 PTS, 5 REB, 3 AST" stat line crawl across the bottom line. You're going to say, "what the hell?" I'm going to say: told you so.
Sixth Man of the Year: Lou Williams (+200)
There is a reason he's won three of the past five years, and voter fatigue does not influence this award. Death, taxes and ones. Lou Williams is a walking, breathing bucket who will challenge Jamal Crawford for the right to be the world's real-life Uncle Drew 20 years from now.
Despite being on the best team of his career, there will be no shortage of opportunity for Sweet Lou to drop 20 a night as Paul George recovers from shoulder surgery and Kawhi Leonard load manages his way through the regular season.
Even when the Clippers' blockbuster duo does play, they have to rest at some point — and when they do, Lou Will be there. What's funny is his biggest competition for the award, Montrezl Harrell, plays alongside him on the second unit.
Despite Harrell's rapid improvement, relentless motor and irreplaceable value to the Clippers rotation, he'll need to be more than the high-energy glue guy to dethrone one of the league's craftiest scoring artists.
Defensive Player of the Year: Rudy Gobert (+190)
Anthony Davis has made it his goal to win the award this season, but he can't stay on the court for more than a couple games in a row. Patrick Beverley yells it out loud every 10 seconds. Leonard doesn't care about the regular season enough.
That leaves one man: The Stifle Tower.
The anchor of the Western Conference's most-feared defensive scheme. The man who has said he would rather win this award than be selected to the All-Star team. The man who consistently leads the league in Defensive Real Plus-Minus while spearheading a Jazz defense conceding 105.2 points per 100 possessions, second in the league behind only Milwaukee.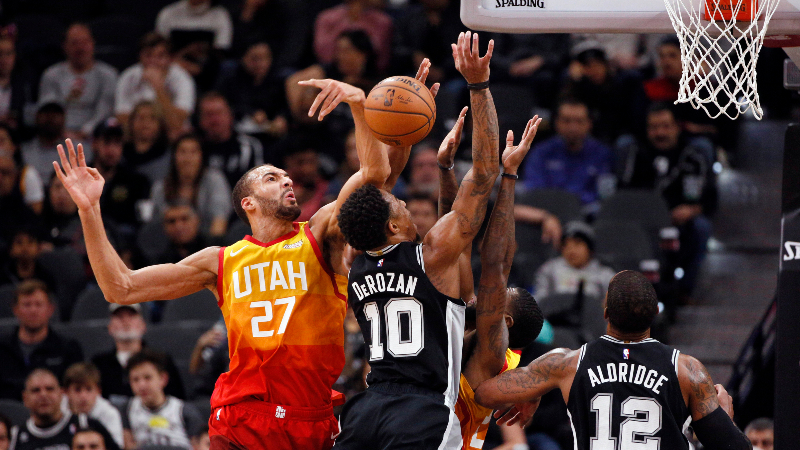 He finished second in Defensive Win Shares and total blocks. The list just doesn't stop, and as long as Quin Snyder's defensively-prioritized philosophies are captaining this ship, with the addition of "Grit 'N Grind" veteran Mike Conley Jr. and Bojan Bogdanovic, the Jazz aren't going to be good this season … they are going to be great.
Thus, there is no reason to believe Gobert won't repeat as the league's most important defender.
Most Improved Player: Miles Bridges (+3300)
We already know what this cannonball with legs can do when near the rim, but what if … gulp … he can shoot, too? With Kemba Walker gone to Boston, a 31.5% usage rate has just opened up vacancy for someone on the purgatory-dwelling Hornets to consume.
While Terry Rozier and his GDP-of-a-small-third-world-country contract are sure to be first in line, you are about to witness the firepower of this armed and fully operational battle station.
Coach of the Year: Brett Brown (+1200)
For the past five years the award has gone to essentially the best regular season team that exceeded expectations: Budenholzer's 60-win Hawks, Steve Kerr's historic 73-win Warriors, Mike D'Antoni's "THIS IS THE TEAM THAT CAN BEAT THE WARRIORS, WE SWEAR" Rockets, Dwane Casey's LeBronto Raptors and Budenholzer's "shooting 3s from 35 feet every possession will surely work in the playoffs" Bucks.
The team that is primed to keep the tradition going this season, the beasts of the Kawhi-less East: the Philadelphia 76ers. Welcome to the club, Brett Brown!
Executive of the Year: Lawrence Frank 
Please lord let it somehow be Rob Pelinka. That would be magic.
How would you rate this article?