Raptors vs. Sixers Game 4 Betting Preview: Fade Toronto Without Siakam?
Credit:
Photo credit: Mark J. Rebilas-USA TODAY Sports. Pictured: Pascal Siakam and Kawhi Leonard
Game 4 Betting Odds: Toronto Raptors at Philadelphia 76ers
Spread: Sixers -2
Over/Under: 214.5
Time: 3:30 p.m. ET
TV Channel: ABC
Series Score: Sixers Lead 2-1
---
>> All odds as of Saturday night. Download The Action Network App to get real-time odds and live win probabilities on your bets.
---
The Raptors got worked for a second straight game and now will have to fight to get back in this series without Pascal Siakam, who is doubtful for Game 4.
Has the line moved enough on the 76ers? Our analysts dive in.
Betting Trends to Know
The Raptors lost Game 3 by 21 points. In the past five postseasons, teams that lost their previous game by double digits and then are underdogs in their next playoff game have gone 47-74-1 (39%) against the spread. — John Ewing
The Sixers are just the fifth team since 2005 to win their previous game by 20 or more points and then open as a home underdog in the playoffs. The previous four teams went only 2-2 straight up and ATS but covered the spread by 5.8 points per game. — Ewing
The Raptors are simply a different team without Pascal Siakam, who is doubtful for Game 4. They've played 88 minutes with Siakam off the floor in the playoffs, posting an Offensive Rating of 94.2 and an eFG% of 42.9%; they've been at 109.7 and 55.2% with him playing. — Evan Abrams
The Sixers are coming off what I would call the triple-crown of offense: winning by 20-plus points while shooting 50%-plus from the field and 40%-plus from 3-point range.
Since 2005, 90 NBA playoff teams have been able to pull off the feat, but only 11 have done it vs. a team with a 70% win rate (with that team below a 70% win rate). Those 11 teams went 3-8 straight up in their next game. Over the last three years, the five most recent teams all lost and failed to cover the spread by 6.3 points per game. — Abrams
---
Locky: How I'm Betting This Game and Series

I just want to make this really simple for everyone. If you are betting on a Raptors bounce back after getting demolished in Philly the other night, you need to believe the following statement: Kyle Lowry is primed to have a great playoff performance.
Now, when you're done laughing, ask yourself if you really want to be betting on such things.
Siakam is doubtful and therefore probably will not play. Kawhi Leonard is already playing at such a crazy-high level that there really is no room to improve — and maybe even a little room for his shooting to regress despite how talented he is.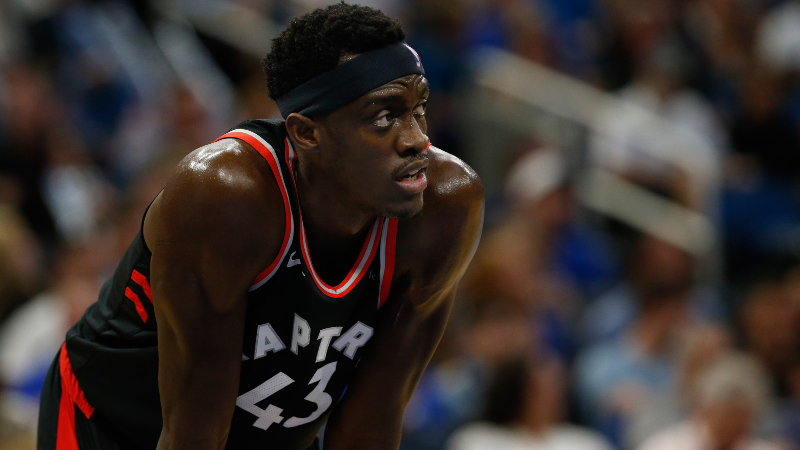 The Raptors bench has been extremely thin and unproductive for multiple games, and that seems unlikely to change as they are constructed. Therefore the only real wiggle room here is Lowry.
If you are betting on him to be better, you don't know Lowry. The guy is one of the worst playoff performers we've ever seen.
So I don't have any fancy analytics for you (although the Siakam on/off stuff and just his play in general is noteworthy), nor do I have any hard spread analysis (since the number is only going to go one way most likely due to the Siakam news).
All I am saying is, for me, it's Philadelphia or pass at a small number like -2.5/-3, and I would lean Sixers. I also think that for those of you playing series prices, Philly was -110 pre-Siakam news and is still hanging out around -130 to -135 in most places. Given what we've seen and what we now know, I think that is a phenomenal bet if you have no position already. — Ken Barkley
---
Mears: The Raptors Are in Trouble Without Siakam
Siakam has been the Raptors' second-best player all season, and he's been the best in more than a few games. His stats are pretty incredible: On the year, the Raps have been 14.3 points per 100 possessions better with him on the floor vs. off (96th percentile). About a third of that value has come on the defensive end, with the rest on offense.
Toronto has decreased its eFG% mark by 4.7% with Siakam not playing (97th percentile), shooting much worse specifically at the rim and from the 3-point line. And we haven't mentioned his transition game, which is one of the best in the league. There's no doubt he'll be missed.
Especially by a team experiencing these stats in this series:
The Raptors offense has been abysmal sans Kawhi

Raptors Offensive Rating
Kawhi On Floor Kawhi Off Floor
Game 1 126.0 47.8
Game 2 101.2 35.7
Game 3 105.4 70.8
Series 110.7 54.1

— Micah Adams (@MicahAdams13) May 3, 2019
I mean, those don't even seem like real numbers.
The storyline of the Raptors' 2018-19 campaign has been trading in the league's best bench for more front-end talent for the playoffs. Kawhi Leonard was part of that and has been excellent, but the rest of the team — especially the bench — has been absolutely atrocious. Without Siakam, things could get even worse.
This has to be a do-or-die game for the Raptors, which means Kawhi is going to have to play as much as his body will let him. If they take this one seriously, he legitimately might not come out the whole time. He's needed that bad, as he's been the only player to reliable score against this long Philly defense.
I grabbed the Sixers at a pick'em right after the news, and it's already moved to Philly -2. I'd expect it to get even higher by game time. There's probably a bit of value left on that bone, but if it continues to climb, I think there's also a bit of value on the under.
The Raptors in the last two games have put up 95 and 89 points. And today they have an implied team total of … 107 points? Without Siakam? I think Siakam's absence will lower this pace, as he was the best Raptor at pushing the ball in transition or semi-transition.
They'll also get much fewer efficient looks without him. The total hasn't budged like the spread has, so that might be the place to look. — Bryan Mears
---
Editor's note: The opinions on this game are from the individual writers and are based on their research, analysis and perspective. They are independent of, and may not always match with, the algorithm-driven Best Bets from Sports Insights.