Rockets vs. Jazz Game 3 Betting Preview: Will This Series Turn in Utah?
Credit:
Troy Taormina-USA TODAY Sports. Pictured: Utah Jazz guard Donovan Mitchell (45), Houston Rockets center Clint Capela (15).
Game 3 Betting Odds: Houston Rockets at Utah Jazz
Spread: Jazz -2.5
Over/Under: 215.5
Time: 10:30 p.m. ET
TV Channel: ESPN
Series Score: Rockets Lead 2-0
---
>> All odds as of 9 a.m. ET. Download The Action Network App to get real-time odds and live win probabilities on your bets.
---
The Utah Jazz took two unexpected beatings in the first two games of this series but are about as scrappy as they come. Will their raucous crowd in Salt Lake City give them a much-needed edge in Game 3? Our analysts discuss.
Betting Trends to Know
Under Mike D'Antoni, the Rockets have had success on the road in the postseason. Houston is 8-4 against-the-spread (ATS) away from the Toyota Center and only 9-9 ATS at home. — John Ewing
The Jazz are in an 0-2 hole. Since 2005, playoff teams on a losing streak of at least two games have gone 108-80-9 (57.4%) ATS when favored in their next game. This includes 35-25-3 ATS in Game 3 after losing the first two games of a series. — Ewing
The Houston Rockets are on a roll. Whether it has been the end of the regular season or their first two playoff games, the Rockets are simply dominating their opponents. Over their last five games, the Rockets are outscoring their opponents by 22.2 points per game. Over their last 10 games, they are outscoring their opponents by 19.2 points per game.
Teams that enter a first-round series blowing teams out tend to keep it rolling. In the first round of the playoffs since 2005…
Outscoring opponents by 10+ PPG in last 5 games: 88-56-1 ATS (61.1%)
Outscoring opponents by 15+ PPG in last 5 games: 27-13-1 ATS (67.5%)
Outscoring opponents by 10+ PPG in last 10 games: 61-39 ATS (61%) — Evan Abrams
Did You Know? Since 2005, the Rockets are just the third team to be listed as an underdog in the playoffs after winning their last 10 games by an average of 15 points or more. The previous two lost straight-up…
Game 1 – 2017 NBA Finals: Cavaliers lost 113-91 at Warriors
Game 1 – 2009 Western Conference Finals: Nuggets lost 105-103 at Lakers — Abrams
Locky: My Thoughts on Saturday's Game
This is probably the series I've been the most wrong about. It's not that I am surprised the Rockets are up 2-0, but the manner in which they are completely destroying Utah is really just so impressive.
Utah was an impressive road team throughout the season with a +4.2 Net Rating, so it's not like there is some switch-flip that's going to happen here and you're going to see a different Jazz team now that they're at home.
Utah continues to struggle to stop Houston's offense, and the scary thing is the Rockets shot only about 36% and 40% from 3 in the two wins. In home playoff games, with their offense, that's not that far outside of their averages; the Rockets shot about 36% from 3 in the regular season, too.
James Harden has had 29 and 32 points and shot under 50% from the field in both games. That's not particularly crazy as any type of outlier. The point is that this all feels repeatable throughout the series and the games to come.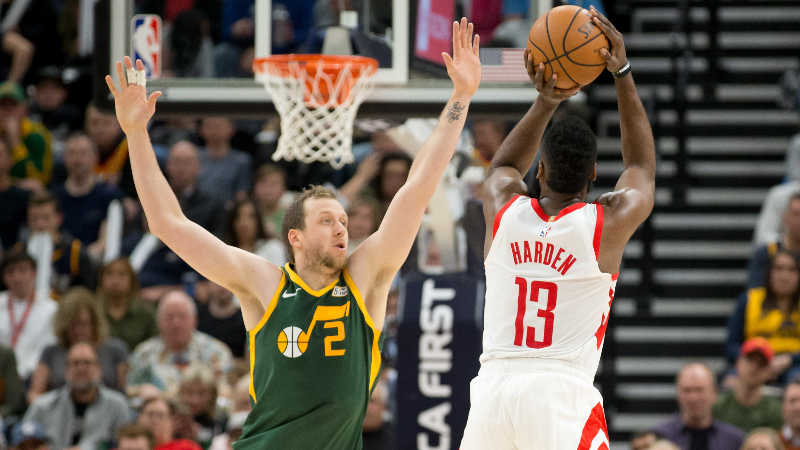 Even if I give the Jazz a massive home-court advantage and their crowd (as we have heard throughout this season) is particularly boisterous, a number like Utah -3 just implies something on a neutral court that can't possibly be true right now — that there is virtually no margin between the teams.
There are plenty of trends about teams down 0-2 going home, but Houston is a very experienced playoff team at this point, and I don't think the energy of a road environment is going to be as impactful as it may be against some opponents.
Really, this is just a juggernaut Rockets team at the moment, with a system Utah is completely helpless to stop. The arena may not matter. I like Houston plus points. — Ken Barkley
---
Mears: How I'm Betting Game 3
I honestly would be surprised at this point if this series lasted more than five games. You could make a good case that the Rockets are the toughest matchup for the Jazz of any team — including the Warriors.
What makes the Jazz so good is obviously their defense, headlined by All-World rim protector Rudy Gobert. The problem with a matchup with Houston is that the Rockets are taking 3-pointers at literally a historic rate. They space the floor more than any team in NBA history, which means that Gobert is constantly dragged away from the paint; that kills a lot of his value.
Also, James Harden is just playing elite basketball right now. He's an underrated player in terms of his basketball IQ, and that's shown in this series. Here Gobert steps up and plays the Harden floater — a new asset this season.
The result is an easy dump-off to Clint Capela for the slam. OK, so Gobert should play the pass.
An easy layup. In this one, Gobert just has no clue what to do:
This isn't a unique problem; a lot of teams run pick-and-roll and get penetration, forcing the center to deal with this dilemma. The problem is most of those pick-and-roll ball-handlers aren't Harden, who is a basketball genius and is in Gobert's head.
The Rockets just put the Jazz in spots they don't want to be in defensively, and honestly there's not really an answer for that given this roster's current limitations. They aren't going to switch or mix things up at this point.
And on the defensive side of things, the Rockets are playing very smart basketball, pretty much daring guys like Ricky Rubio and Jae Crowder to beat them. The Jazz are shooting about 12% worse than expected based on their shot profile, and while it's easy to say that'll get better moving forward, it also doesn't account for which guys are shooting.
This goes in…
…but the Rockets are fine cheating way off Thabo Sefolosha, as they are with Rubio and Crowder. In Game 1, Joe Ingles — Utah's best shooter by far (with Kyle Korver injured) — scored three points on four shots. That's not just because Ingles is playing poorly or passing up shots; that's by design of the Houston defense.
So maybe the Jazz get hot and steal a game at home. But I think the smarter bet is to keep riding the Rockets, who have so many matchup advantages in this specific series — and ones I don't think are accounted for enough in the betting market. — Bryan Mears
---
Moore: Why I'm Betting the Rockets
Houston's team total is only 106.5. In the seven playoff meetings between these two teams, Houston has scored under that total only once, last season.
The Jazz are in a mismatch, and, worse, they know it. Even if the Jazz put up a fight, it's going to be on the offensive end, getting Donovan Mitchell and one of their shooters going. Slowing down Houston is about throwing debris in terms of a freight train, not wrangling horses.
I'm in on Houston as an underdog in any situation in these playoffs, and I love the over on 106.5 for Houston to do what it does best: score. – Matt Moore
---
Editor's note: The opinions on this game are from the individual writers and are based on their research, analysis and perspective. They are independent of, and may not always match with, the algorithm-driven Best Bets from Sports Insights.
How would you rate this article?