Moore: Is James Harden Having a Bad Series vs. the Warriors?
Credit:
Kyle Terada-USA TODAY Sports. Pictured: Houston Rockets guard James Harden (13) reacts against the Golden State Warriors.
Foul calls, injuries and controversial referees have taken the spotlight for the Rockets in Games 1 and 2.
But should we be more concerned with James Harden's game?
All eyes will be on James Harden Saturday as the Rockets try and get their series with the Warriors back on track and avoid going down 0-3. The Harden's eyes, however, is still very much in question.
Harden was hit inadvertently by Draymond Green in the eye and despite seeing doctors and getting treatment, has been photographed with a clearly red and swollen left eye.
But in the playoffs, no excuses can be provided for superstars. The postseason is recalcitrant, and you must find a way to bend it to your will.
Here's the thing. I came into this post expecting to write on how Harden hasn't been good enough, hasn't given enough to the Rockets offensively. Then I started digging. And he has. This series, legitimately, isn't on Harden.
Through two games, Harden is averaging 31 points, 5 rebounds, 5 assists, with five turnovers. The turnovers are bad and we'll get to those, but those numbers remain really good. He's shooting just 40% from the field and 30% from 3-point range.
The question is whether that's good enough.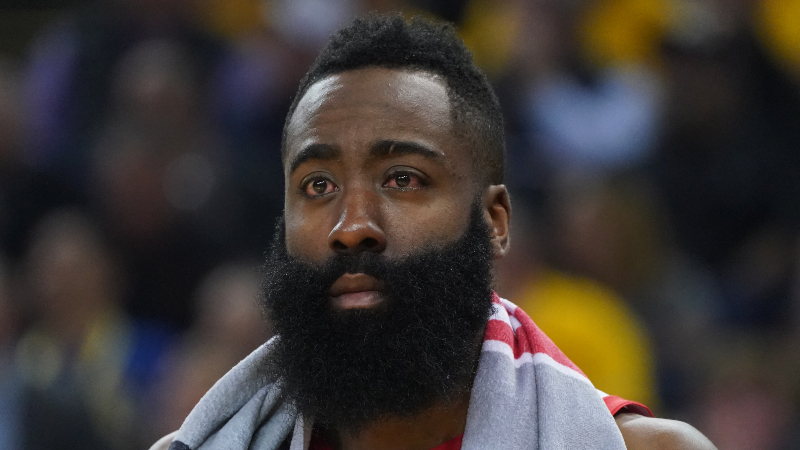 With Harden on the floor this series, Houston has a 108 offensive rating. Well short of their historic regular season marks but still good enough to win. That's 8.0 points per 100 possessions better than with him on the bench. The issue for the Rockets is their defense.
With Harden on-court, the Warriors average 112.1 offensive rating, which puts Houston in the hole. However, with Harden on the bench, the Rockets are giving up a 113 defensive rating. That's right, the defense is better with Harden on-court, while the offense is way better.
This isn't to say that Harden's been great. He hasn't. On non-isolations, with Harden shooting or turning the ball over, the Rockets have 24 points on 34 possessions. That's God-awful.
But on those ISO's, the bread and butter, heart and soul of the Rockets' offense? Harden has 40 points on 33 possessions for a stellar 1.2 points per possession on those plays.
They're still cooking there.
The issue has been everything else, especially pick and roll. He has just 15 shots out of the pick and roll, and 18 pass-outs. But the Warriors are all over it, particularly Kevin Durant.
With Durant guarding Harden, per NBA.com's admittedly-sometimes-wonky matchup data, Harden has four turnovers. Durant is crashing down from off-ball help to disrupt the lob to Capela:
And Durant is just controlling things in the one on one matchup with Harden:
With Durant on the floor in this series when Harden is also on the floor, the Warriors are +3.9 per 100 possessions. Durant has made Harden just human enough for his offense to shine. The Warriors are averaging 112.8 points per 100 possessions with KD and Harden on the floor.
What's surprising, though, is Durant is not roasting Harden. On 45 tracked possessions, Durant has just 13 points vs. Harden, shooting 4-of-12 from the field (33%). The Warriors averaged 112.8 per 100 possessions with Harden directly guarding Durant. Compare that to how Durant has shot vs. Danuel House (4-of-5) and things could be worse.
The Rockets are losing on the margins. One thing they absolutely need to do in this series is get in transition. Harden has scored a total of 7 points on 8 transition possessions in this series.
Every time he attacks he faces a phalanx of Warriors waiting for him, but too often he slows it down and lets them grind down on him with physical switches. The Rockets can't slow down the Warriors' defense; they don't have the ponies this year they thought they did.
So the answer is going to have to be offensively, and that means getting out in transition and challenging them more. That's where Golden State sometimes struggles, but Houston hasn't challenged them at all.
Harden has gone under on all his assists totals in this series, and gone 1-1 in points. Honestly, it's a coin flip.
The Warriors can't slow down Harden, they've only made it look that way. But they can limit Houston enough while taking care of their porous defense. For that reason, lean towards the Warriors over in Game 3 and grab the points.
The Rockets have scored with Harden on the floor, but they can't stop the Warriors. They're in quicksand and no one is coming the way Trevor Ariza did last year at times to save them.