Round-by-Round Scoring of the Kendrick Perkins vs. Kevin Durant Twitter Fight
Credit:
Andrew D. Bernstein/NBAE via Getty Images. Pictured: Kendrick Perkins and Kevin Durant
Late Thursday evening, Kevin Durant and Kendrick Perkins decided to air some differences out over a public forum which many refer to as "Twitter."
This "Twitter" is a land devoid of context, reason, or any sense of plausibility. Sometimes things are said and comprehended with the complete opposite intention of their purpose, sometimes people get it.
As an officer of the NBA Twitter Court, I have bestowed the burden of judging this affair and unbiasedly ruling in favor of the defendant (Mr. Kevin Wayne Durant) or the plaintiff (Mr. Kendrick Le'Dale Perkins) in a civil case of Twitter law. To properly score it, I will use the only system known to be unbiased, fair, and definitely not controversial: boxing.
ROUND 1
Kendrick Perkins really does nothing but state facts here. Even KD would admit he gave up being "MR. THUNDER!!!" the moment he signed with Golden State. That's fine.
But then he brings up the Thunder losing to the Grit 'N Grind Grizzlies in 2013 when Westbrook tore his meniscus in his left knee. Perkins would have won this round easily if he didn't say "when I was there." Dude, how are you calling out a teammate for losing when YOU WERE ON THE SAME TEAM?
Furthermore, Perkins played a minimum of 17 minutes in each of the five games. It wasn't like he was on the bench playing hindsight that if he got in he could have changed the result.
You were out there with Durant. That loss is on you as much as it's on him.
ROUND SCORE
ROUND 2
Oh dear. This was a clean round until "U played hard tho champ lol." Knowing Durant, he probably did laugh out loud typing that while Kyrie put post-it notes on the wall trying to figure out The Big Bang.
Yes, Perkins' value was as a defensive anchor and he did the essential dirty work necessary to win any championship so the stars on his teams could shine. He deserves credit for that.
But dropping a 'whopping' leads me to believe Durant did not feel the same way about Perkins' intangibles as the mainstream viewership did. As a matter of fact, those intangibles were a drop in the bucket compared to the damage left behind by his 'whopping' "2 and 3".
If KD stuck with just the first sentence, the tone of this could have been interpreted as a condescending statement of fact the same way Perkins delivered one in the prior exchange.
However, the second sentence was an act of war. You don't tell your ex who you just dumped and saw in public "U looked great tho lol." That's how sex videos get leaked.
ROUND SCORE
ROUND 3
Ok it appears the two parties have requested a sidebar to settle this themselves. Props to Kendrick for being self-aware about his weak averages and simultaneously getting in a flex within the same sentence. That's on the same level as the people who "don't retweet compliments" but always end up quote tweeting them with some "humbled and blessed" caption on top of it.
ROUND SCORE
ROUND 4
The law of Twitter states: if you reply to the same tweet twice without responding to yourself, one of the two responses gets dropped from the thread and requires manual opening to view. This is incredibly sloppy. Key mashing-esque like you just spammed by a spawn-killer. Reckless use of twitter tools with no regard for optics of the response is a sign of an instant trigger and/or permitting the opponent to get under your skin.
Even worse: Perkins felt like he didn't do enough damage with that first tweet. If you look at the timestamps, Perk had this one off within two minutes of the one before it. That means he was writing and sending when Durant presented the peace offering emoji and probably didn't see it until it was published.
This was without a doubt the best part of the battle. Durant clearly felt like both parties had their voices heard, agreed to disagree, and were content with moving on. Then Kendrick Perkins, completely unsolicited, put on his armor and charged the battlefield like Leeroy Jenkins.
Honestly, this wasn't too bad of a burn in the first 140 characters. Durant has been taking "You're weak for joining the Warriors" shells in the trench for years now. But that "Heart of Champion right there"? God damn. Now we're getting personal.
A knockdown for one and a round win for the other.
ROUND SCORE
ROUND 5
A GIF you can find in the GIF icon option in the tweet composition window
A false statement based solely on opinion
Assuming he was the only one who put in work despite Perkins' track record
Claiming the work he did on his skills was sufficient despite never winning a title in OKC
Responding to the same tweet twice
Woof.
ROUND SCORE
ROUND 6
The fight would have been over right here if Perkins used this: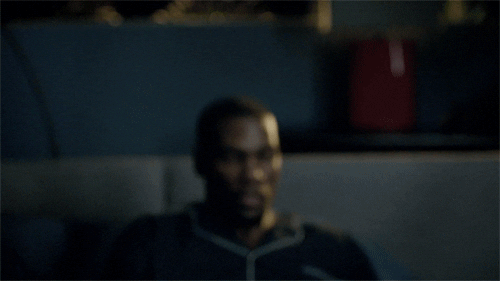 He still got in a clean uppercut with the 'coward' drop though. I was going to say 'clean shot' but let's be honest, if he's squaring up more than five feet away, it's going to miss.
ROUND SCORE
ROUND 7
This is the part of the Twitter fight where you retreat to the comforts of your echo chamber. Somebody out there on the timeline will surely agree with you or reinforce your sentiments … engage with them and make yourself feel better!
Fights aren't always won by the quantity of punches thrown. Most of the time it's the quality. In this bout, both fighters successfully completed both and probably walked away from their mobile devices thinking they came out looking like the better man.
ROUND SCORE
ROUND 8
Oh my, we have a tie.
That is until….
The oracle has spoken. Game over.
ROUND SCORE
This case is now closed.
FINAL SCORE: Perkins: 75, Durant: 74
How would you rate this article?