Wob: Russell Westbrook's Defining Legacy in OKC and the Rockets' Last Attempt to Reinvent
Credit:
Jesse Johnson-USA TODAY Sports. Pictured: Oklahoma City Thunder guard Russell Westbrook (0).
The Thunder traded Russell Westbrook to the Rockets on Thursday night in exchange for Chris Paul and multiple first-round picks.
Rob Perez (@WorldWideWob) details how Russ will be remember in OKC, how his acquisition changes things for the Rockets, and where the Thunder go from here.
He's been with the organization so long he wasn't even drafted by the Thunder. It's poetic justice that Russell Westbrook was selected to be a Supersonic, because that very word would be the incantation of his career.
For 11 seasons, Russ has played the game at supersonic speed — dazzling audiences with his boundless athleticism, inexorable drive, and virulent venom. The weapons he wields, however, have always been a double-edged sword, as his analytical inefficiency in the playoffs continue to stain the narratives revolving around him.
The one aspect of his game that commands a consensus agreement has always been his commitment. Many would use "loyalty" here, but when you are compensated with more money than the GDP of a small third world country, it is hard to label anything as such.
Regardless, Westbrook never stopped bleeding for his city, his teammates, and the game. He played with a dent in his skull, averaged a triple-double for an entire season, breaking Oscar Robertson records that every soul on this planet thought would be safe forever, guarded the gates of the empire after Kevin Durant's departure like Leonidas did against Xerxes, and never needed an excuse to go nuclear — just a reason.
But today, it's all over. It is the end of an era in Oklahoma City.
From the outside looking in, you'd figure Thunder fans should be relieved. OKC has not won a single playoff series since Durant left, as the Thunder's rosters have been overpaid, incompatible, underachieving teases that were only legitimate championship contenders in NBA 2K.
Westbrook's contract is an albatross, there is no other way to put it. Even LeBron James isn't worth almost 40% of your team's entire salary cap, and when the calendar hits July 1, 2022 — Russ will be entering his 15th season in the league with a player option worth $47,063,478.
Even if the man tries — somehow, someway — to exert the same extreme level of energy as his contract ticks toward 2022, it does not change the fact that Father Time is undefeated and will come for Russ the same it has for all of the great stars before him, making this arguably the most taxing contract in NBA history.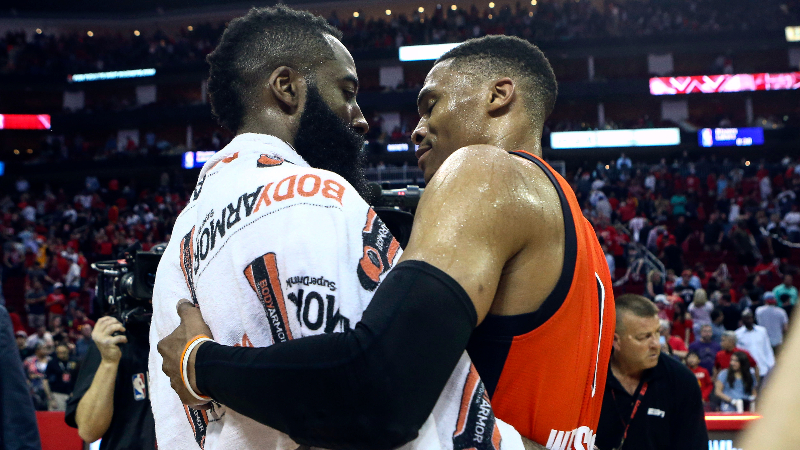 Everyone knew it was time to move on after Paul George got dealt, but that doesn't make the emotional burden of divorce any easier. As a matter of fact, everybody is breaking up. As NBC Sports' Tom Haberstroh notes, of 24 players who participated in the 2017 All-Star Game, only Steph Curry, Draymond Green, Klay Thompson, James Harden, Giannis Antetokounmpo, Kyle Lowry and John Wall haven't changed teams.
That was just TWO years ago!
The musical chairs of players and franchises is a bi-product of the ever-evolving NBA in which stars are able to dictate their future even when under contract. It has emphasized security and mutualism — on and off the books — and as a result, the middle class is dead.
Nobody wants to be the Charlotte Hornets, drowning in mediocrity with the 8-seed and a first-round playoff sweep as the team's ceiling for the next half decade. However, an organization like the Brooklyn Nets has proved that an inevitable early playoff exit can be beneficial if this progress is a stepping stone to a bigger goal.
And that is exactly where the OKC Thunder plan to go next. Consider it the Next Great Reboot: They've stockpiled a war chest of draft assets to use as leverage in the future, and as they wait to cash those in, they'll continue building around young players to attract championship-worthy stars the right way. There are plenty of steps in between here and there, but ask the Nets and Clippers, this offseason's two biggest winners, if it's worth the wait.
Does that mean Houston made the wrong choice swapping Chris Paul's enormous contract for Westbrook's? Absolutely not, this is an attempt to go back to the future. He and James Harden are going to re-define "bully ball" while together, against other teams and within their own. The quality-over-quantity mantra is about to be put to the test, as this ruthless backcourt will undeniably drown its enemies in unyielding, unlimited rim-attacking pressure. And it will do so as one of the favorites to win it all next year.
With this move, the Rockets are undoubtedly pivoting from "Moreyball," the notorious 3s-and-dunks-only blueprint. Their team's new floor general is a 30.8% career 3-point shooter in an era where the game has evolved to outside-in.
Westbrook commands an eye-popping 32.6% career usage percentage (an estimate of team plays used by a player when he is on the floor), while his new running mate just recorded a career-high season of 40.5%. Do you realize how high that is? To put it into perspective: During Westbrook's 2016-17 MVP campaign, when he broke all of those triple-double records and would only pass the ball to himself, his USG% was 41.7.
Despite the duo's blood-thirst lust for dominating possession, this can still work — but the most important question to answer in the immediate future is how will this work?
There is only one ball.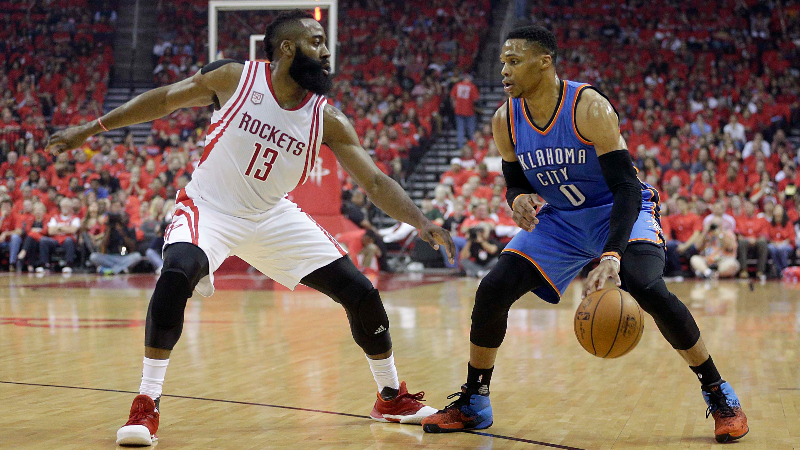 While Thunder GM Sam Presti continues to stockpile a nuclear arsenal of draft assets, this reeks of desperation by Houston to remain relevant. What's different in this case, however, is the Rockets have made themselves contenders for years now using this exact short-sighted strategy to their advantage in constructing "we probably win the title if this one thing goes our way" rosters. It is, at last, their final chess move in reinventing themselves. Assets, cap space, flexibility — it's all in the middle now.
Nothing about the X's and O's of this makes sense, but I, like many of you, have learned the hard way when doubting the basketball prowess, revolutionary thinking, and in-game tactics of Daryl Morey and Mike D'Antoni.
No matter what happens in his new home, Russell Westbrook's legacy will always be defined by his achievements with the Thunder.
He didn't ask for this.
He didn't post "unfinished business" after signing his deal, only to orchestrate a trade out of town from the shadows just one year later.
He endured and wanted to make this work. Granted, he wanted to do so under his terms — but nevertheless, he was willing to be on the front lines until the horn of retreat sounded from headquarters.
He may have been flawed, making mistakes just like the rest of us, but his resolve was relentless. Meritorious, even.
It just never worked out, which is why this new chapter is a little sad. The way Westbrook represented the city and franchise will never be forgotten — and I feel comfortable speaking on behalf of Oklahoma City that this isn't goodbye, it's just see you later.
It is now up to Sam Presti to prove it is possible for thunder to boom without lightning.
How would you rate this article?