The Path to Success and Potential Danger of Russell Westbrook's Trade to Houston
Credit:
Houston Rockets/Twitter. Pictured: Houston Rockets general manager Daryl Morey (left), point guard Russell Westbrook.
Russell Westbrook is the latest NBA superstar on the move after being traded to the Houston Rockets for Chris Paul.
Matt Moore details how Russell Westbrook's trade to the Rockets could work and the the question marks that could derail him.
You might as well have taken all the NBA players' names, put them in a bag, and randomly drawn them for new teams. That's basically been the 2019 offseason.
The latest boggle shake-up came Thursday night as the Oklahoma City Thunder completed their full move towards a rebuild, trading franchise icon Russell Westbrook (the remaining member of what I have referred to as the Starship Thunder of the early 2010's) to the Houston Rockets for Chris Paul.
The Oklahoma City Thunder have agreed to trade Russell Westbrook to the Houston Rockets for Chris Paul, first-round picks in 2024 and 2026, pick swaps in 2021 and 2025, league sources tell ESPN.

— Adrian Wojnarowski (@wojespn) July 12, 2019
For the Thunder, it's a pretty simple equation. After Paul George wanted out, they knew the run was over. They got as many picks as they could in that deal, then another pick in the Jerami Grant deal, then capped it off with this trade.
They'll try and move Andre Roberson and Steven Adams next.
They can afford to take on Paul because it's one fewer year on his deal to get Westbrook where he wanted to go along with the picks. They'll work to get Paul traded if he wants to be moved, and if they can't, they can afford to wait a year or two until his deal is shorter.
When CP3's contract expires in 2021, the next big free agency year. The Thunder can deal him in 2021 to a team looking to clear cap space and offer $40 million in cap space.
For Houston this is a relentless, won't-be-stopped effort in winning the title. There are huge risks here, just glaring, "this is going to get everyone fired or traded" risks. There is a way this can work, but they have to hit a whole lot of positive outcomes on gambles.
How It Can Work
The biggest thing is the Rockets cannot play the way they have been with Paul, who was lethal in isolation. He fell off slightly last year with injury, but was still the 27th best player in isolation among players to had 100 more ISO possessions. James Harden was No. 1 out of 51 players. Westbrook was 48th.
So some changes are necessary.
The Rockets hinted that they wanted to change things anyway, that more ball movement was necessary. Of course, that's not exactly what you draw up when you trade for Russell Westbrook.
It needs to be emphasized here: Westbrook is a master at creating plays for others, to a degree that gets wildly overlooked in favor of claiming he's a ball hog. Westbrook doesn't give the ball up unless you're going to score with it, but he's awesome at delivering that pass you need for the score.
However, Paul is still a much better passer. He has better instincts and delivery, better placement and vision. Much of this is due to Westbrook always moving so fast, going from zero to a hundred at the rim, that it makes it more difficult to find passing windows.
Still, there are ways around this.
The Rockets need to adapt something closer to the "seven seconds or less" offense that D'Antoni ran with the Suns back in the day. Up tempo, get up the floor, quick passes to fluid shots.
There are similarities in what the two teams have done the past few years. The OKC shooters never moved much because Westbrook couldn't make the pass to moving targets when he's going 90 mph. The Rockets maintained stationary shooters because you never wanted to impugn James Harden's space.
So the two systems can cross over there.
You have a lob and dump-off threat for Westbrook in Clint Capela. You have spot-up threats in PJ Tucker and Eric Gordon. Simply initiating the offense at a higher pace will increase the opportunities for higher efficiency.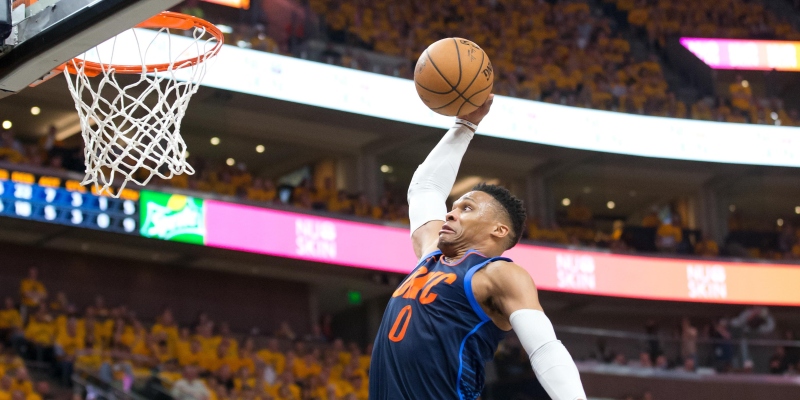 There rightfully has been a lot of conversation about Westbrook's shooting woes last season. I did a deep dive on Westbrook in January and he was simultaneously having one of his best seasons in all categories except shooting and arguably the worst shooting season for a star player ever.
Lost in that, though, was a career-best season at the rim. He was a great finisher and while the Rockets are known for their 3-point shooting, layups are the other most valuable shot their offense pursues.
Westbrook was better defensively last season than he had been in the previous two. He closed out harder, he competed more, he had a high number of deflections. He gave serious effort and focus. If that continues, it'll help, but they're losing a really good defender.
The rumors of CP3's defensive demise were greatly exaggerated. But if Westbrook attacks as he can, it'll create fast-break opportunities.
Now for the downsides.
How This Can Go Wrong
What if Westbrook has another knee injury?
The idea is that Westbrook is younger and healthier, but it's not exactly accurate; Westbrook has had several knee surgeries the past few years, as recently as last preseason.
What if Westbrook can't change?
You cannot run the Rockets' offense the way he ran things in OKC. That system was built to optimize Westbrook, this system is built to optimize Harden and efficiency in pursuit of a title. "Why not?" is no longer the model. Westbrook cannot just be Westbrook there.
What if he clashes with Mike D'Antoni?
Look, Westbrook isn't Carmelo Anthony. He's had more team success, he's been more effective, he's a better passer, a better rebounder, more efficient overall. However, he's a strong personality and he has a high belief in how to do things. Melo was like that in New York and it didn't go great.
What if Westbrook and Harden can't just mesh again?
They are not the plucky 20-year-olds they were back in OKC. Everything is different now. Westbrook has interests to protect in terms of his star power and he's got to get numbers for those, so does Harden. Do they try and just take turns? Can they take turns? Can Harden make Westbrook better? Can Westbrook make Harden better?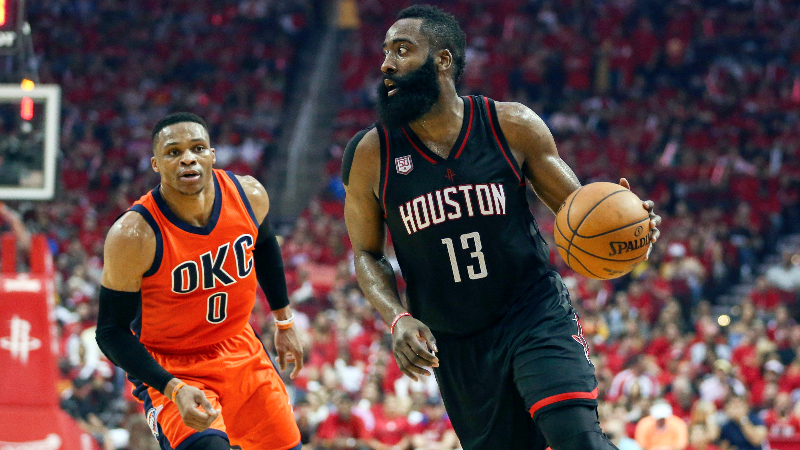 Will the defense slide?
Westbrook played hard last year, but D'Antoni's teams have a habit of sliding over time and Jeff Bdzelik is gone, again. Will Westbrook follow that trend? It needs to be emphasized here: as recently as 2017, Harden and Westbrook were two of the laziest defenders in the league. They're not always, but if one doesn't try what message does that send to the other?
Will they really change the offense?
If they keep it the same, this will be a disaster; Westbrook can't function in an ISO-heavy offense the way Houston has run it. It's doom, he's just not a shooter. Does Harden want to change a system that made him an MVP candidate three years running, with one win and two runner-ups?
What about everyone else?
Gordon, if he's not traded, eats less now. Same deal with Capela. Tucker will just keep doing his thing. But there are so many ball handlers on Houston and they at least had some opportunities. That goes down with swapping Paul for Westbrook.
We had questions about adding Paul with Harden, and the Rockets turned that into a team that was one win, one quarter, from beating Golden State and likely winning the title. This somehow makes logical sense and is more fraught with danger. If they figure this out, it'll be a galaxy-brain chess move that keeps the Rockets up in the Western Conference arms race.
If it fails, this is going to set the Rockets back a decade.
No pressure.
How would you rate this article?