Thunder vs. Blazers Game 5 Betting Odds, Preview: Does OKC Deserve Any More Respect?
Credit:
Credit: Rob Ferguson-USA TODAY Sports. Pictured: Russell Westbrook, Damian Lillard
Oklahoma City Thunder at Portland Trail Blazers Betting Odds for Game 5
Spread: Blazers -3.5
Over/Under: 219
Time: 10:30 p.m. ET
TV Channel: TNT
Series Score: Blazers lead 3-1
---
>> All odds as of Monday night. Download The Action Network App to get real-time odds and live win probabilities on your bets.
---
The Thunder were favorites to win the series before it began but find themselves on the road for Game 5 down 3-1. Can they save their season? Our analysts discuss.
Betting Trends to Know
This is the fourth elimination game that Russell Westbrook has faced since Kevin Durant left. The Thunder went 3-0 against the spread in the past three with Westbrook averaging 46.0 points, 12.0 rebounds and 6.3 assists per game. — John Ewing
Game 4 was only the second time Westbrook failed to make a field goal in the second half of a playoff game.
The last time was back in Game 4 of the 2012 Western Conference Finals against the Spurs, when Westbrook went 0-of-3 from the field, but the Thunder won behind 36 points from Durant. Westbrook went 5-of-13 from the field in the second half of the next game for 13 points in a Thunder win. — Evan Abrams
The Blazers are a dominant 24-15-4 (61.5%) against the first-half spread at home this season, making them the NBA's third-most profitable team in that spot. When they face a team better than .500 at home, they improve to 17-5-2 (77.3%) against the first-half spread, covering by 4.5 points per game.
Over the past four seasons under Terry Stotts, the Blazers are 56-31-3 (64.4%) against the first-half spread at home against teams better than .500, making them the NBA's most profitable team in that spot, profiting bettors 21.8 units. (The Pistons are the second-most profitable team, making bettors just 5.9 units.) — Abrams
---
Locky: How I'm Betting Game 5
One thing the market loves doing is giving Oklahoma City credit. The Thunder were favorites in the series when prices opened (despite not having home-court advantage).
They took money, they took more money, they went back home down 0-2, they got insane respect in the market for both home games and now they're identified as better on a neutral court in Game 5 (when subtracting Portland's home court).
What about the Thunder would make you think they're currently better than Portland?
I think this number is a little small. Damian Lillard and C.J. McCollum have shown an ability to go off at any time this series and have rarely been limited by OKC's defense. If anything, it's that they sometimes miss shots because that's what players do.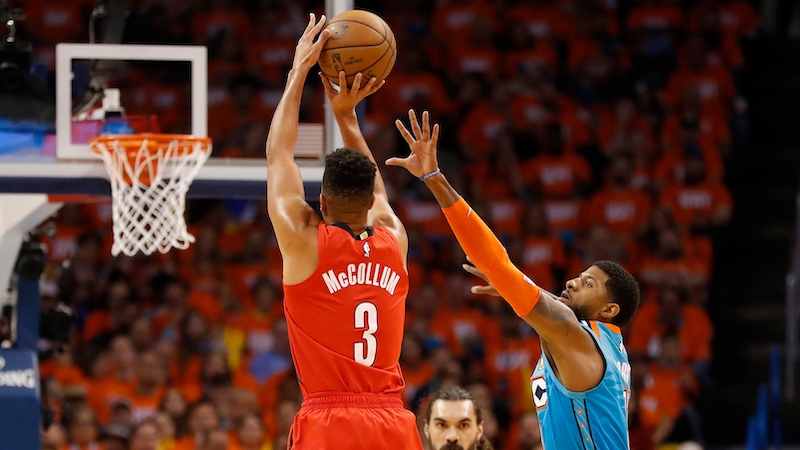 Meanwhile, Westbrook is being goaded into some weird mano-a-mano thing with Lillard, Paul George vacillates between hurt and ineffective, and no one else can be relied on whatsoever.
I understand that we all liked the Thunder on Feb. 1 and thought we were headed for Golden State-OKC. I get it. But when things change and we are clearly NOT getting that, I'd expect the market to at least look a little different.
The Blazers have been better the ENTIRE series, they are at home and there are no significant injuries, nor are there adjustments the Thunder are making/have made that should require significant adjustments to my number. A line of -3 is short, and I am on Portland. Next question! — Ken Barkley
---
Mears: My Thoughts on Tonight's Game
I'll admit, I was wrong about this series from the jump. The numbers from the regular season all suggested that the Blazers would be in trouble without Jusuf Nurkic, but it turns out that 1) Playoff Lillard is a beast and 2) the defense is doing just fine without its starting center.
The Thunder might be more talented, but the Blazers are just a better team right now — especially with Paul George seemingly not 100%. They've continually forced the Thunder into tough shots, and OKC for the millionth year in a row just doesn't have the shooters in the rotation. Combine that with Westbrook having the worst shooting season of his career, and the Blazers are just fine letting the Thunder shoot themselves into summer.
In this series, the Thunder are taking the third-most non-corner 3s — generally the hardest shots on the floor — in the playoffs, and they're hitting those at a playoff-low 26.8% mark. George and Westbrook are both shooting worse than 31% from beyond the arc, and Dennis Schroder is at an ungodly 23.5% mark in the series.
Except for Game 3, the Blazers have held the Thunder under a 100 Offensive Rating in each game. I'm skeptical the Thunder will all of a sudden turn into offensive juggernauts given how they've played, their current rotation and PG not being quite himself. He had literally the highest Real Plus-Minus mark in the NBA this season for a reason; if he isn't right, this team isn't.
And I agree with Locky the public is still expecting OKC to bounce back, but the new data we have says this series is about what we should expect moving forward given the pieces on the floor.
I'm in on the Blazers spread, and that also matches a valuable playoff trend, per Bet Labs. — Bryan Mears
---
Editor's note: The opinions on this game are from the individual writers and are based on their research, analysis and perspective. They are independent of, and may not always match with, the algorithm-driven Best Bets from Sports Insights.
How would you rate this article?