Are the Raptors Real Contenders to Win the 2020 NBA Championship?
Credit:
Ron Turenne/NBAE via Getty Images. Pictured: The Toronto Raptors huddle up prior to a game at the Scotiabank Arena.
Before the Toronto Raptors ripped off 15-straight wins, they were they eighth-best team in the NBA. Now they're third.
But are the Raptors a legit threat to win the championship? Matt LaMarca analyzes the win streak and odds for the reigning champs.
The Raptors were not supposed to be title contenders this season. That feels weird to say about a defending NBA champion, but it's true. They opened at 40-1 to repeat as champs before the start of the season, and people weren't exactly running to their local books to take them.
They lost Kawhi Leonard in free agency, their lone superstar and last season's playoff hero, and they didn't bring in anyone of consequence to replace him.
They didn't even have a first-round pick after trading for Leonard, so their only addition during the draft was Dewan Hernandez with the 59th pick.
Yet nearly two thirds of the way through the season, the Raptors currently own the third-best record in basketball. They trail only the Bucks in the Eastern Conference standings, and they're in the middle of an impressive 15-game win streak.
Is it possible the Raptors didn't need Kawhi as much we thought?
After losing one of the best players in the NBA, their numbers have actually improved this season. They've been slightly less effective offensively, averaging roughly one fewer point per 100 possessions, but make up for it on the defensive end. Overall, their Net Rating of +6.6 is slightly better than their mark from last year (+5.8) and currently ranks fourth in the NBA.
Unsurprisingly, they've been even better during their current win streak. They rank first in offensive efficiency and fifth in defensive efficiency during that time frame, resulting in a Net Rating of +10.4.
So how have they managed to thrive without Leonard? It starts with one of the best scouting and player development department's in the league.
Pascal Siakam was never expected to become a star as the 27th overall pick in the 2016 draft, but that's exactly what has happened. He broke out after an increase in playing time last season, winning the Most Improved Player award and posting an impressive 9.3 win shares. To put that in perspective, Leonard posted 9.5 win shares.
Siakam has taken another step forward this season in a leading role. He has sacrificed some of his efficiency, but his increase in volume was enough to make him an All-star starter. Overall, the Raptors have increased their Net Rating by +7.9 points per 100 possessions with Siakam on the floor vs. off.
Fred VanVleet is another example. He went undrafted in 2016, and the Raptors were able to lock him up to a multi-year contract afterwards. He was a key role player in his first few seasons, and it's fair to say that the Raptors probably wouldn't have won the title without him last season.
VanVleet went absolutely bananas in the conference finals and NBA Finals, shooting a ridiculous 52.6% from 3-point range on 6.3 attempts per game from Game 4 of the Eastern Conference Finals on.
He's blossomed as a full-time starter this season, which allowed the Raptors to survive an 11-game stretch without Kyle Lowry.
The fact that the Raptors were able to land Siakam and VanVleet in 2016 — as well as OG Anunoby, another solid rotation player — is downright remarkable. Teams typically don't find and develop talent like that outside of the lottery.
The best example might be Terence Davis, whose remarkable journey to the league has led to one of the most surprising rookie campaigns in basketball this season. He was a three-year starter at Ole Miss, and he averaged 15.2 points per game and shot 37.1% from 3-point range as a senior, but college seniors don't get much love in the draft.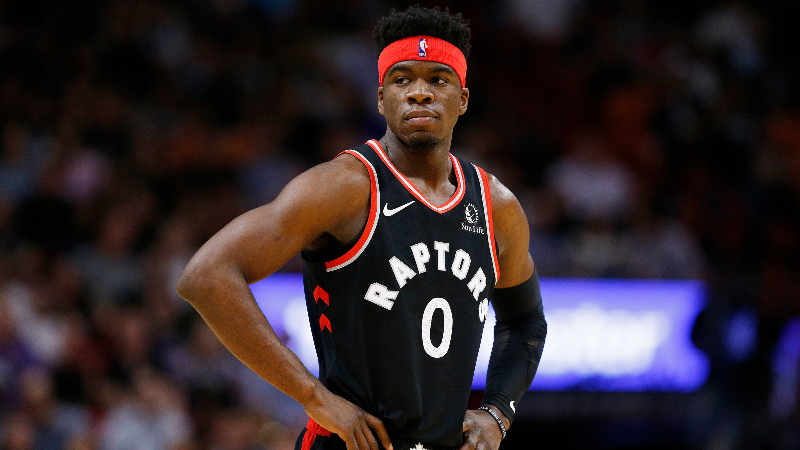 He had to dominate the Portsmouth Invitational, a showcase for college seniors, and the G-League Elite camp just to get an invite to the combine.
His measurements at the combine were impressive, checking in with a nearly a 6'9" wingspan and massive hands, which put him on the second-round radar. However, he refused to accept any deal that would allow him to be sent down to the G-League, which caused him to go undrafted.
The Raptors were able scoop him up after one impressive performance in Summer League, but even the most optimistic Davis fan couldn't have predicted his importance for Toronto this season.
The Raptors have been +10.5 points better per 100 possessions with Davis on the floor, which is the top mark on the squad. It's actually one of the top marks in the entire league, ranking in the 95th percentile per Cleaning the Glass. That puts him in the company of guys like LeBron James, Kawhi, Damian Lillard, and Nikola Jokic.
Of course, I'm not saying Davis has been as important as those guys, but it's fair to say that Raptors would not be the same team without him.
So are the Raptors for real? Is this collection of misfit toys enough to get the back to the NBA Finals?
In a word — no.
The Raptors have been a wonderful story this season, but it's hard to see them making any real noise come playoff time.
---
Odds as of Wednesday morning and via DraftKings, where Action Network users get a risk-free bet up to $500.
---
For starters, getting through the East means getting through the Bucks, who have been an absolute juggernaut this season. They rank first in defensive efficiency and second in offensive efficiency, and they play at the fastest pace in the league to maximize those advantages.
They own a Net Rating of +11.2, which puts them in some historic company:
1995-96 Chicago Bulls: +13.4 Net Rating
2016-17 Golden State Warriors: +11.1 Net Rating
1970-71 Bucks: +10.8 Net Rating
1971-72 Los Angeles Lakers: +10.5 Net Rating
1985-86 Boston Celtics: +9.2 Net Rating
Those are some of the best teams in NBA history and the Bucks are right up there with them, on pace for a 71-win season.
What makes them even scarier is that they've been that good without pushing their star players. Michael Jordan averaged 37.7 minutes per game for the 95-96 Bulls, while Scottie Pippen averaged 36.7. Giannis Antetokounmpo has averaged just 30.9 minutes per game, and no one else on the squad is above 29.5.
During the Raptors 15-game win streak, the Bucks have gone 14-1 and posted a Net Rating of +12.7. As good as the Raptors have been, the Bucks have been even better.
If Milwaukee can win a championship this season — they're currently the betting favorites at +275 with the Lakers (+300) and Clippers (+320) close behind — they would legitimately be considered one of the most dominant teams in NBA history. It's just hard to see a scenario where the Raptors can get past them in the playoffs.
They were able to manage that feat last season, but they needed some unusually cold shooting from the Bucks and a herculean effort from Kawhi to pull it off. They can't lean on Kawhi this season, which obviously lowers their ceiling. That lack of ceiling has been reflected vs. teams with a winning record, limping to a record of just 9-12.
So no, the Raptors are probably not going to win the title again this season. But that doesn't mean they can't still provide some betting value.
They've already rewarded bettors this season, posting a record of 31-23 against the spread. That's the fourth-best mark in the league. They've been even better at home, posting a 19-11 record and a +20.4% return on investment.
The Raptors' lines may be a bit inflated at the moment — winning 15 straight games will do that — but they could become undervalued again once they show some vulnerability.
You can also grab the Raptors at -118 to win the Atlantic Division at DraftKings, which is pretty tasty. The Celtics are their biggest competition in that department, but the Raptors have opened up a 2.5-game lead on them.
They also have a slightly easier remaining schedule — the Celtics have the eighth-hardest schedule, the Raptors are 10th — and they have only one head-to-head matchup left.
How would you rate this article?