NBA Odds, Picks & Projections: Betting Analysis for Wizards vs. 76ers, Celtics vs. Heat & More (Jan. 6)
Credit:
Michael Reaves/Getty Images. Pictured: Miami Heat star Jimmy Butler, right, attempts to block a shot.
Joel Embiid is off to an MVP-caliber season for the Philadelphis 76ers, but questions linger around his availability for Wednesday's game against the Boston Celtics.
Raheem Palmer breaks down the loaded NBA card, which includes a play on this game, and gives his best bets below.
For the 2020-2021 NBA season, I'll be publishing my projections for every NBA game. Here's what you'll find in my model: projected team totals, projected combined totals, projected spreads for the matchup and the implied odds for the moneyline.
Note: My projections won't be updated in real-time throughout the day, but Action's PRO Projections tool is dynamic and will reflect the latest injury and lineup news.
I'll also be highlighting some of the slate's most intriguing matchups with in-depth, game-level analysis that goes beyond the numbers.
NBA Projections Model
NBA Odds & Picks
Although projections give us a solid baseline for what a number should be, it's also important to handicap each game for things that numbers can't tell us.
For the first week or two of the season, my numbers heavily incorporate priors, so we'll be relying more on handicapping ability when looking for an edge.
Check out my analysis for tonight's massive 11-game slate.
Washington Wizards at Philadelphia 76ers
| | |
| --- | --- |
| Pick | 76ers -6.5 |
| Bet Now | |
| Time | 7:30 p.m. ET |
| TV | NBA League Pass |
Washington is flying high after Sunday's 123-122 win over Kevin Durant, Kyrie Irving and Brooklyn, and this feels like the perfect time to sell high on them.
My number makes this game -9, so at the current line is short in my opinion. The 76ers have the league's top-ranked defense, holding teams to just 100.5 points per 100 possessions.
While their offense looked clunky against the Wizards on opening night, as well in  their Dec. 29 matchup against the Raptors, aside from that, this offense has scored 1.10 points per 100 possessions.
In many ways, the 76ers performed under expectations in their opening game against the Wizards, as they're just 22nd in Defensive Rating and scoring 112.2 points per 100 possessions. You have to assume the 76ers can shoot better than 8 of 28 from three-point range as they did in their first matchup.
Joel Embiid should probably be at the top of the list as far as MVP candidates this season, averaging 23.2, 12.3 rebounds, 3.0 assists and 1.7 blocks per game. Beyond the basic counting stats, Embiid has a team-high net rating of +21.2, with an on/off rating of +30.7 per Basketball Reference.
In today's NBA, you can't be certain when it comes to lineup news and with the 76ers having back-to-back games,  it's likely we'll see Embiid rest in this game.
That said, should he play, you'd have a +EV wager on the 76ers at this price. Watch the Sports Insight screen for line movements and monitor injury news for an opportunity to jump in should Embiid be announced in.
---
» Return to the table of contents «
---
Boston Celtics at Miami Heat
| | |
| --- | --- |
| Pick | Miami Heat -2.5 |
| Bet Now | |
| Time | 7:30 p.m. ET |
| TV | ESPN |
I gave this out on the Action Network podcast. This is more of a situational play than a model play, as my projections puts this game at Pick'em without factoring in any travel.
This will be the Celtics' third game in four nights after playing the Detroit Pistons on Sunday; flying to Tampa to play the Raptors on Monday; and, now playing the Heat.
Although many will cite the revenge angle for playing the Celtics, I'm just not seeing how the market can have a 1-5 Raptors team rated higher than a 3-3 Heat team. A Toronto team that is 28th in Offensive Rating (102.9) opened as a -3.5 point favorite and closed as a 6.5-point favorite to this same Celtics team.
Are the Raptors four points better than the Heat? Are the Raptors fourpoints better than the Heat when playing in an arena in Tampa that isn't even their natural home court?
Marcus Smart and Jeff Teague, who didn't play in that game, are questionable, but I'm not sure the line movement we saw Monday was warranted. I'm also not sure the Heat should be power rated lower than the Raptors.
The Celtics are essentially being held together with stellar play from Jayson Tatum and Jaylen Brown, with the losses of Kemba Walker and Gordon Hayward having removed any lineup depth.
While the Celtics were able to get a blowout win Monday behind Tatum's 40-point effort, their stock is sky high and it's time to sell. I'll lay the 2.5 points with the Miami, as Boston enters this showdown in a tough spot.
---
» Return to the table of contents «
---
Oklahoma City Thunder at New Orleans Pelicans
| | |
| --- | --- |
| Pick | Under 214.5 |
| Bet Now | |
| Time | 8 p.m. ET |
| TV | NBA League Pass |
This has been one of the more interesting games on the board, as we've seen back and forth action hitting the total all morning. This total has opened 213.5 and moved down to as low as 212.5 before being steamed up to 214.5.
There appears to be a clear difference in opinion in the market. That said, I'm personally siding with whomever was playing the under in this matchup.
The Pelicans are 5-2 to the under this year, with their last game against the Pacers going over due to overtime and 22 points scored post regulation.
Nevertheless, these are two of the worst league's worst offenses. The Oklahoma City Thunder is dead last in Offensive Rating, scoring a mere 101.6 points per 100 possessions this season. Despite shooting a league-leading 45.4% percent of their shots from three-point range, they're just 29th in three-point shooting percentage at 32 percent.
Defensively, the Pelicans are allowing the league's highest percentage of three-point field goal attempts at 48.2 percent.
When you have a team that shoots as poorly as Oklahoma City launching the most threes, you have a good recipe for a lot of missed shots as well as a ton of variance in scoring outputs.
Regardless, the Pelicans' defensive scheme allows teams to shoot 28.8% percent near the rim is the perfect against a Thunder team that gets 33.7% of its shot attempts at the rim and is above average at making them.
The Pelicans aren't much better offensively, scoring 107.3 points per 100 possessions that's 21st among teams. They're 28th in three-point shooting percentage at 32.4 percent. Both of these teams are also in the bottom 10 in half-court points per possession.
With the Pelicans playing the third-slowest pace in the league at around 98.6 possessions a game, if you can get a 214.5 total, I think you have a solid wager.
As I've stated above, there's been a ton of movement on this game, so if you're playing this, I would hold out for a 214 total. Otherwise, this is a pass.
---
» Return to the table of contents «
---
Toronto Raptors at Phoenix Suns
| | |
| --- | --- |
| Pick | Under 219 and Suns -2.5 |
| Bet Now | |
| Time | 9 p.m. ET |
| TV | NBA League Pass |
I also gave both of these out on the Action Network Podcast, and we've already seen movement pushing the side from 2.5 to 3. The total has also jumped around from 218 to 217.5 and back up to 219.
Personally, I disagree with the move on the total up to 219, as my numbers put this game at 216 since it features two of the league's best defenses.
In particular, the Suns have the league's third-best defense, holding teams to 104.4 points per 100 possessions in their non-garbage time minutes, according to Cleaning The Glass.
The Raptors' defense hasn't been too bad themselves. Outside of their Monday game against Boston, in which they gave up 1.2 points per possession, they've been a solid defense and rank in the top 10 in points per possession.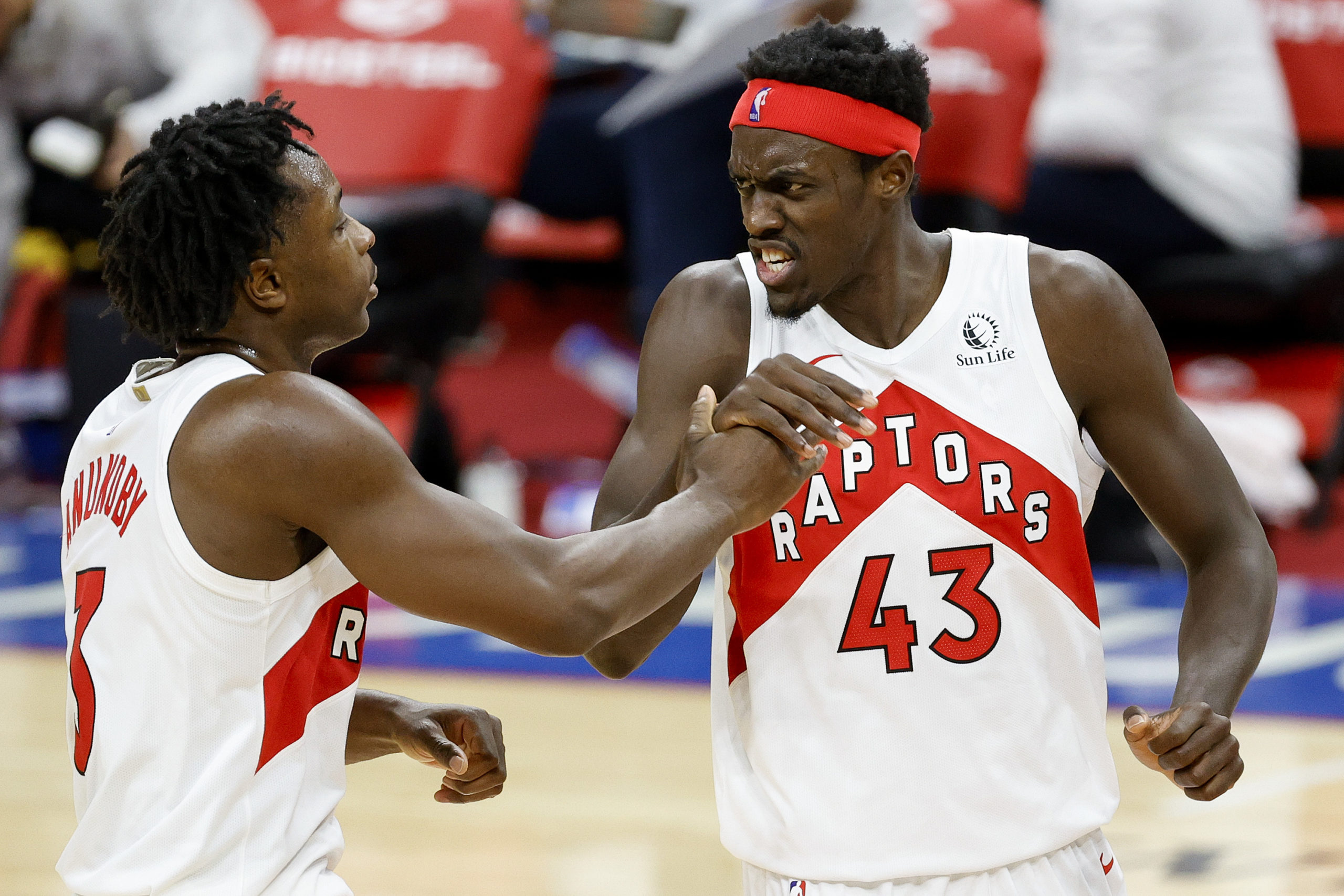 The Raptors allow the third-lowest points in the paint (40.0,) despite the loss of Marc Gasol and Serge Ibaka.
Nevertheless, there are two big reasons for the the under. The Suns play at the second-slowest pace in the league (97.36), while allowing the third-lowest points per possession in transition (104.4), an area in which the Raptors need to score in given their struggles in the half court. In the half court, the Raptors are 26th in points per possession (104.6) and 29th in points per play (87.2).
Overall, the Raptors are 28th in Offensive Rating, scoring 102.9 points per 100 possession. That said, this is an offense that's heavily reliant on three-point shooting, as 45% of their shots come from behind the arc.
Despite that, they're just 24th in three-point shooting percentage (34.1%) and as we saw in Monday's game against the Celtics, when the threes aren't falling, it's not out of the norm for this offense to go completely cold.
After starting the game 7 of 14 from three-point range in the first quarter, they went 0 of 6 from behind the arc in the second quarter and 6 of 23 the rest of the game. With the Suns allowing the sixth-lowest three-point shooting percentage, I'm not seeing how the Raptors' offense gets any better here.
Given the struggles of the Raptors' offense, I'm not sure the -2.5 point spread in my model truly captures the discrepancy between these two teams given the use of priors in my data early on in the season.
Unlike the Raptors, the Suns have are top 10 in Offensive Rating and points in the half court. I'll lay the three with Phoenix and take the under 219 total.
» Return to the table of contents «
---
How would you rate this article?