Why "The Process" Didn't Fail 76ers Despite Second Round Elimination
Credit:
Copyright 2023 NBAE (Photo by Brian Babineau/NBAE via Getty Images). Pictured: Joel Embiid (76ers)
The NBA is all about plot twists.
The drama is high, constantly. And with every new Woj Bomb, blockbuster trade and aggregated quote, a new storyline emerges — branches upon branches of them to the point where you forget how any of the stories began.
The Process Sixers have been no exception; they are, if anything, the very archetype of the NBA melodrama that continues year in and year out.
The Process was hugely divisive in its time. The Sixers didn't tank — plenty of teams have done that.
They brought on an ungodly level of actively putting the worst team as possible on the floor. They had years where they had no point guards. Years where they had no centers. They featured incomplete rosters filled with players full of nothing but potential.
Some players on those rosters have gone on to have very successful NBA careers. Many are also no longer in the league.
The whole approach was built on a very simple idea: make sure you get an elite player to build around, and as many chances to get one of those players as you can.
In the end, they needed every opportunity to find the guy.
They finished with:
No. 3 in 2014 (Joel Embiid)
No. 3 in 2015 (Jahlil Okafor)
No. 1 in 2016 (Ben Simmons)
No. 3 in 2017 (Markelle Fultz, who they traded up for with Boston. The Celtics took Jayson Tatum, you know, the guy who eliminated them in Game 7 Sunday.)
There were no second-round miracle hits like Nikola Jokic.
Okafor is no longer in the NBA. Fultz is a good player in Orlando, but not a star. Simmons … well, you know the deal with Simmons.
But they got Embiid. The MVP. The unstoppable offensive force who led the league in scoring and was a defensive monster.
And they were a contender. It was worth it.
The Process was correct in its approach because it built a contender centered around one of the top-five players in the NBA. It put regular season success secondary to making sure you had the right components to win a championship.
Along the way, a lot got messed up. Sam Hinkie was pushed out and interference from various parties pushed the team away from some of the right talent decisions.
Who knows what happens if they take Kristaps Porzingis instead of Okafor. Maybe Porzingis stays healthy and that combo of big men works out. Maybe the Sixers stay at No. 3 in 2017 and just take Tatum, and Tatum becomes the guy next to Embiid.
In another universe, Fultz's shoulder isn't somehow turned into spaghetti and he fulfills all the promise that made him the consensus No.1 prospect to begin with.
There are all sorts of ways this could've turned out differently.
But ultimately, none of it matters, because they got a player good enough to win the MVP and built a contender around him, even if all the guys they brought on along the way are gone.
The Process didn't fail Philadelphia.
The Sixers failed Philadelphia.
In Game 7 on Sunday, you can point to all sorts of culprits.
After the Sixers led by nine at the 9:44 mark, they shot 4-of-26 from 3-point range.
James Harden had nine points on 3-of-11 with five turnovers to seven assists.
The Sixers had a 131 defensive rating with Tobias Harris on the floor and an 87.2 offensive rating with Harden on the floor.
There's blame to go around.
But here's the reality.
You go as far as your best player takes you.
Embiid has never taken the 76ers to the conference finals. It has never happened.
In the biggest game of the Process Era, Embiid finished 5-of-18, with eight rebounds and just one assist to four turnovers. He finished the playoffs with 24 assists to 35 turnovers and a negative on-court net rating.
They lost the Embiid minutes in the playoffs by six points despite playing a team that wasn't really meant to be there (the Nets).
The Sixers went 2-0 without Embiid in the playoffs. That doesn't mean they were better without him; that's truly stupid to think.
However, it does paint the supporting cast in a certain light. Harden was never supposed to be "The Guy" in Philly. He was the Robin. He was the one to pick up the load when needed.
And he did! Harden won them Game 1 without Embiid and Game 4 to even the series.
Harris had great games. P.J. Tucker had 11 first-quarter points in Game 7 to help give them a nine-point lead. Tyrese Maxey played hard and well.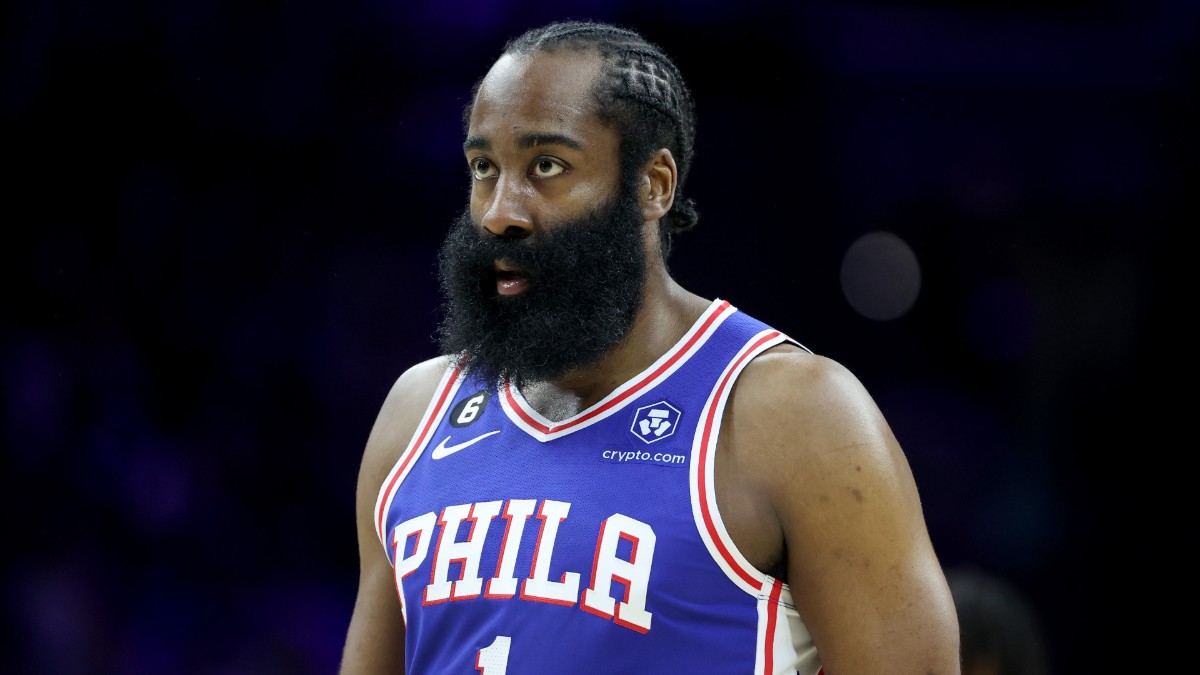 And then there was Embiid.
Every critique lobbed at Embiid through the years returned in Game 7. He was unable to switch effectively, with Tatum draining shot after shot in his eyeball.
He couldn't handle double teams — turning the ball over constantly — and was unable to counter into the pick-and-roll or face-up scoring consistently.
Without someone to spoon feed him open mid-range jumpers (an inherently low percentage shot), there was no way for Embiid to influence things offensively. He did not dictate terms.
The Celtics adjusted their coverage in Game 6 to not give Embiid the easy shots he gets in the regular season, and there weren't any counters from the 76ers.
We have to factor in Embiid's LCL sprain that he went through, though. Embiid deserves credit for playing through a serious knee injury that would've kept a lot of players out.
Regardless of how rarely healthy he is in the postseason, this entire critique has to be considered with the possibility that Embiid could have knee surgery this week.
But ultimately, when a player plays, they open themselves up to being evaluated for their performance. And Embiid's Game 7 performance was not outside what he's shown us before.
When the chips are down, the greatest players step up and deliver. Tatum did that in Game 7. Curry did that in the first round in Game 7.
Embiid is now winless in Game 7s (0-3). He has no conference finals appearances. And with his team needing him more than ever, Embiid went out quietly, getting shut down by 36-year-old Al Horford.
Embiid took on the nickname of The Process. He was what validated a zealotry from some Sixers fans for an era defined by losing. None of the criticism mattered because they got Embiid.
But the 76ers didn't come through when it mattered most.
Philadelphia has dealt with an incredible amount of playoff heartbreak in the last year.
Sunday came to embody the story of The Process. The idea wasn't wrong. The Process was right. The results, however, were wrong.
How would you rate this article?
This site contains commercial content. We may be compensated for the links provided on this page. The content on this page is for informational purposes only. Action Network makes no representation or warranty as to the accuracy of the information given or the outcome of any game or event.