Rovell: Wilt Chamberlain's 100-Point Game Scorecard Being Auctioned For $100K+
Credit:
Howard Smith-USA TODAY Sports. Pictured: Wilt Chamberlain
The scorecard from Wilt Chamberlain's 100-point game is scheduled to be auctioned off in April.
Darren Rovell has the story behind the rare piece of evidence from the famous game, with an estimate of at least $100K.
Evidence from the greatest pro basketball performance ever is seriously lacking.
When Wilt Chamberlain scored 100 points on March 2, 1962 for the Philadelphia Warriors against the New York Knicks, it was in front of a crowd of roughly 4,000 people.
There is no video of it.
The only audio from the radio call is of the fourth quarter, and only thanks to a University of Massachusetts broadcasting student who taped it.
The only picture anyone really remembers from it is of Wilt holding up a piece of paper with "100" written on it, a shot that was arranged by AP photographer Paul Vathis.
And the ball, which was allegedly stolen by a kid from Hershey after the game, originally sold in 2000 — shortly after Chamberlain died — for $561,000. But the ball was pulled after authenticity claims. Then the same ball sold months later for $67,000.
On Monday night, I received a call from David Kohler, who has the greatest Lakers collection in the world and also owns SCP Auctions in California.
"I have the scorecard from Wilt's 100-point game," Kohler said.
Because of the lack of anything from that game, my initial thoughts were of doubt.
Then Kohler showed me the picture of the scorecard.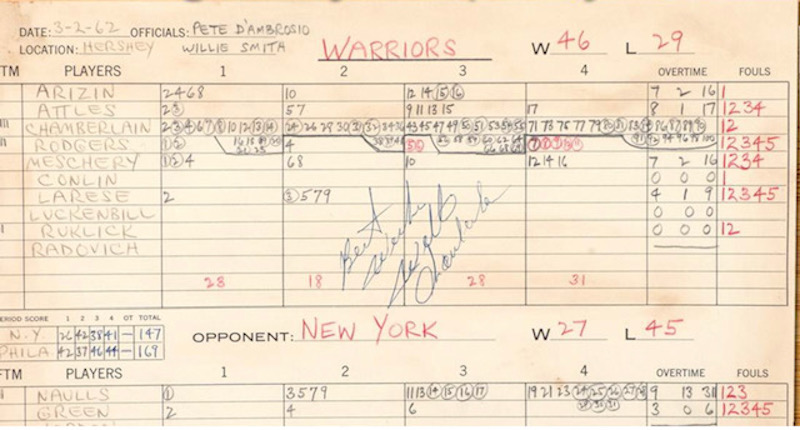 It was a yellowed card from Toby DeLuca, who was keeping the stats for WCAU radio announcer Bill Campbell.
The paper fit the description written in Gary Pomerantz's book, "Wilt, 1962: The Night Of 100 Points and the Dawn Of a New Era." The two different pens. The running out of space and filling up Guy Rodgers' line.
Not much was known about DeLuca's scorecard. He saved it, and when he died in 2011, his widow gave it to Stephen Smith, who was like a son to DeLuca.
"I was 12 years old and just lost my father, a World War II medic at Normandy, to cancer," Smith told The Action Network. "In the couple weeks following, my grade school basketball team was scheduled to play at the Spectrum. This was a really big deal, but I wasn't myself, but my mom insisted I go.
"I wasn't very good so I basically kept the books for our team. When I approached courtside, a man asked why I was there. I explained, and he told me to sit with him and we would call the game together."
The year was 1970 and the man was Toby DeLuca.
DeLuca, who had no children, soon took Smith under his wing, giving him tickets to 76ers games and showing him his memorabilia, including the Chamberlain scorecard.
"Toby and I got together frequently till he passed away in 2011," Smith said. "He would come to my house in NJ and immediately head to the backyard to play basketball and coach my two small boys in baseball.
"My oldest son was a college recruited. He always kept the swing Toby taught him. Even when others tried to change it."
When DeLuca passed away, his wife Ella told Smith to choose any item he wanted from his study.
"I hesitated but knew immediately that the score sheet was it," Smith said. "I explained it was difficult and that it had great value, but Ella insisted."
Smith, now 61, said he's selling it because he doesn't want his kids to fight over it and he's worried what his wife will do to it.
She doesn't know who Wilt Chamberlain is, he said.
SCP Auctions will hold the event featuring the Chamberlain scorecard from April 11 to 27. Kohler said the estimate is at least $100,000.
How would you rate this article?