LeBron James Is a Laker: The NBA's Biggest Winners and Losers
Credit:
Rick Osentoski – USA TODAY Sports. Pictured: LeBron James.
Highlights
The Lakers and Celtics can rejoice after the LeBron James news; both their odds jumped to +350 to win the 2019 NBA title.
The Toronto Raptors have a much better chance of making the NBA Finals with LeBron headed west. 
The Western Conference will be brutal, especially the Northwest Division.
---
LeBron James is now a Los Angeles Laker, and the weight of his move can be felt by nearly every team in the league. The Cleveland Cavaliers went from 20-1 to win the title to 500-1 solely because of his absence.
On that note, let's run through some of the biggest winners and losers thanks to Sunday's news, sponsored by Quicken Loans.
Winner: Anyone holding Celtics futures
The Boston Celtics moved from +800 a month ago to +350 today. They were competitive with LeBron James and the Cavaliers in the Eastern Conference Finals, and that was obviously without their two best players in Kyrie Irving and Gordon Hayward. They will be the favorites to make the Finals next year and years to come, especially as young studs such as Jayson Tatum and Jaylen Brown continue to develop. The Boston-LA rivalry is back, baby!
Loser: Dan Gilbert
Getting dumped sucks. Getting dumped twice … that hurts your soul. Gilbert and LeBron James famously did not get along, although to the former's credit, he was willing to pay an exorbitant tax bill for recent Cavs squads. However, now he's back to below-average basketball in a below-average market — and the Cavs won't even have their first-round draft pick next year if it falls outside the top 10. He lucked into perhaps the best player of all time being born down the road in Akron and was able to muster only one title. That'll sting.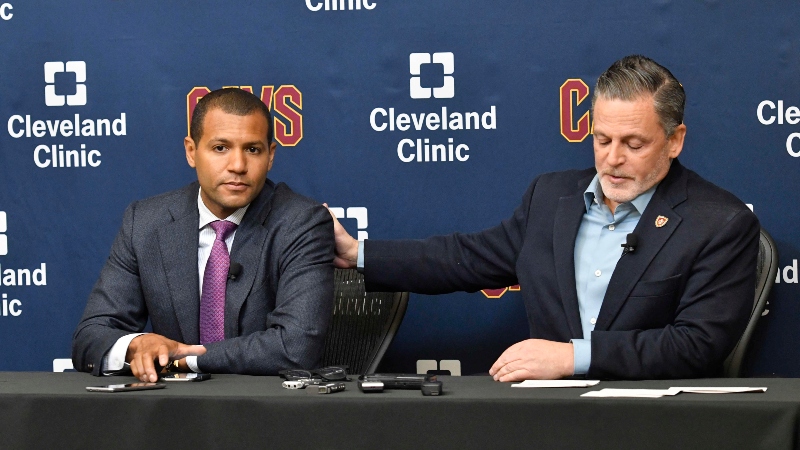 David Richard-USA TODAY Sports. Pictured: Koby Altman and Dan Gilbert (right).
Winner: Masai Ujiri
The Toronto Raptors general manager, at least for now, has decided to run things back with Kyle Lowry, DeMar DeRozan and Co. And that doesn't seem so bad now that LeBron and his eight straight NBA Finals appearances have left the Eastern Conference. Of course, up-and-coming dynasties are being formed in Philly and Boston, but at least this season, the Raptors could make the Finals if things break their way.
Losers: Western Conference Northwest Division
If you aren't familiar with NBA divisions, let me remind you of the bloodbath that is the Northwest Division:
Portland Trail Blazers
Oklahoma City Thunder
Utah Jazz
Minnesota Timberwolves
Denver Nuggets
All but the Nuggets made the playoffs last season — and they lost a play-in game to the T-Wolves on the last day of the regular season — and they all have high hopes this upcoming season. Throw in the New Orleans Pelicans, and you have a ton of really good teams that would likely have home-court advantage in the East but might not make the playoffs in the West. Life is tough, man. I can't envision a world in which a LeBron-led team doesn't make the playoffs, so pencil in the Lakers, Warriors and Rockets as locks. The Spurs could drop out if Kawhi Leonard is traded, but that still leaves five legitimately awesome teams — most of them in same division — competing for the No. 8 seed. Those last couple of weeks of the regular season are going to be grueling.
Winners: Lakers Babies
It remains to be seen which Lakers youngins will still be in LA come October given the possibility of a Leonard trade, but they should hope they stick around. LeBron has a penchant for making players better — I mean, Mo Williams was an All-Star in Cleveland playing alongside the King. Be it Lonzo Ball, Brandon Ingram, Kyle Kuzma or Julius Randle, whoever gets to start alongside LeBron in LA will immediately receive +EV on their next contract.
Losers: East Coast League Pass Viewers
As an East Coast guy, it absolutely sucks to try to stay up until 1 or 2 a.m. ET for the end of West Coast games. (I visited Hawaii a couple of years ago, and it was beautiful. The first games started at lunch time.) The best games will end way past midnight, and the early ones will be absolutely brutal. Just look at this:
Active players who've made All-NBA 1st team, by current conf.:

West
LeBron James
Kevin Durant
James Harden
Stephen Curry
Anthony Davis
Kawhi Leonard
Chris Paul
Russell Westbrook
DeAndre Jordan
Marc Gasol
Dirk Nowitzki
Derrick Rose

East
Joakim Noah

TBD
Dwight Howard
Dwyane Wade

— Dan Feldman (@DanFeldmanNBA) July 2, 2018
HARD PASS on the 7 p.m. ET tips.
Winners: Atlanta Hawks
The Hawks are owed Cleveland's first-round pick, protected 1-10. I'm assuming Dan Gilbert and Co. will foolishly try to remain competitive even without LeBron and not move Kevin Love or other valuable assets. That could make their pick fall in the late lottery, which means it will convey to Atlanta, which can continue to build around future superstar Trae Young. (Yes, I am in on Trae Island. Get yourself a place.)
Losers: Charlotte Hornets fans
My fellow North Carolinians know this Hornets core isn't any good, and Michael Jordan should legitimately tank for a couple of seasons. He won't do it unless forced, of course, and it's likely the Cavs' falling down could lead to the Hornets jumping into the No. 7 or 8 seed in the East. MJ will be rejuvenated by the playoff berth and subsequent first-round thrashing, and will double down on the current players, furthering our stay in NBA Purgatory. The only reason people don't make fun of the Hornets more is because the Kings and Knicks exist.
Speaking of …
Winners: The Kings and Knicks
Just kidding. What were you expecting?
---
More Free Agency Betting Coverage