Director's Cut: Watching Back Game 7 of the 2010 NBA Finals with Wob
Credit:
Jesse D. Garrabrant/NBAE via Getty Images. Pictured: Kobe Bryant #24 of the Los Angeles Lakers, Paul Pierce #34 of the Boston Celtics in Game 7 of the 2010 NBA Finals.
With the NBA on hiatus, Rob Perez is re-watching some of the NBA's classic games. Next up: Game 7 of the 2010 NBA Finals between the Boston Celtics and Los Angeles Lakers.
Please excuse the boomer in me but this is my type of basketball. On June 17th 2010, the Celtics and Lakers endured what many described as "one of the ugliest Finals games ever" with the Lakers coming out victorious 83-79.
Yes, 83-79 scores were reserved for Sunday matinees between the Knicks and Heat in the 90s, where games wouldn't end until Marv Albert's toupee was in danger or a coach was dangling around a player's ankles in the middle of a fight. But not in 2010. This was the age of D'Antoni's seven seconds or less offense. The peak of Kobe Bryant's prime. The birth of the point forward era.
Yet, here we are.
During this historic contest, only one player from each team finished the game with a field goal percentage better than 50% (Kevin Garnett: 8-of-13, Derek Fisher: 4-of-6). The game's high-scorer had just 23 points. The Lakers shot 67% from the foul line. Brian Scalabrine and Josh Powell both made appearances.
Everything on the surface of this game's box score screams: "P-EW" and no it had nothing to with a 7-foot center hitting his patented fadeaway from the block.
This could not possibly be any further from the truth. The defensive rotations, mechanics, and intensity exerted by both teams on this night may never be matched again. These players treated every possession like the ball going through their hoop would light the fuse to a pile of dynamite stashed under their family's house, and it was a breath of fresh air to see as the five-out zero-in, 3s-and-dunks only offenses run rampant throughout today's NBA.
When a game is played with this level of defense, it becomes a completely different sport. You can't practice, game plan, or simulate it — plays, sets, philosophies … they don't matter. This is a trial by combat and individual talent shines above all.
Who can still perform when they are thrown head first into a fire? The answer is those who have already been burned.
[Brady-to-the-Bucs Promo! Bet the Bucs to win the NFC South at +250 (boosted from +160) and other Brady promos]
1. The Lakers' rack attack
LA was not the better team on paper or to what met the eye. For what felt like an eternity, they were one 6-0 Celtics run away from getting blown out of the gym. But somehow, someway they kept the score close enough that if they could get it to the fourth quarter, maybe their stars would catch fire and carry them to the finish line.
The main reason why the Lakers won this game is still not talked about enough: they absolutely annihilated (and I mean annihilated) the Celtics on the glass.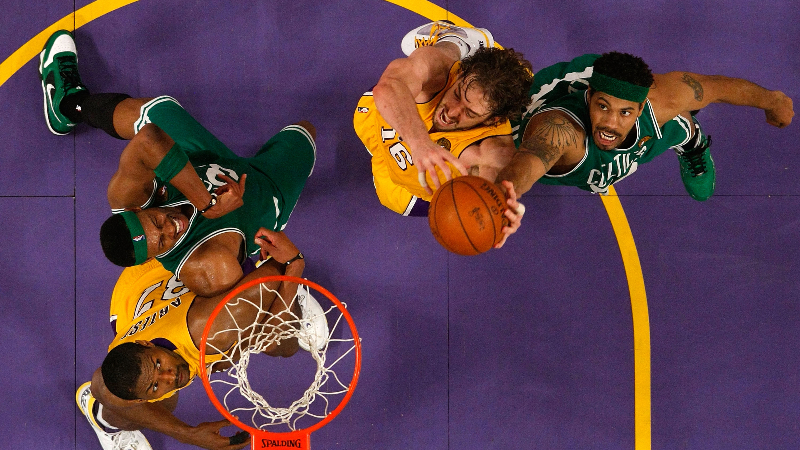 The Lakers recorded 23 (!) offensive rebounds in a game that saw both sides record only 83 possessions each. That means 28% (!) of the Lakers' offensive possessions resulted in a second-chance opportunity — an absolutely ludicrous number compared to Boston's eight.
Even thought there wasn't a single player in purple & gold who could hit water if they fell out of a boat, it didn't matter when they were getting every damn rebound. The absence of Kendrick Perkins was completely and utterly exposed by the Lakers' front court; his contributions on offense during the series were limited, but Game 7 proved just how valuable his ability to clean the glass was to this Celtics team.
2. Kevin Garnett/Rajon Rondo
As a result of Perkins' absence, Garnett was forced to slide to the true center position and bear the burden of his defensive responsibilities. While the Celtics got increased output from Rasheed Wallace on the offensive side of the ball, he went AWOL when a 50/50 ball came off the rim on the other end.
At that point in his career, Garnett just didn't have the legs to do that stuff anymore. The man was one of the most feared defenders in the league for more than a decade, but asking him to carry the half court offense, and defend the rim in nuclear rim warfare, and defend Pau Gasol while fighting for rebounds with Andrew Bynum and Ron Artest was a mission doomed from its inception.
The ABC cameras did a phenomenal job of catching Garnett gassed beyond belief. Not just hunkered over, sweating an amount of liquid that could create its own low pressure system gassed, grabbing the bottom of the shorts and pulling them up gassed — the true sign of a vicious competitor who refuses to admit weakness, but can't help demonstrating the body language.
When the Celtics needed an isolation bucket, Garnett wouldn't even go hunting for the ball and to be honest, I don't blame him. He had given everything.
Another Celtic who deserved to sleep for a week straight after this game finished was Rajon Rondo, who not only tallied 14 points, 10 assists, and 8 rebounds, but seemingly created every good look for the C's. He was simply everywhere on both ends, and in a trench war in which all the soldiers, including one with a history of pooping his pants in pressure-packed situations, were looking to a commanding officer for guidance, Rondo was there to keep them alive.
The 3-pointer to bring the Celtics within two points with 16 seconds left, almost stealing that inbounds from Kobe, initiating the offense and getting Paul Pierce/Ray Allen open looks and, most importantly, scoring when it was required to keep the defense honest. This is the game I'll remember Rondo for more than any other, the game he became a floor general.
3. Ron Artest
He's remembered for three, as he should be, but this was the Draymond Green of Game 7 performances before Green ever got to the league. Every loose ball, every contested rebound, every defensive switch, every hedge, every box out, every deflection, every key moment — Artest was in the right spot at the right time.
He didn't have a lucky performance, he created his own luck and has a significant sample size to prove it. Oh, and by the way, he played 46 minutes and looked like he could have done it again that night with ease.
3. Ray Allen
Boston, I don't blame you for being mad at this man for so long. I mean, my God did he stink on this night. All that work Rondo put into getting him an open look just for him to brick the lone open shot they got in the quarter.
It just didn't stop. It had to go in at some point, right? It felt like it never did. And then finally missing his first free throw of the series at the worst time possible?
Buzz, your shooting guard … woof.
4. Kobe 
OK, 6-of-24 from the field and 0-of-6 on 3s. He didn't have his shot working for him all night, but he just would not stop probing … and probing … and probing … and lurking … and drawing defenders to him only to set a teammate up perfectly.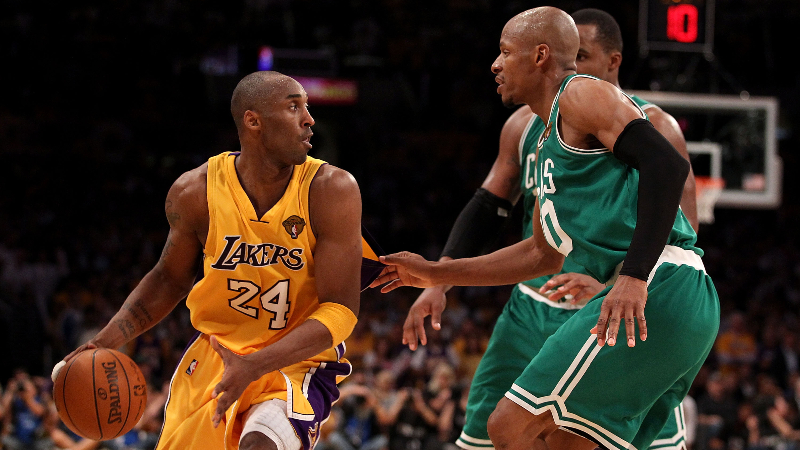 He realized he couldn't make anything contested so when the Lakers needed him to score, he said I'll go to the part of the court where defenders can't challenge me: the free throw line. From the six minute TV timeout in the fourth quarter through the end of the game, six of the nine times Kobe was recorded shooting the ball at the hoop were from the charity stripe.
He pivoted from volume to efficiency, and it was truly a master class of how to still be great when your shot stinks.
5. Referees were awesome
Any time you forget that the refs are there it is a good thing. It's the same as complimenting a chef: your silence means you're too immersed in the meal to be bothered. Crawford, Crawford & Foster not only did a phenomenal job sounding like a law firm that is there to win you financial compensation in the event you have developed mesothelioma from exposure to an insecticide, but letting these times settle this themselves.
They were consistent in only blowing the whistle if there was blood — prison ball rules only — and several of the times in which the main broadcast angle suggested a foul, replay often proved the validity of their play-on decision. They didn't have the luxury of slow motion replay, they nailed almost everything in real time.
Thank you for not making this game about yourselves guys, thank you for letting Rasheed Wallace complain without T'ing him up, and thank you for letting the basketball gods be the final judge and jury.
How would you rate this article?