Director's Cut: Watching Back Game 6 of the 2013 NBA Finals with Wob
Credit:
Nathaniel S. Butler/NBAE via Getty Images. Pictured: Ray Allen (34) of the Miami Heat shoots a game-tying 3-pointer against the San Antonio Spurs during Game 6 of the 2013 NBA Finals.
With the NBA on hiatus, Rob Perez is re-watching some of the NBA's classic games. Next up: Game 6 of the 2013 NBA Finals between the San Antonio Spurs and Miami Heat.
It was there.
It was right there.
I know everybody from the city of San Antonio, or wherever you support the Spurs, is still mumbling this in their sleep to this day.
What's funny is I don't even need to explain myself.
You know the situation: 94-89 Spurs, 28.2 seconds to play.
What transpired next will live in NBA infamy forever: a LeBron James missed 3-point attempt, the Chris Bosh rebound, the clutch Ray Allen 3 and then overtime.
It's been nearly seven years since this historic night, and after watching the game back in its entirety — this sequence shouldn't have even mattered.
Hear me out. After Manu Ginobili's second free throw traveled through the net to put the Spurs up five with those 28.2 seconds left, Heat head coach Erik Spoelstra inexplicably called his last timeout to advance the ball and set up a play.
This put sooo much pressure on the Heat to not only hit a 3-pointer coming out of the timeout, but rely on either a miracle turnover or missed free throw with 15 seconds or more to play because …. they didn't have any timeouts left!
There would be no opportunity to draw up a set or advance the ball, it was going to be a get it and go situation, which oftentimes results in players running around like a game of duck, duck, goose before launching some contested bs over their head at the buzzer.
An act of God was required. There is no other way to put it.
When LeBron put up that 26-footer with 23.9 seconds remaining, it didn't have a chance of going in from the moment it left his fingertips. Moments later, the act of God occurs, and only today do we realize just how improbable it is.
Do I need to even show you a picture of Kawhi Leonard's hands? Because I will. You leave me no choice.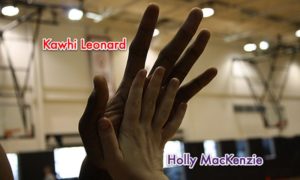 In all of my days of watching the NBA, I have never seen somebody rake rebounds like Leonard — and yes I was alive for Dennis Rodman, Ben Wallace, and Charles Barkley. I'm speaking about the sheer, unprecedented physical ability to snatch balls out of mid air. He has made a career of manipulating the basketball like a normal, mortal human holding a marble.
His prowess in exerting this ability earned him the nickname: The Klaw. The man is just a leather magnet, and has is now arguably the best two-way player on earth because he has found ways to consistently utilize his unfathomable skills in ways that others can't.
I preach this to you now because what occurs with exactly 23 seconds remaining may never happen again — Leonard just unsolicitedly fumbles the rebound. I still cannot believe my eyes, the ball just goes through him. (I'm sitting here typing this trying to think of a superlative or something witty to say and I just find myself rewatching it over and over again because of the magnitude of the result.)
All Kawhi had to do was grab that rebound and the game is over. Even if he makes only one of two free throws after getting fouled, Spoelstra had already used his last timeout and the Heat would have been required to dribble the ball up the floor and erase a six-point deficit with the shot clock turned off.
Against any NBA team, this is highly unlikely. Against the damn Spurs? The most fundamentally-sound team of the millennium? Impossible.
It was right there, man.
Popovich will always catch flack for not having Tim Duncan on the floor in the final moments to help rebound, but that's never even a thing if the most casual rebound of Kawhi's career is completed.
As for Duncan, he was nothing short of incredible. In year 16, (yes, 16), of his career he drops 30 points in 30 minutes of a potential closeout game in the NBA Finals and, oh by the way, grabs 17 rebounds. His performance will be lost in translation forever because the Spurs lost the game. Sure he didn't score another point in his final 14:26 of game action, but he unquestionably carried the Spurs to the red zone.
The same way we celebrate LeBron with "YEAR 17!!!" captions on the timeline every time he does something ludicrous, that same energy needs to be reverberated for Duncan who recorded one of, if not the most, impressive performances of his career in the brightest of spotlights.
This is the problem with reading box scores is they tell only part of the story. Take Tony Parker, for example, who finished 6-of-23 from the floor for what many would perceive as a 'subpar' 19 points and eight assists.
What those numbers don't tell you is that Parker's sequence with 1:27 remaining in the fourth quarter was what would have gotten the Spurs into the metaphorical end zone. This man went iso against peak headband-less LeBron, stepped backed and drilled a 3-pointer in James' face to tie the game — as cold-blooded of a shot as I've ever seen.
He then followed it up by taking Mario Chalmers' cookies, went coast-to-coast, and netted a 12-footer to give San Antonio a two-point lead — a seven-point swing when the Spurs were one bucket away from being left for dead. I don't care what the numbers say, this was Parker at his absolute finest.
And finally, the Game 6 MVP: Chris Bosh.
The rebound.
The pass.
The overtime dagger.
You know what I'm talking about. But what doesn't make the "This is why we play!" montage is him getting flat-out torched by a Parker crossover/step back with 32 seconds left in overtime, protecting a one-point lead.
He gets beat so bad that Parker is able to step into a rhythm mid-range jumper, seemingly unbothered, until Bosh recovers out-of-nowhere and blocks his shot using nothing but athleticism and divine intervention. Miami gains possession.
30 seconds later: 1.2 seconds left, up 103-100, he snuffs Danny Green at the buzzer.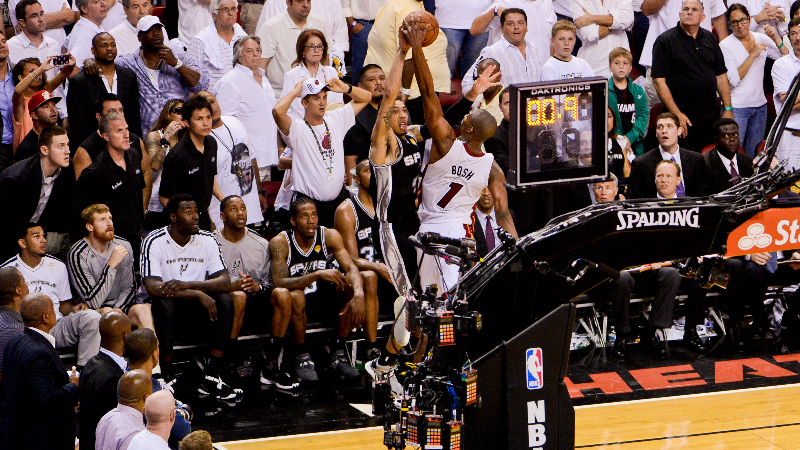 This Heat team was supposed to be invincible, yet, they only were in our imagination. Bosh went above and beyond to secure this victory, succeeding in roles that he never signed up for, nor had experience with at this level.
Maybe that's why the Big three Heat team was so special, because when their ambition was confronted by reality, they still found a way to triumph.
As for the Spurs, they got their deserved revenge and redemption story the following season, but even while living well in their immortal state of basketball divinity: can you truly ever get over this?
How would you rate this article?