Director's Cut: Watching Back Game 6 of the 2016 West Finals with Wob
Credit:
Noah Graham/NBAE via Getty Images. Pictured: Klay Thompson #11 of the Golden State Warriors during Game 6 against the Oklahoma City Thunder in the 2016 Western Conference Finals.
With the NBA on hiatus, Rob Perez is re-watching some of the NBA's classic games. Next up: Game 6 of the 2016 Western Conference Finals between the Oklahoma City Thunder and Golden State Warriors.
Wob's NBA Director's Cut
The 2016 NBA playoffs are known for four things:
3-1 series leads
Causing Kevin Durant to leave
The birth of Untucked Kyrie Irving
The birth of Game 6 Klay
On May 28th, 2016, Klay Thompson netted 11 3-pointers — the NBA record for most made in one postseason game.
His 41 points weren't just 41 points, every single one of them felt like the basketball equivalent of Leonardo DiCaprio crawling out of that revenant grave. Contested, end of the shot clock, all the momentum in the world working against him — it just didn't matter.
He single-handedly delivered a death by paper cuts to the Thunder and their raucous crowd in one of the most gritty, grueling individual shooting performances the game had seen in some time.
Or did he?
While this game will forever have Thompson's name attached to it, do not let recency bias of current events distract you from the facts of what really went on that night.
1. Stephen Curry was as clutch as he's ever been
For some reason, the internet wants to believe in this narrative that Curry disappears in big moments like he's the NBA's version of Clayton Kershaw, all because he got locked down by Kevin Love and hasn't won a Finals MVP yet.
Funny how quickly these prosecutors forget Curry's 31/10/9 stat line including scoring eight of the Warriors' final 15 points in this era-changing trench warfare bayonet fight. Curry clinched the game with 14 seconds remaining with an absolutely ludicrous right-handed running floater over the out-stretched arms of Serge Ibaka at the peak of his defensive powers.
Steph got this opportunity because of a Klay Thompson missed three with 39 seconds left. He was nearly perfect this fourth quarter, and you could legitimately argue that he would only have one ring right now instead of three because if OKC wins this game — the Thunder very likely could have won the 2016 Finals, Durant (probably) wouldn't leave, and they could have become the dynasty that the Warriors eventually evolved into.
The Klay game? No. This was the Steph & Klay game that fortified them as the Splash Brothers and basketball immortals. For 44 out of 48 minutes, OKC played as well as they played at any point during that season, but they could never pull away because Steph and Klay just wouldn't let their team die.
Every time the Thunder were one basket away from igniting into NBA Jam levels of on fire, Curry or Thompson had the answer to keep them within range. It was truly a marvel to witness, and why this is arguably one of the greatest non-finals playoff games of all-time.
2. Dray and Dre
Just like Game 7 in the Finals, Draymond Green was there to answer the call when the Warriors had absolutely nothing going. In this particular affair, OKC's athleticism, talent, depth, and collective wingspan wreaked havoc on the small ball, Tiki-taka Dubs. The Warriors looked like they were drowning in the Thunder's overwhelming size advantage, couldn't get an easy bucket to save their lives, and conceded every contested rebound.
But, as always, the man you love to hate was the "Break Glass in Event of Emergency" option who delivered when you need him most. Not only did Green post a 12/12/6/3 line (most of which came in the first half when Curry was still looking to get on track), but he won the game by forcing Russell Westbrook to commit two turnovers in a 20 second span — once with 55 seconds left, up 104-101, and again on the ensuing Thunder possession — setting up Steph to hit the floater over Ibaka to seal it.
With Steven Adams making Andrew Bogut, Festus Ezeli, and Anderson Varejao all look like Oberyn Martell when The Mountain grabs his head at Tyrion's trial by combat, it was up to Draymond to do all the dirty work and keep both Adams and Ibaka from attacking the glass without any resistance.
As for Iguodala, no box score or analytics can do his game justice. He won a Finals MVP by being in the right place at the right time and followed it up by doing the impossible: producing a sequel worthy of the original.
His on-ball defense in crunch time was just immaculate, and he carried the burden of an overwhelmed Golden State defense to the finish line. He spearheaded the Warriors' shell scheme by guarding Kevin Durant in isolation and auto-switching to anyone who got the ball, funneling them to the block where Draymond Green was waiting to raise hell.
Steph and Klay don't get the opportunity to change history if Iguodala doesn't keep OKC from scoring a single point in the final two minutes and six seconds.
3. Oklahoma City Thunder's game plan
The Thunder did not score a single point as the clock ticked its last 126 seconds away. For 44 minutes of game action, you will see me spotlight OKC's genius plan to dumb down their offense to a simple high pick-and-roll with Westbrook and Adams. There is no other way to put this: it was impossible for the Warriors to stop.
For starters, Adams doesn't set screens, he sets walls. Any human who dares to run through him is erased from the sequence on the spot. And with Bogut out there backing up like Bambi running on ice, Westbrook had a clear runway to the rim or his go-to mid-range pull up all damn night.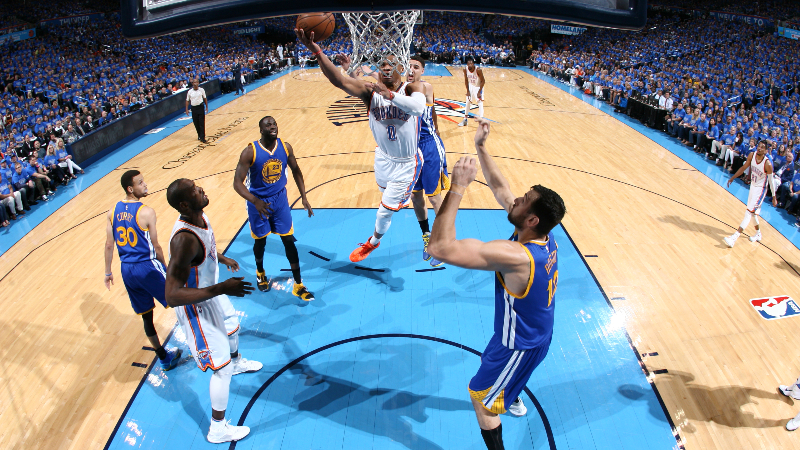 Eventually, the Warriors got tired of being gashed by Russ and sent some help to force him to pass. When the guy floating nearby is Durant, arguably the best player on planet earth at the time, the result is an impossible situation for a team without any sort of horses in the stable to chase down these thoroughbreds in open space.
The Thunder killed the Warriors with this, and were getting layups while the Warriors were relying on an extra-terrestrial performance from The Splash Brothers just to stay close. If it felt like the OKC was winning by seven the entire game, it's because they were. Look at the play-by-play box score.
However, when the game was on the line, Adams wasn't on the court. I'm going to assume this was because Billy Donovan was afraid Golden State would hack him, send him to the line, and pray he could consistently make one of two free throws for two minutes of game time (Remember: this was before the rules changes). So, Donovan opted for a smaller lineup.
As a result, the potent, high on-ball screen disappeared and the Thunder spent the final minutes running isolation plays for Durant and Westbrook, feeding into exactly what the Warriors wanted — Iguodala and Green defending the opposition's best players without any interference or fear of getting their glass cleaned by a crashing 7-foot kiwi.
If I could go back in time and tell Donovan anything before the final TV timeout of the fourth quarter, it would be: don't fix it if it's not broken.
[Tom Brady Free Agency Promo! Bet $5 and Win $100 if TB12 picks any team with the exception of the Jets, Bills or Dolphins]
4. Best-brook
This was one of the best games I've ever seen Westbrook play. When you look at the box score, 28/11/9/4 is just another day at the office for Russ, but he was as efficient as he had ever been in his career to that point.
He played 44 minutes and had one turnover before melting down in the final moments, finishing with five. I know that sounds contradictory to any sort of "he was clutch!" argument, but it stood out that he was making his teammates better while simultaneously bearing the burden of scoring points.
He finished the game with 27 shot attempts, and yet somehow almost every single one of them felt like a good look in which he cycled through all of the offense's options before shooting. Every time he ran the high pick and roll with Adams: it was a bucket. When Durant went off to the corner to be emo, he was a bucket. For the first time in a long time he didn't just play point guard, he played pass guard too.
Efficient Russ is absolutely terrifying, and if only they could have extracted these types of performances from him more consistently this series: it's not a stretch to say the Thunder Dynasty may still be reigning.
Game 6 of the 2016 Western Conference Finals: the biggest 'what if' in NBA history.
How would you rate this article?