Moore: How Does Zion Williamson Injury Situation Affect Betting Futures Market?
Credit:
Mark J. Rebilas-USA TODAY Sports. Pictured: New Orleans Pelicans forward Zion Williamson.
2019 No. 1 overall pick Zion Williamson has been dealing with a knee injury that could potentially impact his rookie season.
Matt Moore looks at how his injury and recovery will impact the New Orleans Pelicans' odds this year.
This is why we can't have nice things. New Orleans Pelicans rookie Zion Williamson is out "a period of weeks," per ESPN:
A severe injury has been ruled out for Zion Williamson's right knee, but he is expected to miss period of weeks to start regular season, league sources tell ESPN. Pels are clearly treating injury with an abundance of caution but there's no shortage of confidence on full recovery.

— Adrian Wojnarowski (@wojespn) October 18, 2019
Still more tests coming:
New Orleans rookie Zion Williamson will undergo further evaluations on right knee today and possibly tomorrow, but the organization is relieved the forward has avoided any major longterm issues, league sources tell Yahoo Sports.

— Chris Haynes (@ChrisBHaynes) October 18, 2019
Hold on, let me get this out of my system.
This sucks. This sucks so hard. He's so good and so fun. Why, God? Why did you take Zion and Mahomes? Have we not pleased you?
OK, so what does this mean for bettors?
Let's go through it.
---
Odds as of Friday. Check out PointsBet, where Action Network users can access an exclusive promotion to get a 200% deposit match (deposit $50, bet with $150).
---
Pelicans Over/Under 39.5
If you're like me and already banged the over, make like the Hitchhikers Guide to the Galaxy and don't panic. 
Their strength of schedule is brutal to start the season. Let's say he's out four weeks, a full month. Here's their schedule:
Oct. 22: at Toronto
Oct. 25: vs. Dallas
Oct. 26: at Houston
Oct. 28: vs. Golden State
Oct. 31: vs. Denver
Nov. 2: at Oklahoma City
Nov. 4: at Brooklyn
Nov. 8: vs. Toronto
Nov. 9 at Charlotte
Nov. 11: vs. Houston
Nov. 14: vs. Los Angeles Clippers
How many of those games does this injury flip? You expect them to lose to Houston (twice), Denver, at least one of the Toronto games, and the Clippers.
You expect them to win vs. Charlotte. They were probably coin flips vs. the Mavericks, Nets, and Oklahoma City.
Say you flip to both Raptors games to a loss, and give them two of the three coin flips as losses instead of going 2-1. They probably sneak up and bite one of the teams they should lose to. So you're really looking at going from 4-7 to 3-8. That's a reasonable outcome. If they perform worse than that vs. that schedule based on just Zion's injury, they probably were going under to start with.
If you haven't bet the win total yet, definitely stay away. You don't know how many games he'll miss, you don't want to get bit with him recovering like he did from his injury last season and coming back sooner than expected, even with the Pelicans being cautious.
There's probably a slight lean to the under based on their defensive performance in preseason and how good he looked, combined with the danger of him suffering another injury, but I'm nowhere near "lock in the under" status.
Rookie of the Year
OK, so as we outlined above, 11 games, even if he misses, say, five more, probably doesn't rule him out from ROY. If he plays 66 or more he's still in play. We've seen winners in non-lockout-seasons as low as 57 (Brandon Roy) and even 50 (Patrick Ewing).
That matters a ton for his odds. He remains the heavy favorite, the only player giving minus-odds at various books as of this writing.
It does make the longshots more interesting, however.
Tyler Herro is the player who has probably gained the most in stock value from preseason. He's 30-1 at Westgate, plays for a team that likely finishes over .500, plays at a position of need for them, and looks like a genuine threat in multiple areas.
Carsen Edwards had a huge preseason for the Celtics, but probably is too buried on the depth chart even for his 50-1 odds to have value.
RJ Barrett played a surprising amount off-ball, and the Knicks have a lot of veteran mouths on short or expiring contracts to feed.
Barrett's not a bad option at 8-1 for counting stats and minutes, and if Zion doesn't win it, that may take it. I just have concerns he won't have the narrative push. If he gets numbers, the Knicks probably aren't winning, and if the Knicks aren't winning, he's probably got a lesser role.
Ja Morant is No. 2 in odds at +450, and is going to have highlights, counting stats, and minutes. But he shot 6-of-19 in preseason, and that was a concern coming in. He'll have a ton of assists, but as a rookie point guard, probably a lot of turnovers to go with it, on a bad team with bad shooting numbers.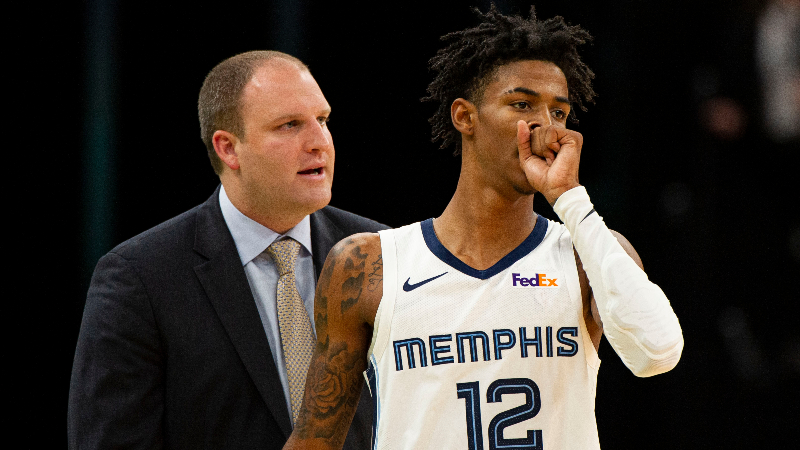 Michael Porter Jr. definitely has the talent to win this thing. He's why I took out a Field vs. Zion position as a hedge when I could get it last year before Zion was drafted.
However, he's on the very fringe of the rotation as of now behind Will Barton, Torrey Craig, and Juancho Hernangomez. He may move into the 2-spot, but he would still be coming off the bench and have a tight leash for a team expected to win 50-plus.
Darius Garland (+3000) has good value, but looked unexceptional in preseason.
Rui Hachimura has looked decent and will get minutes on an absolutely awful Wizards team. You don't need to win games to win ROY, but you have to have attention. Hachimura's one of the better bets to hedge Zion.
There's also the very good option of waiting. Wait to see how Zion's recovery goes, how long it takes and how the season starts. You'll get better numbers now, but there's no one that stands out as a great opportunity on ROY at this point in time.
Playoffs
Pelicans are -334 at PointsBet to miss the playoffs. That's a steep price, but if you're panicked and need a safety net, it's there.
The Big Takeaway
Ultimately, Zion's injury isn't enough to cause me to reverse direction on the Pelicans. Their overs have more upsides and Zion's still well positioned for Rookie of the Year. Caution is for sure deserved, but the information we have at this point doesn't prompt anything actionable.
How would you rate this article?