From NBA Top Shot to Player Props: How To Invest In Zion Williamson's Rising Stock
Credit:
Joe Murphy/NBAE via Getty Images. Pictured: Zion Williamson #1 of the New Orleans Pelicans.
Zion Williamson was one of the most hyped collegiate prospects in decades. Every time he set foot on the floor it was a must-see event and it was clear relatively soon that he was a lock to be the No. 1 pick in the 2019 NBA Draft.
After months on the sidelines with a knee injury, Williamson's NBA debut served as evidence that he could in fact live up to the hype.
His point total prop was set at 20.5 for his first NBA game, and after being told he was playing in "short bursts," this looked like an impossible bet. However, he ripped off 17 consecutive points in the final three minutes of the fourth quarter to push his final total to 22 points.
Despite concerns about his weight, size and durability, he pushed fellow rookie Ja Morant for the Rookie of the Year award and was named to the All-Rookie First Team in just 24 games.
This season, Williamson has been even better than he was as a rookie. He has seen an uptick in his minutes from 27.8 to 33.1, and with his level of efficiency, a rise in his counting stats was only natural: 25.6 points, 7.2 rebounds and 3.4 assists.
His dominance at the rim rightfully earned him his first All-Star nod after just 58 career games.
It almost feels as if he is setting a record every day.
Looking at this season as a whole, Williamson has especially improved his game on the offensive side of the ball. He is an absolute wrecking ball in the paint, which has raised his eFG% to 61.8% on the season, putting him in the top 10 in the NBA.
As a relentless attacker at the rim, his shot chart just screams efficiency (source Basketball Reference):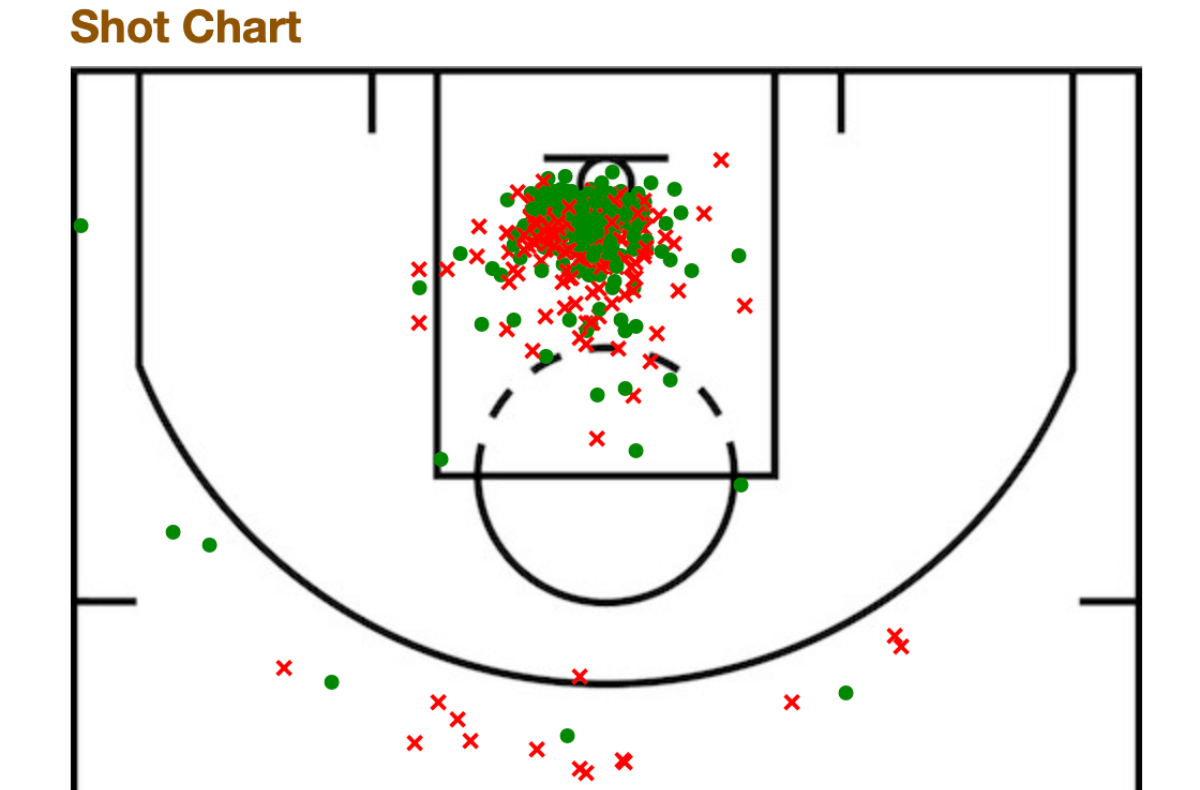 He's taking even more shots at the rim this season, and although we've seen the violent highlight dunks, he's finishing with grace as well and has taken 392 layups this season to bring his at the rim shooting to 65%, per Cleaning the Glass.
Betting on Point-Zion
While sportsbooks have generally accounted for his uptick in points and rebounds, they've severely underestimated his new role in Stan Van Gundy's offense.
Williamson's usage rate is almost exactly the same as last season: 26.8%, which places him in the 95th-percentile among bigs per Cleaning the Glass. However, Van Gundy has utilized Williamson as a ball handler more often this season instead of his usage being tied solely to dunks or post ups.
He's cut down his turnover rate, has seen his assist percentage soar from 11.8% to 17.0% and his Assist:Usage Rate increase from 0.44 to 0.63, which took him from the 26th-percentile to the 64th among bigs, according to Cleaning the Glass.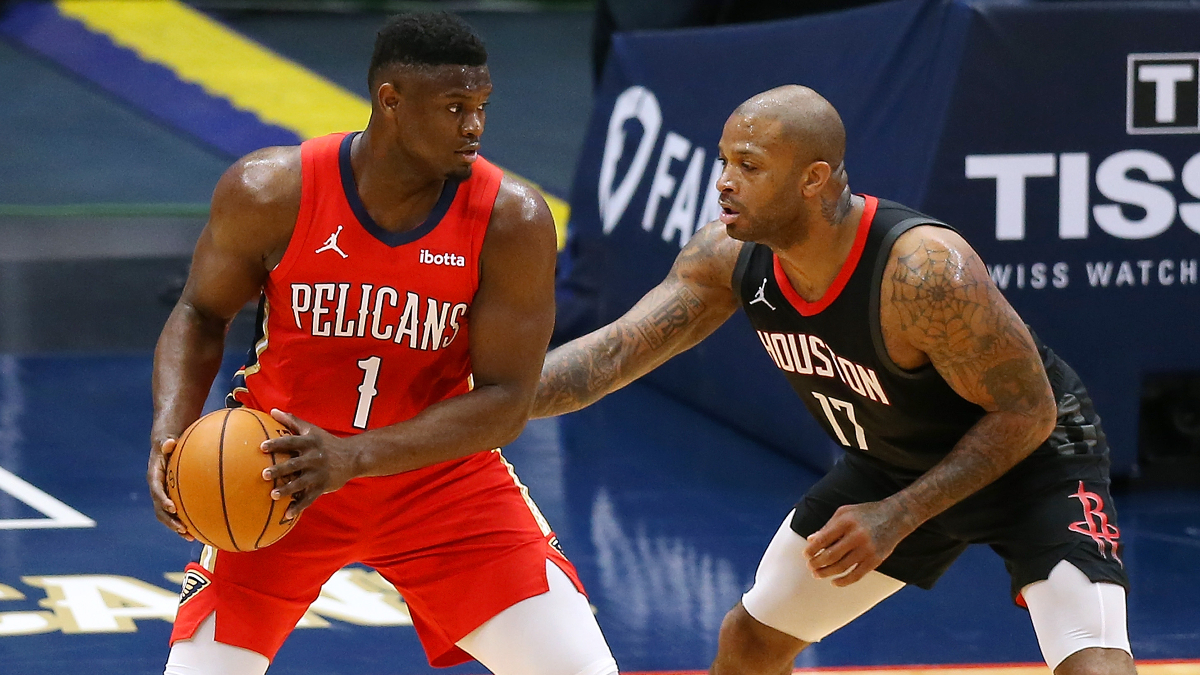 Zion's assists props started off the season around 2.5 and dipped as low as 1.5 for a stretch in January, but after he started the season 10-2-1 to the over for his assist prop, books tried to adjust his total to 3.5.
That still wasn't enough.
Williamson is 21-4-2 to the over on his assists prop through the first half of the season, according to our data from FantasyLabs. He hasn't gone under on his assists prop since Feb. 14.
When looking at props, it's important to look at not only averages, but median numbers. Here, Zion has averaged 3.4 assists this season; however, his median number of assists is four.
He has recorded three or more assists in 22-of-27 (81.4%) game, four or more in 17 (60.7%), five or more in 11 (40.7%) and six or more in five (22.2%). Take this into consideration when betting on Zion's totals moving forward this season.
Investing in Williamson's Career, Top Shot
Unless you're in a dynasty fantasy basketball league, it's difficult to jump on a player's career from its inception. So what can you do to invest in a player you truly believe in?
The physical card market has boomed over the past year, and we've seen a 142% increase in gross trading card sales on eBay in 2020 as The Action Network's Darren Rovell noted last month. PSA 10 Zion Panini Prizm Rookie Cards have recently sold on eBay for $700-$1,000. These are the graded "base" card for Williamson's Rookie year, and  rarer "Silver Variations" of this same card have sold for more than $5,000.
But the best way to invest in Williamson's career is a relatively new venture: NBA Top Shot.
This is the newest method of collecting and investing where NBA Moments have a certain number of minted serial numbers and those serial numbers are either hidden in packs or owned by collectors.
We have seen a spike as high as $46.3 million of transactions in one day, and recently days of total sales between $6 and $11 million, per Evaluate.Market. People are calling this the future of collectables, and if you believe in the blockchain and a particular player, this is certainly a fun way to invest.
Zion has 17 Moments on Top Shot, with lowest ask prices ranging from $44 all the way up to $210,000. Prices are based on the rarity and serial number of the moment along with the series in which it was released.
I'm not an investment expert, but I am a believer in both Zion and NBA Top Shot, and I've been fortunate enough to have both purchased and opened a Zion moment in a pack.
Looking at data from Evaluate.Market, Williamson's first Common Moment, has seen a dramatic spike in its price just from Feb. 7 when it was being sold for roughly $1,200 to nearly $9,000 on March 7.
If this is what you'd compare to Zion's base rookie card, there is definitely a chance for more growth as Top Shot continues to expand in both marketcap and popularity.
Williamson has made his mark on the NBA as a talent who commands respect and recognition on the court. Even among other stars, he can take over and dominate a game by himself.
While it's too early to make comparisons to all-time greats, we definitely can appreciate Williamson's game and the record-breaking start he's had to his career. He's crushed the competition and the sportsbooks while doing so.
Zion's moment is now, whether it's on the court or on the Top Shot marketplace, and he's on a trajectory for the moon.
How would you rate this article?
This site contains commercial content. We may be compensated for the links provided on this page. The content on this page is for informational purposes only. Action Network makes no representation or warranty as to the accuracy of the information given or the outcome of any game or event.