2022 March Madness Bracket Upset Picks: 2 First-Round Sleepers to Take, 2 to Avoid
Credit:
Photo by Chris Gardner/Getty Images. Pictured: Patrick Tape (San Francisco)
This is a guest post from TeamRankings.com, which has helped subscribers win over $1.75 million in bracket pools since 2017.
They've built the only bracket optimizer tool that gives you the best chance to win your pool.
Action Network readers can learn more and get a special 15% discount here: 2022 NCAA bracket picks from TeamRankings.
---
In most NCAA bracket pools, first round upset picks don't matter as much as people think. Still, some exceptions apply (especially in 2022) if you know the right upsets to pick.
First, if your pool awards upset bonus points, going relatively crazy with first round upset picks can make sense as a bracket strategy.
Second, in this year's NCAA bracket, some strong teams lurk among the double-digit seeds.
Based on objective win odds, some of the seed-based "upsets" that could happen in 2022 are actually expected outcomes according to both our team power ratings and the betting markets.
Making the best bracket picks, though, is all about evaluating risk vs. reward.
The worst case scenario? Following the crowd with a super-trendy, seed-based upset pick that doesn't actually have a great chance to win. When you do that, you take on more risk, but you still may not get a lot of scoring differentiation from your opponents if you get the game right.
Instead, you need to focus on high-value picks flying under the public's radar, while recognizing the trendier picks you'd do well to avoid in some types of pools.
Based on objective win odds and public trends data from our NCAA Bracket Picks product, here are two games that fall into each of those categories in 2022.

High-Leverage Upset Picks
No. 11 Rutgers/Notre Dame over No. 6 Alabama
Rutgers and Notre Dame are similar-quality strong teams that have played better late in the season. The winner of their play-in matchup draws an inconsistent Alabama team that went 6-10 in away/neutral games this year and is below average at forcing turnovers and defensive rebounding.
We project this game to be a near toss-up, but more than 70% of brackets nationwide are picking Alabama to win. Perhaps that's partly because of the uncertainty of not knowing which No. 11 seed will be playing, but by the numbers, it doesn't really matter.
An "upset" pick here could put both the odds and contrarian value on your side.
No. 10 San Francisco over No. 7 Murray State
This one is riskier, but the potential value is big.
First the bad news: San Francisco opened as a slight favorite in this game in the betting markets, but an early line move bounced Murray State from a +2 underdog to a -1.5 favorite.
There's also a potential injury situation to monitor with San Francisco forward Yauhen Massalski, who missed the WCC semifinal loss to Gonzaga. There's been no definitive word on his status as of Tuesday morning. But unless this current spread moves dramatically against San Francisco, you still have a near toss-up game.
The public, on the other hand, is picking Murray State about 70% of the time in bracket pools. The Racers have several of the markings that often lead to irrational public bias. They're ranked in the AP Poll at No. 22; San Francisco is unranked. They just pulled off a No. 12 over No. 5 upset in the 2019 NCAA Tournament; San Francisco's last tournament win came in 1979. They just won their conference tournament; San Francisco did not.
Especially in upset bonus pools, this one looks very appealing.
Trendy Upsets to Avoid
No. 9 Creighton over No. 8 San Diego State
Creighton has NCAA Tournament brand recognition, and that appears to be enough to convince a majority (52%) of the public to make a minor seed-based upset pick here.
However, San Diego State is a -2.5 point favorite in the betting markets as of Tuesday, with the additional bonus of an early line move in their favor after the Aztecs opened at -2.
Both of these teams enter the NCAA Tournament on a relative high note, but especially in bracket pools that don't offer seed-based upset bonuses, the expected value is on San Diego State. The Aztecs have a greater than 50% chance to win, less than 50% pick popularity, and neither of these teams is expected to make a deep run in the tournament.
No. 11 Virginia Tech over No. 6 Texas
This game provides an example of how trendiness can potentially kill the value of an otherwise great upset pick. Despite the seed difference of five between Virginia Tech and Texas, this game projects as a true toss-up (according to our team ratings) or very close to one (Texas is only a 1.5-point favorite in the betting markets).
The Hokies had a scorching end to the regular season, which they capped by winning the ACC Tournament, while Texas's recent performance has dipped with big man Tre Mitchell dealing with an injury.
The issue as far as bracket picks are concerned? The public is already all over the Hokies in this game. Around 54% of brackets nationwide have Virginia Tech as their winner as of Tuesday.
In upset bonus pools, there may still be plenty of value in picking the Hokies. But in a smaller pool with no added benefits for picking upsets, you might get some ironic contrarian value by sticking with Texas in this one — especially if you're hearing a lot of chatter about Virginia Tech from your pool opponents.
The Best Bracket For Your Pool
Although identifying the most and least appealing upset picks to make is important for maximizing your edge in bracket pools, it's still just one aspect of pick optimization.
Factors like the size of your pool, its scoring system, and its payout structure should determine how much overall risk you should take in your bracket. At the same time, the dynamics of the 2022 NCAA tournament field, from matchups to public picking trends, should drive your decisions regarding where in the bracket you make contrarian picks.
In short, figuring out the best bracket for your 2022 bracket pool takes a lot of data, a lot of analysis, and a whole lot of math.
That's why we built the world's first bracket optimizer tool. You provide a few details about your March Madness pool, and our data-driven algorithms generate ready-to-play brackets that give you the best chance to win.
(The technology is so sophisticated, it was even featured in WIRED Magazine.)
The result? Since 2015, an average of 57% of our subscribers have reported winning a bracket pool prize each year.
The product also includes comprehensive tournament predictions, stats, and team research, and even tools for competing in NCAA survivor and Calcutta pools. In short, it's your secret weapon for March Madness 2022.
Just click below to get picks now:
Get NCAA Bracket Picks from TeamRankings.com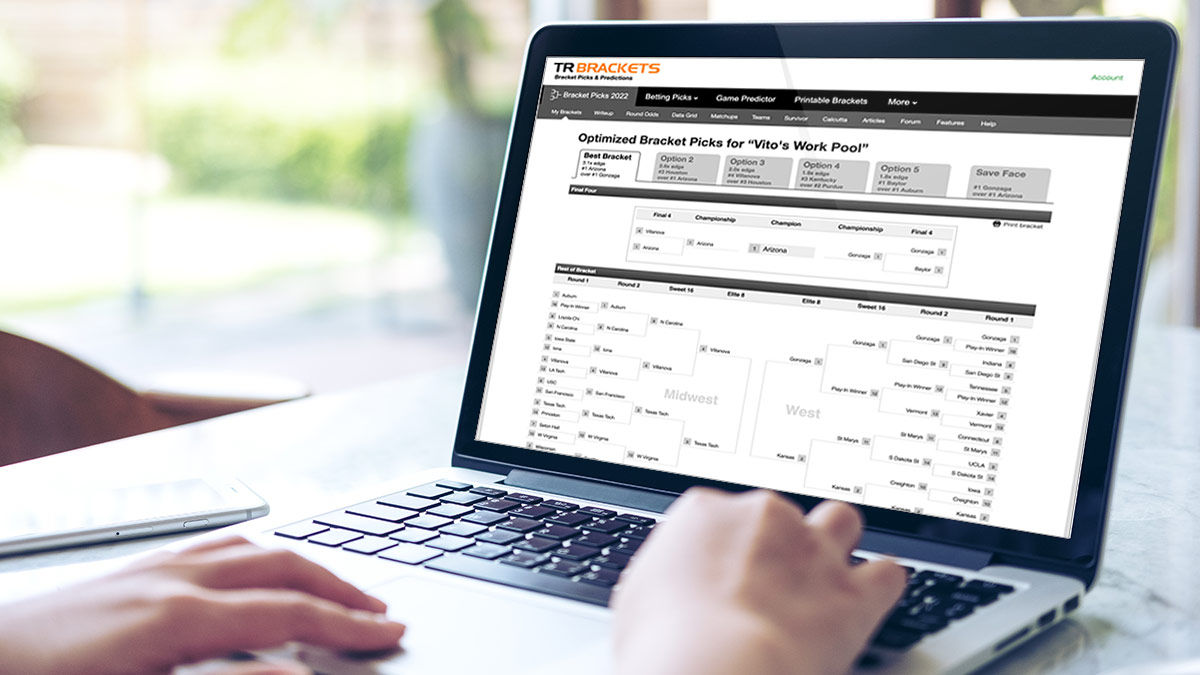 How would you rate this article?
This site contains commercial content. We may be compensated for the links provided on this page. The content on this page is for informational purposes only. Action Network makes no representation or warranty as to the accuracy of the information given or the outcome of any game or event.