ACC Conference Tournament Futures Betting: How to Approach Florida State & Georgia Tech
Credit:
Frederick Breedon/Getty Images. Pictured: MJ Walker.
Florida State has started to run away with the ACC regular-season title race thanks to a nosedive from Virginia over its last three games.
With the regular just about wrapped up, it's time to shift focus to the ACC Tournament.
Sportsbooks are starting to post conference tournament odds as we approach the final days of the regular season. It's a beautiful sight for college basketball fans and sports bettors alike and a sign that March is almost upon us.
I'll be taking a deeper dive at the ACC Championship odds in a few weeks when the tournament bracket is revealed, but there is still value to be found in the present market.
The Favorites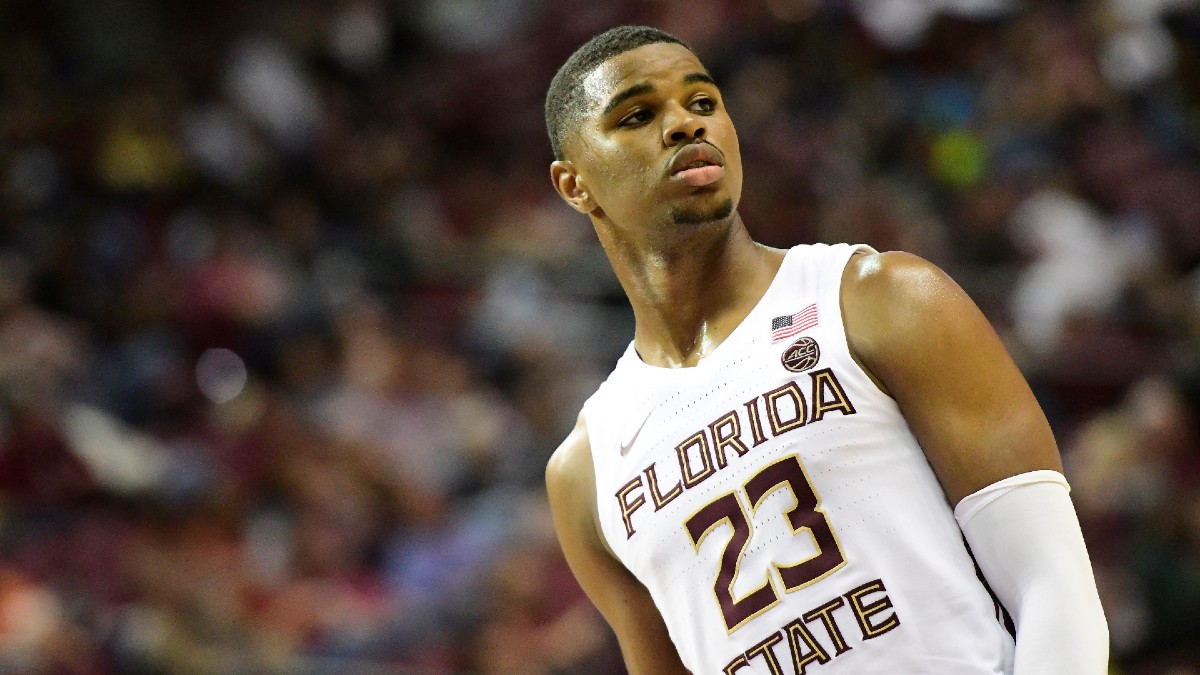 Unsurprisingly, Florida State is the current favorite at +250, according to both DraftKings and FanDuel.
Virginia has the second-best odds at both books, at +360 at DrakftKings and +400 at FanDuel.
I can't argue with the oddsmakers that the Seminoles should be the favorite right now. Florida State has been on an absolute tear, winning nine of its last 10 games. It's been terrific on both ends of the floor, but its offensive production has been particularly impressive. Leonard Hamilton's club is putting up 83.1 points per game over their last 10.
No team in the league can match FSU's balance or depth. Throw in the fact that the Noles are a scintillating 39.1% from beyond the arc this season, and it's clear this team will very difficult to knock off in Greensboro.
Virginia looked like the clear favorite in the conference just a few weeks ago, but the wheels are starting to fall off for Tony Bennett's team. It's lost three straight, and the offense looked to be in disarray down the stretch in tight losses to Duke and NC State.
I'm still a believer in the Cavaliers and think there's a decent chance they could win the ACC Tournament, but until they show some better offense, I'll pass on them at their current odds.
While I do think Florida State has the best chance to win the tournament, I'm going to hold off on it until the bracket is finalized. There are a few potential dangerous eight or nine seeds that could give it trouble in the quarterfinals (think Georgia Tech).
I don't think +250 is worth it before getting a better idea of what the Noles' path to the final will look like.
Photo Credit: David Allio/Icon Sportswire via Getty Images.
The Second Tier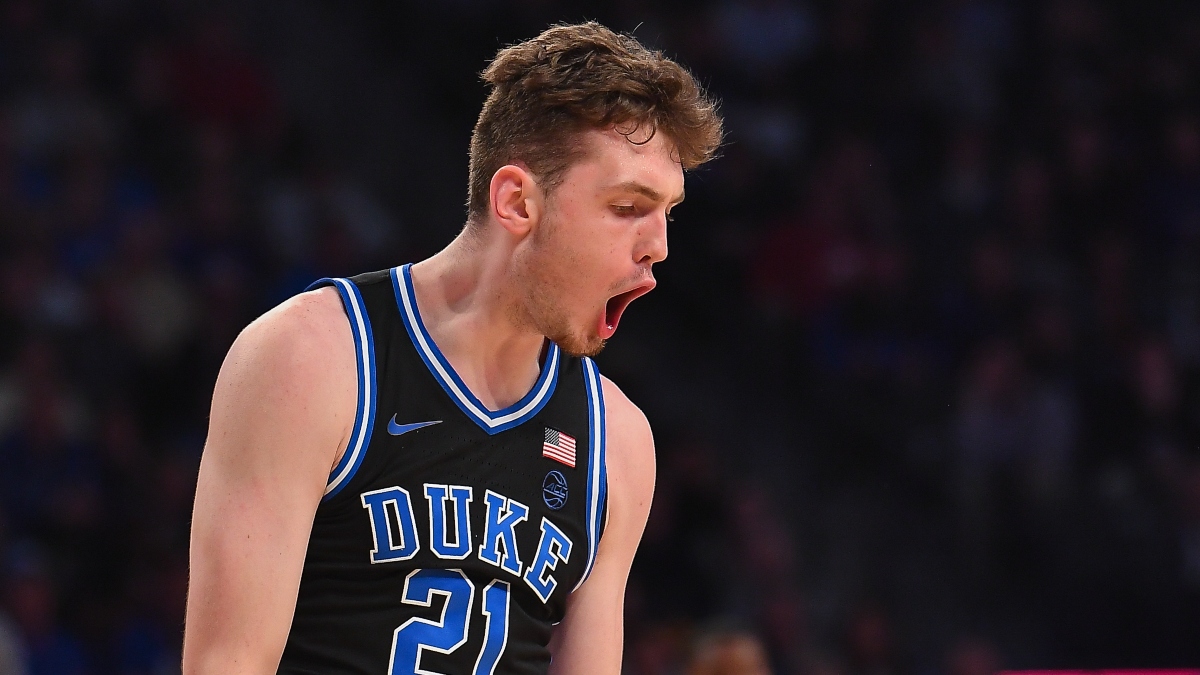 After the two favorites, there's a group of four squads in the second tier of the conference. If you like one of these teams, you'll be able to shop around for the best price. Just looking at DraftKings and FanDuel, there are some significant differences in odds.
DraftKings has Louisville at +500, Virginia Tech at +525, UNC at +550, and Duke at +1000.
At FanDuel, you'll find UNC at +500, Virginia Tech at +600, and both Duke and Louisville at +700.
Looking at this group, I have no interest in playing any of these teams now.
If Duke were to reach +1500 or better and get a favorable draw in the bracket, I could be convinced to pull the trigger. I still have major concerns about its defense, however, and don't see value in taking it at +1000 pre-bracket reveal.
Virginia Tech is an intriguing team, as it's efficient on both ends of the floor and has a plethora of 3-point shooters. The Hokies just got blasted by Georgia Tech in its first game off a long COVID-19 pause, and I'm in no rush to play it at 6-1.
As for Louisville and UNC, I don't see any value in their odds. The Cardinals don't have enough scoring options to carry them to three or four straight wins in Greensboro.
I like the Tar Heels' chances a little better, but they don't match up well with Virginia or Florida State. I would need to see +1000 or better before I'd have any interest in backing Carolina.
Photo Credit: Rich von Biberstein/Icon Sportswire via Getty Images.
The Longshot I Played Right Away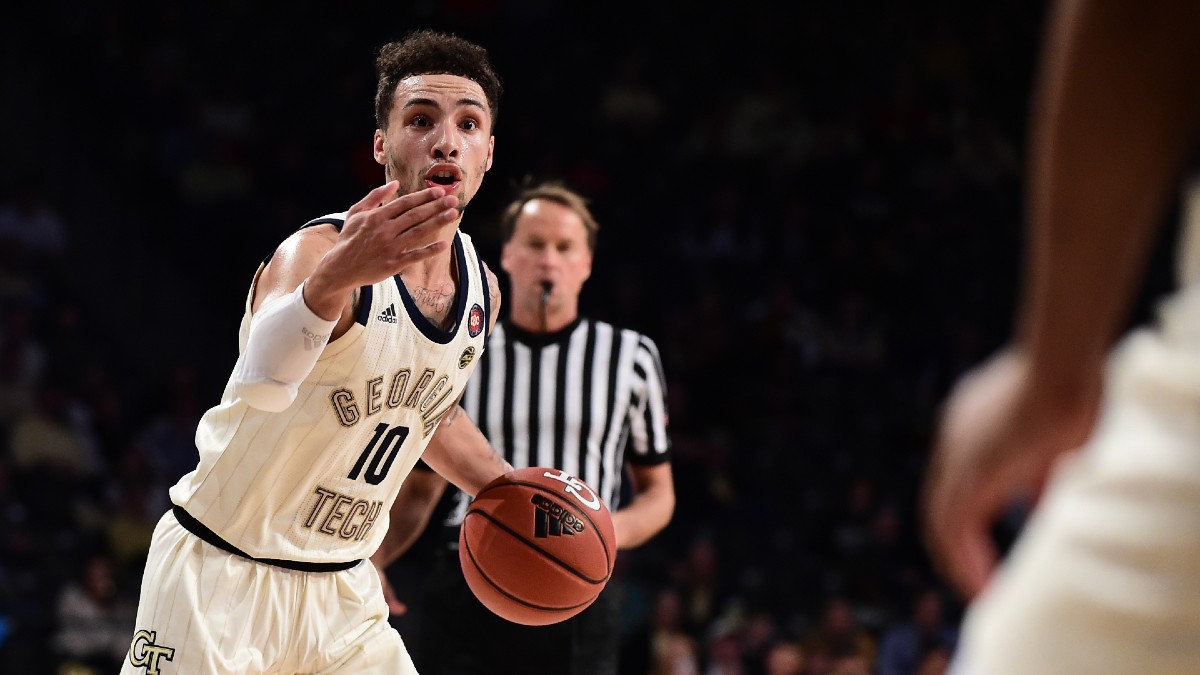 When scanning these opening odds, there was one price that caught my attention right away. Georgia Tech is +1500 to win the ACC Tournament at FanDuel but +3000 at DraftKings.
The Yellow Jackets are a worthwhile longshot to play for a couple of reasons.
First, they're playing great basketball right now. A team hitting its stride entering March is important for obvious reasons, and Georgia Tech is doing just that. It's winners of three straight, including an upset over Virginia Tech on Tuesday night.
The Yellow Jackets play slow (241st in tempo) but are a very efficient offensive team, ranking 20th in adjusted efficiency, per KenPom. The defense has struggled at times, but it's really cranked it up a notch in recent weeks. It currently sits at 59th in adjusted defensive efficiency.
Looking at the personnel, the Yellow Jackets pass the eye test of a team that could make a big run in March. Their big three of Jose Alvarado, Mike DeVoe, and Moses Wright is as good as any trio in the ACC. They average a combined 48 points per game.
Wright and Alvarado are among the best two-way players in the league, and both could end up on the All-ACC defensive team.
Alvarado is the heart and the soul of the Yellow Jackets and the type of leader a team needs to go on a miracle run. His high assist (4.1) and steal (2.9) averages this season were to be expected, but his lights-out 3-point shooting (career-best 42.9%) has given this team a huge boost.
DeVoe is a crafty scorer and is really tough to stop when he gets hot. He's also shooting the ball really well this season (40.4% from 3), a great sign for Josh Pastner's club.
The final reason the Yellow Jackets are worth a play is that they've already shown they can hang with the big boys.
They handed Florida State its most recent loss on Jan. 30, taking down the Seminoles, 76-65. They've lost twice to Virginia but played the Cavaliers tough in both games. They nearly knocked off Virginia in Charlottesville, falling by two in a game that was tight throughout.
By no means am I advocating to unload your bankroll on the Yellow Jackets, but they're certainly worth a flyer at 30-1.
I played Georgia Tech at this price at .25 units and think it's worth a small play at +2000 or better.
Photo Credit: Logan Riely/Getty Images.
How would you rate this article?