BlackJack's Thursday Bets: Two Totals, Two Sides in Sweet 16 Action
Credit:
Mar 21, 2018; Atlanta, GA, USA; A general view of an NCAA basketball during practice day at Philips Arena. Mandatory Credit: Dale Zanine-USA TODAY Sports
It's back, baby. The tournament. March Madness. The Sweet 16. All the insanity and all the ups and downs will be back in full swing beginning this evening. These games are important now, even more more important than last week's contests were. These games signify a path to glory. A path forward. A path to a championship. All 16 of these teams will view themselves as legitimate heirs to UNC's vacated throne. All 16 will strike and parry as they attempt to stake their claim to college basketball's ultimate prize. We seek our prize as well, brothers. We seek our path to glory, our path forward. For us, that comes in the form of winning. It is our mentality, our goal and our way of life. Today, we get back to the madness with plays on each of tonight's four Sweet 16 matchups. Today, we emerge victorious.
WINNERS
#11 Loyola-Chicago vs. #7 Nevada (-1.5)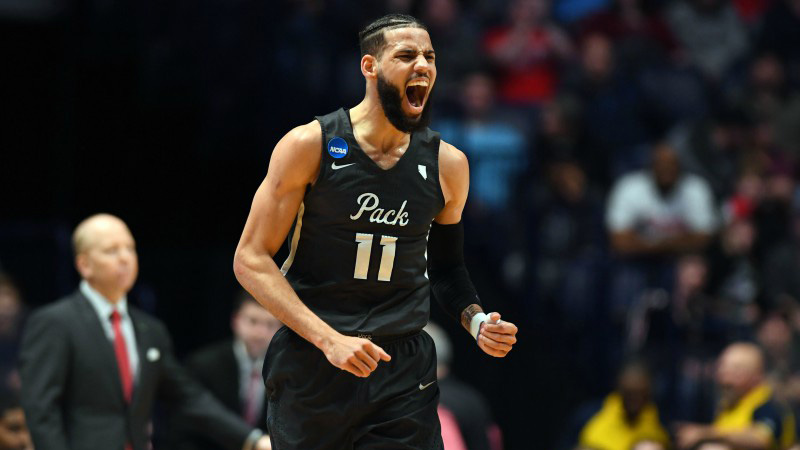 This is the game I am most excited about in the round of 16. It is a game that I think could absolutely go either way. Both teams have had incredible performances coupled with unbelievable luck. Nevada was down 14 to Texas and came back to force overtime and advance. The Wolfpack then proceeded to make a historic comeback against Cincinnati to secure its place in the Sweet 16. Loyola has been very similar. The Ramblers needed a near buzzer-beater three to oust Miami and then they defeated Tennessee on a shot that bounced all around the rim before settling in. Both clubs are exceptionally well-coached with Porter Moser at Loyola and Eric Musselman roaming the sidelines for the Wolfpack. These teams are both the darlings of this tournament so far, and picking one over the other is impossible at this point for me. What I do like is the total. This line is set at 143.5, which simply feels too high. Loyola is as solid an under team as you'll find in this field, and Nevada has had fluky games with totals going abnormally high. First the overtime game against the Longhorns and then needing to score so many points to come back against the Bearcats. I would not expect a repeat performance.
THE PICK: Under 143.5
#7 Texas A&M vs. #3 Michigan (-2.5)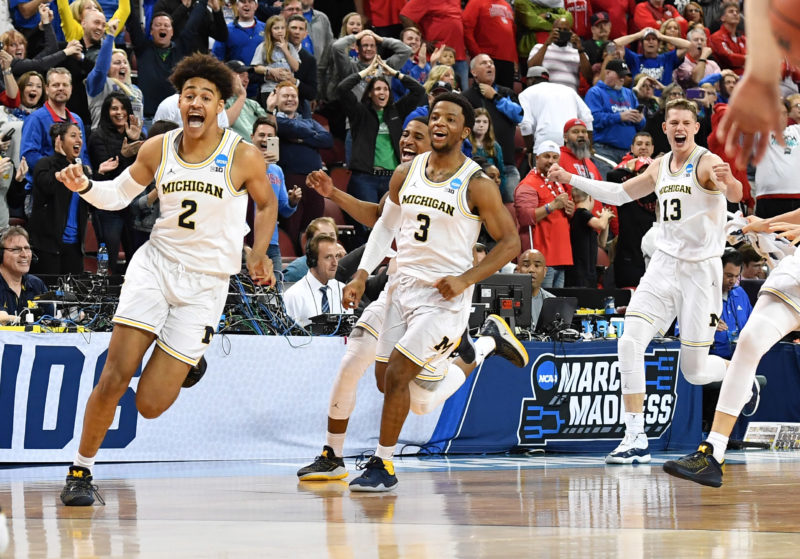 The Wolverines have been one of the most impressive teams in America over the last month or so. And yet, they were a hair away from being bounced in the round of 32 by Houston, being saved by a buzzer-beating 3. Houston was a tough matchup for Michigan, and A&M will be as well. Robert Williams and Tyler Davis will get their points down low for the Aggies, but conversely, I don't think A&M will truly be able to stop Mo Wagner and the rest of Michigan's offense. Michigan also is playing with the advantage of having one of the best coaches in America in John Beilein. I think the Aggies keep it close, but not close enough as Michigan simply is too much — with the better coach, better offense and better defense.
THE PICK: Michigan -2.5
#9 Kansas State vs. #5 Kentucky (-5.5)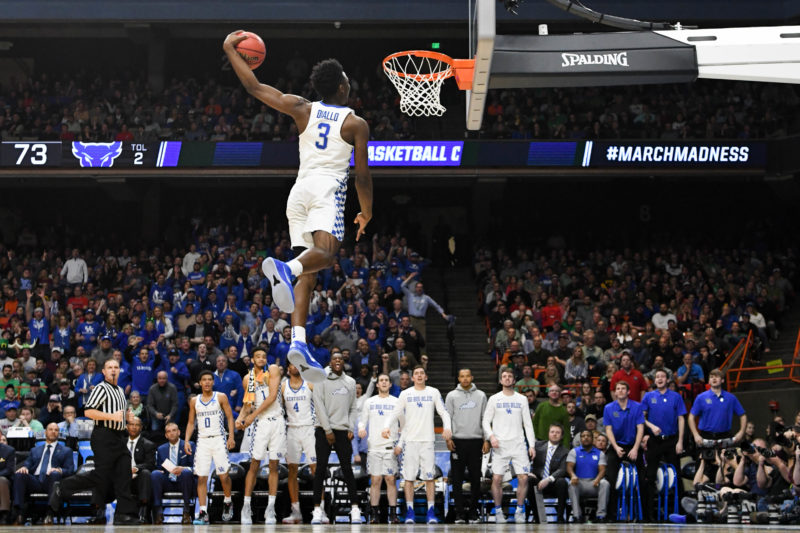 There is a little reverse line movement on this one, which concerns me slightly. At the end of the day, even with Dean Wade back for K-State, there is absolutely no disputing that John Calipari's Wildcats are supremely more talented than their Wildcat brethren from the Little Apple. Kevin Knox, Wenyen Gabriel and Shai Gilgeous-Alexander are some of the most versatile, athletic players in the entire country and they seem to be coming together at the right time. Again, this is a clear example of one team having the better coach, better offense and better defense. And yet . . . Kentucky gives me the scaries. I've watched them fall apart against South Carolina, against Vanderbilt, Tennessee and Florida. There have been games where they look utterly lost on the floor. Every time this season it felt like we had a read on Kentucky, the Wildcats went the other way. They seem to have it figured out after rolling through the SEC Tournament and winning their first two March Madness games against Davidson and Buffalo. I'm betting they keep it together for at least one more game.
THE PICK: Kentucky -5.5
#9 Florida State vs. #4 Gonzaga (-5.5)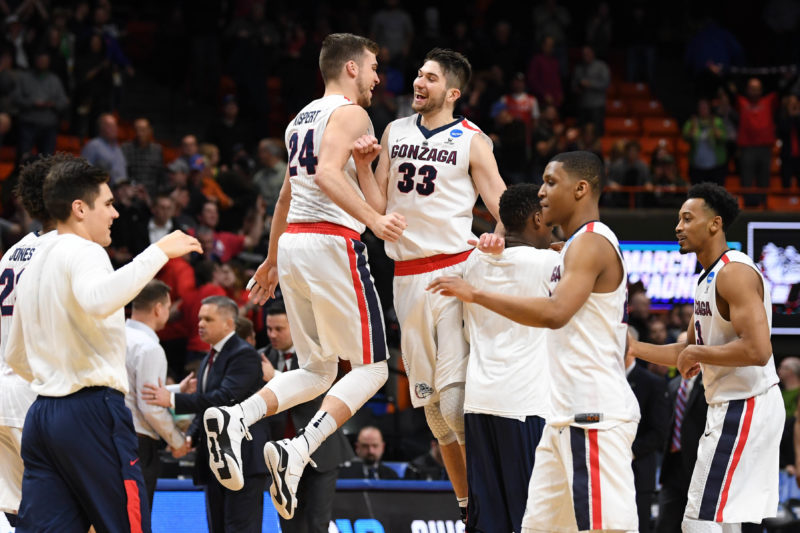 I'm not certain of it, but I have a sneaking feeling that this game could get out of hand. The Seminoles have had a nice run, considering most didn't think they could beat Missouri, and then certainly not Xavier. Yet here they sit in the Sweet 16, owners of a date with Gonzaga. It's exciting for them, but I think the clock has struck midnight on this Cinderella story. First, Mark Few is leaps and bounds a better head coach than Leonard Hamilton. Second, Gonzaga is far too talented with Zach Norvell and Rui Hachimura leading the way. FSU is long and athletic, but the Zags are as well and they also are an excellent shooting team. Furthermore, they have the added benefit of having been here before last year when they made a run to the title game. The desire to avenge that loss may also be a little extra motivation for Gonzaga. I like the Zags here, but even more than that is the total. I LOVE the total in this game. This is the first time these teams will be playing in this arena. And as we saw last weekend, the first time teams see a new backdrop, the numbers trend under. Also, both teams are so incredibly long that it should interfere with enough shots to keep this number under the total.
THE PICK:  Under 153.5
All right brothers, let's get back at it. Dive headfirst into the Madness and emerge victorious.
Top photo credit: Dale Zanine-USA TODAY Sports