College basketball notebook: Thursday matchups part II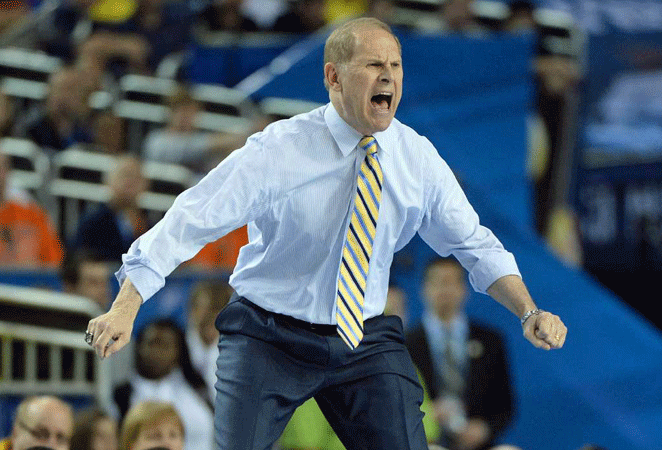 Nebraska @ St. John's
The Huskers have a few things working for them in this matchup. St. John's aggressive pressure defense struggled against teams that were penetration focused, allowing 1.14 points per possession in 10 games against top-100 free throw rate offenses (and two of those included DePaul). Nebraska was nowhere near a top-100 free throw rate offense last year, but with some key additions in Isaac Copeland and James Palmer in Tim Miles' pick-and-roll heavy offense, the Huskers look like a much more downhill attacking team this year. The ability to get to the free throw line routinely against a foul-happy St. John's defense coupled with their offensive rebounding prowess (thanks to Isaiah Roby and Jordy Tshimanga) against a block-oriented Johnnies squad that's often left out of position for defensive rebounds should mitigate Nebraska's poor perimeter shooting. The question for the Huskers is whether their shorthanded backcourt (potentially without Anton Gill and Thomas Allen) can keep up with Marcus LoVett and Shamorie Ponds. It's early, and the Huskers have played Eastern Illinois and North Texas, but Miles has shown he's going to use his newfound athleticism on the perimeter to chase shooters off the 3-point line and into his shot blockers, and the Johnnies can fall in love with jump shots.
PICK: Nebraska +7.5
---
Marshall @ Morehead St
Morehead State has the look of a team that's going to get roasted in transition. They're extremely dependent on penetration from the top of the key with Jordan Walker and side ball screen action with Lamontray Harris, and they're crashing the offensive glass like they're still coached by Sean Woods. Relying on deep lane penetration and offensive rebounds is a dangerous game to play against Dan D'Antoni's uber transition offense, and the Eagles don't look like they can take advantage of Marshall's weakness in the post. Marshall averaged 1.10 points per possession against 10 top-100 offensive rebounding rate teams (with a win over Morehead State in that group), and that's including three games against super snail Old Dominion that skews that average. Subtract those and the number balloons to 1.22 points per possession. Ajdin Penava looks like he's shored up the defense at the rim a bit, as he blocked five shots against paint-oriented Southern. He just needs to reduce the foul rate to be more effective. Meanwhile, Jon Elmore at the point looks like he's playing at a different level this year. D'Antoni thought the offense stalled too much against Southern, so we might really see the Herd implement the drag screen in transition and quick shots out of pick-and-roll tonight. Should be an 80-plus possession game. MSU hasn't looked at all impressive, getting throttled by Xavier (not surprising), and while they stayed competitive at Lipscomb, the Bisons were playing without both of their point guards.
PICK: Marshall -3
---
Texas Southern @ Ohio State
Concerns for TSU: First, Mike Davis defenses are primarily concerned with chasing shooters off the perimeter and into lurking athletic bigs; they play a type of funnel defense, rarely gambling for turnovers and rarely fouling. That defense isn't likely to be as effective, as C.J. Jackson has struggled with turnovers at the point for OSU, and the Bucks aren't really looking to spread the floor with shooters – at least not yet. (Keita Bates-Diop looks like he could be a potent perimeter threat this year.) Second, TSU has been thrashed on the offensive glass, as Trayvon Reed is the only rebounder (although Donte Clark is rebounding extremely well from his wing position). OSU has been crashing the offensive glass relentlessly between Micah Potter, KBD and the Wessons. Third, Davis has been using a 5.5 man rotation, and they're coming off a trip to Washington State, which included an OT heartbreaker in Pullman where they blew a massive lead.
PICK: Ohio State -18.5
---
St. Louis vs. Virginia Tech
I'm not sure what to make of SLU yet. The Seattle game was brutal, but they still won with relative ease thanks to the defense (stud frosh Jordan Goodwin was 0-12). Travis Ford has only eight players at his disposal, so he can't let this turn into a typical Buzz Williams track meet. The Hokies are also hard to gauge, as they played two full-court pressure teams in UDM and The Citadel. Offensively, the Hokies really put you in a bind. With the addition of Nickeil Alexander-Walker alongside Justin Robinson, Buzz has two penetrators in his lethal slash and splash offense. Any foul trouble (inevitable against the Hokies) likely spells doom for SLU, and while the Bills keep the possession count in check, the Hokies eventually pull away.
PICK: VA Tech -13
---
Arkansas State @ Eastern Michigan
Not the greatest matchup for Arkansas State. ASU is a four-out or even five-out team of small slashers. 6-foot-7 Tamas Bruce is the only big in the rotation in Mike Balado's first season. Small slashers typically don't fare well against the massive 2-3 Syracuse zone that Rob Murphy runs out at EMU, with a 6-foot-7 on-ball defender in Tim Bond. The back end of the zone got a boost with the eligibility of freak athlete Elijah Minnie next to James Thompson IV. Minnie masks Thompson's defensive lapses within the zone and could be the biggest impact addition in the MAC. EMU enjoys a massive size advantage 1-5 and should suffocate ASU with the zone.
PICK: Eastern Michigan -8.5
---
Southern Miss @ Michigan
I think this one could get away from Doc Sadler and USM for two reasons: 1) With Tyree Griffin and Dom Magee in tow, Sadler wants to open up the offense in a spread pick-and-roll, transition-based attack. To wit, USM played 82 possessions in their first game (albeit against Southern New Orleans), which would be their fastest regulation game of the past two seasons by eight possessions. Unfortunately, you're unlikely to beat Michigan consistently in transition. 2) UM won't have to play against a zone defense for the first time this year, as Doc has completely abandoned the ubiquitous slow down junk zones he employed when he first took over a very limited USM roster post-Donnie Tyndall scandal. Playing against man-to-man finally means Beilein can actually run his fantastic two-guard action. It should be noted that USM man is super saggy, which means UM is going to have plenty of looks from 3, and as is typical for Beilein teams, these Wolverines can shoot. We should see a highly efficient offensive game for Michigan tonight.
PICK: Michigan -23.5
---
Belmont @ Middle Tennessee
Belmont is typically the type of team that can give MTSU's morphing zone trouble because of their ability to spread the floor in transition with shooters before the defense is set, but Austin Luke was completely flummoxed last year by Kermit Davis' defense, turning the ball over nine times. The Blue Raiders' two-big offense feasted inside as well, and while the names have changed, Nick King and Brandon Walters could in theory have similar success. That said, this is a better Belmont interior defense with Mack Mercer healthy, and penetration from Washington and Vandy's athletic guards is where the Bruins have been exploited. That's not necessarily a strong suit of the Giddy Potts/Tyrik Dixon backcourt, as Kermit's offense works from paint touch to perimeter. Should be a high level rivalry game that depends heavily on the play of Austin Luke.
PICK: Belmont +6.5
---
Samford @ LSU
Samford was completely overwhelmed by the speed and athleticism of Arkansas, and I suspect a similar result from LSU tonight. Scott Padgett rolls with a four-out and at times five-out offense when he wants to press with Josh Sharkey. Unfortunately, when Samford runs up against competent guards, like the ones Arkansas possesses, Sharkey is a detriment defensively, and per HoopLens, the Bulldogs were -.08 points per possession with him on the floor. When Padgett doesn't press, he falls into a 2-3 zone, and between wings Wayde Sims and Brandon Sampson and electric frosh PG Tremont Waters, LSU looks like they can shoot the ball and handle pressure. After watching some highlights of LSU's opener against Alcorn State, it's clear Will Wade is going to switch defenses frequently from game to game and within the game, as he used a 1-3-1, a 2-1-2 and man-to-man pressure against the Braves. That's hard to prepare for, especially with the athleticism Wade has at his disposal.
PICK: LSU -8
---
SEMO @ Evansville
Honestly, SEMO's performance against Louisiana Tech without Dondre Duffus threw me for a loop. Giving up 1.22 points per possession made sense, especially without ball hawk Duffus, but scoring at 1.20 didn't, and nearly winning in Ruston darn near blew my mind. They'll have a totally different task in front of them against Evansville's constantly screening motion offense. Speaking of which, Dru Smith has looked phenomenal running the offense thus far for Marty Simmons, and he should have no problem against the trapping SEMO defense. Perhaps I'm missing the boat on SEMO, but that performance in Ruston seems like more of an outlier, although Jonathan Dalton/Denzel Mahoney looks like a potent point/wing combo.
PICK: Evansville -10.5
---
Missouri @ Utah
Obviously not having Michael Porter against Coach K the Younger's matchup zone takes some of the luster off this game, but Utah should have Sedrick Barefield back. This is an intriguing matchup simply because Cuonzo Martin and Larry Krystkowiak know each other's tendencies so well, and both structure their defenses incredibly similarly in that they don't allow transition (although Justin Bibbins has had some turnover issues against two SWAC teams), don't allow 3-pointers and are stout at the rim. Essentially, this comes down to who can break who down in isolation, and of course the loss of MPJ really hurts in that regard. Generally, the Coach K/Cuonzo matchups have been extremely close, and I suspect the same is true tonight, but the first road test, in altitude to boot, will be tough for the Tigers.
PICK: Missouri +3.5
---
San Jose State @ Southern Utah
SJSU is massive across the board (second-biggest team in the country), but they have zero cohesion with those long pieces, something new HC Jean Prioleau is certainly still working on after being hired late in the summer. SUU, meanwhile, is a grip it and rip it team, looking to run off the glass whenever possible and attack the rim in transition, particularly with Jamal Aytes inside and Jadon Cohee off the dribble, who looks like this year's Randy Onwuasor.
PICK: SUU +1
---
Xavier @ Wisconsin
How does Xavier slow down Ethan Happ? How does Wisconsin slow down Trevon Bluiett? Ultimately, I think Xavier has more answers between Tyrique Jones and Sean O'Mara in terms of pure bodies to put on Happ, plus Chris Mack is a master of shifting zones defenses, which of course includes the 1-3-1 with serial instigator J.P. Macura at the top. XU's lethal transition game will be limited against the Badgers, who eschew the offensive glass in order to prevent run outs, so halfcourt execution will be of the utmost importance for the Muskies for the first time this year. (They were able to run at will against Morehead State and Rider.) XU might look a bit wonky to begin, but ultimately Bluiett shows why he's the best player on the floor, and the excellent Muskie ball movement has been somewhat overlooked in the barrage of offensive numbers they've put up early.
PICK: Xavier +3.5
---
Wofford @ Cal
Rough start to the Wyking Jones era in Berkley. Cal has been blitzed from the perimeter, atypical of a Cuonzo Martin inspired defense, and Wofford can certainly shoot the ball with Fletcher Magee, but Kingsley Okoroh and Marcus Lee woke up in the post against Cal Poly, and Wofford is particularly weak at the rim defensively. That said, junior gunner Don Coleman could continue to take shots at one of the highest rates in the country and totally negate that advantage.
PICK: Cal -5.5
---
Providence vs. Washington
PC's frontcourt was round-housed to the jaw by Jordan Murphy and Reggie Lynch the other night, and UW's Noah Dickerson is coming off a ho-hum 28 and 22 performance against EWU. It was clear how important Emmitt Holt was to the Friars in that Minnesota loss. Mike Hopkins has the athleticism for his 2-3 zone, but it's going to take some adjusting and tinkering, which leaves them vulnerable defensively at the moment, and PC's ball movement is outstanding against the length of the Huskies.
PICK: Providence -8.5
---
CSUB @ Arizona
Not a whole lot to like about CSUB here. Rod Barnes' pressure was just thoroughly picked apart by Georgia Southern's lethal backcourt to the tune of 1.17 points per possession, and the Runners only forced a 12 percent turnover rate, nearly half of what they generated last year. Point guard Brent Wrapp doesn't look 100 percent yet after a knee/foot problems in the offseason. Meanwhile, Allonzo Trier looks unguardable, and DeAndre Ayton is just a matchup nightmare.
PICK: Arizona -24.5
---
Thursday's Top Picks Part II:
Nebraska +7
Michigan -23.5
Marshall -3
Belmont +6.5
Be part of the Action
Download the Sports Action app at the [App Store] or [Google Play]