Joffe's Lessons from Vegas in March: The Foolproof Way to Land in Twitter Jail
Sign up for The Action Network's daily newsletter to have the best sports betting insight and analysis delivered to your inbox.
I don't know how I made it back alive, but I did. Another March Madness opening weekend in Vegas is in the books, and it was … messy. Fun, but so, so messy, and I'm not just talking about the plethora of bruises, blisters, lost money and liver damage. I'm talking about the carnage that ensued from a devastatingly bad Thursday in Idaho. My beloved Arizona Wildcats lost in the first round to … Buffalo. WTF?
My main takeaways from the weekend:
No matter how bad my team loses, I will never ever tweet about it being "over" for me.
There's a good amount that I don't remember about Thursday. That's usually how it goes the first day at Lagasse's, and it almost always ends in a hot mess in some form or another. Arizona losing embarrassingly to Buffalo, in one of the last games of the day, was not helpful. To be honest, when I woke up the next morning/afternoon, I expected a way worse collection of selfies taken and so far this seems to be the worst of it, so perhaps I learned my lesson.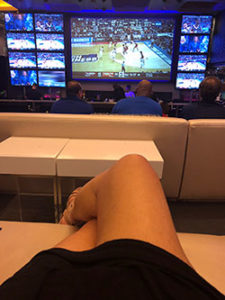 I can usually tell how drunk I got by the amount of free liquor "swag" I collect, and here is just some of it. (Side note, despite saying I would never do Jell-O shots in Vegas again, your girl did at least four — or so I was told.)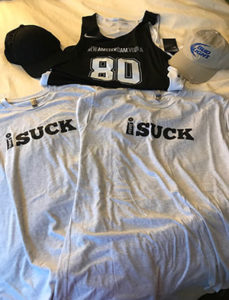 Obviously my Twittering kept busy, and as it turns out, a little too busy. Apparently either someone thinks they're funny or Twitter has a very stupid algorithm because this tweet — or maybe this one or maybe a few others — led to me being put in Twitter jail (literally) for 12 hours after the Zona loss. Needless to say it was a rough night … for everyone around me.
New shoes + sports anger issues + the Vegas Strip = Not a good idea.
Anyone who knows me has learned that I'm pretty much always in some form of heels. Yes, I'm "that girl" at a sports event wearing wedges or, when I'm really feeling crazy, stiletto heels. Believe it or not, I just feel more comfortable in them, and at 5-foot-2 (yes I know I look much taller), 100% of the shoes I brought with me to Vegas had a heel. This wouldn't have been a huge problem, but between losing to Buffalo, getting absolutely wrecked with our bets Thursday, having Sun Devil fans scream in my face, being thrown in Twitter jail for 12 hours and then getting group-bullied into walking down the Strip rather than cabbing it, I was slightly bitter. Mad-walking in heels doesn't ever end well. I would like to say "You're welcome" to everyone I flashed when I fell down on the sidewalk. My entire group of friends stood and laughed at me while a total stranger had to help me up. Thanks guys, hope you enjoyed the show.
There is no greater place to be in the world than a sportsbook when there's a last-second cover …
… Unfortunately we were mostly on the wrong side of these covers on the trip, whether it was the garbage dunk in the OU-Rhode Island game with two seconds left that blew the under or the meaningless layup in the Xavier-Texas Southern game that blew the -20 cover. We did manage to get quite a few death glares when somehow we won the UNC-Texas A&M total by the hook. We had nothing on Kansas-Seton Hall (to my knowledge), but this last-second 3 by Seton Hall's Myles Powell blew the KU -5. It was magical to watch half the room lose its s—, while the other half had the life drained from its collective body.
??? #MOOSEALERT ???

Myles Powell's "meaningless" 3 pointer to cut Kansas' lead from 7 to 4 is a shot that Jayhawks full game (-4.5) and 2H (-1.5) bettors will never forget. pic.twitter.com/Vweqc4km1X

— The Action Network (@ActionNetworkHQ) March 18, 2018
There should be emotional support dogs in sportsbooks.
Saturday at the Caesar's book was much less damaging to my health, and while it's very possible this had something to do with a much smaller table minimum to meet and not having to watch my Wildcats play, I think there was something else. In the group of people next to us, one man had a service dog, and let me tell you how much easier it was to handle betting losses with a very good boy. After getting absolutely hosed by Ohio State I was ready to change my flight and go home with my tail between my legs. Enter "Ford." This guy instantly cheered me up, as it did the other gamblers around us. The greatest idea in the history of Las Vegas: Sportsbook Comfort Dogs to ease the pain from betting losses.
Remember it can always be worse.
Losing to Buffalo was gross, but man am I glad I'm not a Wahoo. By now everyone has heard at LEAST 6969 times that Virginia was the first 1-seed to get taken out in the first round by a 16-seed (UMBC). While I feel for UVA fans, I owe the Cavaliers a HUGE debt of gratitude,  because Arizona has barely been on the radar since that game. Throw in UNC and Michigan State getting taken out in the second round, and it's almost as if the Wildcats' game never happened. I went from absolute devastation on Thursday to "Gee, I can't imagine being a UVA fan" on Friday, and it changed my whole mood. I won't lie, though: I did put in a live bet in the second half when UVA was -7.5 because HOLY S— HOW COULD THEY POSSIBLY LOSE TO A SCHOOL I'VE BARELY EVER HEARD OF. Thankfully it wasn't a huge bet and the easing of my sadness about Arizona was a good trade. Two of the people I was with were Spartans, so Sunday was unpleasant as well, but Thursday was but a distant memory and I have at least three other schools to thank for that.
I've decided to ride the Michigan train the rest of this tournament, so I've probably jinxed the Wolverines (apologies in advance). The planning for next year's trip is already underway, and I can't wait to get mad and do it all over again. Maybe this time I'll wear flats.
Top photo: Arizona's Allonzo Trier (35), Parker Jackson-Cartwright (0) and center Dusan Ristic (14); credit: Kyle Terada-USA TODAY Sports
How would you rate this article?