Houston vs. Baylor Odds & Pick: How to Bet Saturday's Marquee Final Four Matchup
Credit:
Getty Images. Pictured: Quentin Grimes (left) and MaCio Teague (right). Illustration by Katie Richcreek.
Houston vs. Baylor Odds
Houston Odds
+5
Baylor Odds
-5
Moneyline
+188 / -230
Over/Under
135.5
Time
Saturday, 5:14 p.m. ET
TV
CBS

Odds as of Saturday afternoon and via DraftKings
Before two West Coast teams battle it out for a spot in Monday's national championship, we will have a semifinal duel between two Texas teams.
That's especially notable since this will mark the first time in NCAA Tournament history we won't have a single team from east of the Mississippi River in the Final Four. It really is the anti-blue blood tournament.
Let's recap how each squad got to this point and review their DNA before getting into the matchup and what I'm looking at from a betting perspective.
How Did Baylor Get Here?
Baylor is back. Up until early February, there was a clear consensus that Baylor and Gonzaga were the two best teams in the nation by a fairly healthy margin. And depending on the day or who you asked, you could get a different answer as to which was better.
Then, COVID-19 ran rampant through the Baylor locker room, causing a three-week pause in action.
Naturally, with no practice time and players recovering from the virus, Baylor just didn't look like the same team when it resumed action later in the month. Logically,  many (including myself) wondered if we would ever see the same elite Baylor team we saw prior to the COVID-19 issues. The defense just wasn't executing at the same level and the Bears looked a step slow.
Well, I no longer have those concerns, as the Bears seemingly have fully recovered from that downswing.
I think they really benefited from a week off prior to the NCAA Tournament and then another extended break before the second weekend. As a result, we've seen Baylor cruise through its first four games with relative ease, winning each by at least nine points.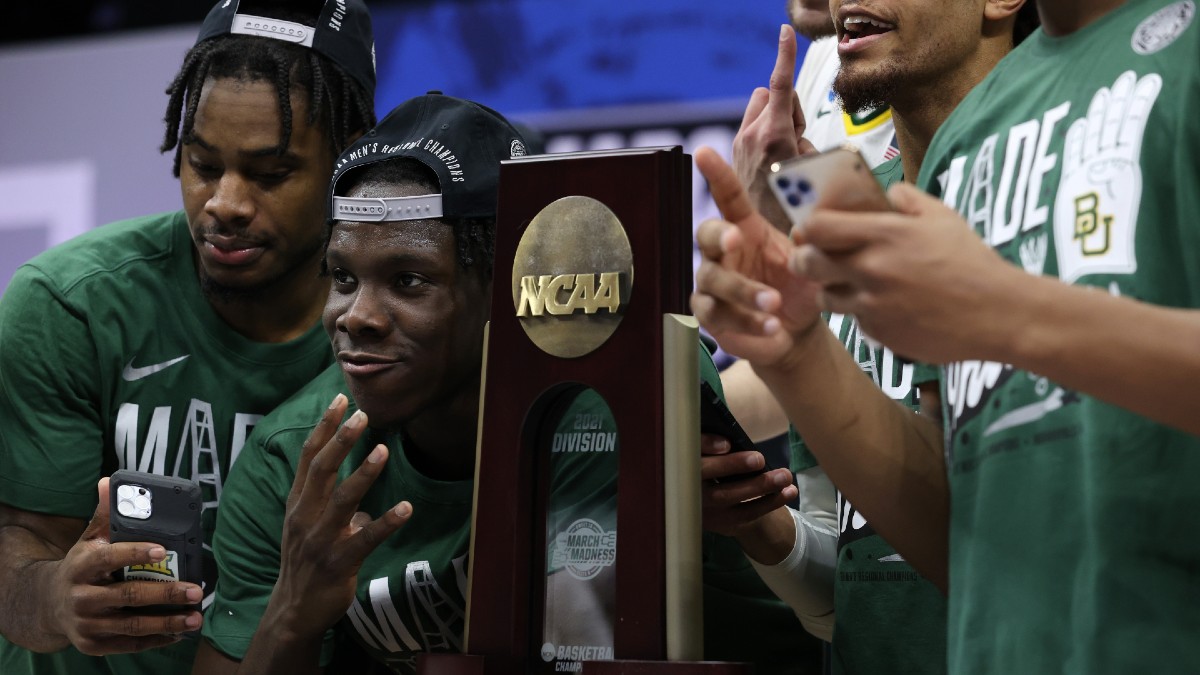 How Did Houston Get Here?
Despite becoming the first team in NCAA Tournament history to get to the Final Four by defeating four double-digit seeds, Houston still had to fight its way through the draw.
After easily defeating Cleveland State in the first round, it needed a late 14-2 run to pull out a comeback win over Rutgers in large part due to the heroics of DeJon Jarreau, who battled through a hip injury to help push the Cougars past the finish line.
Then, after a fairly routine victory over Syracuse, Houston had to fight off a second-half surge from Oregon State, which tied the game with five minutes to go.
As you might expect from a Kelvin Sampson squad, the defense has led the way. Houston has held its four tourney opponents to an average of 55.75 points per game. Only Oregon State scored more than 60 and it only got 61 on a 3-pointer in the final seconds that I'm sure anybody who bet a side in that game remembers vividly.
It hasn't been the most efficient shooting tournament for the Cougars, who have shot just 33-of-105 from 3 (31.4%). However, that doesn't matter as much when you completely dominate the rebounding battle by a combined 158-113.
Who is Houston?
If you've watched the Houston offense this tournament, you might be wondering how the Cougars rank seventh in adjusted offensive efficiency, per KenPom. The Cougars can go completely stagnant for long stretches and rely way too much on isolation ball.
Well, for one, they don't turn it over (41st in turnover percentage). And more importantly, they absolutely dominate on the offensive glass, ranking second nationally in offensive rebounding percentage. Just getting a shot to the rim — no matter how poor the quality — usually leads to a positive outcome.
Houston also attempts a high percentage of 3-pointers (53rd in 3PA/FGA). While the Cougars aren't the most efficient 3-point shooting team — outside of flame-throwing Quentin Grimes — they aren't terrible at 34.9%, which ranks 113th in the country.
When those shots are falling, the offense is lethal. However, even when they aren't, Houston will come up with the offensive rebound more times than not to extend the possession. Therefore, its shooting percentage is a bit misleading given how many second-chance opportunities it gets.
Defensively, Houston ranks No. 1 in effective field goal percentage, per KenPom.
Schematically, the Cougars just don't let opponents get anything in the paint. They also have elite length and athleticism that allows them to close out on the perimeter as well as any team in the country. They rank 11th in 3-point defense, holding opponents to 29.2% from beyond the arc. And that's no accident or result of single-season variance, as they finished eighth and first in that same category the two seasons prior.
It's an extremely aggressive defense that will force a lot of turnovers but also foul frequently, which is really the only weakness of this well-schooled and suffocating unit.
Who is Baylor?
Baylor also tries to take away everything in the paint with its no-middle defense. It's also a very aggressive unit with versatile pieces who can switch, trap and recover at an elite level.
The Bears also force turnovers at the third-highest rate nationally. They are a bit vulnerable at the rim (if anyone can get there) and on the offensive glass due to their aggressive nature.
On the other side of the ball, Baylor ranks No. 1 in the nation in 3-point shooting at a ridiculous 41.1%. It boasts an abundance of shooters and slashers that lead an extremely well-balanced offensive attack that ranks third in adjusted offensive efficiency, per KenPom. Teams can't key in on any one player on a team that has five players in the primary rotation who all shoot at least 39.6% from beyond the arc.
The Matchup
There are some positive signs on paper for Houston from a matchup perspective:
As I previously mentioned, Baylor's aggressive defense does leave it vulnerable to offensive rebounds (the Houston specialty). On the season, Baylor ranks 273rd in defensive rebounding percentage.
I also spoke about Houston's high foul frequency. However, Baylor doesn't really draw many fouls, ranking 295th in FTA/FGA, per KenPom.
Houston takes very good care of the ball, which is a must against the Bears
The Cougars have an elite 3-point defense, which is also critical against Baylor.
That said, this Baylor team just has way too much talent and balance. Houston is no doubt elite defensively, but the Baylor offense is on a different level and doesn't run its offense through the post (seventh-fewest post possession frequency, per Synergy) which is key against a Houston defense that doesn't really let teams run offense through the post by design.
I don't think either team will get much in the paint, so this one will likely be decided by which team can more efficiently hit outside jumpers. And for my money, I'll take the Baylor perimeter all day in that regard.
Baylor is the third-most efficient spot-up shooting offense in the country, per Synergy. Houston ranks 115th. The Cougars rank 130th in rim-and-3 rate, while Baylor ranks seventh in that department.
Ultimately, I just don't think Houston can get to the rim enough against Baylor. The Bears rank in the top 20 nationally in percentage of shots allowed at the rim but outside the top 300 in field goal percentage at the rim. Meanwhile, Houston ranks in the top 30 in field goal percentage at the rim but just 341st in percentage of shots at the rim.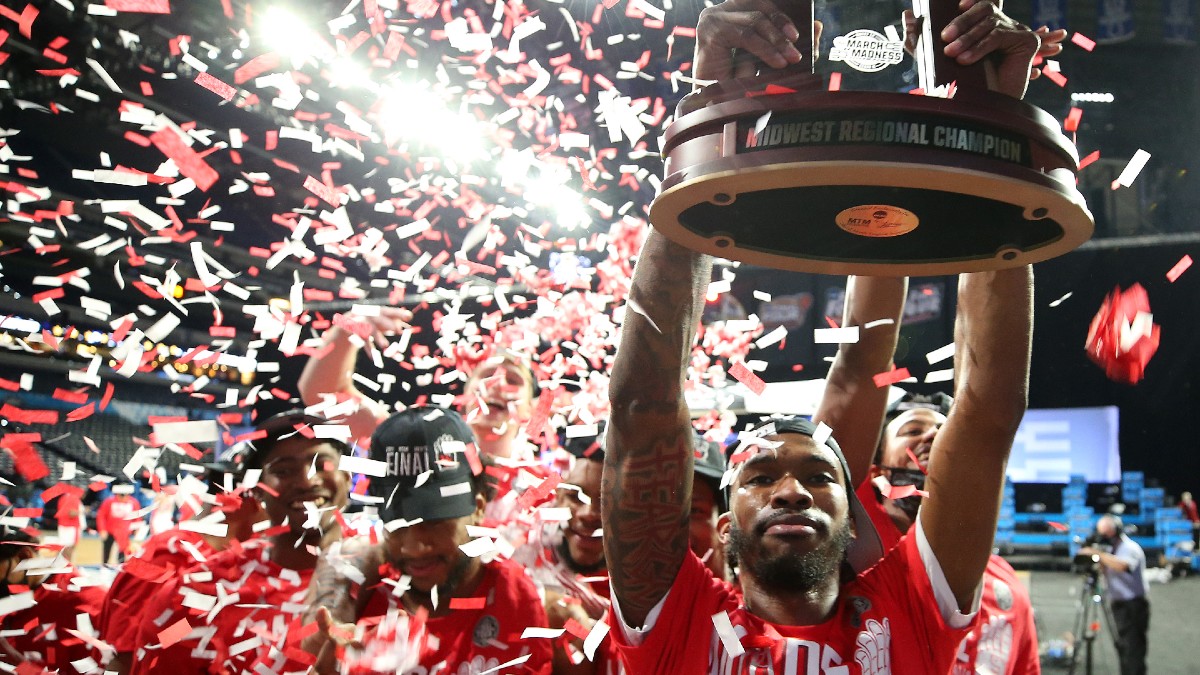 The Cougars will do their share of damage on the offensive glass as always, but I envision them settling for too many inefficient 2-point jumpers.
For the season, Baylor takes a lower percentage of 2-point jumpers but shoots them with much greater efficiency, ranking 63rd in that department (Houston ranks 231st, per Hoop-Math). The Bears also force the sixth-highest percentage of 2-point jumpers, while the Cougars rank 119th.
Lastly, I actually think Baylor can have some success in transition, where it can utilize its limitless athleticism. Yes, Houston has done a tremendous job defending in transition (fifth in eFG%), but the Cougars didn't face Baylor every game during the season.
On a related note, I think some of Houston's metrics are a bit inflated as a result of their much easier regular-season schedule compared to Baylor.
Baylor will have opportunities to run off long misses against a Houston team that is very aggressive on the offensive glass.
I don't think this will be a blowout, but I think Houston will go through longer droughts offensively. I think the Cougars are just one scorer away in this matchup.
Plus, Baylor has one of the nation's best on-ball defenders in Davion Mitchell, who can check Grimes on the perimeter, which will really make things difficult for Houston in the half-court.
Bet to Watch
Since I project this spread right around 5, I won't be wagering on either side pregame. However, I will likely have Baylor in a moneyline parlay (stay tuned on the Action Network App) and will be on the hunt for the Bears live (or for the 2H) at -3 or better.
All of the metrics and my own eyes tell me Baylor is back to the pre-COVID squad that I had power-rated neck-and-neck with Gonzaga for most of the season.
From a total perspective, I show a minuscule amount of value on the over between two teams that should get plenty of second chance looks, but the edge isn't large enough for me to get involved there. However, we do at times see teams come out super tight early in these big games (conference championships, Final Four, national championship), so I could hop in on a lower number live if we get a super slow start.
I'm just a bit hesitant since I don't have a strong feel as to how this will play out from a pace perspective between a Houston team that wants to grind everything to a halt (328th in adjusted tempo) and a Baylor team that ranks 186th in that same category and has no issues getting out and running in transition when the opportunity presents itself.
Nothing is really jumping out from a player props perspective.
Houston won't go quietly into the night, but I think Baylor has too many shooters in a game that should be decided by which team can shoot more efficiently.
Sometimes it's just that simple, especially in a matchup of two teams that really take away everything in the paint.
How would you rate this article?
This site contains commercial content. We may be compensated for the links provided on this page. The content on this page is for informational purposes only. Action Network makes no representation or warranty as to the accuracy of the information given or the outcome of any game or event.