Big Ten Tournament 2020 Betting Preview, Predictions: Full Odds & One Future to Bet
Credit:
Michael Hickey/Getty Images. Pictured: Joe Wieskamp and Trent Frazier.
I'll be covering the Big Ten Tournament each day here, but I also wanted to give a full preview of the tournament heading in — I'll look at odds and storylines with the goal of helping you find at least one futures bet that has value before the tournament tips off Wednesday in Indianapolis.
Bracket & Odds
Odds via DraftKings as of Tuesday afternoon.
Rutgers is not listed because New Jersey prohibits betting on college teams based in the state.
Initial Notes
The Big Ten has been a wild ride this season. I've said before that the Big Ten has had more frontrunners this season than the 2020 Democratic Primary, as Michigan State, Ohio State, Maryland and Wisconsin have all seen themselves as the class of the conference at different points in the season.
Illustrating just how deep the conference is, Joe Lunardi of ESPN's Bracketology has 10 teams from the conference qualifying for the tournament, with the top nine seeds plus Indiana earning a bid, and a potential eleventh team, Purdue, a bit further outside the bubble. The Big Ten is tops in the country in projected bids — no other conference has more than seven teams qualifying.
With such parity in the league, its hard to discern any favorites, but the the bottom half of the bracket is tougher. A red-hot Michigan State anchors a side that includes Maryland and Ohio State. These three teams are the best in the Big Ten, according to our power ratings.
We'll keep this in mind as we try and find a futures bet by working backwards — first identifying teams to cross-off, then identifying some dark horses, and finally by analyzing the contenders to see if any potential winner offers value.
Cross-Offs
Since the Big Ten expanded to 14 teams in 2014-15, a team playing in the first round has not won the Big Ten tournament. This year, No. 11 Indiana (+5000), No. 12 Minnesota (+8000), No. 13 Northwestern (+50000) and No. 14 Nebraska (+50000) are the bottom four seeds.
You can go ahead and cross these teams off. Northwestern and Nebraska are just bad teams, and it is hard to imagine Indiana or Minnesota winning five straight games in five days.
During this time period, however, a first-round team has made it to the quarterfinals in every Big Ten tournament every year but 2017. It's prudent to keep this trend in mind when backing teams in daily bets once the tournament starts.
A team I'm eyeing this year to fit this trend is Indiana. The Hoosiers sit directly on the NCAA Tournament bubble, needing one win to probably get in, and two wins to definitely get in. If Indiana takes care of business against Nebraska in the first round, the Hoosiers get a favorable potential second round match-up in Penn State, which has lost five out of their last six.
That's why I'm crossing off No. 6 Penn State (+800). The Nittany Lions have unraveled down the stretch, and I don't see any reason why you should take a flier on them, especially at such reduced odds.
I'm also crossing off No. 8 Rutgers (+2000) and No. 10 Purdue (+4000). Both of these teams have been wholly unimpressive on the road, with Rutgers' only conference road wins being at Nebraska and at Purdue, and Purdue's only conference road wins being at Northwestern and at Iowa.
And finally, I'm crossing off No. 9 Michigan (+600), especially at such a low number. Michigan's odds seem to be inflated with a bit of recency bias thanks to Big Ten Tournament titles in 2017 and 2018. But those wins were with former coach Jon Beilein, who was notoriously masterful with between-game adjustments in the no-rest tournament setting.
I'm not ready to give first-year head coach Juwan Howard the same level of respect as Beilein, especially at +600 odds.
Dark Horses
Twice since the Big Ten expanded — No. 8 Michigan in 2017 and No. 5 Michigan in 2018 — a team outside of the No. 1 to No. 4 seeds has won the Big Ten tournament. Does the makeup of those Michigan teams provide any guidance on identifying a potential dark horse this year?
The 2017 Wolverines were 25th nationally in adjusted efficiency at the start of the Big Ten Tournament, and were 6-2 in their final eight games of the regular season. They had an elite offense and a pedestrian defense.
The 2018 Wolverines were 16th nationally in adjusted efficiency at the start of the Big Ten Tournament, and were 7-1 in their final eight games of the regular season. But opposite of the 2017 Wolverines, the 2018 Wolverines had an elite defense and a pedestrian offense.
While the type of Michigan team isn't the same between championship years (which again, is a testament to Beilein), both of those Wolverine teams had some quantifiable momentum heading into post-season play.
This year, No. 7 Ohio State (+800) fits the past Michigan model as a potential dark-horse team that is outside of the top four seeds. The Buckeyes are No. 8 nationally in adjusted efficiency, and are 6-2 in their last eight games. They are talented, yes, but I'd worry about the Buckeyes' draw in this bracket. If they can beat Purdue, they would potentially face a back-to-back slate of Michigan State and Maryland, two of the best teams in the conference.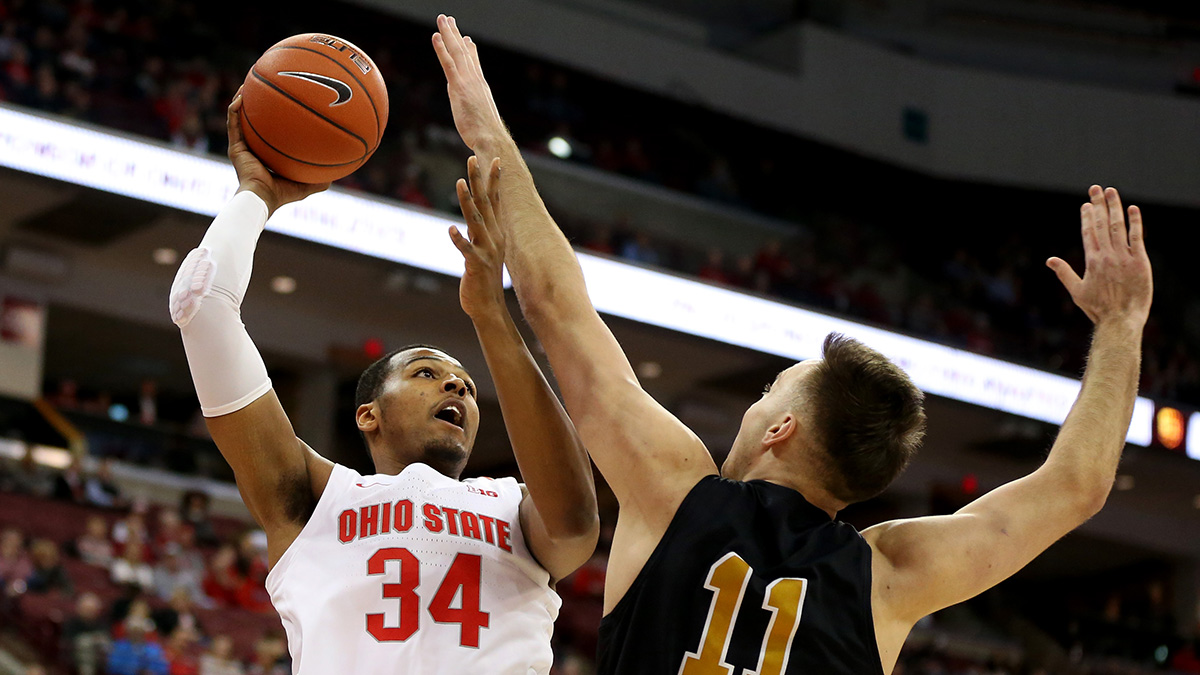 No. 5 Iowa (+800) also somewhat fits the mold of 2017 Michigan, with an elite offense behind Big Ten Player of the Year Luka Garza, but haven't had momentum down the stretch, going 4-4 in their final eight games. The Hawkeyes could get hot, and have a bit of a favorable draw here (having split the season match-up with Illinois and having beaten Wisconsin), but I'd like the odds to be a little bit higher than +800.
The draw at the top of the bracket is the same reason why I wouldn't count out No. 4 Illinois (+1400), either. This team has gotten hot before, winning seven straight games in January (including wins against Wisconsin, Purdue and Michigan on the road), and come into the tournament having won five of their last six. Getting +1400 for a team only needing three wins is pretty tempting. I'll flag the Fighting Illini for later.
Contenders
Now on to the contenders. We've been discussing Big Ten tournament winners since the conference expanded in 2014-15. If you remove the 2017 and 2018 Michigan years, you see a lot of unsurprising winners.
In 2015, 2016 and last year in 2019, a No. 1 or No. 2 seed has won this tournament. That team has also been top five nationally in adjusted efficiency heading into the tournament — No. 1 seed Wisconsin was fourth in 2015, No. 2 seed Michigan State was third in 2016, and No. 1 seed Michigan State was fourth in 2019.
This year, no Big Ten team is inside the top five nationally in adjusted efficiency, which demonstrates the lack of a consistent, dominant team in the conference throughout the season.
But some teams are close. No. 2 Michigan State (+350) is No. 7 nationally. The Spartans have also won five straight heading into the tournament. They will likely be most pundits' pick to win this week. But winning three more games, including a potential opposing slate of Ohio State and Maryland before the championship game is a tough ask at +350. I don't see any value in these odds.
Next on the list is No. 3 Maryland (+350), 11th nationally in adjusted efficiency. But just like with Michigan State, +350 is a tough sell for me. The Terrapins have lost three of their last five games. Coach Mark Turgeon's squad had a great run from mid-January to mid-February where it won nine straight, but I'm not biting on these low odds.
Which leaves No. 1 Wisconsin (+400). The Badgers are 22nd in adjusted efficiency, but that's due to a poor early start to the season. They have won eight straight games to finish the season, and now find themselves as a No. 1 seed, and more importantly, in the easier side of the tournament bracket.
The Pick
The futures market can vary dramatically from book to book, but my pick for the Big Ten tournament is where I see the most value.
Wisconsin's odds have dropped dramatically since the tournament bracket was announced. On Sunday, the Badgers were 10-1.
If you listened to Stuckey on The Action Network Podcast on Monday, hopefully you jumped on the Badgers on those odds. I did. If you can still find Wisconsin at 10-1 or higher, I'd highly recommend taking them, but it's not out there at any on-screen books.
The Badgers have since dropped closer to +400. I wouldn't take any of the top three seeds — Michigan State, Maryland, or Wisconsin — at anything less than +500.
But if you're reading this late Tuesday night or Wednesday morning, there's one Big Ten tournament futures bet I think has a good amount of value.
First, let's take a quick look at the win probabilities from KenPom for the Big Ten Tournament.
KenPom says Illinois has an 8.9% probability of winning this tournament. At +1400 odds, the Fighting Illini have an implied win probability of 6.7% in the futures markets. There's slight value on taking the Fighting Illini.
And it's not too difficult to envision Illinois winning.
Coach Brad Underwood's team is one of only three Big Ten teams to have a .500 or better record on the road, along with Michigan State and Wisconsin. The Fighting Illini have had Big Ten winning streaks of seven and four throughout the season.
You're asking Illinois to win two before you can think about hedging.
Illinois's road to the championship game is:
Quarterfinals: Iowa/Minnesota/Northwestern — all teams they have already beaten this season.
Semifinals: Wisconsin/Michigan/Rutgers — all teams they have already beaten this season.
If Illinois can get hot behind sophomore guard Ayo Dosunmu (16.9 ppg) and freshman center Kofi Cockburn (13.3 ppg, 8.8 rpg), and win two fairly winnable games, you can potentially hedge a conference championship matchup, or let the Fighting Illini future ride.
I'm taking Illinois at 14-1. But always remember: be your own sharp.
My Favorite Future: Illinois 14-1
How would you rate this article?