College Basketball Best Bets: Our Staff's 6 Top Picks for Regular Season Games on Thursday, March 3
Credit:
Photo by Andrew Bershaw/Icon Sportswire via Getty Images. Pictured: Isaiah Adams (UCF)
Today is the first day where we truly feel like we've entered March.
Sure, we got a dramatic Chucky Hepburn last-second shot that helped the Wisconsin Badgers clinch a share of the Big Ten regular-season title earlier this week, but on Thursday, we have 22 conference tournament matchups across multiple mid-major leagues.
While we will dive into our Thursday postseason best bets in a different piece, our staff will focus on regular season games in this article.
So, without further ado, here are six games you should bet on today in college basketball.
---
Thursday's College Basketball Best Bets
The team logos in the table below represent each of the matchups that our college basketball staff is targeting from today's slate of games. Click the team logos for one the matchups below to navigate to a specific bet discussed in this article.
---
Siena vs. Niagara
Niagara is a very highly underrated team in the MAAC.
On paper, it owns a 7-11 record in conference play and sits dead last in offensive efficiency. But per ShotQuality, Niagara is second in PPP in half-court and transition offense. That means it's due for a ton of positive shooting regression.
On the defensive side of the ball, the biggest issue Niagara has run into this season is the fact it's the worst team in the conference in transition defense. Siena plays at an incredibly slow pace and is one the lowest teams in the conference in terms of their percentage of possessions in transition.
Siena is not only the luckiest team in the MAAC, but it's one of the luckiest teams in the country. On the season, the Saints are 15-11, but their ShotQuality record is 10-16.
One of those games they should have lost came against Niagara, when they won, 60-56. But based on the quality of the shots, the Purple Eagles had a 65% post-game win expectancy. The reason is that Niagara shot 1-of-15 from behind the arc.
Also, leading scorer Marcus Hammond, who's averaging 17.6 points per game, did not play in the game.
So, I love the Purple Eagles at -2.5 to exact some revenge tonight at home.
Pick: Niagara -2.5 (Play to -4)
---
---
North Texas vs. UTSA
By D.J. James
I have been harping on these games all year. North Texas is the slowest-paced team in the NCAA, as the Mean Green rank lower than Virginia.
That should say enough.
If it does not, they head into a game against a UTSA team that has one of the worst offenses in the country.
North Texas is 16-7-1 on unders this season, which is as reliable as it can get at this point. It also boasts a top-20 adjusted defensive efficiency mark, per KenPom.
Much of this is due to the Mean Green's containment of the arc. They have held opponents to only 28.5%, while shooting 37.4% themselves.
UTSA only shoots 28.3% from deep and 43% inside the arc. Essentially, the Roadrunners' only chance at manufacturing points in this game will be from inside.
Still, it's hard to envision this happening. North Texas forces opponents to shoot 3s consistently. In fact, the Mean Green rank 11th in doing so.
Frankly, this is bad news for the Roadrunners, who aren't likely to be able to hit those open looks.
Most likely, North Texas will force long possessions, as it averages 21.2 seconds per possession on offense and 18.1 seconds on defense. UTSA is shockingly slow on offense, too (17.2 seconds).
Since this is such a one-sided affair, North Texas should be able to hold the UTSA attack in check. Do not expect more than 60 points from the Roadrunners.
Pick: Under 123.5 (Play to 122)
---
---
UCF vs. Tulane
UCF and Tulane are tied in the conference standings, each hoisting a 9-7 record. This matchup will likely be decided by the 3-point line, as each program attempts nearly 40% of their shot attempts from deep.
UCF has a duo of snipers in Darin Green Jr. and Darius Perry. The two have combined to hit 125-of-325 (38%) from beyond the arc this season. As a team, the Knights have found 37% of their points from 3-point territory, while hitting 35% of those shots overall.
UCF has been strong in defending outside shot attempts, allowing opponents to hit just 30%, which ranks 31st in the country.
Tulane plays with a similar style, as it has shot 37% from 3-point range this year. But defensively, the Green Wave rank 204th in defending the perimeter.
The program also allows the third-highest assist rate in the country. UCF has assisted on under 60% of its buckets on the season, and the Knights will use that continuity to find plenty of open looks from deep.
Tulane is also one of the worst rebounding teams in the country, ranking outside the top 330 in offensive and defensive rebounding percentage. UCF finds extended possessions on 32% of its misses, which will lead to second-chance opportunities in this matchup.
I'm backing UCF to find a road victory in an important matchup for the AAC standings.
Pick: UCF -1.5 (Play to -3)
---
---
Cal vs. Arizona State
Let's head to the desert for a game between the California Golden Bears (12-17, 5-13) and the Arizona State Sun Devils (12-16, 8-10).
These two schools last met in early January, and Cal picked up the win in blowout fashion, 74-50.
Since then, Arizona State has taken measures to salvage its season, which I believe has led to a mispricing in this matchup.
The Bears have been one of the best teams against the spread this season, going 19-10 for a hit rate of 65.5%. They are even better on the road, going 6-3 (66.7%) against the line.
Offense is going to come at a premium in this game, as the two lowest-scoring teams in the Pac-12 are featured here.
Cal and Arizona State rank 193rd and 223rd in AdjO, with 102.7 and 101.4 points per 100 possessions, respectively. Statistically, there are not many bright spots for either program.
Defense is where both teams have made it count this season. The Bears and Sun Devils rank 79th and 25th in AdjD, allowing 98.7 and 94.9 points, respectively.
The Bears have a massive edge when it comes to defensive rebounding percentage, ranking 30th in the nation relative to the Sun Devils' ranking of 278th.
Look for the Golden Bears to control the glass defensively against a Sun Devils team that ranks 260th in offensive rebound percentage.
I am modeling California as 4.09-point underdogs tonight in Tempe. I'm seeing a nearly 3.5-point edge in available markets. Take the points, as the defensive-minded Bears will be able to keep this game very close or get the win outright.
Alternatively, if you're ready to up the ante because it's the most enjoyable month of the year, then I think we can juice our positioning for this game by going one unit on California moneyline (+250 or better) and one unit taking the points.
Pick: Cal +7.5 (Play to +7)
---
---
Iowa vs. Michigan
Iowa is playing some of its best basketball of this season — winning seven of eight — yet I question the Hawkeyes' ability to slow down the elite centers of the Big Ten.
North Dakota transfer Filip Rebraca starts at center for Iowa, and is not expected to single cover the best big men in the sport.
Per KenPom's numbers, 6-foot-8 Keegan Murray plays the center role for Iowa almost 40% of the time. Against a lot of opponents, that can work. Even against top-level, inside-out bigs like E.J. Liddell, Iowa can survive.
Against the biggest back-to-the-basket threats, the smaller Hawkeyes have struggled. Kofi Cockburn dominated the paint, posting 17 points and 18 rebounds in an Illini win over Iowa. With Murray sidelined for Iowa's home date with Purdue, Trevion Williams went for 13 points, 18 rebounds and three assists.
In some cases, Iowa has sold out to stop the interior threat.
In the Hawkeyes' other meeting with Purdue, Williams and Zach Edey managed only 18 points of their own, but combined for six assists and attracted attention away from Purdue's outside shooters. In turn, those perimeter shooters made 13-of-22 from long range that night.
In the first meeting between Michigan and Iowa, Hunter Dickinson had 14 points, but critically had a career-high seven assists, often setting up his frontcourt mate Moussa Diabate, who went off for 28 points.
Iowa's defense is not built to rotate and recover when helping on the interior. That scrambling has also affected Iowa on the defensive glass, where the Hawkeyes have allowed the highest rate of offensive rebounds in Big Ten play.
With Dickinson playing some of the best basketball of his career, and in the fourth game of a home stand following Juwan Howard's dust up in Madison, Michigan is the pick.
Pick: Michigan -1.5
---
---
Portland State vs. Idaho
As conference play winds down in the Big Sky, Portland State is in a crucial stretch to move from a seventh-seed first-round slot to the quarterfinal bye sixth seed.
The Vikings excel in playing up-tempo basketball, ranking 32nd in average offensive possession length.
If there is a team in the nation that will allow teams to run up the floor, Idaho is the perfect marriage for Portland State. These teams combined for 163 points in a January meeting, but the Vandals' ranking of seventh in average defensive possession length displays just how much head coach Zac Claus prefers a high-paced affair.
The Rim and 3 rate suggests high percentage shots will be the main ingredient for this matchup.
The Idaho defense will oblige in letting Portland State score as much as possible. The Vandals are 350th in defensive adjusted efficiency, including near dead last national ranks in steal rate.
Portland State will attack the rim and get to the free throw line often, as Idaho ranks outside the top 350 in ShotQuality adjusted defense.
Expect a shootout — thanks to Idaho's rank of 26th in off the dribble 3-point efficiency — in a fast-paced Big Sky nail biter.
Pick: Over 156 (Play to 157)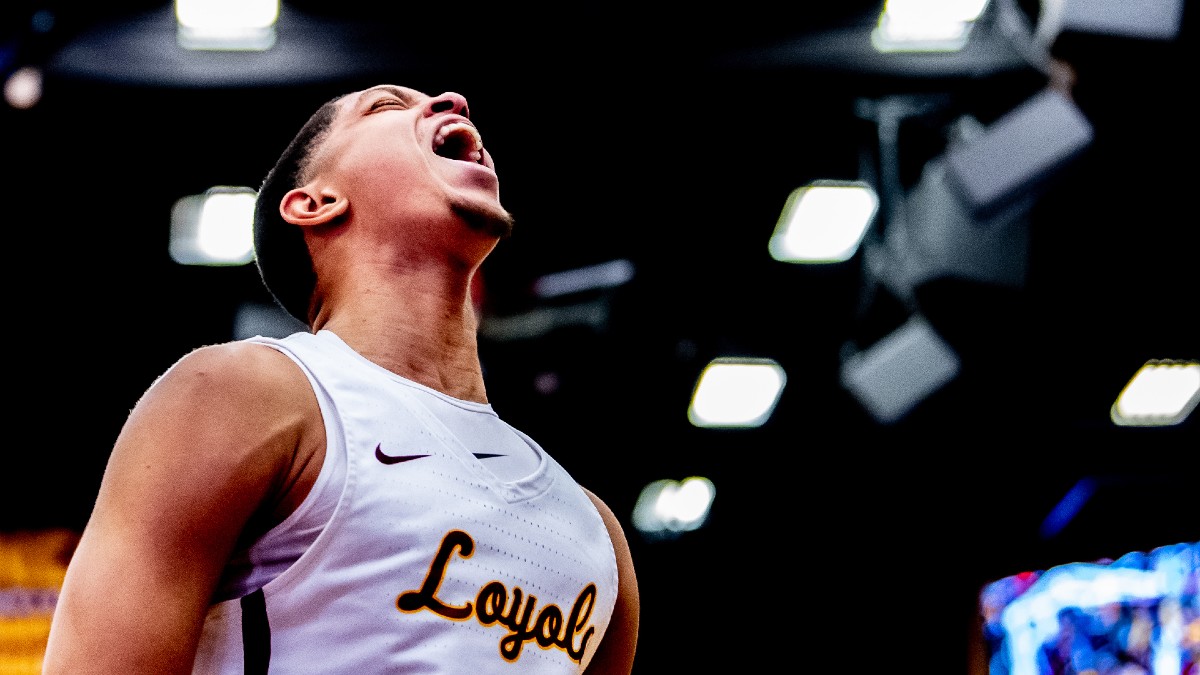 Missouri Valley Betting Preview & Bracket
---
---
How would you rate this article?
This site contains commercial content. We may be compensated for the links provided on this page. The content on this page is for informational purposes only. Action Network makes no representation or warranty as to the accuracy of the information given or the outcome of any game or event.