Stuckey's 3 Favorite Situational Betting Spots on Tuesday's College Basketball Card
Credit:
Greg M. Cooper-USA TODAY. Pictured: West Virginia head coach Bob Huggins
Which college basketball teams are primed for a letdown on Tuesday night? Which could come out flat or get caught looking ahead?
Stuckey runs through his three favorite betting situational spots, starting with a Big 12 matchup between TCU (-4) and West Virginia.
Each Sunday night during the college basketball season, I circle all of the potential weekday situational spots I may want to bet based on the weekend's results and the following weekend's matchups. I then look at my projected numbers and analyze the matchups to come up with a spread range I would potentially bet for those circled spots.
I had circled Kansas on Big Monday, but couldn't pull the trigger at a number I didn't see any value in. A few more were on my radar for Tuesday and three actually fell into bet-worthiness range. Let's get into that trio of plays, starting with a Big 12 matchup at 7 p.m. ET on ESPNU.
Season Record: 32-26-2 (55.2%) +3.86 units. All odds as of 1 a.m.. ET
West Virginia +4 vs. TCU
7 p.m. ET on ESPNU
I expect an inspired effort from a West Virginia bunch looking to play spoiler and avenge an embarrassing 98-67 loss to TCU last month. That drubbing dropped the Mountaineers to 0-5 in the Big 12 — their first 0-5 conference start in over 20 years.
Meanwhile, TCU comes off a huge (potentially tournament berth-clinching) win over Iowa State and has a date with Texas Tech (then Kansas State) on deck. It's going to be tough for head coach Jamie Dixon to get his team motivated for a trip to Morgantown in between those critical conference games. I do not expect a fully focused effort from the Horned Frogs in the sandwich du jour.
It's also worth noting that WVU played extremely hard on Saturday in Waco in a game it really could've won. That effort spoke volumes after all this team has gone through this year, losing four starters to either injury or suspension. This new corps is beginning to figure things out under the tutelage of head coach Bob Huggins and are starting to look like a competent basketball team.
Also, don't forget about the game prior to Baylor — when the Mountaineers played first place Kansas State tight for the first 30 minutes. Jordan McCabe and Drew Gordon are gaining confidence as secondary scorers for a rapidly improving WVU squad.
The Mountaineers still have enormous issues when it comes to taking care of the ball, but TCU doesn't really turn teams over at a high clip. Plus, I think the WVU defense can force plenty of turnovers against a Horned Frogs team that can be careless with the ball. (TCU ranks eighth in the conference in turnover percentage on both offense and defense.)
This is still a wildly inconsistent and unpredictable TCU team that lost at home to Oklahoma and on the road to Oklahoma State during a three-game slide before its upset win over Iowa State. Huggins clearly still has his young team fighting and I think they scrap until the end tonight.
Ohio State -2 vs. Iowa
7 p.m. ET on BTN
On the surface, Ohio State has revenge from a 10-point loss earlier this year. This game also means exponentially more to the Buckeyes' tournament chances than it does to Iowa, which sits safely in the field.
You should get the absolute best effort from a desperate Ohio State team in an almost must-win situation against a Hawkeye team that hasn't defeated a team with a pulse on the road all season.
Iowa has had a very fortunate season, highlighted by multiple buzzer beaters, comeback overtime wins and opponent free throw shooting luck. The Hawkeyes — or Luckeyes as I call them — have simply enjoyed almost every possibly break to date. If they don't hit back-to-back buzzer beaters against Rutgers and Northwestern, maybe they'd also be on the proverbial bubble.
Plus, Ohio State should take a lot from Saturday's close loss at Maryland, when it didn't have leading-scorer CJ Jackson. A few of the Buckeye role players gained a much needed confidence boost, specifically Keyshawn Woods and Justin Ahrens.
There is no question the Ohio State offense struggles immensely at times. However, it should get guard Jackson back, its role players can take a lot from that Maryland loss and it will face an Iowa defense that ranks dead last in the Big Ten in efficiency during conference play.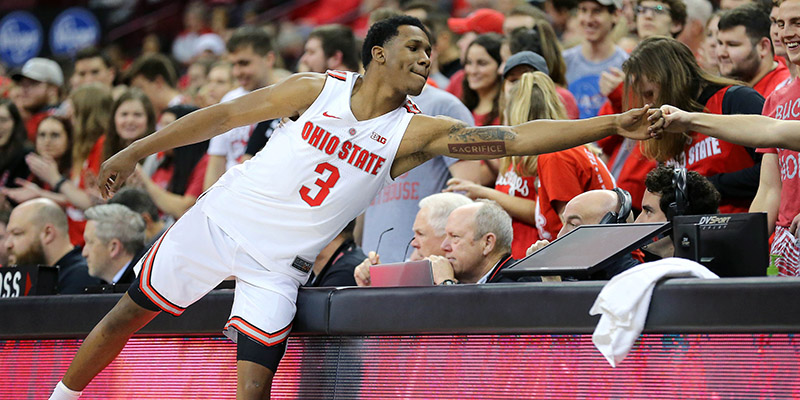 I essentially have these teams rated equally, so only having to lay 2 is appealing in this particular spot. Give me the desperate Buckeyes and their stellar perimeter defense at home over the Luckeyes.
Texas A&M +12 at LSU
9 p.m. ET on ESPN2
There's no reason to stop fading the Baby Tigers in these obvious situational spots. Their inexperience simply makes them more vulnerable to letdowns and lookaheads. As I previously said when we faded LSU against both Florida and Georgia, the Tigers rank 323rd in experience nationally.
We should also see a pretty confident TAMU team that has quietly won four of five. And that streak could easily be  five straight if not for a school-record shooting performance from South Carolina — which came back from 13 down at home to defeat the Aggies.
Texas A&M also has revenge from a blowout home loss to LSU, but this play is all about how flat I expect the Tigers to be after a massive overtime win against Tennessee on Saturday. That emotional win marked the fourth SEC overtime win of the season for the Tigers, which I think is contributing to over-inflated perception in the betting market.
From a matchup perspective, I like that Texas A&M only fouls on 20.3% of its defensive plays (top-50 rate in the country). That's meaningful against an LSU offense that makes 18.6 free throws per game — second-highest in Division 1.
(While it didn't factor into my decision, LSU's staff may have potentially been distracted over the past few days by the NCAA investigation news.)
And considering every LSU game seemingly finds a way to overtime, I'll gladly take the 11-12 points if it happens for the sixth time in conference play.
---
Editor's note: The opinions on these games are from the individual writer and are based on his research, analysis and perspective. They are independent of, and may not always match with, the algorithm-driven Best Bets from Sports Insights.