Stuckey's Favorite College Basketball Outright Bets for the Final Week of Conference Tournament Play
Credit:
Brian Spurlock/Icon Sportswire via Getty Images. Pictured: Texas Longhorns forward Jericho Sims (20).
Sixteen college basketball conference tournaments tip off this week, beginning on Tuesday, March 9 with the ACC and Big West. I fancy two favorites in Abilene Christian in the Southland and UC Santa Barbara in the Big West in two conference tournaments that I think could see a lot of carnage elsewhere. Therefore, I invested in those tournament favorites since I'm also higher on both than the market.
I'm personally passing on the SWAC, MEAC and Big Sky. I also may still add New Mexico State (if I can stomach the Aggies and truly believe they finally have it together after major COVID-19 issues) in the WAC.
That leaves 10 remaining conference tournaments, which I will share my thoughts on below before concluding with a summary of my futures card. Let's get things started with the ACC Tournament, which starts on Tuesday afternoon.
---
---
ACC Tournament 
Starts Tuesday, March 9 in Greensboro, NC
I'm actually passing on any ACC future, but I'd like to make two points about betting college basketball conference tournaments in general.
Shop Around
As of the time of writing, I'm seeing Georgia Tech as high as 20-1 and as low as 8-1. At the former price, the Yellow Jackets intrigue me as they match up fairly well with Virginia if they can get past Clemson. However, at the latter odds of 8-1, I have no interest in a team that really lacks depth, which may catch up to Georgia Tech if it makes it to the final on Saturday for a third game in three days.
For what it's worth, a number of other ACC teams also really lack depth, including Louisville, Syracuse, Virginia, Notre Dame and Duke. Those five schools and Georgia Tech each rank outside the top-300 in bench minutes, per KenPom.
Explore Your Options
Sometimes a rollover moneyline parlay has higher expected value than the future being offered. For those unfamiliar, here's how a rollover moneyline parlay works:
You would bet whatever amount you wanted to on the original future on the moneyline of the team in its first game instead. You'd then take your original bet amount plus the winnings (assuming the team advances), put it on the moneyline in the second game, and so on.
It is generally true that a rollover moneyline parlay offers higher expected value than a futures bet for popular blue bloods that take a lot of betting action regardless. And this is especially true this year when you have a team like Duke that may need to win the conference tournament to get into the NCAA Tournament field. Moreover, the Blue Devils need to win five games in five days to cut down the nets in Greensboro.
In situations like this, you're better off rolling over Duke on the moneyline than taking some of these crazy prices below 20-1 that I'm seeing in the market.
---
Conference-USA Tournament 
Starts Tuesday, March 9 in Frisco, TX
I could make a realistic case for five teams that I rate all within three points of each other on a neutral court:
Marshall
Western Kentucky
Louisiana Tech
North Texas
UAB
I'm actually going with one of the two teams above that doesn't benefit from a bye to open play: No. 5 seed Marshall.
Not only did I pick the Thundering Herd to win in the preseason, but furthermore I still have them as the best team in the conference per my most recent power ratings.
I actually think the 5-1 price is pretty fair, even though I'm higher than the market on Marshall, but I also like the team's draw and style in a tournament format. Head coach Dan D'Antoni's team plays with extreme pace, ranking 17th nationally in Adjusted Tempo (per KenPom). The Thundering Herd are not easy to face when you have played the night before or previous two nights.
I don't think Marshall will have any issue with the winner of Rice vs. Southern Miss. Instead, that matchup grants the Herd an opportunity to gain gym familiarity before facing off against UAB, against whom Marshall matches up well.
The UAB defense is outstanding, but Marshall won't cough the ball up and I'm not sure UAB's offense can keep up without getting free points off of turnovers. If the Thunder Herd get past the Blazers, then that would likely set up a third meeting with Western Kentucky, which swept the Herd during the regular season in two close contests.
You could argue that WKU has the most raw talent of any team in the conference with big man Charles Bassey and senior guard Taveion Hollingsworth. And you'd probably be right.
The team's obvious talent notwithstanding, something still seems a bit off with the Hilltoppers to me. But, they could easily put it all together and win this tournament. In fact, I think the winner of a potential Marshall vs. Western Kentucky semifinal would indeed end up taking this tournament down.
I'll put my trust in the Herd's backcourt with Taevion Kinsey and Jarrod West to make a run in the top-half — where they avoid North Texas and Louisiana Tech (both of which can give them potential issues) until the final.
My unit size is nothing big here, as I don't see a major edge; rather, I am really going with my gut and sticking to my guns.
Target: Marshall 5-1 or better
---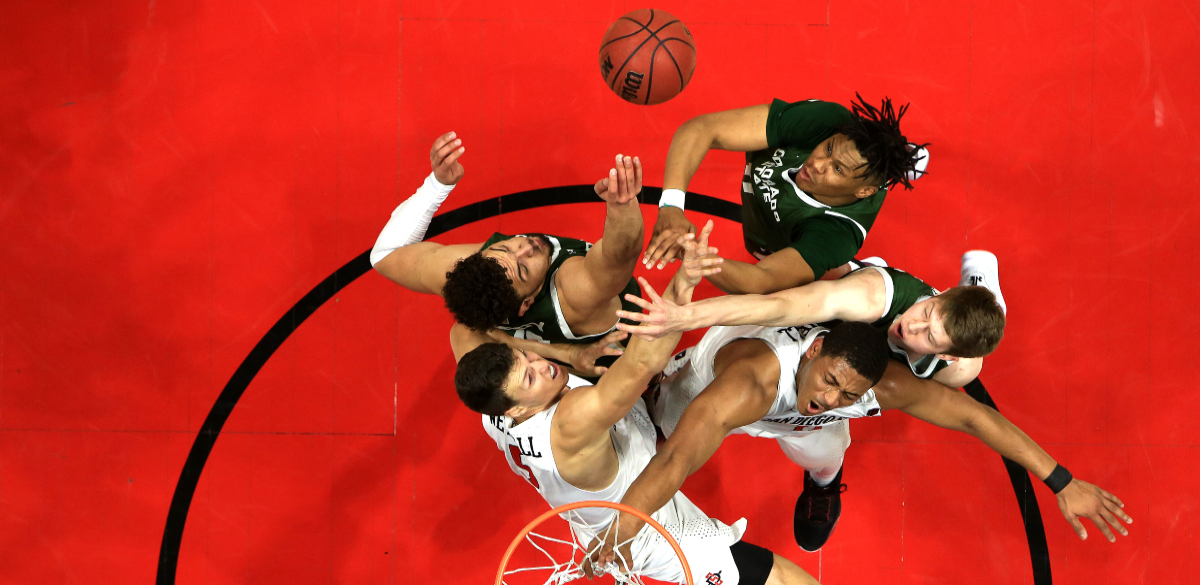 Mountain West Conference Tournament
Starts Wednesday, March 10 in Las Vegas, NV
The Mountain West is a very intriguing conference tournament after the conference lost a number of makeup games over the final two weeks of the season, which potentially cost the conference at an-large NCAA tournament berth. Only San Diego State should feel safe about its chances of making the bracket without winning this conference tournament.
I want no part of the top-half of the bracket. San Diego State should get to the semifinals to face either an ascending Nevada squad or a desperate Boise State team off three straight losses to end the year. Remember that Nevada actually swept Boise State earlier this year. That game should be a war.
In the bottom-half of the tournament bracket, Utah State could potentially have to survive a scare against the hometown UNLV Rebels, who did take one-of-two when the Aggies and Rebels met earlier this season. Meanwhile, Colorado State may have it much easier against either Fresno State or New Mexico. If the chalk holds, then Colorado State would draw a matchup with Utah State, with whom it split wins Logan, UT earlier this season. I actually like the way the Rams match up with the Aggies as well.
I'm a huge fan of Colorado State head coach Niko Medved, who I'm sure will have a few wrinkles up his sleeve throughout the tournament. I also expect this Rams team to come into the tournament with a chip on its shoulder. Colorado State lost out on the regular season championship (and a No. 1 seed) as a result of a ruling by the conference (even though CSU finished with a better conference record than San Diego State).
Target: Colorado State 5-1 or better
---
Big East Conference Tournament
Starts Wednesday, March 10 in New York
Creighton and UConn appear destined to meet in the semifinals in the bottom-half of the bracket. Both are fairly priced in my opinion.
The intrigue for me is in the top-half of the bracket, where top-seeded Villanova is extremely vulnerable. The wounded Wildcats recently lost two starters to injury in Collin Gillespie and Justin Moore. Those are two massive blows this late in the season, especially for a team that doesn't have much depth.
Jay Wright's bunch should get by the winner of Marquette-Georgetown, but that game certainly won't be a gimme for the now-undermanned 'Cats. The next round is where things could get very tricky against the winner of Seton Hall vs. Saint John's. If you feel confident about the winner of that game, then that's the route you should take from a futures perspective.
For reference, the Pirates and Red Storm met twice during the regular season. Seton Hall won the first meeting, but then lost the season finale last weekend after jumping out to an 18-0 lead. The Johnnies obviously have the advantage of playing at Madison Square Garden, but the status of freshman phenom Posh Alexander remains unknown.
Seton Hall matches up fairly well with a very volatile St. John's squad. I wouldn't fault you for going with the Red Storm; but, I opted for Seton Hall even though it lost four straight games to close the regular season This is still a veteran team that has positive shooting regression coming its way on both ends.
I can easily see the Pirates regrouping after their skid to end the regular season, beating St. John's, then taking down a shorthanded Villanova team to get to the final.
Target: Seton Hall 12-1 or better
---
Pac-12 Conference Tournament 
Starts Wednesday, March 10 in Paradise, NV
Keep scrolling if you don't like foul smells.
I found an Arizona State 80-1 that I had to invest in. This team has so much talent but underachieved all season due to an inordinate number of injuries and COVID-19 issues. I still don't know if the Sun Devils are fully healthy; NBA prospects Josh Christopher and Marcus Bagley did not suit up in the regular season finale against Utah.
I'm throwing a small dart on Arizona State based on the team's ceiling and motivation. The Sun Devils have known for quite some time that their entire season will come down to the conference tournament. They might not even get past Washington State in a first-round game that could easily go either way. However, if they do — and if Christopher and Bagley return at close to 100%, then Remy Martin and company could give Oregon a scare in the quarterfinals.
Arizona State would then have a very winnable semifinal matchup against the winner of UCLA vs. Oregon State. Again, this is very unlikely, but a fully healthy ASU team oozes with talent and potential. The Sun Devils could put it together for a weekend. And if 100%, they will have ample depth to win four games in four days.
Lastly, I need to reiterate the importance of shopping around. I've seen ASU as low as 22-1 in the betting market and as high as 80-1. I would not go below 50-1, which you can currently find at BetMGM.
Target: Arizona State 50-1 or better
---
Big Ten Conference Tournament
Starts Wednesday, March 10 in Chicago, IL
Purdue continues to not get enough respect in the market, but its path isn't easy.
The Boilermakers would need to potentially defeat both Ohio State and Michigan to get to the finals. However, despite that poor draw, I still think the team holds a touch of value, especially given the recent emergence of 7-foot freshman Zach Edey to complement Trevion Williams on the interior. Purdue is also extremely well-coached.
While Purdue would be my target at 12-1 or better in the top half, I think the bottom half provides more intrigue.
Illinois has been my horse since the preseason, but I have no interest in buying the Illini while they are sky-high in the marketplace after closing the season with three-straight road victories over top-25 teams. I wouldn't be surprised (nor upset for my national title futures) if we see Illinois have a bit of a letdown game at some point in Chicago.
I also would be very afraid of a potential rematch in the championship with Michigan, which recently got embarrassed in its home gym by Illinois.
Could Indiana or Rutgers take advantage? I don't trust the Indiana backcourt, especially with Armaan Franklin still likely out with an injury. I'm also not sure I can trust the Rutgers offense enough, but I at least considered the Scarlet Knights.
I'd also love to throw a flier on Penn State, but the Nittany Lions have to win five games in five days. That's a monumental ask for a team that really only goes six deep.
I decided to make a very small wager on Wisconsin at 25-1. The Badgers have underachieved for most of league play, primarily as a result of their poor shooting. If they can just get going from the outside (where they are at least capable), they can grind out a few wins in Chicago. We know they won't beat themselves with turnovers or missed free throws at the minimum.
Wisconsin would start with Penn State and then get a rematch from a controversial finish in the season finale against Iowa. The Hawkeyes are also dealing with a few injuries on their perimeter, so I'm not sure how healthy they'll be or how hard they'll push it this week.
Maybe Nate Reuvers remembers how to play and Wisconsin finally makes some open jumpers for a few consecutive games?
If you hate this Wisconsin team (I don't blame you), I still think the bottom half of the bracket is worth exploring for a longer shot with Iowa's potential injury issues and Illinois maybe at the peak of its peak in the betting market.
Target: Wisconsin 20-1 or better
---
SEC Tournament 
Starts Wednesday, March 10 in Nashville, TN
As I already mentioned earlier with Duke, you are better off playing a rollover moneyline parlay with Kentucky than taking some of the outrageous numbers out there in the 15-1 range for a team that would have to win four games in four days.
We know Kentucky will likely be a small favorite against Mississippi State in the first round and then most likely an underdog in its next three games against Alabama, Tennessee and Arkansas if the chalk holds.
I actually am going to take a shot with rolling over a moneyline parlay with the Cats.
They can clearly play with anybody in the conference, as they've shown all season. We saw UK recently win in blowout fashion on the road over Tennessee and Florida. The Wildcats also led Alabama on the road with under four minutes to go. They lost by one to Arkansas at home in a game they probably should've won and had an easy victory in Rupp Arena over LSU.
The primary issue for Kentucky this season has been closing out games. The inexperienced Wildcats have been an absolute horror show in the final five minutes of games. They have had to at least learned something from the countless meltdowns by now, and the experience can only help. Coach Cal usually has his teams peaking come March, and I like what he has done with the lineup of late (mainly less Devin Askew).
If Kentucky can finally find a way to close out games, it can certainly make a deep run this week and even cut down the nets once again in Nashville.
Target: Kentucky Rollover Moneyline Parlay
---
Big 12 Conference Tournament 
Starts Wednesday, March 10 in Kansas City, MO
It's a pretty loaded conference when Oklahoma — which set the record for most top-10 wins in a single calendar month — gets the No. 7 seed in the conference tournament and has to play in the first round.
Baylor is obviously the Big 12 juggernaut and rightful favorite. Then comes the second tier of six teams that don't have much separation from a power ratings perspective:
Texas
Kansas
Oklahoma
Texas Tech
Oklahoma State
West Virginia
From a futures perspective, I want no part of the top half of the bracket with Baylor, which should cruise to the semifinals. Its opponent will either be West Virginia or Oklahoma State, which will face off in a rematch of last week's game in Morgantown. I actually think WVU is a bit overrated and has benefited from some lucky shooting on both ends this year.
On the other hand, this Oklahoma State team is starting to grow on me, but I just don't know how healthy the Cowboys will be. I'm not sure why they would rush potential No. 1 draft pick Cade Cunningham (or Isaac Likekele) back from injury with an NCAA Tournament spot already locked up.
The bottom half is much more interesting in my opinion. We should get two splendid quarterfinal matchups with Kansas-Oklahoma and Texas-Texas Tech.
Out of those four teams, I have Texas rated the highest in my power ratings. I also believe it can give Baylor a game should those two teams meet in the final. When they met earlier this season, Baylor pulled away late, but Texas had barely been practicing due to COVID-19 leading up to that game.
The Horns are trending up (especially on defense) after being hindered by COVID-related issues earlier in Big 12 play.
I think Shaka Smart's bunch gets its revenge on Texas Tech for two earlier losses and then beats the winner of Kansas-Oklahoma.
The Bill Self same-season revenge angle scares me a bit, but I just think Texas is the better team and poses certain matchup problems for a Kansas team it dismantled in Lawrence and then came back to beat in Austin despite shooting 5-of-26 from 3.
Target: Texas +750 or better
---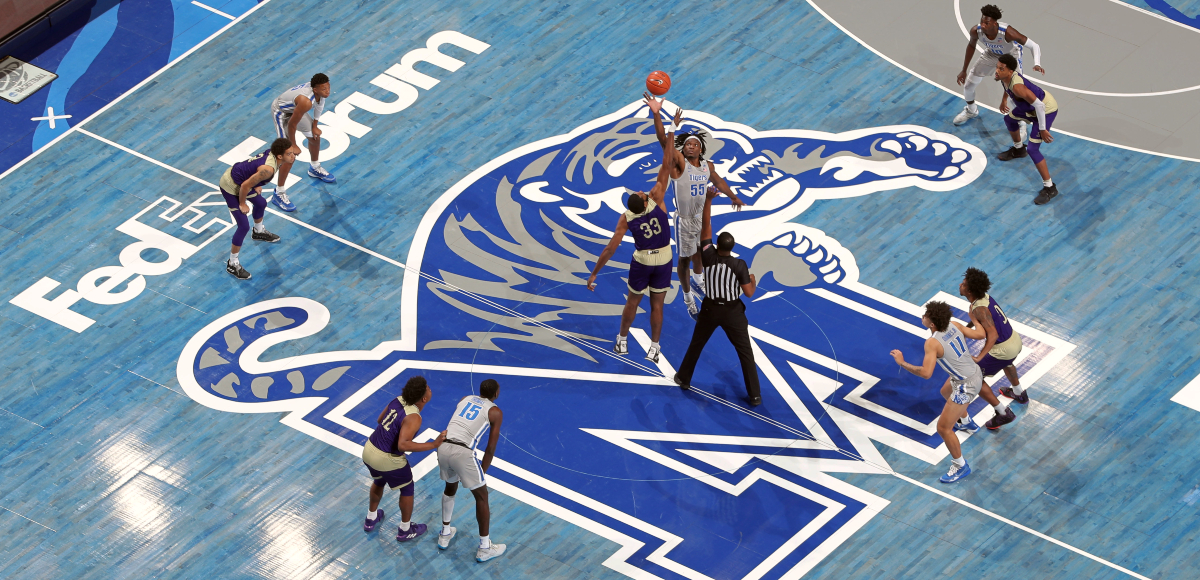 AAC Tournament 
Starts Thursday, March 11 in Fort Worth, TX
Shockingly, Wichita State finished as the top seed in the AAC, but I'm not a believer in the Shockers. They're a solid team but have benefited from countless close wins, and the regression monster looms in regards to opponent shooting.
Assuming Wichita doesn't get upset in the quarterfinals, it will face the winner of SMU-Cincinnati. The Mustangs would normally grab my attention here, but they haven't played in over a month.
It's the bottom half of the bracket that has grabbed my attention.
I think this entire tournament comes down to a likely semifinals showdown between Houston and Memphis — two teams that genuinely hate each other as we saw last week when Houston won at home with a prayer at the buzzer.
Memphis likely needs to win this tournament to get into the tournament, which I hope it does. To me, the Tigers are one of the 35 best teams in the country, so I'd like to see them in the bracket. I think they can give Houston another scare and potentially pull off the upset.
Penny Hardaway's bunch actually matches up really well with the Cougars, as it can compete on the glass and check Quentin Grimes on the outside. Depth also is certainly not an issue for the Tigers.
Target: Memphis 5-1 or better
---
MAC Tournament
Starts Thursday, March 11 in Cleveland, OH
This should be a fun conference tournament, as no result in the first round would really shock me in this eight-team, single-elimination format with no byes.
Top-seed Toledo has the most favorable draw in the top half of the bracket since Ohio has recently dealt with COVID-19 issues and Kent State lost starting guard Michael Nuga for the season.
Led by starting point guard Marreon Jackson, the Rockets have a terrific offense, but I still think they have major regression coming on the defensive end. From a shot quality perspective, Toledo jumps off the page as a correction candidate.
In the bottom half of the bracket, Buffalo oozes with potential but is also maddeningly inconsistent.
Akron can shoot the lights out (thanks in part to the outstanding drive-and-kick ability of point guard Loren Cristian Jackson), but the Zips play a very high-variance style and have issues on the defensive end.
As a result, Miami (OH) (and its playmaking guards) and Bowling Green are intriguing sleepers.
I decided to roll with Bowling Green, which really found its game again after coming out of a vicious slump in mid-February. Justin Turner is one of the most talented guards in all of mid-major basketball, and his supporting cast has finally started to make shots again.
The Falcons already have road wins this season over Akron, Buffalo and Toledo — which would be their first three opponents if the chalk holds.
Give me my preseason pick and team I have believed will win the MAC tourney all season at 10-1. Now, we just hope the shots fall in what should be an exhilarating tourney full of outstanding guard-play.
Target: Bowling Green 8-1 or better
---
---
Conference Tournament Futures
Including the Kentucky rollover moneyline parlay, I placed 11 futures bets for the conference tournaments starting this week, risking a total of 4.55 units.
Abilene Christian -175 (1.2 units)
UC Santa Barbara +125 (1 unit)
Memphis 6-1 (0.4 units)
Colorado State 6-1 (0.4 units)
Texas 9-1 (0.35 units)
Marshall 5-1 (0.3 units)
Bowling Green 10-1 (0.25 units)
Kentucky Rollover (0.2 units)
Seton Hall 14-1 (0.2 units)
Wisconsin 25-1 (0.15 units)
Arizona State 50-1 (0.1 units)
How would you rate this article?
This site contains commercial content. We may be compensated for the links provided on this page. The content on this page is for informational purposes only. Action Network makes no representation or warranty as to the accuracy of the information given or the outcome of any game or event.