College Basketball Mid-Major Report: Breaking Down Vermont, Wyoming & Dayton
Credit:
Photo by G Fiume/Getty Images. Pictured: Malachi Smith (Dayton)
As college basketball begins to heat up, it's time to start digging into the little guys. Everyone knows the blue bloods and top-25 programs competing for a title, but what about the mid-majors primed to make an unlikely run?
In this edition of the Mid-Major Report, let's dig into three more teams potentially flying under the radar.
---
| | |
| --- | --- |
| Current Overall Record | 12-4 |
| ATS | 9-6-0 |
| KenPom Ranking | 69 |
| Current ESPN Bracketology Seed | 13 |
Vermont is laying waste to the America East.
The Catamounts have won their first four conference games by an average of 22.5 points. That includes a 33-point slaughter of the preseason coaches pick to win the conference (Stony Brook).
It's been a bloodbath.
And, as a diehard Vermont fan, a beautiful one to watch.
Since Dec. 1, Vermont has jumped 32 spots in KenPom — from 101 to 69. The Cats have cracked the top 80 in both offensive and defensive efficiency.
There isn't one bad thing I can say about Vermont.
Especially on the offensive end, where the Catamounts currently rank 13th in half-court PPP (.992) and 15th in 2-point percentage (56.2%). In the half-court, things generally revolve around conference POY Ryan Davis and South Burlington legend Ben Shungu.
Davis is an all-time efficient big man. Not only does he score 1.08 PPP in post-up situations (and Vermont ranks in the 97th percentile in post-up PPP because of him), but he shoots over 42% from 3 (on 3.8 attempts per game).
He also does so while being one of the highest-usage players in the America East.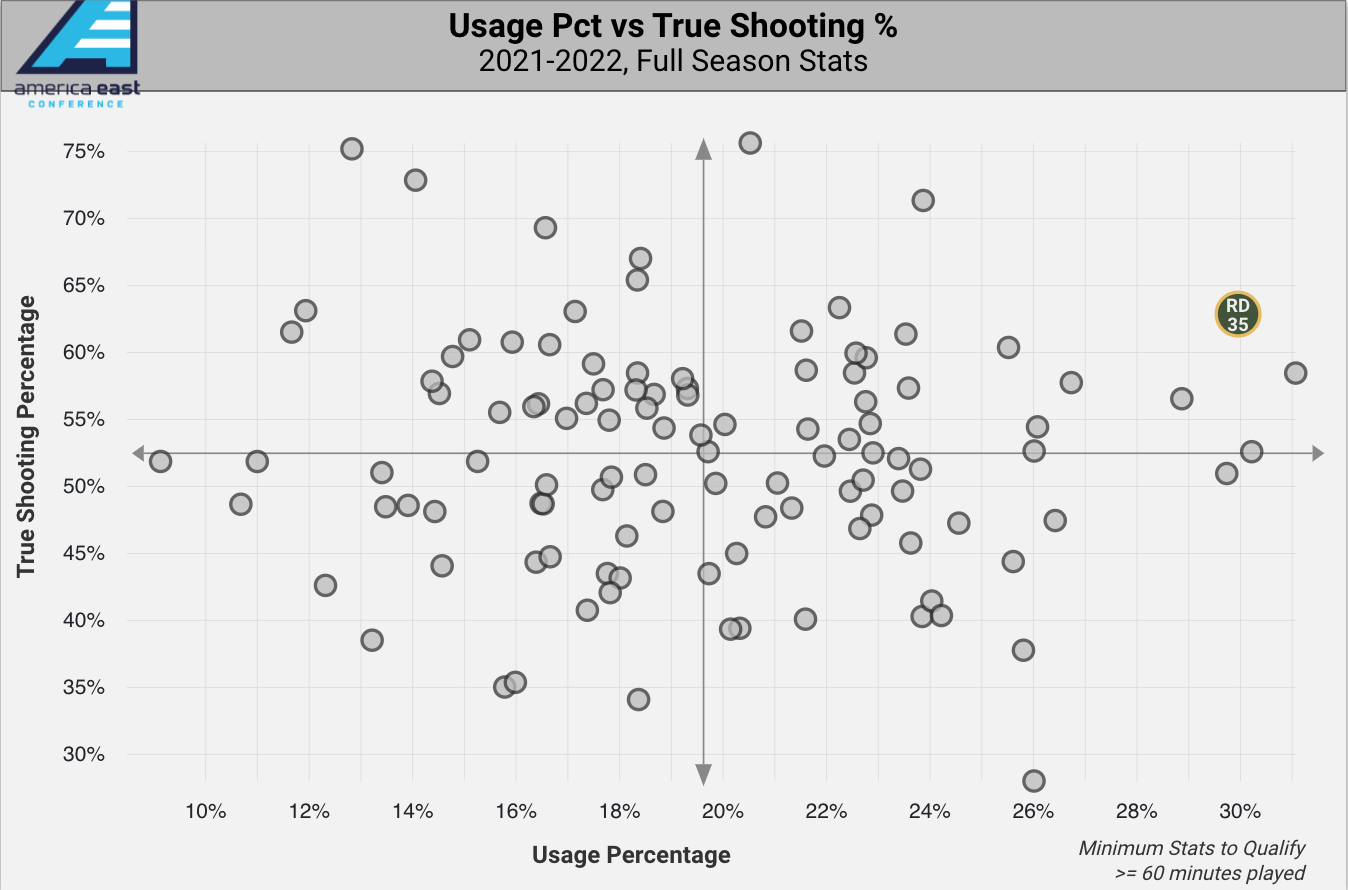 Meanwhile, Shungu is a former walk-on from Rice Memorial High School (in South Burlington) who has turned into the Cats' most reliable player. His super senior status has also elevated him into a team leader. He doesn't disappoint in his role.
Shungu is a combo guard who does two things particularly well: he scores efficiently (14.3 PPG on 57.5 eFG%) and runs the pick-and-roll superbly. Thanks to his ball-handling skills, Vermont ranks 18th nationally in pick-and-roll PPP (.94), with most of the two-man game coming between him and Davis.
Additionally, coach John Becker — who's led his team to three NCAA Tournament appearances during his tenure — has found another breakout gem on his roster in "Huckleberry" Finn Sullivan.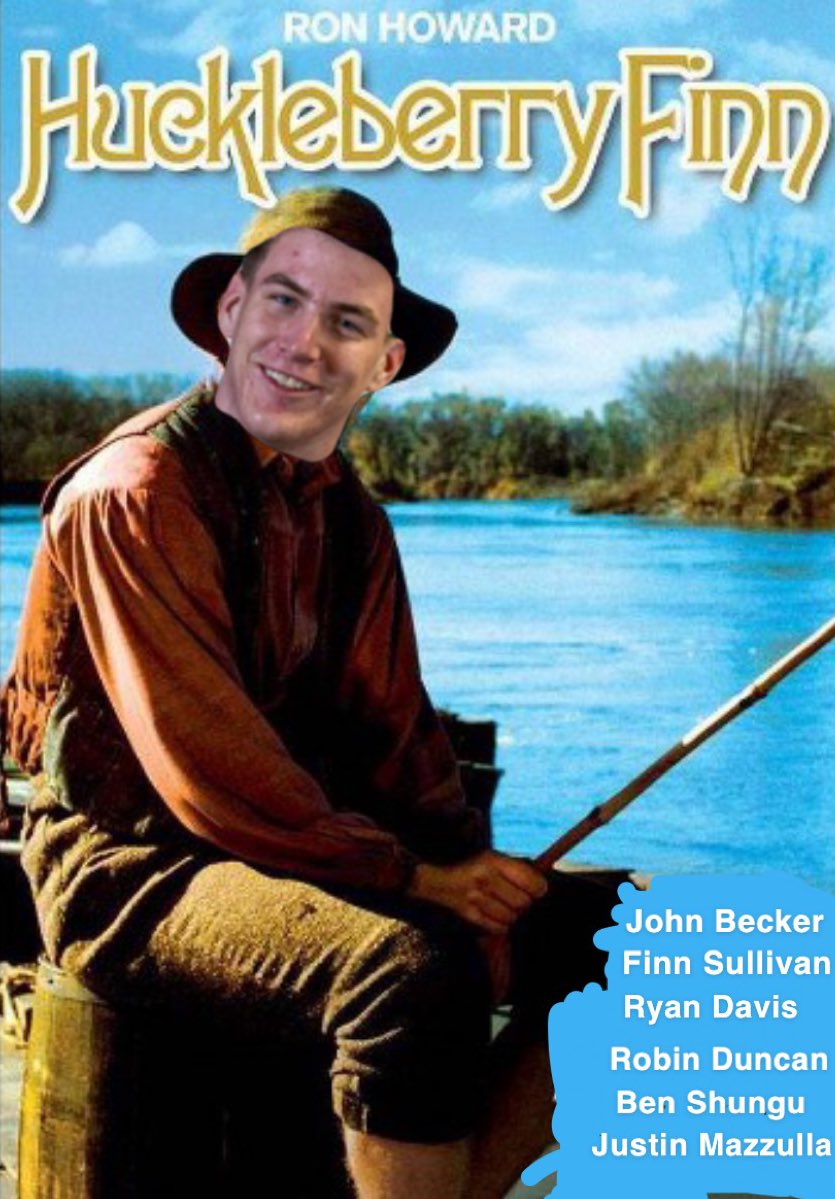 The San Diego transfer is averaging 19 points per game over his last three, shooting 16-of-23 from 3 during that time. He's turned into a spot-up monster during this stretch (1.18 spot-up PPP this season) and is the perfect guy to play off-ball while Shungu/Davis run the PnR.
Vermont is just so much better than anyone in the conference. This for-and-against eFG% graph demonstrates that perfectly.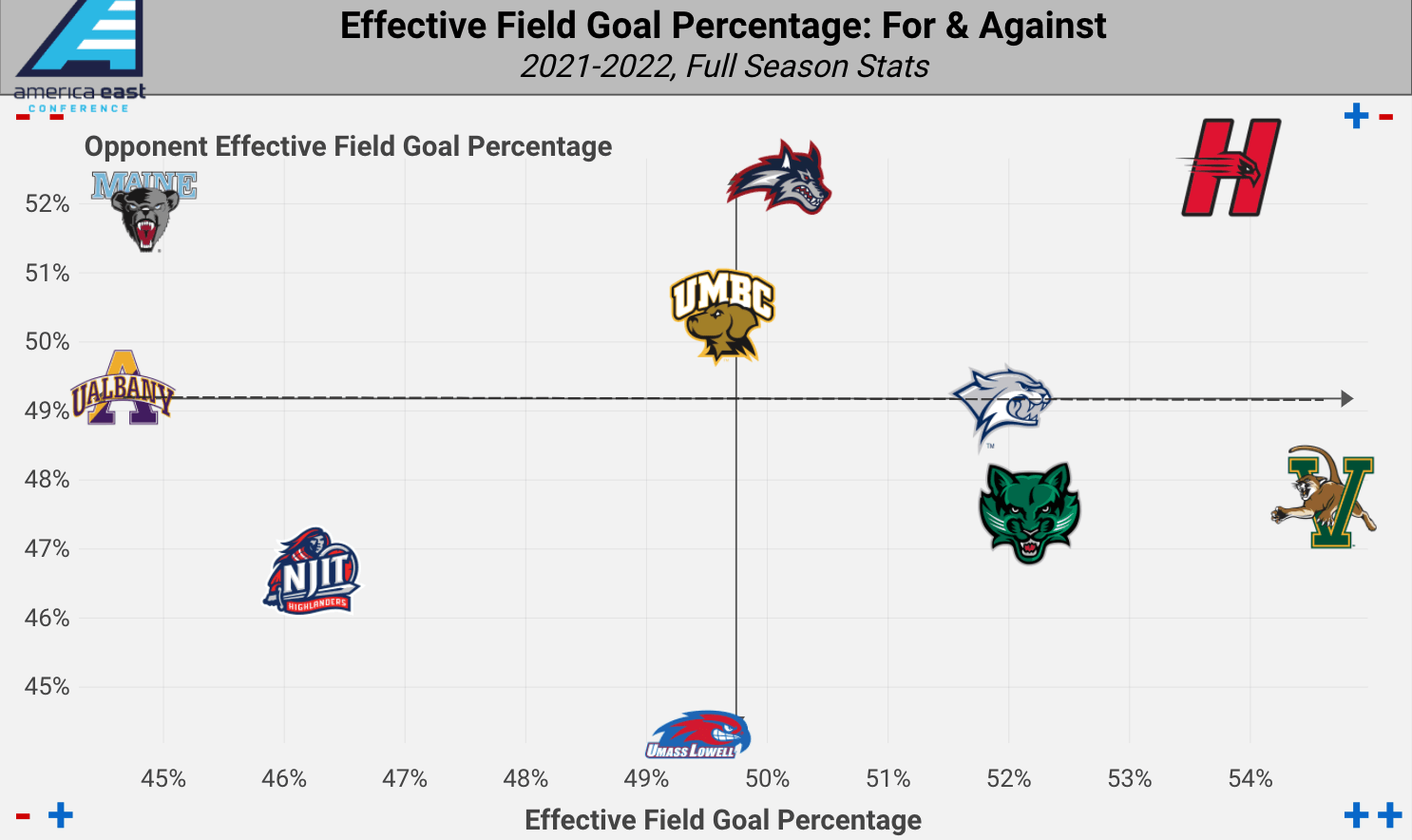 Oh, and Vermont is also second nationally in defensive rebounding percentage.
All in all, I'm all-in on this version of the Catamounts. BracketWAG.com currently projects Vermont as a 15-seed to play Duke in the first round.
If Vermont doesn't blow a first-round matchup in the conference tournament (like they did last year), the Catamounts can win that game, especially against a Duke team ripe for the fading.
---
| | |
| --- | --- |
| Current Overall Record | 14-2 |
| ATS | 9-5-1 |
| KenPom Ranking | 58 |
| Current ESPN Bracketology Seed | Next Four Out |
Almost no team in the nation works through the post more than Wyoming.
Center Graham Ike sees the ball on 37.2% of the Cowboys' possessions, which is first nationally among D-I players. Ike also takes 33.7% of the team's total shots, which ranks 18th nationally.
As a result, Ike is scoring over 20 points per game. But he does so with great efficiency, including a 54.7 eFG%. Most of that is because of his 12.7 paint points per game, which ranks in the 99th percentile of all D-I players.
Because of his usage and efficiency, Ike has an argument as the Mountain West's best player.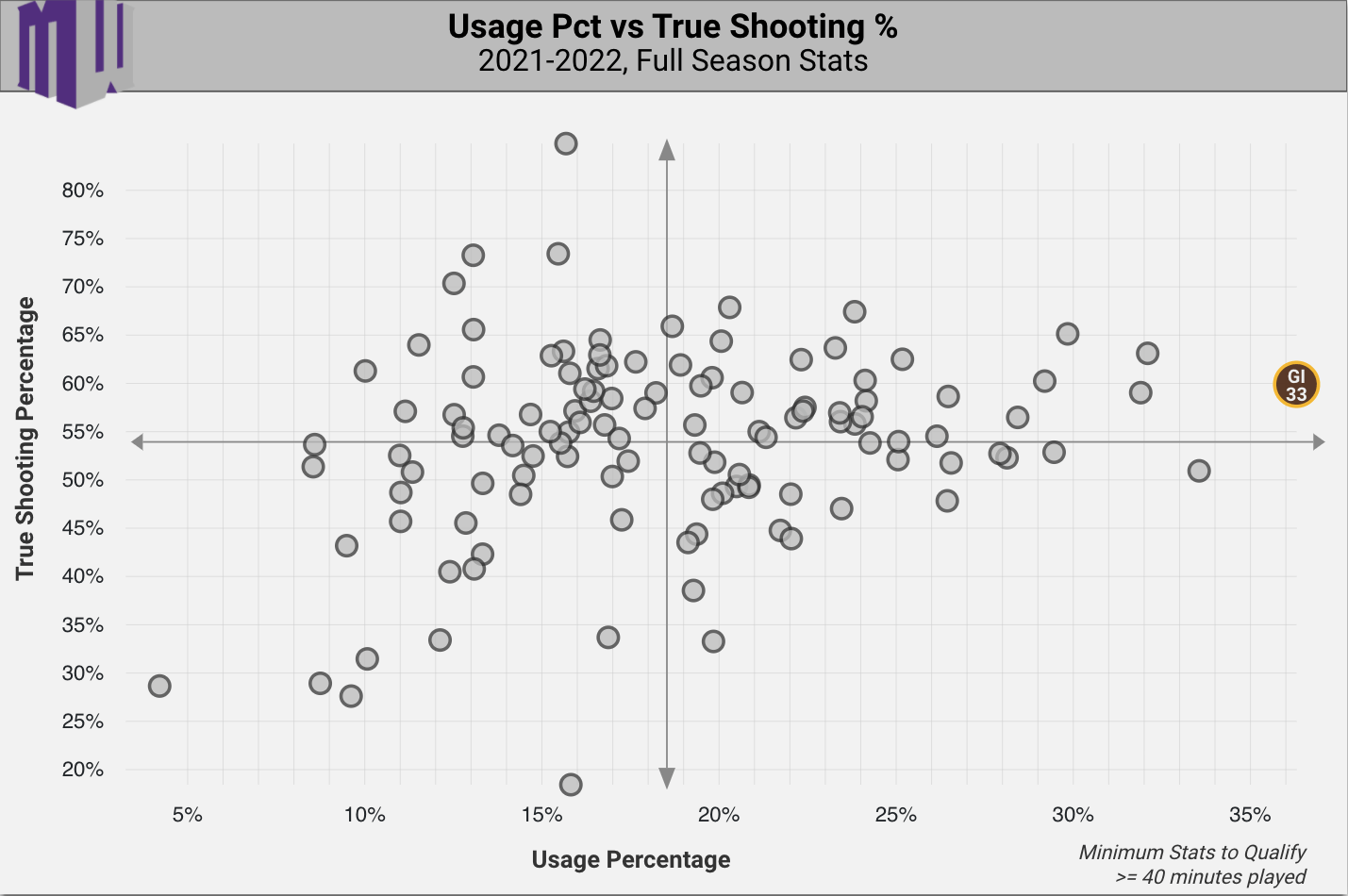 Thanks to Ike, Wyoming is seventh nationally in 2-point percentage and 20th nationally in eFG%.
Wyoming can score.
Wyoming is also solid defensively, ranking 18th in defensive eFG%. However, the Pokes' opponents are shooting just 27.1% from deep, which likely signals some negative shooting regression in the future.
That becomes truer when you consider that Wyoming is 322nd in defensive turnover rate. ShotQuality's metrics also project Wyoming for negative regression.
But again, the offense is so good. Not only do the Cowboys score in the post relentlessly, but the guards take care of the basketball before getting the ball to Ike. Hunter Maldonado leads an offense that's 18th in offensive turnover rate.
Wyoming is 14-2 and 3-0 in conference play, and Ike and Maldonado could carry the Pokes to a Mountain West title.
---
| | |
| --- | --- |
| Current Overall Record | 12-6 |
| ATS | 10-8-0 |
| KenPom Ranking | 71 |
| Current ESPN Bracketology Seed | N/A |
Dayton has the funniest resume in college hoops.
Dayton's Resume:

KEY WINS: Kansas, Virginia Tech, Belmont, Miami

KEY LOSSES: Lipscomb, UMass Lowell, Austin Peay

"My advice to you is that you start drinking heavily" – John Belushi as Bluto in National Lampoon's Animal House, circa 1978

— Jon Rothstein (@JonRothstein) December 12, 2021
This team makes no sense!
But the Flyers do have an identity.
The Flyers are young, lengthy and athletic. They're going to be super active on the boards and fairly frisky on defense.
Offensively, Dayton has given the keys to Malachi Smith. The freshman from New Jersey is running the offense crisply, and he's racking up the assist numbers in the meantime.
He's crept into the top-50 nationally in assist rate, and he has recorded a whopping 45 assists in his last seven games (6.5 per game). He also has the Flyers ranked inside the top-50 nationally in assist rate as a team.
Smith might not score with whopping numbers, but he has a 112.4 ORtg on the season.
Dayton is fairly efficient inside the arc — on both ends of the floor — and it actually paces the conference in defensive efficiency during this five-game stretch.
But the Flyers' perimeter defense is severely lacking, and the team doesn't take care of the ball well. Predictably, those are two traits of an inexperienced team.
However, Dayton is getting the job done. The Flyers are now 4-1 in A-10 play and they trail only Davidson (5-0) for the top spot.
In the end, Dayton has tremendous upside. I believe it'll be an excellent bet in the Atlantic 10 Tournament.
How would you rate this article?
This site contains commercial content. We may be compensated for the links provided on this page. The content on this page is for informational purposes only. Action Network makes no representation or warranty as to the accuracy of the information given or the outcome of any game or event.