Midseason Madness: 10 Storylines to Know If You're Just Getting Back Into Betting College Basketball
Credit:
Michael Hickey/Getty Images. Pictured: Dayton's Jhery Matos and Obi Toppin
If you've been watching football for the past five months while turning a  blind eye to college basketball, you've come to the right place. And even if you've been following, I think you'll enjoy the following recap.
At the minimum, you've probably heard this is one of the most wide open seasons we've had in recent memory. I mean our No. 1 seeds could end up being San Diego State, Gonzaga, Baylor and Dayton. Household names Duke and/or Kanas will probably grab at least one but that quarter of No. 1 seeds is still possible.
Why has it been so wide open? Well, we lost a lot of talent to the NBA Draft last year and no team is stacked with lottery picks as we've seen in prior years.
In fact, in a mock draft I recently saw, 11 of the 14 lottery picks will likely not play in the NCAA Tournament as they either play overseas or on teams not good enough to make the dance. The projected No. 1 and No. 2 picks on most people's boards are James Wiseman (not eligible for Memphis) and Anthony Edwards (on a terrible Georgia team).
It's just one of those years where any team in the top 20 has a realistic shot of getting to the Final Four. And that's probably a conservative estimate as there is so much parity that I only have 1.5 points separating No. 20 and No. 35 in my latest power ratings. This also could be a year where we see a George Mason-like surprise run to the Final Four (just not George Mason, because the Patriots are terrible).
In order to recap the season to date, I broke down my thoughts into 10 storylines. Let's get things started with the Big Ten, which could set a tournament record by sending 12 teams to the dance, breaking the previous record held by the Big East (11 in 2011).
1. Big Ten Could Send 12 Teams to the NCAA Tournament
I don't think anybody disagrees that the Big Ten is the best overall conference in college basketball. If you want to say the Big 12 or ACC (which we'll get to next) reigns supreme at the top, that's fair — but as far as depth, no conference touches the Big Ten.
Hey, barring an absolute historic collapse, even Rutgers will make the tournament for the first time since 1991. The Scarlet Knights have an elite defense but I fear their lack of shooting prowess could hurt them in March.
As of today, I have 12 of the 14 Big Ten teams making the NCAA Tournament with only Nebraska and Northwestern missing the cut. However, that could change as soon as this weekend if Indiana drops a home game against Purdue on Saturday.
Led by senior Lamar Stevens, Penn State just picked up a huge road win at Michigan State, which continues to just be a little off this year. The preseason national title favorite has lost back-to-back games to drop to 16-7 on the year. The Spartans clearly miss the services of Josh Langford, who is out for the year with an injury.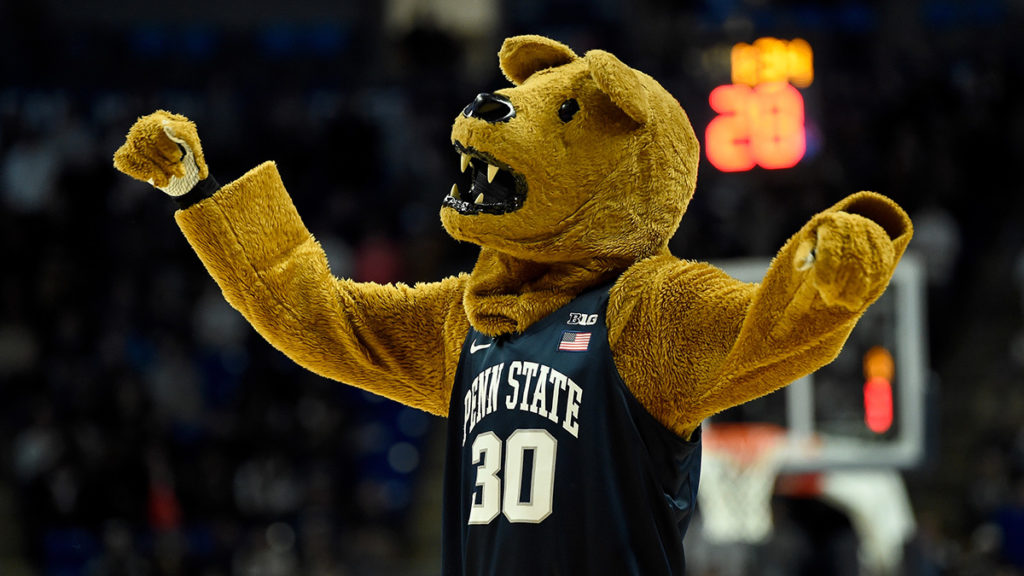 Maryland might have the most talented roster but can the Terps consistently do it away from College Park? We'll find out even more about Maryland tonight in Champaign against a very talented Illinois squad that could certainly make a run in March.
One of the biggest narratives of the season so far has been the dominance of home teams in the Big Ten. It does make some sense with so much parity and great home crowds all over, but it's something the betting market is obviously aware of.
When I personally think of this conference this season, I think of all of the outstanding (and versatile) post players. Just to name a few:
Luka Garza (Iowa)
Nate Reuvers (Wisconsin)
Daniel Oturu (Minnesota)
Kofi Cockburn (Illinois)
Kaleb Wesson (Ohio State)
Jalen Smith (Maryland)
Trevion Williams (Purdue)
2. Meanwhile, the ACC Might Only Send 3 Teams 
The ACC is extremely top-heavy with two teams that could easily cut down the nets in Duke and Louisville — who are led by two ACC player on the year candidates in Vernon Carey and Jordan Nwora, respectively.
I'm not sure Louisville can keep up its insane shooting clip from beyond the arc and free throws are an issue for the Blue Devils, but these are undoubtedly two top 10 teams at worst. Many aren't talking about but Coach K's squad, which currently sits at No. 2 in my power ratings and could have three first-round draft picks.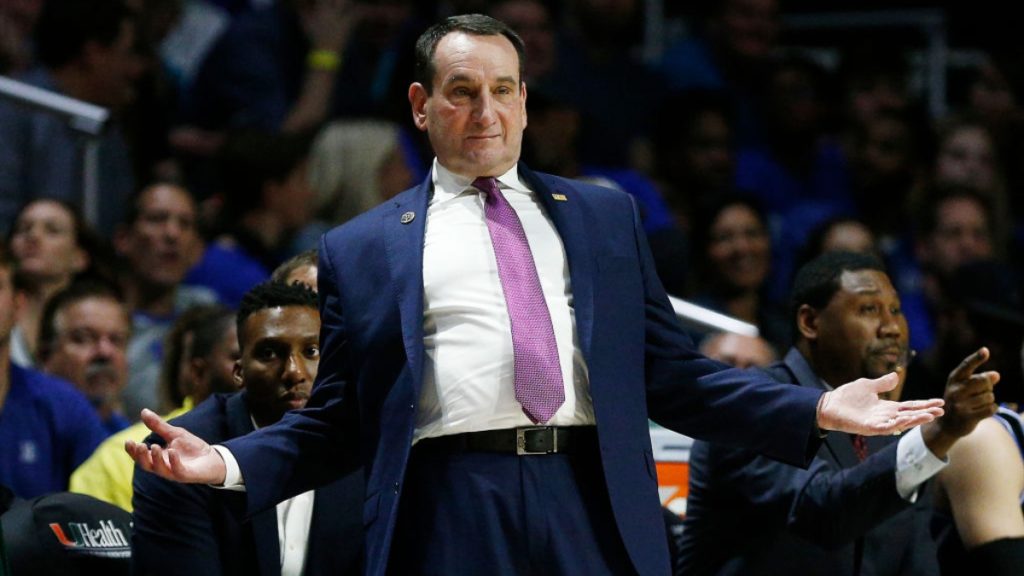 I've said all year that any team in the top 20 has a realistic shot at making a deep run to the final this year and I think Florida State is in that mix. As usual with a Leonard Hamilton squad, this team has length and depth for days.
But after that trio at the top, there's a big gap between the next tier of teams in Virginia, Syracuse, NC State, Notre Dame and Virginia Tech — which all sit squarely on the bubble in early February.
One of the biggest storylines of the season so far has been the struggles of North Carolina, which sits at 10-12 on the year. Yes, the Tar Heels have dealt with a number of key injuries, specifically to star freshman guard Cole Anthony, but even with Anthony now back in the mix, this isn't a very good basketball team. Unless Roy's team pulls off a miracle and somehow wins the ACC Tournament, they will miss the NCAA tournament for the first time since 2010.
Yes, it's possible the ACC only gets three teams in the dance…down year as a whole.
3. Big 12 Has 3 Potential No. 1 Seeds
The No. 1 team in the country, Baylor, resides in the Big 12 — as well as the team that sits atop my current power ratings in Kansas. Baylor continues to impress me with its four versatile guards and gang rebounding.
The Bears are the rightful No. 1 with a win in Lawrence on their resume but I still think Kansas has the most balance and talent in the nation. If Udoka Azubuike stays out of foul trouble, the Jayhawks will be tough to take out in March.
I also have West Virginia power rated 10th, which means three Big 12 teams all sit inside my top 10. The Mountaineers have so much size inside that can attack the glass on both ends; they also defend at an elite level. If they're making shots, they can beat anybody in the country.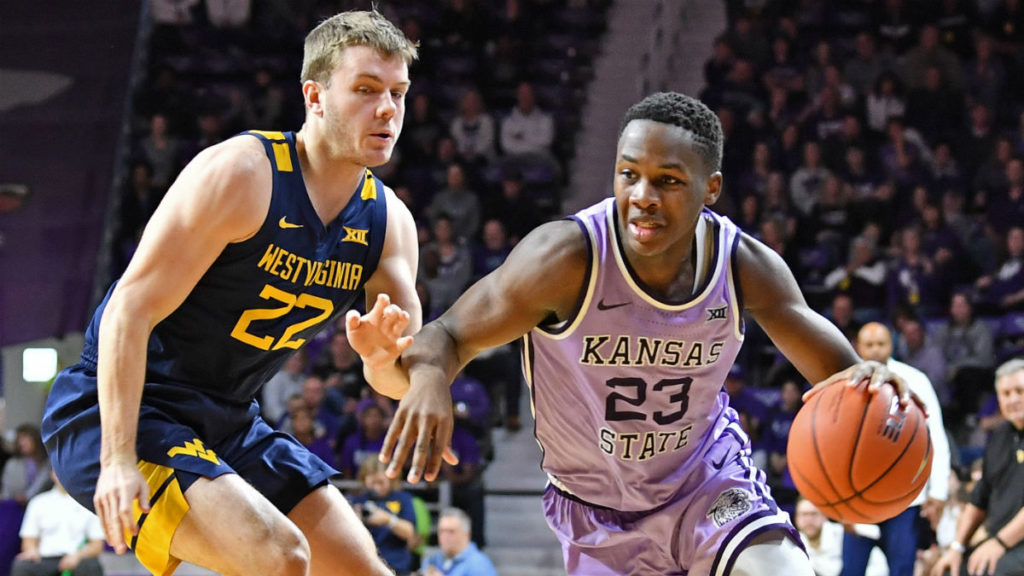 The conference is a little top-heavy with a pretty steep drop after the top three teams. Texas Tech has head coach Chris Beard on its side but the extremely young Red Raiders have only one win away from Lubbock this season (at Kansas State). The Red Raiders should ultimately get in the dance but I don't see a deep run unless Jahmi'us Ramsey can go absolutely bonkers.
Elsewhere, Oklahoma sits squarely on the bubble while Texas and TCU are on the outside looking in.
This is a conference that has three teams that could end up as No. 1 or No. 2 seeds but the rest of the conference is a giant question mark.
4. Big East Has Star Power
I can't wait for the Big East tournament. Star power everywhere with the likes of:
Myles Powell at Seton Hall
Kamar Baldwin at Butler
Saddiq Bey at Villanova
Markus Howard at Marquette
All four players can take over a game and put on a show at the Garden.
In such a wide open year, having a guy that can get buckets in the clutch in the inevitable close games of the tournament could make all the difference. And those four teams above all certainly do.
I personally think Seton Hall is the class of the conference with its mix of size, experience and defense to go along with Powell's star-power — but Villanova and Butler aren't too far behind. Marquette is more of a one-man band with Howard but it's a solo act capable of putting up a 50-burger on any given night. In their defense, the Golden Eagles are a more veteran team and take care of the ball better than they did last year when they bowed out in blowout fashion to Ja Morant and Murray State in the first round.
Those four teams should be locks for the tournament in addition to Creighton, which runs some of the best team offense in the conference. Xavier is surging of late and back in the tournament field discussion while DePaul, Georgetown and St. John's will likely miss out on a shot at glory.
After some abysmal non-conference results, Providence still doesn't have a good enough resume to get into the dance in my opinion, but this is a team to watch out for after back-to-back wins at Butler and vs. Creighton. The Friars are a very experienced and physical team that can play with anybody in the league. I have them power rated inside the top 50 and think they can continue their recent ascension and could be a potential sleeper in the Big East tournament.
5. NBA Talent Galore in the Pac-12
As of right now, it looks like five teams will get tickets to the dance from the Pac 12: Oregon, Arizona, Colorado, USC and Stanford. That would be the most since 2016 when the conference got seven in.
The Ducks will have the benefit of Payton Pritchard and head coach Dana Altman's switching defenses in March. USC has plenty of length, led by freshman big Onyeka Okongwu — maybe the best player in the country most haven't heard of.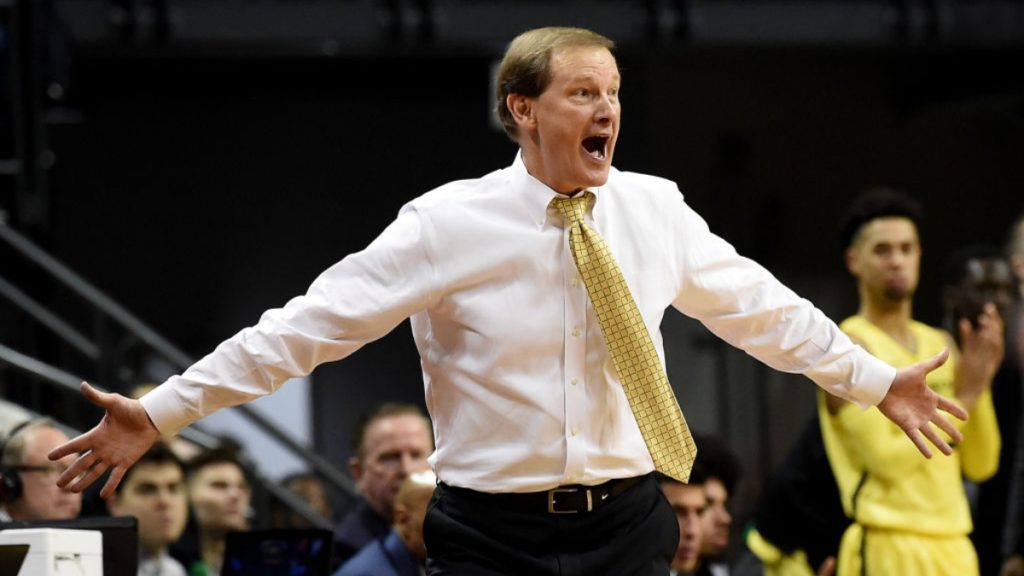 Colorado is an intriguing team with balance and experience at every level, while Stanford is very young but that youth is super talented and the Cardinal play stifling defense for 40 minutes.
Maybe Arizona State can continue to play its way onto the bubble but I just don't see it with the Sun Devils.
Meanwhile, Arizona has the most-talented roster from top to bottom in the conference with three potential first-round picks, led by freshman point guard Nico Mannion. It's a very inexperienced team, but if the young Wildcats can figure out how to close out close games, they could make a deep run in March.
Five of their six losses have come by five points or less — to Gonzaga, Arizona State, Oregon, St. John's and Baylor. Most models love Arizona (currently ranked No. 9 in NET rankings) but will it translate into tournament wins in March?
The team to watch out for from a betting perspective is UCLA. The baby Bruins have shown flashes in recent weeks and are due for some shooting regression on both ends of the floor in conference play.
And looking ahead to the Pac 12 tournament, a team to keep an eye on for a potential sleeper is Washington. They've been reeling of late although they've suffered an inordinate amount of close losses. But once they get point guard Quade Green back eligible, this team is extremely dangerous, especially in a tournament format.
Washington has as much length as anybody in the country, which is a perfect fit for the 2-3 zone that head coach Mike Hopkins brought to the West Coast from Syracuse. They also have two potential first-round draft picks in Isaiah Stewart and Jaden McDaniels — who could be two of seven potential Pac-12 players taken in the first round of the NBA draft.
6. The SEC Puzzle
Kentucky had one of the strangest losses of the season when it lost at home in Rupp Arena to a bad Evansville team earlier this season. Meanwhile, LSU just lost its first conference game of the season at Vanderbilt, which won its first SEC game in years.  That marked the first time in 20 years a team with an 8-0 conference record (or better) lost to one with an 0-8 record or worse.
It's safe to say Kentucky, Auburn and LSU are all locks for the NCAA Tournament but it's hard to trust any of the three to make a deep run. Kentucky probably has the highest upside with Ashton Hagans, Tyrese Maxey, Immanuel Quickley and Nick Richards — but then again, anything can happen this season and each team has at least one likely first-round draft pick. Keep your eyes on Auburn freshman Isaac Okoro. The kid can play.
Florida continues to disappoint compared to preseason expectations but should find its way into the tournament while Mississippi State is on the upswing with the inside-out combo of Reggie Perry and the now-healthy Nick Weatherspoon. The Bulldogs are a dangerous team that no higher seed will want to face come March.
Elsewhere, Arkansas and Alabama appear to be trending toward the NIT, especially the former with all of the recent injuries the Hogs have suffered. Losers of three straight, including two in a row at home, the Crimson Tide have been even more disappointing with some of the talent they have in their backcourt.
Alabama plays super fast as you'd expect under new head coach Nate Oats but it seems to be too fast for their own good at times. They still can be dangerous when they're making a high percentage of all of the three's they put up but turnovers are a major issue. Huge game at Georgia on Saturday for their resume.
Georgia is terrible but potential No. 1 overall pick in the NBA draft, Anthony Edwards, is fun to watch.
And I'd be remiss if I didn't mention Ole Miss — a team I continue to believe has value in the betting market.
7. Same Ol' West Coast Story
It's deja vu in the West Coast Conference as Gonzaga is hunting for a No. 1 seed while a few other familiar foes are fighting each night for their tournament lives.
Some, including head coach Mark Few, thought there would be some early hiccups for Gonzaga but the Zags have only dropped one game all season (on a neutral court in their third game in three days against Michigan earlier this season). The Zags should lock up a No. 1 seed if they win out.
As of right now, I have two other teams from the West Coast Conference in the tournament field: Saint Mary's and BYU. With Childs now back in the mix for BYU, the Cougars could do some damage in March. Fifth-year senior Jake Toolson, who transferred back to BYU after spending a couple years at Utah Valley, has been a very valuable addition.
Saint Mary's will grind teams to a halt in the half court and rely on star guard Jordan Ford to get a bucket when they need it. I'm really looking forward to Gonzaga's trip to Moraga on Saturday night against the Gaels, who could do some damage in March.
No other team has a realistic tournament bid shot but you should check out some of the analytical things San Francisco is doing in end-game and end-of half situations as I talked about on our most recent podcast.
8. Dayton Is For Real
Dayton is a legitimate top 10 team (and maybe top 5) with a real shot at getting to Atlanta this March.
The Flyers are led by future lottery pick Obi Toppin, who looks like a man amongst boys most games. But it's not just a one-man show as Dayton has a bunch of upperclassmen surrounding the sophomore superstar. This team just knows how to play together. They share the ball as well as any team in the country and take intelligent shots almost every time down the court.
They are a little undersized, so rebounding can be an issue. But with one of the most efficient offenses in the country and a phenom like Toppin, this team is right in the mix for a run to the Final Four…and possibly more.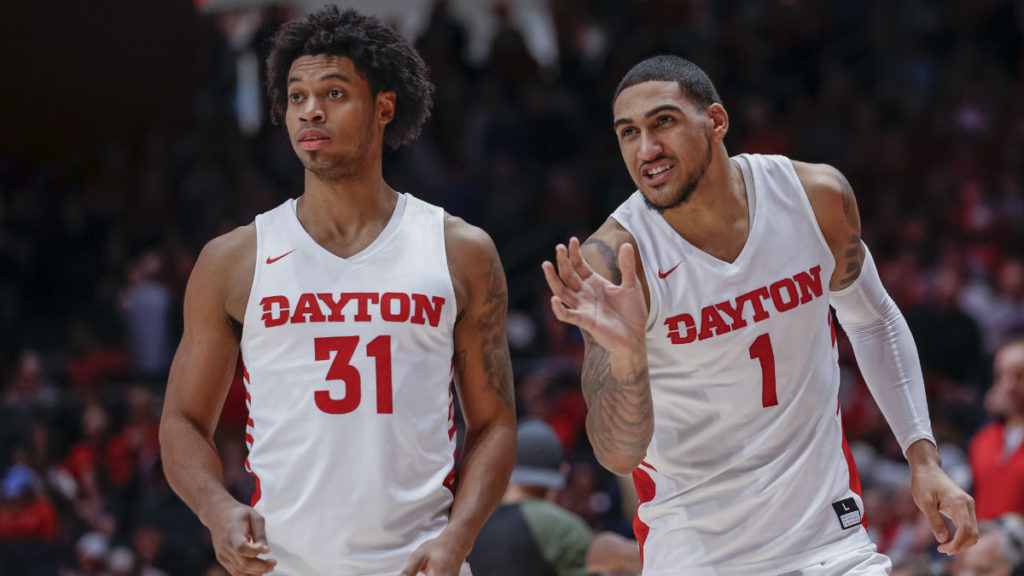 Sticking with the A-10, a few other teams sit on the bubble in Richmond, VCU and Rhode Island but I want to focus on the latter.
Rhode Island is playing outstanding basketball of late and has a showdown with Dayton next week for first place in the conference. The Rams lack depth, but Fatts Russell and company can ball. Rhode Island can also lock you up on the defensive end. I think they end up in the tournament and will be a tricky out no matter who they face.
9. And So Is San Diego State…
If you've really been sleeping under a rock during football season, maybe you haven't heard that San Diego State is the only undefeated team left in the country. The Aztecs, who sit atop the most recent NET rankings, are for real. This team plays lock down defense and uber-efficient offense.
It's a really interesting cast of characters, led by national player of the year contender Malachi Flynn, who transferred in from Washington State. He's joined by Matt Mitchell, who has become a very dynamic player after dropping 30 pounds in the offseason. And even Yanni Wetzel, who transferred from Vanderbilt after primarily coming off the bench, has developed into a productive post player. Throw in the outside shooting of Jordan Schakel and you have a very balanced team.
That said, I do think the Aztecs need to get Nathan Mensah back in order to have a legit shot at the title. The 6-foot-10 forward from Ghana is a force on the defensive end (see: Iowa game against Garza) and really helps out on the glass. He's currently dealing with respiratory issues that have kept him out since late December but some speculate he could be back in time for the Mountain West Conference Tournament.
In regards to the conference as a whole, it's been a very down year for the Mountain West, which may only get San Diego State into the tournament. That is unless someone can win the conference tournament in Las Vegas with the most likely option being preseason favorite Utah State.
10. Others To Look Out for in March
The AAC is a very intriguing conference with five teams still in the NCAA tournament discussion, including a surprise in Tulsa. Gregg Marshall has Wichita State team playing defense at a high level but the youth and offensive woes concern me. Houston is the class of the conference. It's a classic Kelvin Sampson team that plays suffocating defense and crashes the boards on both ends.
However, the team I have my eye on is Cincinnati. The Bearcats also play superb defense but seem to be coming around to new head coach John Brannen's offensive system of late, as evidenced by back-to-back wins over Houston and at Wichita State. They also have a go-to player in senior Jarron Cumberland when they need a bucket.
ETSU has second weekend written all over it. The Bucs are the class of the Southern Conference and do so many things well on both ends of the floor. That sad, they could get tested in the conference tournament if Furman is making its outside shots and/or Wes Miller's swarming defense at UNC Greensboro is peaking.
Northern Iowa is the clear favorite to come out of the Valley. You might not have seen the Panthers play this year but the offense is a joy to watch. They have size in the middle and shooters all over, led by super sophomore AJ Green. Turnovers can be an issue but this team looks like its prime to pull off an upset or two in March.
Two scary teams that could come out of the MAC and cause some damage are Bowling Green and Akron, led by two dynamic guards in Justin Turner and Loren Cristian Jackson, respectively.
Yale looks like the class of the Ivy so far but don't sleep on Harvard, which will host the Ivy League tournament and should get star guard Bryce Aiken back from injury at some point.
Here are three seniors I hope we get to see in the dance on teams that should be favored to win their conference tournament: Anthony Lamb at Vermont, Scottie James at Liberty, and Grant Riller at Charleston.
Lastly, please give me a potential Duke vs. Stephen F. Austin rematch in the bracket. The Lumberjacks are 20-3 and the class of the Southland.
How would you rate this article?