CBB Sharp Report: Pros Hitting Florida State-Boston College, 2 Other Sunday Games
Credit:
Greg M. Cooper-USA TODAY Sports. Pictured: Boston College head coach Jim Christian.
Sunday's college basketball slate is a small one, but pros have found three games to bet on, including Florida State-Boston College (12 p.m. ET, ESPNU).
Using The Action Network's betting tools, we've identified how sharp bettors are hitting today's college basketball spreads and over/unders.
When the AFC and NFC Championship Games are going down, most folks don't even bother looking at what the other sports have to offer. In fact, if they did look at today's college basketball slate, they'd likely look away in disgust.
Just a couple of games are on the board, with the most heavily bet being Florida State-Boston College (12 p.m. ET).
Sharp bettors don't give a hoot and holler about who is playing and whether a game will be nationally televised, though.
They just care about the value. And they've found some.
Florida State @ Boston College
12 p.m. ET | ESPNU
Sharp angle: Over (moved from 144.5 to 148)
The No. 11 Seminoles head to Chestnut Hill to take on the once-good BC Eagles squad. Neither team has impressed so far in conference play, with FSU 1-3 and BC 0-4.
The spread has been fairly quiet, with FSU a 6-point road favorite. The over/under has been hit hard, though.
The public is actually fairly split on this game, with 53% of bettors taking the over, but sharps have been pounding the over. It's getting 82% of the cash and has had multiple steam moves triggered on it.
This combination has helped it rise 3.5 points since opening.
Missouri State @ Drake
4 p.m. ET | ESPN CE
Sharp angle: Missouri State (moved from +6.5 to +4)
Say it ain't so. Sharps fading Drake?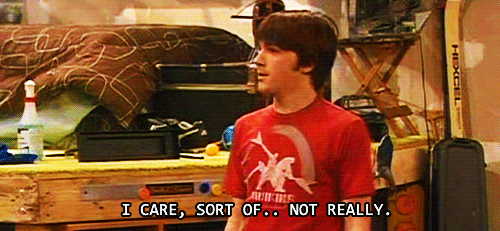 I know, most folks would have gone with a Drizzy GIF or no GIF at all, but I'm going to go a little old school on you and show some love for the better half of the now defunct "Drake & Josh" friendship.
This Missouri Valley conference showdown probably won't have many fans in the stands. You know … because of the football game. However, sharps stayed up all night to hit this line.
After opening at +6.5, the line has gradually been moving in Missouri State's favor despite just 31% of spread bets. A reverse line move came in at 4:17 a.m. ET, which reveals sharps jumped on the Bears at +5.
They're now down to +4 around the market.
This movement may come as a surprise considering Missouri State is just 8-10 straight up (SU) and 5-9 against the spread (ATS), compared to 13-5 SU and 10-4-1 ATS for Drake — some of the better marks in the country.
South Dakota @ Omaha
7 p.m. ET | CBS Sports Network
Sharp angle: South Dakota (moved from +5.5 to +4.5)
There's nothing like some Summit League Sunday sharp action on South Dakota. The Coyotes are not a popular bet in the eyes of the public.
I say public somewhat loosely in this case because there's been only a few hundred bets tracked on this game so far. I don't imagine many of them are from the most casual of casual Joes, either.
Money has been on its side, though. Despite getting just 32% of the tickets, South Dakota is getting 69% of the money.
It opened at +5.5 yesterday at supper time, moved to +5 at Italian supper time and finally to +4.5 on Sunday morning.